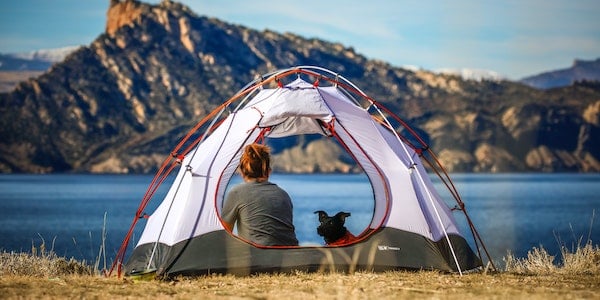 What's better than camping with a dog?
The answer is nothing!
In addition to the awaiting adventure, relaxation, and more smells than could ever be smelled in one lifetime, camping with your dog also comes with a fair share of challenges.
What should you pack for your dog? How do you get there without a stressful car ride, and how to be safe when you set up camp?
4 Things to Do Before Taking Your Dog Camping
Whether it's your first camping trip with your dog or you want to make sure you're being safe in the great outdoors, make sure you've checked the following before packing up and heading out.
Protect your pup
Dogs should be on a parasite preventative year-round, but especially before spending extended time outdoors. There are many parasites (incl. fleas, ticks, and mosquitoes that can spread heartworm) and many parasite preventative options out there, so talk to your vet early to figure out the best option for your dog. Also, it may be a good time to review how to safely remove a tick from your pet (or yourself).
Tag and microchip
When you're camping, your dog doesn't know where they are. If they get loose or run off, they don't know where home is, so the likelihood of them returning to you is because someone has found them.
For this reason, it's important to have some form of identification on your dog, preferably more than one. Be sure to get your dog a collar and an up-to-date ID tag so someone can find you if they find your dog. It's also a good idea to get your dog microchipped, which is an easy, cost-effective way to identify your dog, should they get lost. If your dog is already microchipped, make sure your contact information is registered and up-to-date.
Training
There's plenty for a dog to get excited about when camping. Before you go, work on a few fundamental behaviors so your dog won't run away, which comes with a whole host of potential problems. Your dog should never be allowed to roam off-leash, and many campgrounds require you to keep your dog on a certain length of lead at all times.
Make sure your dog is comfortable relaxing in a portable crate or play area before your trip so you have a way to keep them close and safe while you are busy setting up camp, cooking, or doing other camping duties. You can also use a hands-free leash to keep them connected to you or use a long lead and tether them in your campsite. Never leave a dog unsupervised while tethered.
If you have a dog that is quite the barker, consider whether they will make a good camping companion. Incessant and nuisance barking won't be welcomed by your camping neighbors, and you might be spending all your relaxation time trying to manage this behavior.
The most important things to train before you go camping with your dog:
Acclimate your dog to outdoor sleeping
While we may be ready to pitch the tent and hop in for a great night's rest, your dog might not be. It's a good idea to acclimate them to a tent prior to heading out to your campsite. If you're airing out your tent before you head out, you can use this as an opportunity to get your pup excited about spending time in the tent.
Try feeding them inside, hanging out inside with them, and bringing some of their favorite toys so they see it as a comfortable place to rest. If you're not able to do this before you leave, use the same tactics above as soon as you get the tent set up.
Pro-tip: Give the inside of the tent and your dog's bed a spritz of Adaptil calming spray to help them adjust to the tent. With this product, less is more — you'll only need a spritz or two.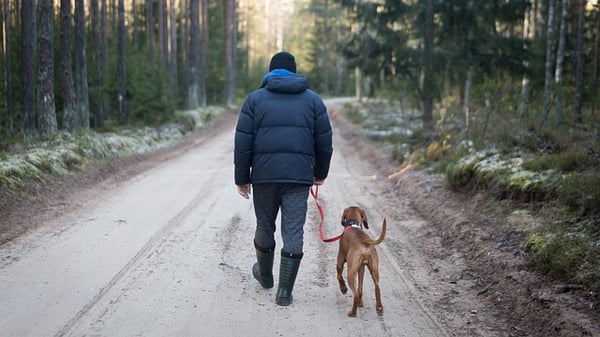 Get a Lay of the Land Before Camping With Your Dog
No matter where you plan to go camping, do a little research. It's unlikely that you'll run into much of the larger, toothier local wildlife, but it's good to know who else is sharing the great outdoors with you.
Depending on where you live, camping with a dog might mean exposing yourself and your dog to fleas, ticks, mosquitoes and heartworm disease, rattlesnakes, mountain lions, coyotes, and bears … oh my.
But if you know what you might be facing, you can prepare ahead of time. That means getting your dog on a parasite preventative and knowing what to do if you encounter a wild animal like a mountain lion (in fact, GoPetFriendly has some pretty good tips for what to do to keep your dog and you safe in such a situation).
How to Find Dog-Friendly Campsites
Before you reserve a spot and pack up the car, make sure that the campground you've selected allows dogs. National and state parks will list this information on their websites, and many online reservation systems provide custom fields so you can select "pet-friendly" campsites. But if you're having trouble locating a pet-friendly spot, these additional resources should help out.
A dog travel directory that provides reviews, detailed pet policy information, and online reservations for pet-friendly hotels, as well as camping destinations.
Another site where you can find pet-friendly hotels and motels, as well as campgrounds.
Note that most campgrounds require your pup to remain leashed during your stay and inside your tent or vehicle at night, so pay attention to your campground's specific guidelines. Many also have a maximum length of leash your dog must be on, which you should keep in mind when choosing which leash to bring.
Don't forget — wherever you decide to go for your outdoor adventure, check beforehand to find the nearest animal ER. In the event of an emergency, you won't want to waste precious time trying to track down the closest vet. Check out our article on how to Find an Animal ER.
What to Pack for a Camping Trip With Your Dog
Once you've packed up your tent, marshmallows for roasting, sleeping bag, marshmallows, clothes, and, of course, marshmallows, it's time to gather camping items for your dog. Here's what you'll need:
Water and portable water bowl:

Make sure your campground has access to drinking water or bring plenty of water for your dog, along with a collapsible water bowl or water bottle so they have a way to drink it. Never allow your dog to drink from streams, rivers, or standing water unless it has been filtered or treated to prevent the transmission of waterborne pathogens.
Dog food and snacks:

Bring along their regular food, and don't forget the yummy treats!
Poop bags:

Remember — always pick up your dog's poop and dispose of it properly.
Dog first aid supplies:

Pack a first aid kit, especially for your dog or add some dog-specific supplies. You can purchase a travel-size pet first aid kit, or you can make your own. You want one that includes a pet first aid guide, saline solution, an antiseptic, antihistamines, gauze, heavy-duty stretchy bandages, antibiotic ointment, multi-tool with tweezers, tick removal tool (also useful for any ticks you find on yourself!), blood clotting powder, and cotton swabs.



Camping bed:

Since nighttime is when a lot of wildlife is active (think raccoons, bears, etc.) it's important to get used to co-sleeping with your dog … or at least saving room in your tent for them.

To make sure they're warm and toasty (and comfortable), look for a dog bed that is designed specifically for camping. They usually have an extra added layer for warmth that they'll need in the elements. If your pup prefers the plush life, or needs some extra warmth, try the add-on sleeping pad and sleeping bag.
Dog booties or socks:

Speaking of sleeping with your pup in the tent, one thing many people don't think about (until it's too late) is having their dog wear dog boots or socks while in the tent.

Dog nails can easily puncture an air mattress or rip a sleeping bag, and you don't want to be stuck sleeping on the hard ground. Keep a pair or soft socks or boots for inside the tent (their "slippers") and have another tougher pair of dog boots that will protect their paw pads while out on other camping adventures.
Leash:

A long leash allows your dog to explore the campsite without straying too far. extra length to secure it around a tree. Or, if your campground has a leash-length limit, try a hands-free leash to keep your dog nearby while you're cooking or relaxing.
Bug repellent:

Mosquitoes aren't just annoying, but they're the only way your dog can get heartworm. However, do not use an undiluted mosquito/bug repellent, and NEVER USE DEET ON PETS. Find out more by checking out Mosquito Repellent – Keep Insects Off Your Dog Safely.
Toys:

Don't forget your dog's favorite toys to keep them entertained and out of mischief.


How to Introduce Your Dog to a Campground or Other New Environment
Once you arrive — especially after a long drive — you'll probably want to get unpacked and situated as soon as possible. But with a dog in tow — especially for their first camping trip — the first moments in any new space are crucial.
Breathe it in
Once you arrive, take your dog for a walk around the site, stopping often to let them smell and get to know their surroundings. It's a great way to help expend any pent-up energy after the drive. Don't forget the poop bags!
Stay awhile
You'll want your hands free and to keep your dog contained while you're setting up camp, cooking, or just relaxing. Keep your dog leashed or in an exercise pen nearby so you can keep an eye on them. An interactive feeder or food puzzle will help keep your dog entertained while you're setting up camp.
Get comfy
Once you've set up your camp, it's time to create your dog's comfy space.
Pro-tip: Lay their dog bed on top of a tarp.
Wherever you set up their spot, find a place that's shaded and free of potential hazards like sticks, poisonous plants, and dangerous camping gear like bug spray with DEET and lighter fluid.


Fun Things to do With Your Dog While Camping
Go for a hike
Many campsites have access to pet-friendly trails, allowing you to explore the area with your dog. If you've never hiked with your dog or need a refresh, learn everything you need to know about hiking with your dog. Don't forget their water and trail snacks!
Go swimming
If you find a body of water with a mild current (preferably no current) that isn't too deep, let your pup frolic in the water! Check out some swimming basics before they jump in with all paws. If you do plan to go swimming, check beforehand for any notices of blue-green algae blooms, which can be fatal to dogs.
Play fetch
Fetch is a fun way to pass time and is a guaranteed way to rid your pup of their excess energy. A high-visibility, lightweight toy, like the Best Fetch Stick Ever, is your best bet (Bonus: it floats, so you can play fetch in the water, too!). Remember, sticks are not free chewing toys and can cause serious problems ranging from splinters in the mouth to throat punctures.
Smell around
A good smell tour is a great way to let your dog satisfy their curiosity. So go for a walk just for your dog. Let them lead the way and find interesting smells (just steer them clear of dangerous areas or plants). Take a look at ASPCA's list of toxic plants to know what to look out for.


How to Road Trip With A Dog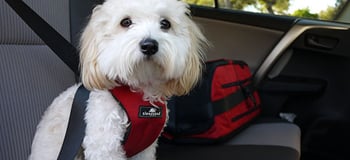 Depending on where you live, the journey to the campsite can be anywhere from a short drive down the road to an hours-long road trip out of the city. No matter how far you drive, it's important to buckle up your pup. A harness like this Sleepypod Clickit doubles as a crashed-tested harness and a walking harness.
Regardless of the destination, one of the most important things about traveling with your dog is to make sure they associate the car with something other than the vet or groomer.
As much as possible, try to take your dog on car trips that are fun: either go to a fun destination — park, beach, etc. — or let the drive itself be the fun, bringing treats along to create a positive association with the car. If your dog is anxious during car rides, learn how to prevent anxiety and carsickness.