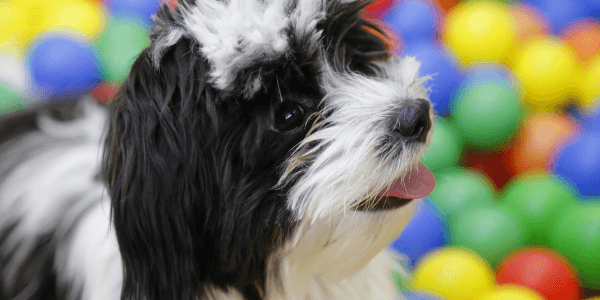 There are a great variety of puzzle feeders and interactive toys for dogs on the market: some that are meant for chewing, toys that involve mental exercises, and others that are designed to be nudged or tossed around.
As a dog trainer, I highly recommend food puzzle toys for dogs because they provide a wealth of benefits for both you and your pup.
Benefits of food puzzle toys & interactive feeders for dogs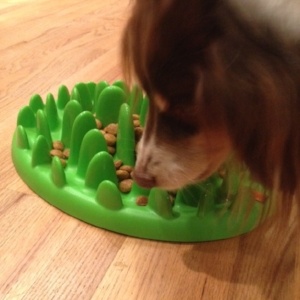 Teething puppies: The types of toys that require lots of chewing are a great way to redirect the energy of a teething pup to something they are allowed to chew.



Fast eaters:

If your dog is a food gobbler, certain toys and feeders like the Northmate Green Slow Feeder (photo inset below) and KONG Wobbler are great places to put your pup's food! And they're not just for kibble eaters.

Some, like the Green Feeder, can also be used for dogs that are fed canned or raw diets. Using these puzzles for feeding will slow down your dog's eating—which may also help prevent your dog from suffering from

GDV/Bloat

!—and keep them busy while they work to "earn" their food.


Picky eaters: Puzzle toys are a great way to satisfy a dog's natural desire to hunt and work for their food, which may just be the key to motivate your picky eater.


Gives you a break: Puzzle toys provide mental stimulation and keep your dog occupied so you can get back to that crossword puzzle…. or just get dressed, get some work done, or even go to the bathroom in peace!


Keeps them busy in the crate: These toys can help occupy your dog while they are confined in their crate, safe space, or puppy play pen. Though, keep in mind that toys made to be tossed or rolled around may require a bigger confined space.
How to teach your dog to use a puzzle toy
If this is your dog's first time with an interactive food puzzle toy, or the toy is much different than what your dog is used to, then they may need a little assistance at first. You may need to start with an easier toy, such as one that takes a simple nudge to get the food out.
For example, the IQ Ball (see below) is one of the easiest for a dog to get dry kibble out of, and the Toppl (again, see below) can be easier for a dog to get wet or raw food out of when compared to a toy like the Kong.
Similarly, when first introducing your dog to a new food puzzle, it can be helpful to use a "high-value" food reward that's easy for your dog to get out. For example, you could start with small pieces of turkey hot dog or cheese that your dog will be interested in and that will more easily fall out of a Toppl or Kong. Then increase the size of the high-value reward as your dog gets more skilled at using the toy, making it a little more difficult for them to get the reward out.
As your pup masters the puzzle using these types and sizes of treats, increase the difficulty level by switching to high-value treats with a creamier consistency (e.g., low-fat yogurt, canned pumpkin, or peanut butter).
PREVENTIVE VET'S EXPERIENCE WITH THIS PRODUCT
My dogs are obsessed with the new IQ Treat Spread Peanut Butter for Dogs. The perfect dog peanut butter pairing for all their licking mats and interactive feeders!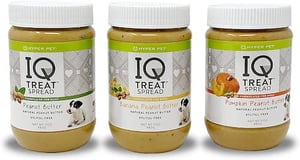 I first tried the Banana Peanut Butter flavor when I was giving my seven-month-old Corgi a bath. I spread a bit on the side of the tub for him to lick while I washed him, and he didn't stop until bath time was over! I could scrub, rinse, trim his nails, and clean his ears without him batting an eye - he just wanted to lick up every last bit. After his bath, he kept trying to jump back into the tub to see if there was any more!
I love that there is no added sugar in this peanut butter, and that they have three flavors to pick from. After Fozzie Bear's fantastic bath experience, I went online and immediately ordered a three-pack so we could try the pumpkin and the regular flavor as well.
I use this as a special spread on my dogs' licking mats (I might have also spread some on my morning toast a few times ... it's human-grade and delicious). A little bit goes a long way – I spread about a tablespoon on each of their mats and popped them in the freezer. I gave each dog their mat for some "relaxation" time, and they both spent the next 40 minutes licking away happily. That's the longest any treat spread has kept their attention!
Overall Rating: 5 out of 5 stars ⭐⭐⭐⭐⭐
Note: Hyper Pet provided us with a free sample to test. We were not compensated or influenced in any way to produce this review. Read more about affiliate links here.
If your pup isn't "getting it," it can help to actually show them how their new toy or puzzle feeder works. You can do this by batting the toy around to knock out the treats yourself. Or, if you have another dog at home who is used to the toy already, you can have your other (inexperienced) dog watch the experienced dog play with it. By engaging in this type of "social learning" your dog will start to understand how to do it themselves.
If your dog is used to clicker training, you can mark and reinforce each of the desired behaviors in the process of learning how to play with and use the toy/puzzle, including touching the toy with their nose or paw, pushing the toy with their nose or paw, and so on until they've figured it out.
What to consider before buying an interactive toy or food puzzle
While I highly recommend them, because there are many (many) benefits to using food puzzles and interactive toys with your dogs, there are a few potential drawbacks to their use that you should be aware of:
They may create less predictable potty habits. With toys variably dispensing food or treats throughout the day, puppies or younger dogs whose potty training isn't fully solidified will have a tougher time developing a regular potty routine.


They can be expensive.


Dogs must be supervised in multiple dog households. If one or more of your pups tends to guard resources, then a puzzle toy tossed into the mix could be a recipe for conflict. But this problem can be easily avoided by separating your dogs during feeding or play time.


How to choose the right food puzzles and toys for your dog
When shopping for interactive toys, there are a few things to take into consideration.
Large dogs and strong chewers will need a size-appropriate toy that they can't swallow, and perhaps something more durable if they are strong chewers.


Small and flat-faced dogs also need a size appropriate toy that is small enough that they are able to play with it. They may also need softer toys since their jaws are not as strong.
Recommended food puzzle toys and feeders for dogs
While every dog and every household may have different considerations, below is a list of some of the food puzzle toys I tend to recommend to my clients:
Kong: These are durable and come in different "strengths" and sizes - including specific ones for puppies, strong chewers, and the "classic" red Kong.

You can fill KONGs with some of your dog's dry kibble, or even with some canned food. These can even be frozen to help make them last longer. You can find plenty of "stuffing recipe" ideas on the Kong website. Watch PV staff Cathy and Marissa show you some easy Kong Stuffing techniques and recipes in this video:

Wobbler by Kong: Unlike the regular Kongs, the Kong Wobbler is only for use with dry food and treats. It can be a great way to provide mental stimulation and slow down your dog's rate of eating.
Toppl by West Paw Design: Modular and durable, the Toppl system by West Paw can be used with dry kibble or treats, as well as wet or raw food. And it's made with their durable and recyclable Zogoflex material!
Fun Feeder Slo-Bowls by Outward Hound: These ridge and valley bowls can prolong your dog's eating and can be used with dry, canned, or raw foods.
Green Feeder by Northmate: Looking like a tuft of green grass, these slow feeders can be used with dry, canned, or raw diets. There's a mini version of it, too.
Slow Feed Bowl by PETBABA: These slow feeders can be great for small dogs and those with flat faces (e.g., pugs, bulldogs, etc.), given the wider spacing and shallower valleys. They're also made from silicone, so are soft and easy to pack up and travel with.
IQ Treat Ball by Our Pets: These interactive puzzle toys can be filled with dry kibble or treats, which slowly dispense when your dog moves the toy.
Tricky Treat Ball by Omega Paw: These food/treat dispensing toys are easy for your dog to grab and shake, or pick up and run with, for hours of entertainment. These only work with dry kibble or treats.
DIY food puzzle toys for dogs
If you prefer to make your own simple food puzzle toys for your dog, here are a couple ideas:
Milk jug toy: Take an empty, clean and dry plastic milk jug, put kibble or small treats inside for your dog to try and knock out. (Obviously, leave the cap off!)
Paper towel tube: Place kibble or treats inside a cardboard paper towel or toilet paper tube and fold the ends over for an inexpensive challenge.
Find more DIY ideas in our article "10 Boredom Busters for Your Dog."
All dogs, young and old will enjoy playing with interactive toys, especially when they dispense edible rewards. As with any new toy, it's important to supervise your dog in the beginning to ensure that your dog is playing with it correctly. This is both for safety reasons (to prevent them from choking on or swallowing chunks of plastic or cardboard) and also for confidence reasons (to make sure they're able to "figure it out" and don't get frustrated or destructive).
For further reading and ideas, I recommend a book called Beyond Squeaky Toys by Nicole Nicassio-Hiskey and Cinthia Alia Mitchell and also this Preventive Vet article about choosing appropriate chew toys and treats for dogs.
What kind of puzzle toys do your dogs like? Got any other tips to share?—Feel free to tell us about your experiences in the comments section below.