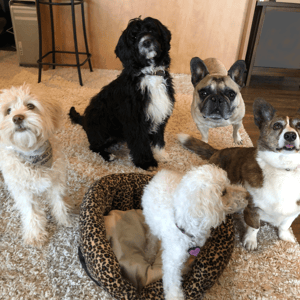 We hope for a world where all pets are happy, safe, and never suffer. But we're not just hoping, we're doing something about it. Read on and explore the rest of our site to see how.
Like you, we're busy people and have furry family members that we want to provide the best for. We also want information that we can trust and is easy to find. We've created this website as a one-stop online resource for preventive pet health and safety awareness and information. Our site, its content and free resources, like eBooks, awareness posters, and much more, are growing every day.

We want to help you avoid the emotional and financial hardship of pet illnesses and emergencies. And, since not everything in a pet's life is preventable, we also want you to know what to do when your pet gets sick or injured and recognize when it's time to take them to your vet or the Animal ER. We want you and your pet to enjoy a long, happy, healthy life – together.
Preventive Vet: click these links to learn more
Preventive Vet is a collective of veterinarians made up of general and emergency practitioners, board-certified surgeons, oncologists, behaviorists and other specialists, as well as respected certified trainers and other devoted pet lovers.


What we do
We provide information, educational resources, tips, and advice for people who want the best possible life for their cats and dogs. We want to help you keep your pets free from the pain and discomfort of preventable accidents, poisonings and illnesses.
Our mission and the content we produce is different
We're different. Why and how, you ask? Our founders felt there needed to be a change in the approach to pet care overall, including the veterinary and animal behavior professions.

Preventive Vet is that change.
It's a change in focus – from treating pet illnesses and emergencies to working to prevent them. Our article on how some brands of peanut butter can harm your dog, even kill them, is an example of this. This article and the awareness it's generated on social networks and news outlets across the world reached millions of people in just a few months. Now more people then ever are aware of the danger xylitol poses to dogs.

It's a change in pet owner education – from reactive discussions once a problem has already occurred to proactive awareness that helps people prevent problems in the first place, or at the very least, help them recognize and appropriately act upon problems sooner when they do occur. Knowing what those critical signs are in your pet can sometimes mean the difference between life and death.

It's a change in online pet health information sites – from fun to read, yet often biased, medically inaccurate, and trying to sell you something to Preventive Vet's site, which is reliable, medically accurate, still fun to read, and our only "bias" – wanting to help you keep your pets healthy and safe.


Preventive Vet does not replace your veterinarian

No online site can replace your veterinarian and no online site should try to do that. We exist to help you and your veterinarian ensure your pet's best health, safety, and wellbeing. We're here to ensure that the pet-related information you find on the Internet is easy-to-understand, as thorough as possible, unbiased, and above all medically accurate.

Welcome to Preventive Vet! We're glad you found us, and we hope you'll visit as often as you need.
Sniff around and check us out!


Follow us on Facebook for quick tips, recommendations and some fun too.