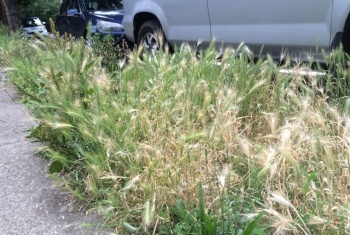 'Tis the season for foxtails – those pesky (and painful) grass seed awns that you've no doubt walked by countless times on the side of the road, on a trail, or in the field.
Grass seeds are designed to do one thing – to burrow


And while this is an effective way for these grasses to spread their seeds, it's what also makes them such a hazard to dogs.
Due to the unique shape of this seed, it's always moving forward – never backward. Forward through your pet's skin. Forward through their eyes, ears, nose and mouth. Forward through their lungs. Forward through their paws. And even forward through your pet's "private swimsuit" areas.
Foxtails can cause debilitating pain and infection


Dog's body parts that foxtails have been pulled out of (partial list):
ears (likely the #1 most common spot)
eyes
nose
mouth / throat
lungs
paws (may compete with ears for #1 most common spot)
private bits (especially in female dogs - OUCH!)
Embedded foxtails can manifest in your dogs in any number of ways. If you see any of these signs, and the time of year is right (meaning: seeds are growing and grass is dry), your pet may be suffering from an inhaled or embedded foxtail:
Excessive head shaking (the most common entry point is your pet's ear)
Limping or excessive licking of paws (paws are the second most common entry point)
Excessive licking of genitals
Blood in urine
Swollen eyes
Sneezing/coughing/gagging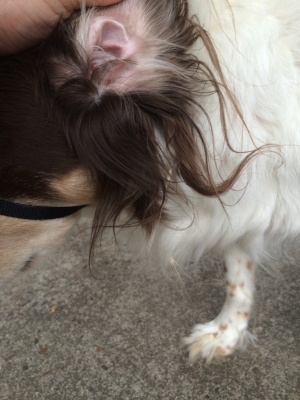 Foxtail prevention aids
Of course, prevention of foxtails is ideal, but it's nearly impossible to rid foxtails from your outdoor pet's environment, so especially during this time of year, it is more important than ever to be aware of and on the lookout for these spike-like seeds and try to avoid them, when possible.
But for those dogs that go romping through fields of grass gone-to-seed (including hunting dogs), check out these great foxtail prevention aids:
Face protection - OutFox Field Guard - great for protecting the eyes, ears, noses, and mouth


You should still always check for grass seed awns and brush out your dog's coat after any walk. But these tools above can really help spare you and your dog significant pain and financial expense!
Removing foxtails
You should always thoroughly examine and groom your dog (and cat) often – especially after they've been out in the elements and in potential contact with grass seeds. Remember to look at each entry point listed above.
Depending on your pet's coat and tolerance, running a fine-toothed comb, such as a flea comb, can be a great way to detect and remove these pesky seeds before they become a problem. You can also remove foxtails using a regular brush or tweezers, or just your fingers. If you can't easily remove the foxtail, or if your dog or cat is exhibiting any of the signs that could be related to the presence of a foxtail, be sure to see your veterinarian right away, where the problem can be properly dealt with before it escalates into something more serious.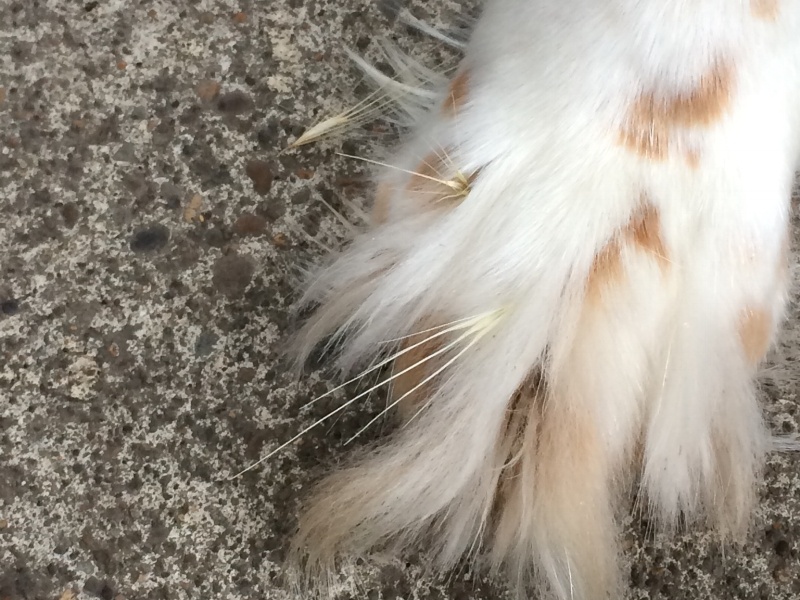 Please note: Unless otherwise stated, products, services, and/or companies mentioned, or links to same, are for illustration purposes only and their inclusion does not constitute an endorsement from Preventive Vet. Additionally, we are NOT compensated if you choose to buy what we feature.