My Frenchie, Marshall Jolie-Pitt, loves to play fetch, but he's never gone after sticks so I didn't know if he'd be interested. From the second I opened the packaging, he was pretty much obsessed. The small size was easy for me to throw, and perfect for him to retrieve. When he was finished playing, he didn't let go of his new toy, instead he layed on the dry grass and started chewing. Like almost all dogs in the bully breed family, my little man is a heavy chewer and tests the durability of everything, and this was no different. The way he was gnawing and pulling, I was shocked that nothing came off the stick right away. Eventually, he was able to work off a very tiny piece, and I knew that if I let him continue, there could have eventually been tiny pieces everywhere. So, this won't be a chew toy for him, but he gets excited every time I pick it up and immediately runs to the door. It's his new favorite toy, and I've actually really enjoyed throwing it to him— especially since it's so easy to clean.

(Marshall is shown with the small green fetch toy)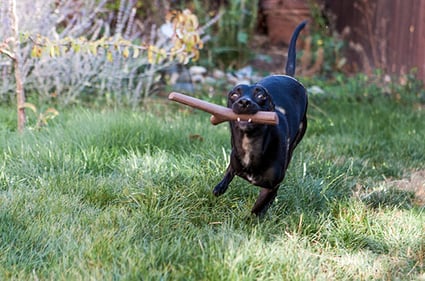 My dog, Leander, is a really weird dude. He typically only likes two things: his stuffed animals, and sleeping under the covers until noon. He's not much of a chewer and never really gets into fetch. It took a little coaxing, but after a few minutes, I had him running in the yard like a madman. He's reeeeally into his new toy.

(Leander is shown with the small brown fetch toy)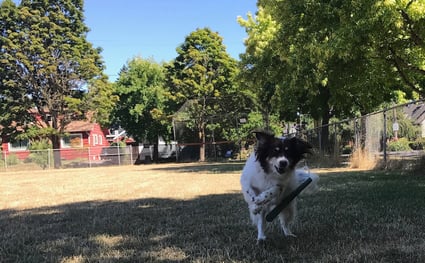 Wendy isn't much of a stick chaser or chewer, so I was surprised to see her enthusiasm when I brought this awesome fetch toy out for a test run. I'm no pro quarterback, but I was able to get some distance with this toy, and get it to go where I intended (for the most part). It's been a great addition to our play time routine.
(Wendy is shown with the large green fetch toy)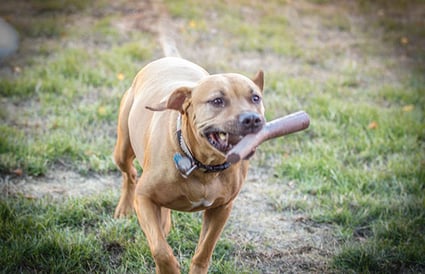 Jackson loves to play, and he loves to chew. When I first threw his new toy, we had a group of people over at the house and he ran all around the yard and all through the house like he was showing off. He didn't even want to share it with us to throw it to him at first. When we finally did get it in our hands, he kept bringing it back to a different person every time. I guess he wanted to test everyone's throw. He loved it. He did end up taking a break and wanted to chew on it. Knowing that he's a power chewer, I put it away out of reach. We'll stick to playing fetch and won't let him have it to feast on.
(Jackson is shown with the large brown fetch toy)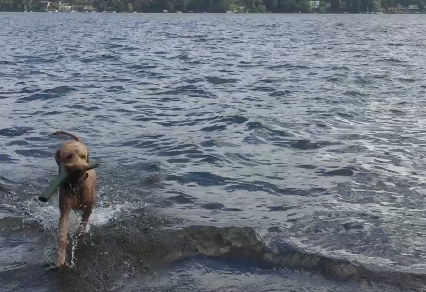 Loki's a lover. He's gentle with his toys and he's an avid fetcher, and very particular about what he'll "bring back." In a sea of thrown fetch toys at a busy dog park, he'll only chase after and bring back what's his. Good boy!! This quality makes him especially good at retrieving in the water. He zones in on the target and away he goes, retrieving it every time. He'd come out of the water and drop the "stick," asking for another round, and another, and another.
He's not a stick chewer so this stick only gets "air time" as a fetch toy.
(Loki is shown with the large green fetch toy)