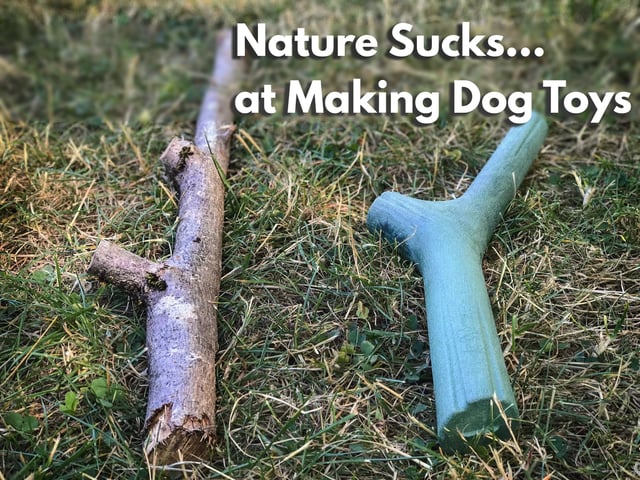 When nature gave dogs the stick, it gave them what is maybe the most dangerous "toy" anyone could have made. Most dogs love sticks, and most people are happy to throw a stick for an eager pup. The only problem is … well, pretty much everything about a stick is a problem.
Splinters in the tongue and/or gums from chewing sticks
Punctures to the roof of their mouth and/or throat from chewing, catching, or running onto sticks
Cracked teeth from chewing sticks
Eye injuries from impalements and broken off chunks of wood or bark
Heart, lung, liver, and other organ damage from running onto and being impaled by a stick (this actually happens more often than you might be aware).
A Fetch Stick Minus the Stick
We searched high and low for a fun and safe alternative to sticks that will help you exercise your dog and avoid common stick-related injuries in the process. After extensive research (and having a lot of fun testing with our pups), we finally found one that meets all of our criteria. What we love most about this "stick" is that it's the first dog fetch toy to actually look like a stick, but not injure dogs like a stick.
Its natural stick-like design, makes it an easy transition for dogs who love sticks.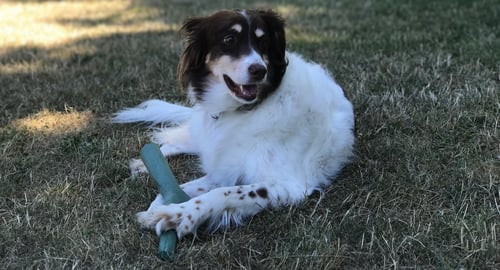 And equally as important for us is that it's also non-toxic!
Soft on teeth: Catching and chewing on it won't chip or break your dog's teeth
No splinters: Unlike a real stick, sharp pieces won't break off and cause harm
Perfect size: Large enough that it won't create a choking hazard when being retrieved
No sharp edges: It won't impale dogs like real sticks can and do
Easy to throw: It has a good "feel" and can be thrown far
Fun to catch: It's got an erratic bounce that keeps dogs guessing and engaged, unlike the predictability of a ball that goes in one direction only — it'll keep your dog guessing
Fun in water: It floats!
Washable: Easy to keep clean
Non-toxic material: The fetch stick is made from resin (a thermoplastic rubber material). It is certified non-toxic and is completely recyclable. These compounds, that are toxic to dogs, are *not* in this toy: PVC, BPA, Phthalates, Lead, Cadmimum, Chromimum, Melamine, Arsenic, Bromine.
There are a ton of fetch toys, balls, and other doggie doo-dads in the marketplace, but this playstick was the highest quality that we've found and we're excited to make it available to you. Preventive Vet is the only place in North America where you can buy this dog toy.
Please note: This is not meant to be an unsupervised chew toy, but it'll stand up to a bit of "post retrieval" chewing. Dogs love it!
Large size - approximately 9.5 ounces, 14" long, 1.5" diameter
Small size - approximately 4 ounces, 10" long, 1" diameter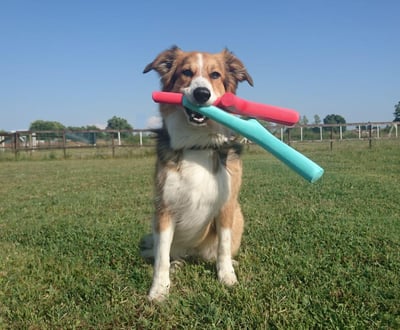 Two new colors!
We've just added two new great color options, Coral Red and Teal Blue. These bright colors are particularly good for making it easier to find your fetch toy in highly wooded areas, in the water, dimly lit places, or at a large park.