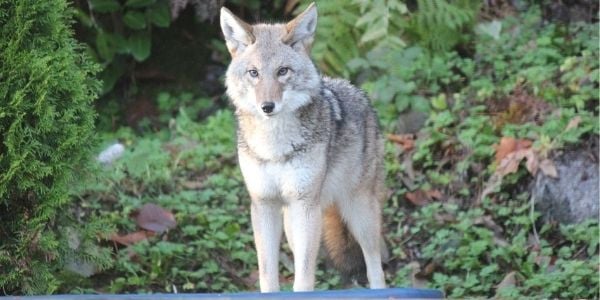 Coyote populations in urban and suburban areas are rising, and this can be quite scary when you take your dog out for a walk only to be confronted or followed by one. And where there's one, there are likely more!
Coyotes aren't typically known to attack people and larger dogs, though it certainly does occur. Coyotes do routinely go after cats and smaller dogs.
In my local area of Seattle, there are daily sightings as well as regular reports of coyote attacks toward small dogs in their backyards or even when on leashed walks. Not to mention the number of outdoor cats attacked and killed by coyotes. I know that there are at least two to three different packs of coyotes in my neighborhood, as they live in the state park and in a few of the larger greenbelts in the area.
Coyotes truly can thrive anywhere, so just because you live in a busy city doesn't mean they aren't around. During a recent nighttime nature walk with the Preventive Vet team in an urban park, it was amazing to hear the sheer number of coyote howls, barks, and yips around us. Check out this short video to hear them:
As urban sprawl and residential building have encroached on coyotes' natural habitat, they have quickly acclimated to living in closer contact with people. While most of the time, coyotes will avoid direct interactions with people, with continued exposure, they are becoming bolder and less frightened. This is especially true if their food supply is low or during mating or whelping seasons.
We must learn to coexist with urban coyotes. Coyotes are an important part of the ecosystems they inhabit. They help to keep rodent populations in check and have an indirect role in helping to keep native bird populations flourishing. But when you start seeing them in your yard, on your street, or generally in your neighborhood — and definitely when you are followed by one on a walk — it does make one think about their presence just a little bit more!
Let's look at some ways to make sure your pet is protected from coyote attacks.
What to Do If You and Your Dog Are Followed By a Coyote
How to Decrease Your Chances of Running Into a Coyote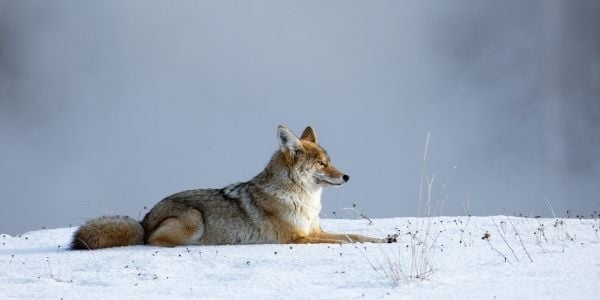 Other Dangers to Pets from Coyotes
Coyotes can carry and transmit certain infectious diseases that your dog or other pets can catch. These include distemper, hepatitis (liver inflammation), parvovirus, rabies, leptospirosis, and others.
Coyotes can also be a source of mange (mites), fleas, ticks, intestinal worms, and other parasites that they can pass along to your pets. Your dog doesn't even need to come into direct contact with a coyote to pick up these nasty bugs, which is why it's so important to protect your dog year-round with parasite preventatives.


How to Keep Coyotes Out of Your Yard

Additional Coyote Resources
Have you seen coyotes in your neighborhood? Have you ever had a pet injured or stalked by a coyote? Have you yourself ever been followed by or encountered a coyote? Please share your story and any coyote tips in the comments section below.