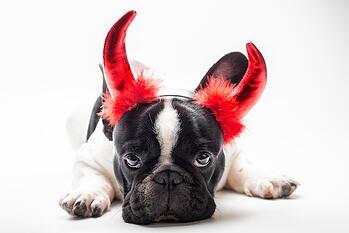 Ah, Halloween; the time of year when no one is allowed to say that you can't dress up as a superhero while eating enough sugar to put yourself into low-Earth orbit. For you, Halloween might be a fun reprieve from normal clothes, as well as a candy-fueled kickoff to the holidays. But for a dog it presents a new batch of hazards. Here are the Top 10 Halloween dangers for dogs you need to watch out for.

Xylitol
Hard candies, gum, and mints are just a few of the many types of products that can contain xylitol, a sugar-free sweetener that is safe for humans but kills thousands of dogs every year. If you have children, make sure they don't leave their candy lying around anywhere that's accessible to your dog. A small amount of xylitol can be deadly — literally three sticks of xylitol gum is enough to kill a small dog, and it doesn't take much more to kill larger dogs.
If you're handing out any xylitol products to trick-or-treaters, make sure they're completely locked away from your dog. Check our list of xylitol-containing candies, gums, and mints to learn which products contain this deadly ingredient for dogs.


Chocolate
If there isn't chocolate in your home on Halloween, you or your children are probably doing something wrong. (I mean, come on — if you're not inhaling chocolate by the pound on Halloween, when are you?)
But do you know how little chocolate can be toxic to your dog and what factors influence this? The part of chocolate that is a problem for dogs is compound similar to caffeine called theobromine. How it will affect your dog depends on their weight, current medical conditions, and the amount and type of chocolate eaten — the darker the chocolate, the more theobromine, the more dangerous. Understanding these factors could mean the difference between checking in with your vet if your Great Dane eats an M&M, or rushing to the ER if your Corgi gets into a stash of dark chocolate bars.
Check out our article, "Chocolate: The Most Well-Known-About, Yet Still Common, Dog Toxin," and download the APSCA's poison control app to use their chocolate toxicity calculator.
Raisins
First, we can all agree that handing out raisins on Halloween should be a federal crime. But if anyone in your home comes back with a box of raisins, it could be more of a problem than just crappy "treats." If a dog gets into them, grapes, raisins, and currants can lead to acute kidney failure. Be sure to put any trick-or-treat raisins in the garbage where they rightfully belong, or at least keep them away from your dog.


Snack and Candy Bags
Halloween isn't always limited to the sweet stuff. Many trick-or-treaters will return home with bags of salty snacks. But these snack bags can turn deadly in a matter of minutes. A dog rummaging for crumbs can easily get their head stuck in a plastic or Mylar bag, creating a vacuum-like seal and suffocating in just 3–5 minutes! Once their head becomes stuck, the dog will panic, which depletes oxygen and raises carbon dioxide even faster. A dog of any size can't get the bag off their head once it's stuck. The same goes for candy bags that hold individual, or "fun size," treats. Even if they're empty, a dog's curious nose is more than enough to cause them to poke their head in and explore.
Empty all of your chips, snacks, and candies into sealable Tupperware containers, cut the empty bags twice (one cut down each side), and throw them away in sealed trash containers. If the trick or treaters in your family come back with snack bags, make sure they do the same.

Stress
If you're a popular stop on your neighborhood's trick-or-treating route, your door is going to be blowing up on Halloween night. The constant knocking, doorbell ringing, and parade of strangers can really stress out a dog, which can lead to a reduced appetite, digestive upset, or even aggression. (And did you know that dogs wag their tail when they're frightened or angry as well as when they're happy?) It's best to sequester your dog in a back room of the home where the commotion won't bother them. You might also try placing them in a crate or carrier that's filled with plenty of toys, interactive feeders, or food puzzles to keep them entertained.

Doors
As mentioned above, your door is probably going to be opening and closing quite a bit. Not only does this create many opportunities for your dog to run into the night, but the door itself can be dangerous. It's far too easy for a paw, tail, or ear to accidentally get caught and pinched in a closing door. Best to keep your dog separated from the front door until the action calms down. In case they do manage to escape through an open door, or get out of your yard, read our "6 Tips for Finding Your Lost Dog."

Fake Web and Other Decorations
Dogs tend to explore new things with their mouths, and that includes your Halloween decorations. A curious or bored dog will happily scarf down fake spider webs or even old pumpkins, corn, or other autumnal vegetables. Any of these common Halloween items can obstruct your dog's digestive tract (stomach and/or intestines), which requires costly, and invasive surgery to remove the obstruction. At the very least, eating something like spider web will leave your pup feeling pretty lousy.



Cords
Do you see Halloween as an excuse to fill your home with a cacophony of flashing lights, ghoulish sounds, and other electronic decorations? If so, keep the cords covered or tucked away where your dog can't get them. Chewing on electric cords can result in burns to a dog's tongue and mouth and possibly a buildup of fluid in their lungs. A bad enough electric shock can easily put your dog in the hospital for several days where they'll rack up a few thousand dollars in vet bills.



Candles and Flames
Hate to break it to ya, but your conjuring ritual probably isn't going to summon any actual spirits. Now that we've got that out of the way, go ahead and ditch the real candles (the dark lord won't be insulted). Dogs can easily brush against the open flame of a candle, resulting in severe and painful burns and possibly even lighting your home on fire. If you want to set the mood for your Halloween séance, keep the candles flameless and opt for the LED variety instead.

Costumes
If you decide to dress up your dog for Halloween, don't leave them unattended in their costume. The tie-strings and dangling parts of some pet costumes can easily get snagged on items in your home or yard, possibly choking your dog in the process. Though unlikely, it can happen. Besides, it's a safe bet that your dog doesn't want to be in their Wonder Woman costume any longer than they have to be. And if you're thinking about painting or dyeing your dog's fur, find out how to do so safely.