Hi, I'm your dog's pancreas
You may not know exactly what I am or what I do, but trust me when I tell you that I play a vital role in maintaining your dog's health and comfort.

Who knows, maybe you've already seen what happens when I'm not "on my game": diabetes, pancreatic insufficiency, pancreatitis? As you can see, much like The Hulk… it's best not to make me angry.



I'm reaching out today specifically because of all these bouts with pancreatitis… you know, the condition where I become inflamed and you and your dog pay the price. I'm tired of being the bad guy, but I'm also tired of having to work so hard because of all the extra "treats" you keep giving your dog. Now I'm not talking about the occasional dog biscuit or the carrots and green beans you give him. Those are fine. What really bothers me, what really hurts me, what really inflames me are all of the "extra special" treats — the bacon and sausage, the prime rib leftovers and steak bones, the scraps from your holiday feasts.

And that bacon grease you keep adding to your dog's food in hopes of giving him a shinier coat. Really?!?! Who ever gave you that idea? What website or chat room did you read that one on?? Please stop, you're killing me! Literally.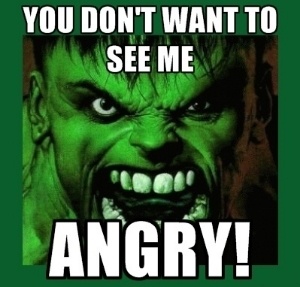 Look, I don't want to hurt your dog. But you're leaving me with little choice. I don't like making your dog vomit and have diarrhea. I don't like making him lethargic and putting him off his food. I don't even like causing you the grief, inconvenience, and the financial strain of the costs associated with an inflamed pancreas. How spiteful do you think I am?
Pancreatitis is no fun for anyone!
Trust me, pancreatitis isn't fun for me either. Not even close! When I'm inflamed, I start digesting myself. Have you ever literally eaten yourself? Does that sound like fun to you? I don't recommend it!

So let's call a truce. Let's make a deal. You get your dog to an ideal body condition and stop "spoiling" him with the things that make me angry and I'll keep being Bruce Banner, continuing to focus on my important work of helping your dog regulate his blood sugar and breakdown and absorb dietary proteins, carbohydrates, and the all-important fats. I don't want to be The Hulk.

You see, at the end of the day, you and I have the same goal… to keep your dog happy, healthy, and pain-free. So let's start working together. Let's stop making each other angry. What do you say, do we have a deal?

Sincerely,

Your Dog's (currently) Angry Pancreas

PS-Want to learn more about acute pancreatitis in dogs (and cats)? Check out this reliable and very informative article from my friend, double board-certified emergency/critical care and internal medicine specialist, Dr. Christopher Byers, DACVECC, DACVIM: Acute Pancreatitis — A Disease That Should Not Be Ignored!