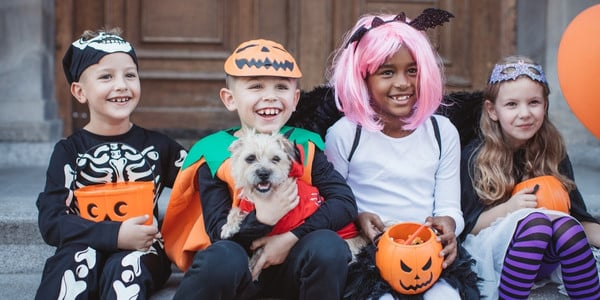 Halloween can be a trick or a treat for your dog, depending on how much they enjoy the constant buzz of activity at the front door or dressing up to join in the festivities.
If you're wanting to include your dog in any trick-or-treating, costume contests, or have them help you greet the gremlins, princesses, and superheroes who ring the doorbell, there are a few things to consider to keep everyone safe and happy.
We've got 5 dog training and behavior tips to help you and your pup enjoy All Hallow's Eve.
Know Your Dog's Preferences and Respect Their Limits
Your dog's only advocate is you. Make sure you're aware of their tolerance for things like wearing a costume or being out with the neighborhood kids on the trick-or-treat route. Many things on Halloween night are different than a regular walk around the block. Lots of people get into the holiday spirit and put up spooky decorations, children are running around having fun and making noise, and people are wearing costumes or masks that make them look different (and more scary) from a dog's point of view.
My personal preference is to keep Fido at home rather than bring them along for trick-or-treating, but some dogs do enjoy being a part of the fun, have been properly socialized, and have great manners that means they can tag along. However, even these dogs have their limits! Pay attention to any stress signals that your dog might start doing to indicate they've had enough or are getting tired. If possible, take them back home well before they begin to get tuckered out.
For the dogs that stay home, consider whether they will do better in their safe space for the evening or need a gate to separate them from the front door when it opens to reveal costumed kids. Setting up a safe space for your dog where they can relax with a chew or other interactive toy (like a stuffed Kong) and listen to calming music is a great way to prevent them from getting stressed by the constant doorbell ringing and knocking. Setting up a gate to keep your dog away from the door also prevents any impolite greetings like jumping, and prevents door dashing.
Get Your Dog Used to Their Costume Ahead of Time
If you're like me, your dog's Halloween costume is planned out months in advance. Starting early is key in making sure your dog feels comfortable and can tolerate wearing an outfit. Before purchasing or making your dog's costume, check to make sure that the costume or fur dye you're using doesn't put your dog at risk by following the tips in "Dog Halloween Costumes: Is It Safe to Dye My Pet's Fur."
You want to use what's called "desensitization" to help your dog get used to wearing their costume and build a positive association with it. Put it on one piece at a time for a short duration of time. Reward your dog with a yummy high value treat (like these Vital Essentials Freeze Dried Minnows) and then take the costume piece off. Do this a few times every day, slowly adding more parts of the costume as long as your dog is not showing signs of stress. Once your dog is wearing the whole costume, begin to increase the amount of time they're wearing it in small increments. Pair wearing the costume with things your pup loves, like their regular meals, dog treats, fun toys or interactive puzzles.
And don't forget — always supervise your dog when they are wearing their costume for safety's sake!
Teach Leave It and Drop It
With Halloween comes lots of candy, which means more chances for your dog to consume toxic items like chocolate, raisins, and xylitol. Make sure you keep any candy out of your dog's reach (and teach your dog not to counter surf) and keep an eye on them while out on your walk. You don't want your pup getting into any candy that a trick-or-treater might have dropped. Dogs are natural foragers and will follow their nose straight to any possible food. The training cues of Leave It and Drop It are essential behaviors to keep your dog safe, especially around Halloween.
The Leave It cue is used before your dog has something in their mouth. Use this cue if you notice your dog approaching something that you'd prefer they ignore. Click here for step-by-step instructions on how to teach your dog Leave It.
If you say Drop It, that means that you're asking your dog to drop something they already have in their mouth. Click here for how to teach your dog Drop It using toys, play, or food treats. I love training this cue because there are so many options to keep it fun and positive for both dog and human!

Prevent Door Dashing
Halloween presents lots of opportunities for your dog (or cat) to run out the open front door. Keep your dog safe by keeping them in another room behind a closed door or sturdy gate, or have them on leash and under your control whenever the door is open.
Door dashing doesn't just happen at Halloween. Any time lots of guests are coming and going, or if you have children that have friends over frequently, your dog could sneak out a door that is left open. And who can blame them when the big wide world with all its smells is just beckoning them to have an outdoor adventure! You can train a dog to not dash out the door with these simple techniques and consistency.
If your dog does happen to get out and becomes lost, follow these 6 Tips for Finding Your Lost Dog.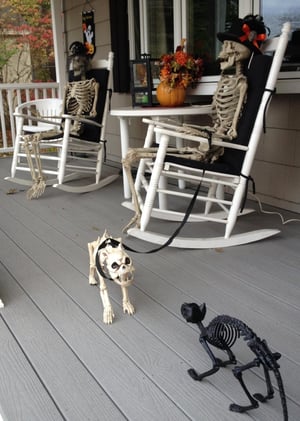 Practice Leash Safety
If your dog is joining you and your family for trick-or-treating, follow these Halloween leash safety tips:
Have your dog wear reflective gear or a LED light-up collar or harness to make them visible to motorists and other trick-or-treaters while walking the neighborhood. (You might want to add these things to any kids costumes as well!) Read more tips and product recommendations for walking your dog safely at night in "Lights for Dogs at Night and How to Safely Walk Your Dog in the Dark."


Avoid retractable leashes. Hopefully you don't use a retractable leash for your regular leashed walks with your dog (if you do, read why you should ditch the retractable leash here), but you definitely want to avoid this type of leash on a night like Halloween. Not only is it dark out, making it hard for others to see the leash, but you don't want your dog getting startled or spooked and taking off while on a retractable. These leashes can easily snap when under sudden pressure and have caused injuries to both dogs and humans.


Practice polite loose leash walking. Having a dog that isn't dragging your down the street will make your Halloween night much more fun and save you from a sore shoulder. Plus it keeps everyone safe if your dog is hanging out close by your side. If you need tips on how to practice leash manners, read more about Loose Leash Walking here.


Don't bring your dog up to front doors. Not only can this be stressful for your dog if they have to walk past spooky Halloween decor, but the person who answers the front door might be scared of dogs. Or they might have a dog of their own inside that wouldn't appreciate another pup on the front step. Either way, it's polite and much safer to hang back with your dog.
I hope you and your dog enjoy all the Halloween fun, whether you're out trick-or-treating together or hunkered down at home with the front porch light turned off. By following the behavior and training tips above, you can keep your dog safe and make sure they have a good time, no matter what you're doing for Halloween.
Do you have any Halloween training or behavior tips that work for you and your dog? Share them in the comments below!