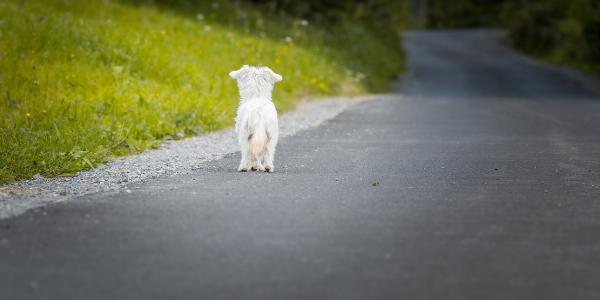 We hope your dog never goes missing, but it's an unfortunate reality that dogs can, and do, wander or run away. Rather than get caught off-guard, why not start preparing now? That way, if you do find yourself searching for a lost dog, you'll know how to get them back home as fast as possible.
Here are tips for finding a lost dog.
1. Check Your Home First
Before you begin a wide search to find a lost dog, make sure they're actually gone. Your dog may be trapped somewhere inside your home, garage, yard shed, or elsewhere on your property. Give a thorough search, and consider carrying some of your dog's favorite treats or toys with you.
2. Expand Your Search
Once you've determined your dog has, in fact, escaped your property, check your neighborhood, parks, schools, and other nearby areas. Consider that the artificial boundaries you wouldn't cross — industrial zones, neighbors' properties, etc. — pose no barrier to a dog. If an area is accessible, there's a chance your dog may have wandered in. Of course, be sure to ask your neighbors before searching their yards or outbuildings.
3. Get Social
Don't go it alone — find help! Put out the call, go door-to-door, send emails, and engage your social media network. It's amazing how many pets have been found following a posting on Facebook. Check for various local and regional lost pet Facebook groups and post photos and detailed information there.
Pawboost will share your lost pet posting on social media, their website, and through email alerts for anyone signed up in your area. Reddit has a Lost & Found Pet area. Craigslist is also common site where people post about lost and found pets. You can also try a neighborhood-specific resource like Nextdoor. These tools really can make a big difference.
4. Flag and Update Your Dog's Microchip
If your dog is microchipped, now would be a good time to call the microchip company to (1) alert them that your pet is missing and (2) ensure that your contact information is up to date. If your dog is not microchipped, please have it done as soon as you can! Microchips are a safe, simple, inexpensive, and reliable tool to help get lost dogs home and keep them out of shelters. Microchips truly do reunite families and save lives. If your pet is wearing an updatable QR code ID tag from PetHub, contact them as well to alert that your pet is missing. Additionally, be sure and log in to your pet's profile and add as much up-to-date information as you can.
5. Go Where Found Pets Go
Think about where you'd take a lost pet if you ever found one without ID. Most likely it would be to one of the local shelters, county animal services, or a local veterinary hospital (don't forget to check local veterinary emergency hospitals, just in case your pet was injured). Call or visit these places and provide them with a current picture of your pet. Just be patient with the staff at the shelter or vet hospital; they may be dealing with lots of ill pets and emergencies. You can leave a "Lost Pet" poster and check back in with them daily to see if your dog has turned up.
6. Go Where People Go
Expand your reach even farther by placing "Lost Dog" posters in high-traffic areas. Ask local shops — coffee shops, grocery stores, restaurants — and your local library if you can hang a poster. Think of places in your vicinity that attract a lot of people from both near and far; one of those people just might recognize your dog.
How to Make a Lost Pet Poster
Using a poster template can help make things easier to design.

If you can, make the poster in advance. If the need arises, you'll only have to update a few pieces of information, such as adding a more recent photo of your pet.



Be sure to include:

Their name and breed
Their color and point out any distinguishing marks (like Daisy's liver nose below)
Sex and approximate age
Date lost
Location last seen
Your phone number



Use a current photo of your pet. It helps to have current photos of your pet on hand (on your phone). If the length of your pet's coat changes frequently, such as before and after grooming, be sure to take pictures of them over time in their "long coat" stage and their short coat stage (see examples below).


Preferably, print the poster on colorful paper or include brightly colored fonts. White posters can easily go unnoticed, especially in the winter.


If you anticipate rain or snow, make sure to wrap your posters in plastic so they don't disintegrate and fall to the ground.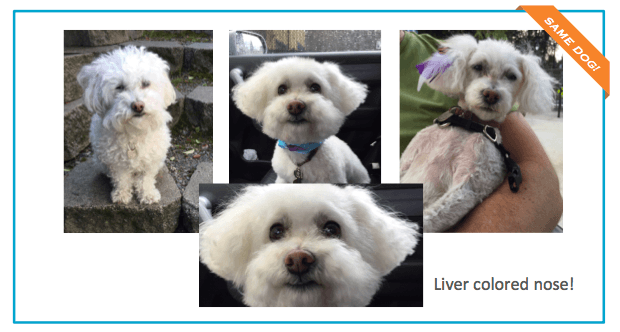 When Many Pets Go Missing
Keep in mind that the day after holidays like July 4th in the U.S., and July 1st in Canada, are the busiest in shelters. During these holidays — and any occasion where there are fireworks — keep your pet securely inside.
Beware of Lost Dog Scams
It's a sad truth, but some people may try to use your lost dog as a way to siphon a few dollars out of you.
To keep yourself from becoming a victim or being distracted from the search for your dog, consider ways of verifying that someone really has your dog before proceeding. For instance, are there any unique features that aren't visible in your "Lost Dog" poster? Or, even easier, ask the person to send a photo of your dog. With the proliferation of smartphones and other camera devices, this should be a straightforward request to verify your dog has been found and is safe.
In general, be wary of someone who demands reward money up front and don't agree to wire someone money before getting your dog from them. The following are some common scams, as originally detailed by PetAmberAlert:
Beware of Up-Front Payment
A scammer might try to convince you that they have your dog, but will only return it after you pay them. Some might even threaten to harm your dog if you don't pay.
Beware of Truck Drivers
Another scam might take the form of a "truck driver" who claims they saw your dog on their route. The purported driver will demand money before they will agree to "drive back" and pick up your dog.
Beware of Out-of-State Calls
Scammers sometimes claim that your dog wandered across the state border. They will agree to send you back your dog, but demand that you pay for a flight, kennel, or other costly means of returning the dog.
Reunited and It Feels So Good
Even after you have successfully reunited with your pooch, there are still a few more steps to take.
Clean Up
Circle back around and remove all of the "Lost Dog" posters you hung up, and take down any notices you put up online. Not only will it help your friends, family, and neighbors celebrate the return of your pet, but it'll also prevent people from continuing an unnecessary search.
Schedule a Vet Check-up
It's a good idea to bring your found dog to the vet for a check-up. Depending on their situation — how long they were gone, where they went, where they were found, etc. — your dog may have injuries, eaten something they shouldn't have, picked up nasty parasites, or be dealing with a host of other problems. A quick trip to the vet can help to put your mind at ease that all is well and, if there's a problem, catch it early.
Have any tips of your own? Ever found a lost dog? Share your experience with our community!