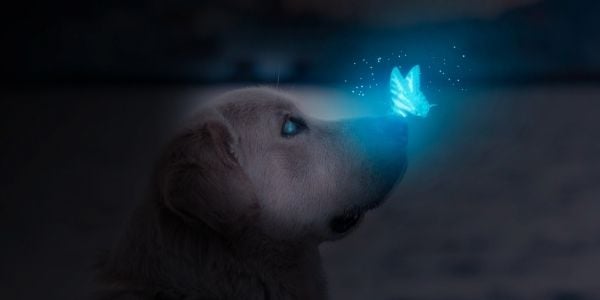 Nighttime safety for dogs is important any time of year, but even more so as the days get shorter and the dark settles in during autumn and winter.
When waning daylight forces more people to take their dogs on walks in low-light conditions, it's important to raise awareness that the pre-dawn and post-dusk hours are more dangerous for dogs.
Sadly, it's not uncommon for dogs to get hit by cars or sustain other injuries resulting from decreased visibility.
Although there are no official statistics about the number of dogs hit by cars per year, some sites have accounted for more than one million dogs a year struck and killed each year on our roadways.
Regardless of the actual numbers, it's safe to say that far too many dogs and cats are killed by cars every year. Even in cases where a dog is spared a life-threatening injury, off-leash dogs can also cause car accidents resulting in injury or death to people.
The danger increases significantly at night. According to the National Highway Traffic Safety Administration, pedestrians are at least three times more likely to be hit by a car when it's dark out. And that's for people who, unlike dogs, understand traffic laws and patterns.
LED Light-Up Collars and Leashes for Nighttime Dog Walks
You can reduce the risk of serious injury and death by making it easier for drivers to see you and your dog. This is accomplished by:
Carrying a flashlight or wearing a headlamp during your walks
Walking on well-lit streets
Wearing reflective or light-up clothing or accessories, such as a reflective jacket, hat, vest, or armbands


Since some people might feel a little silly taking their dog for a walk while wearing a reflective vest and a headlamp, the more palatable option for many dog lovers is to purchase a light-up or LED dog collar and/or leash or place some sort of reflective clothing on your dog. (They tend not to have the same social concerns as us and are often more than happy to look or act goofy!)
Many of these products cost roughly the same as an ordinary collar and come in a variety of sizes and styles. In addition to reducing the danger that your dog will be hit by a driver who can't see them, an LED collar will also make it easier for you to find your dog if they manage to get away from you in the dark.
These are some of the self-illuminating and reflective dog safety products we recommend:
Light-up Dog Collars
These illuminated collars are a great way to make your dog much more visible and safer while taking walks at night. We love the Illumiseen LED Dog Collar, which comes in six different colors and six sizes. It also remains illuminated for five hours off of a one-hour charge, and the easy-to-use clips make it a breeze to put on.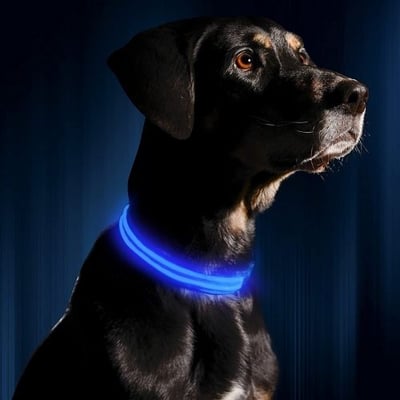 If you're looking for something a little more simple, our other two favorites are the NiteHowl LED Safety Necklace seen here: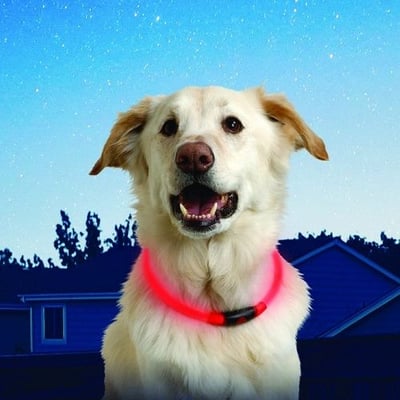 and the USB Rechargeable LED Dog Collar. Both are water-resistant and can be adjusted to any size dog. You can't get much more simple than that!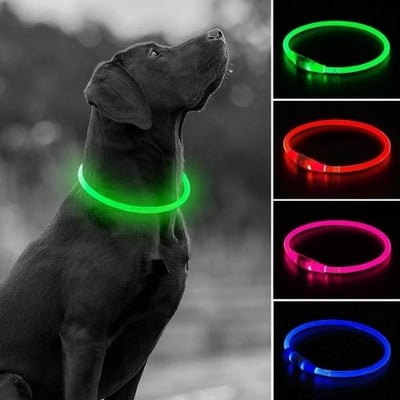 Leash and Clip-on Light For Dogs
Why stop at the collar when you can light up other accessories! The Night Ize LED Spotlit clip-on is lightweight and water-resistant. If you choose not to get a fully illuminated collar, this makes for a perfect, all-weather dog collar charm or dog collar light.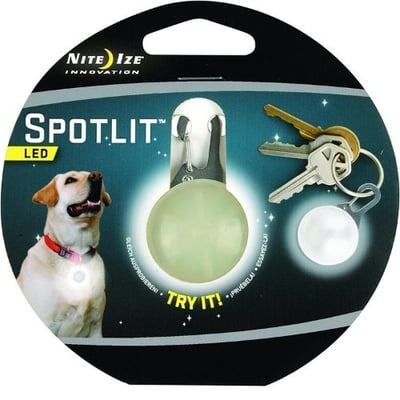 Or if you are looking to add to the illumination, you can always add an LED leash. The NiteDawg from Nite Ize provides five feet of bright red LED illuminated leash that can be seen from 1000 yards away!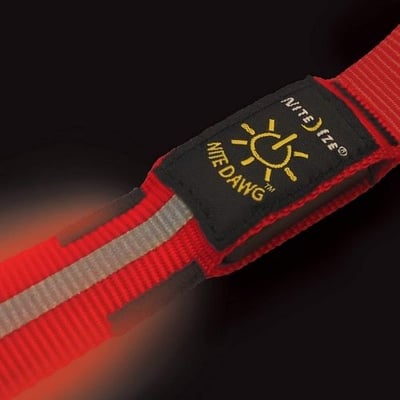 And if you're looking to match your Illumiseen collar with more light, the Illumiseen LED Dog Leash is also available in six colors, USB rechargeable, and comes in two sizes.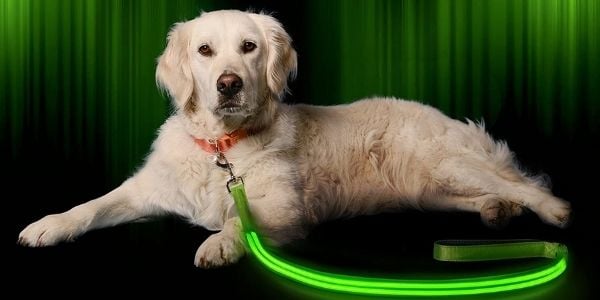 Reflective Dog Gear
You can also choose to go with reflective clothing. One of our favorites is from Ruffwear, a company dedicated to outdoor gear for your companion.
The all-purpose jacket is water and wind-resistant. We took a quick stroll with Clover (wearing an older model) to see how well the coat reflected, and it kept her dry during a rainy night.
I'd also like to remind you to be especially safe when there's the added hazard of rain. The decreased visibility in the rain or even the glare from a rain-soaked roadway will further hinder a driver's ability to see you and your dog. And, as if that weren't enough, slick roads can be harder to stop on!
Practice Walking Safety
Before you go for an early-morning or late-night walk with your dog, be sure that your dog is responsive to your lead and start working on your loose-leash walking. If your dog constantly pulls against their harness, it means, first of all, that you're probably not having an enjoyable or relaxing walk. Secondly, it's a sign that neither you nor your dog are paying close enough attention to each other.
Teach your dog to walk safely at night by first teaching them how to walk safely during daylight hours. Bring along a clicker and some treats. Click and reward your dog every time they focus on you (i.e., eye contact). Also click and reward when your dog is in the "sweet spot" near your leg, leaving some slack in the leash without tugging as you walk.
You'll be more successful by rewarding your dog for walking properly, rather than constantly tugging them back toward you. The goal is to reinforce their good walking behaviors — with the clicker to mark the behavior and treats to reward it — and use very gentle tugs on the leash to guide them back to where they will be rewarded.