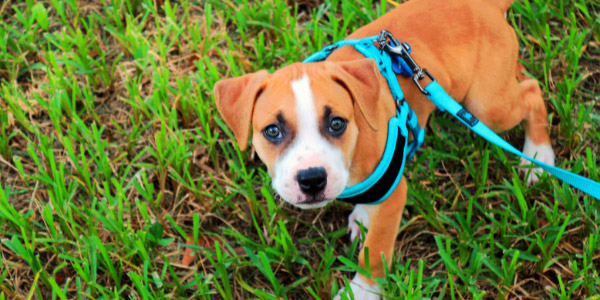 Teaching your dog how to walk politely on their leash is a lot easier and safer if you use a body harness.
Not only is a dog who pulls against their collar while on leash hard to control, but they're also in danger of some major health risks! Dogs who pull on leash can suffer a collapsed trachea, nerve damage, and other neck and throat injuries.
For brachycephalic breeds (short-skulled and flat-faced dogs like Pugs, Boxers, French Bulldogs, etc.), harnesses are best to prevent any pressure on the neck and throat and exacerbating their already delicate face and short nasal airway. Using a harness helps to prevent these injuries from occurring and can also help you in training your dog to walk politely on leash.
A harness is a great alternative to aversive collars, giving you better control with a large, strong dog without relying on pain and discomfort. Harnesses provide another option for dogs that tend to slip or back out of their collars, as it's harder to wiggle out of a body harness than a regular flat collar.
There are many kinds of harnesses, and it's important that you find the right kind for you and your dog. Keep reading to find out more about all the options.
Front-Attachment Harnesses

Front-attachment style harnesses are my personal favorite to use, especially with large, strong dogs. They offer great control and can be easier for your dog to accept than head collars (also known as head halters). If you attach the leash to the front of a harness on your dog's chest, you have control over your dog's center of gravity. When the dog tries to pull forward, he is gently turned to face you. Front-attachment harnesses do a great job of redirecting the dog and passively training loose leash walking, and are my favorite on-leash management option. If you want to lessen your dog's pulling on leash, make sure you attach the leash to the front ring on your dog's chest.
There are many brands available as these kinds of harnesses have become more popular; one popular option is the Freedom No-Pull Harness. This harness offers both a front-attachment and back-attachment ring. For when you're training loose leash walking, use a double-ended leash (which comes included!) with this harness to attach to both the front ring and the back ring for more control. This double contact point helps to give your dog more feedback while you teach them to walk nicely on a leash, giving you control over both your dog's momentum via the back and direction via the front.
I highly recommend the Balance Harness by Blue-9 Pet Products, which I use with my adolescent Corgi. This harness has a Y-shaped chest strap which makes correct fitting easy and prevents sagging and gapping that can happen with a horizontal chest strap found in other front-attachment harness styles. It also has a neck buckle option if your dog doesn't like harnesses being slipped over their head, which makes putting it on less stressful for your dog.
Another popular front-attachment harness is Ruffwear's Front Range Harness. This harness provides comfortable padding for your dog's chest and belly for longer-term wear and has a great ID tag pocket and reflective trim. In my experience, this harness can feel a bit more bulky and awkward when putting on and taking off of your dog, so it's not the best choice if your dog doesn't like things going over their head. However, it is one of my go-to choices for going on a hike or long walk around town with a dog due to its comfortable padding.
Ruffwear Front Range Dog Harness (also available directly from Ruffwear)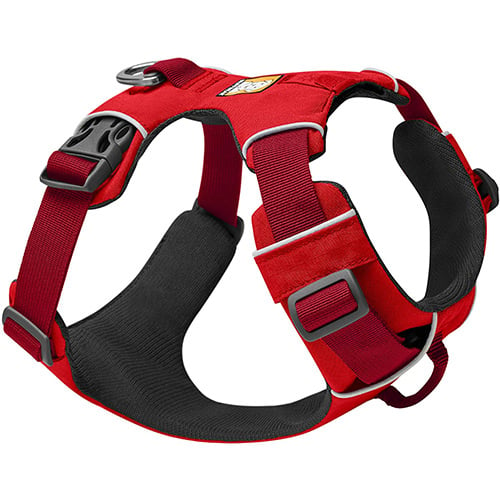 Back-Attachment Harnesses
There are also harnesses where the leash attaches to the top on your dog's back, between their shoulder blades. Unfortunately, with back-attachment harnesses, your dog could still drag you down the street. In my experience, many dogs enjoy pulling against the leash pressure when it's attached to their back, so it's not the ideal harness to use for training loose leash walking.
These harnesses can also be a bit more difficult to put on and take off your dog since many use a step-through style, and dogs love to tap dance while you're trying to get them ready to go outside. However, if your dog already has polite leash manners, a back-attachment harness can be a great option. These styles can be easier for smaller-sized dogs with their shorter legs, who might constantly trip over a leash attached to a front-attachment harness. This style of harness is also the best option for brachycephalic breeds (if they are fitted correctly) to prevent any strain on the neck and throat.
My older Corgi wears the Kurgo Journey Harness as she's not a leash puller, and a back-attachment harness works best to avoid getting the leash tangled in her stubby legs. And I love that it comes with a seatbelt attachment!
One of my favorite back-attachment harnesses is the Gooby Comfort X Step-In Harness, which is made of breathable, machine-washable mesh and features a synthetic lambskin strap and microsuede edging to prevent chaffing sensitive skin. The adjustable neck and chest strap make it easy to fit a variety of dog breeds, and it's a great option for dogs who don't like anything going over their heads with its step-through design. I used this harness when my youngest dog was a puppy because it's affordable and lightweight – which helped him adjust to wearing a harness during training.
If you prefer an over-the-head style harness, and your dog doesn't mind things being put over their head, this machine-washable padded mesh harness by Puppia is a great option. It's lightweight and comfortable, and tough for dogs to wiggle out of if they try to slip out of their harness.
Seat Belt Harnesses for Car Safety
A harness is a MUST for keeping your dog safe while in the car. In case of a car accident, your dog should be securely belted in to lessen the risk of being injured or becoming a projectile that could injure you or other passengers. Keeping your dog in a seat belt also prevents them from bolting out the car door when it's opened, by you or by first responders coming to your aid in the case of an accident. You never want to attach a seat belt to your dog's regular neck collar due to the serious risk of neck, chest, and spinal injury.
Not all seat belt harnesses and accessories are created equal. Look for a seat belt harness that has been crash-test certified to make sure that your dog is properly secured in the back seat. The Sleepypod Clickit Sport Safety Harness has received high ratings for crash safety and can also double as regular walking harness.
How to Fit Your Dog's Harness
The way your dog's harness fits is extremely important for it to work properly for loose-leash training and to prevent structural damage by inhibiting your dog's full range of motion in their shoulders and legs. Be sure to follow the manufacturer's instructions for fitting and using the harness you've chosen for your dog.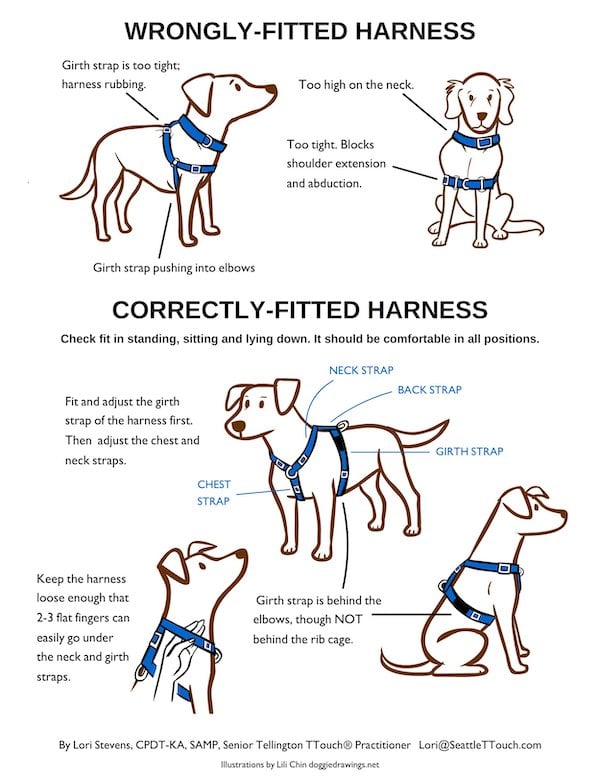 Emergency DIY Harness

This is an emergency harness method only. This type of harness is not meant for long-term use or to be used as a training tool to prevent pulling.
If you happen to forget your dog's harness and need more control temporarily, you can use a regular leash to create an emergency harness. If your dog is pulling against their neck collar around a distraction (like other dogs or that pesky squirrel that just ran into view), this method gives you a quick way to avoid injury to their neck and gain better control.
It can be helpful in situations like going into the vet clinic or dog daycare, where your dog might get more nervous or overexcited on leash. You can also use this method if you happen to come across a loose dog. Consider keeping an extra dog leash in your bag or car, so you have a way to help a loose dog get to safety.
Make sure your leash's clasp is connected to your dog's collar at the back of their neck, in line with the spine.
Thread the leash under your dog's chest, behind their front legs, to the opposite side.
Pull the leash handle up and underneath the leash on top of the dog's back. This creates a slip lead around your dog's body.
You can use the same technique on a dog who isn't wearing a collar by first creating a slip lead for the neck before creating the slip lead for the body. Watch this video on how to create an emergency harness, whether the dog is wearing a collar or not: