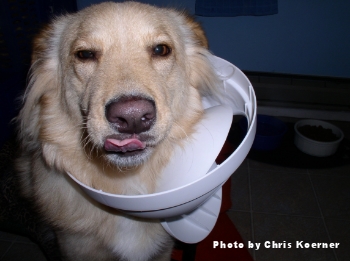 How do you store your dog's kibble? Do you keep it in its original bag? Or empty it into another container?

You've probably only thought about this question before in terms of the freshness of the dog food, if at all. Right? Well, while that's indeed an important consideration, did you know there are legitimate safety aspects that should also influence your decision?

Pet suffocation: Dogs have suffocated helping themselves to their own kibble directly from the bag, especially in some of the newer, mylar-type, resealable bags! Here's how it happened to one dog.

Food bloat: Typically a less devastating condition than its "cousin," Gastric Dilatation and Volvulus (GDV/Bloat). But still quite uncomfortable for the offending dog, and frustrating for the owner (can you say… diarrhea!?!?). And since it can, depending on its severity, require a trip to the Animal ER for hospitalization and treatment, and it can be fatal, it's best to take steps to prevent it.


I don't typically recommend keeping your dog's kibble in its original bag, as it's certainly not the safest way.


I prefer to have kibble stored in an air-tight, secure and sturdy, dog-proof container. Some people use Rubbermaid and other plastic tubs, while others use tall kitchen trash cans. Both can do an ok job, but neither is ideal, as demonstrated in the photo above. And choose your containers wisely, as they can cause harm, just like this story about Cooper demonstrates. For my money, I love the Vittles Vault for storing pet food. I've had mine for years! Air-tight, difficult to chew through (not that I've personally tried), and easy to travel with.

Don't forget though, when discarding your dog's food bag take 10 seconds to cut the bag TWICE — once along the bottom, and once up one of the sides — this will result in a flat sheet, and will help you protect your dog (and wildlife) from suffocation (see illustration of a chip bag being cut in a similar way below). And while you're at it, go ahead and cut out the bar/UPC code and Lot number information. You'll want to keep that in case there's a recall on your dog's food before they finish the bag.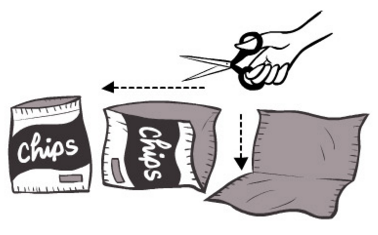 Please note: Unless otherwise stated, products, services, and/or companies mentioned, or links to same, are for illustration purposes only and their inclusion does not constitute an endorsement from Preventive Vet. Additionally, we are NOT compensated if you choose to buy what we feature.