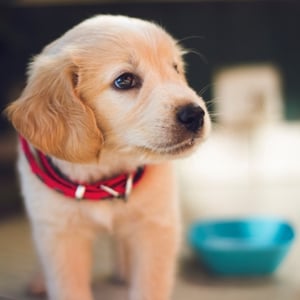 Bringing home a new dog — whether they're a puppy or adult — is an awesome thing, no doubt! But it can also be a bit overwhelming, both for you and your new dog.
Regardless of where your dog came from — shelter, rescue, foster home, breeder, or even your neighbor down the street — joining your family is a change. An awesome change, but a change none-the-less. And change can be stressful for dogs. This is why many dogs will go through an "adjustment period" when they first come into a new home.
You can ease and shorten their adjustment period — and minimize your own stress — by being well prepared with products and aids that can help your new dog settle into their new life.
This article aims to make things easier for you, with some behavior and safety awareness, shopping tips, and recommendations for products that may help you and your pup during this time of transition. I cover everything from calming aids (including pheromones and music), to how to make bedtime "sleeptime," as well as safe toys and crate essentials.
Things to Help Calm Your New Dog and Ease Their Transition Into Your Home
Helping Your New Dog Feel Comfortable and Settle In
Prolonged adjustment period for some dogs
Note that research and experience shows that dogs purchased from "backyard breeders" (think Craigslist and Facebook) and those bought from pet stores (who frequently get their puppies from large commercial breeders, a.k.a. "puppy mills") may be more likely to suffer from prolonged adjustment periods and even more long-term behavioral problems (incl. aggression, separation distress, and others).

For this, and other reasons, if you haven't already selected your new dog, I recommend avoiding these sources and opting more for known and reputable breeders or good shelters, rescues, and fosters who take the time to get to know their dogs and prospective adopters with the goal of ensuring the best fit possible.

If you've already gotten your dog from one of the "concerning" sources, I'm not saying that you made a bad choice or need to return them, just be aware of the greater potential for more behavioral problems and recognize that your new dog is likely to have even more need for the products and recommendations below that will help ease the adjustment period, and that they may also be more likely to need such aids for an even longer period of time.
Even though being brought into your home will undoubtedly mean an awesome life for your new dog, they might not immediately realize that and might need a little extra help getting comfortable in their new digs.
That's OK, and there are plenty of simple calming aids that can help them associate this new life change with the awesome development it is!
They likely won't need them forever, but many puppies and adult dogs benefit from having these things around for the first few weeks to months in their new home.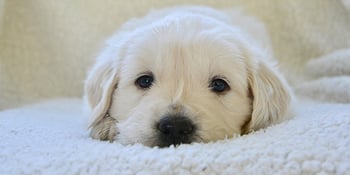 Dog-Calming Pheromone:
Adaptil is the pheromone (dog-to-dog communication scent, basically) that dog moms release while their pups are nursing, it conveys a calming, soothing, appeasing message to pups and can make a big difference in comforting and helping some puppies (and even older dogs settle) into their new homes.
Adaptil is available in three forms:
Collar: I recommend this as a definite for at least the first month of your new pup being home (each collar lasts for about a month), as the collar is always on and with them and therefore providing them with the calming scent wherever they are within your home and even when they're outside.

Note: these collars can also be helpful for preventing anxiety that can happen with traveling in a car.
Diffuser: This plug-in releases a steady, low-level of the pheromone within the room/area where it's plugged in. It covers an area of approximately 700 s.f. and, like the collars, lasts for about a month. I recommend, in addition to the collar, using a diffuser at least in the room/area where your dog's crate is and possibly even one in the room/area where you feed them, to provide an additional level of comfort and security in these two important areas.
Spray: I find the spray formulation most useful for a quick spritz into the car or on your dog's travel harness or carrier prior to rides to provide a bit of additional comfort and soothing to help prevent travel anxiety. It can also be useful for a quick spritz on their bed or crate pad prior to bed or "kennel up" time. Just be aware that with pheromones, more is not better … it literally just takes a spritz or two and never right on your dog.


Comfort Toy:
This Snuggle Puppy is cute enough to warm your heart but, more importantly, it'll give your pup some much needed comfort as they get settled into their new home. This cuddle buddy, with its "real-feel" heartbeat (which dogs can both hear and feel) and its gentle warmth heat source, is a "super stuffy" that really can help ease transitions for dogs. The reviews and photos people have submitted for this product are absolutely heartwarming, you really should check them out.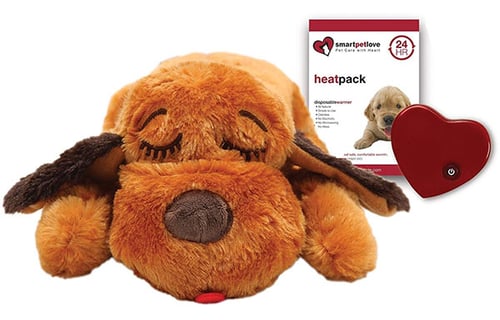 Another important feature of the Snuggle Puppy is that it's washable (just don't forget to remove the batteries first!). And speaking of the batteries... be sure to keep a close eye on your dog when they're first interacting and snuggling with their Snuggle Puppy!
If your dog's idea of "snuggling" this toy involves mouthing and chewing, and disemboweling, be sure to take the toy away from them! Dogs destroying and removing the insides of any stuffed toy can lead to a digestive obstruction, but when a stuffie also contains batteries (as this one does), that presents a whole other level of hazard for a chew-happy pup!
Comforting Music:
They say that music soothes the savage beast; well it also soothes stressed dogs. Many studies in shelters have shown that certain types of music can help calm dogs, as evidenced by decreased barking behavior, slower respiratory rates, decreased blood levels of cortisol (a stress hormone), and increased time spent sleeping. These are all indicators of improved comfort and decreased stress … and who doesn't wish that for their dog?
Reggae, soft rock, and classical music appear to be the most effective types. Of course, all music isn't created equal, even within the same genre. The most important qualities of the music appear to be the length of the notes, simplicity of the tones, regularity of the rhythms, and the overall tempo of the music. There's even music and calming sounds specifically composed for dogs! Here are some great options:
Puppy vol. 1: Designed to calm a puppy


Puppy vol. 2: Designed to help prevent noise phobias from ever developing, by introducing common household and outdoor sounds to help socialize and habituate your puppy to these sounds in a safe, effective manner.


New dog vol 3: Not a new puppy, but a have new dog? Then check out the 3-disc set of CDs for calming adult dogs.


Want an all-in-one, portable calming music player/speaker that's complete with hours of proven "bioacoustically" rearranged music to help relax your pup when you don't have a CD player or radio close at hand, and when you don't want to leave your phone or iPod playing all day? Check out the iCalmDog speaker from Through A Dog's Ear!


Heartbeat Music vol 1: These canine lullabies (streaming with a free app or on CD) use a dog's heartbeat as the rhythm. It has been proven to calm anxious, barking dogs in minutes. Check out the shelter video below.
Sleeping Arrangements for Your Dog
Helping Your Dog Have a Comfortable and Good Night (or Day's) Sleep
At the end of the day, it's up to you (and perhaps your significant other) whether you'll let your dog sleep in your bed or on their own (or the furniture). But I would suggest, at least for those first several weeks after they've first joined your family, that you have them get used to and comfortable with sleeping on their own bed. This is because it's nice for a dog to have a "place of their own," and a comfortable bed where they can rest, sleep, and just "compose themselves"!
Not only do they not have to worry about you kicking, turning, or snoring right next to them, but throughout the day you can also move their bed to whatever room you're currently in, so they can rest and be near you as you go about your day. You can also give their bed(s) a little spritz of the Adaptil pheromone spray to help calm them while they rest. All of these things can help your dog get a better night's rest!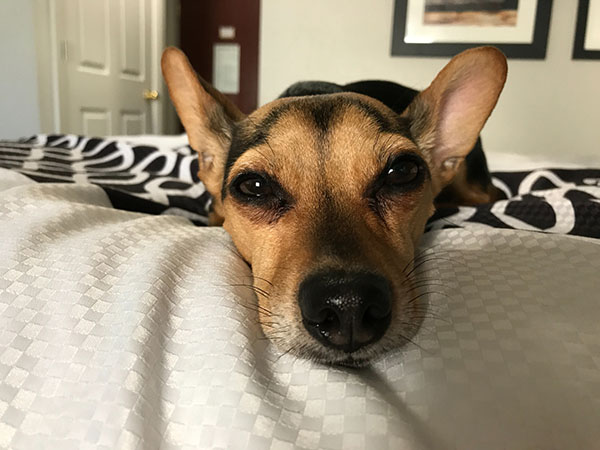 A good bed (or two) is also a great thing to have to teach your dog the awesome and life-changing "go to place" behavior (check out this easy "go to place" training video)! And, speaking of behaviors and training, I also can't recommend crate training highly enough! It's a great way to help your dog settle into their new home and feel a sense of "place" in their own little home within your home; it's also a great way to help keep them safe when you're not around! Learn what you need to know about crate training your new dog, including how to outfit your dog's crate (safely) and how long puppies can typically stay comfortably in a crate.
Dog Beds and Pads: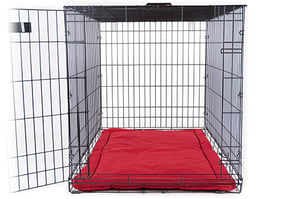 Dog beds and pads, especially for puppies, should be: durable and chew-proof, waterproof (potty accidents, anyone?), and be of the correct size for fitting in their crate (if you're using one, which I highly recommend you do).

One of the things we hear a lot is that puppy owners go through a lot of beds because their pup destroys them. It's often worth spending more money upfront on something that's better constructed and more durable, something that's more likely to last, than buying cheaper options and having to go through bed, after bed, after bed.
Crate pad or bed: Which you should get depends on how destructive you think your new pup will be. Some people suggest starting with a comfortable, yet durable (and waterproof and washable) crate pad first and then circling back and also getting a bed once your new pup is "mature enough" to handle it.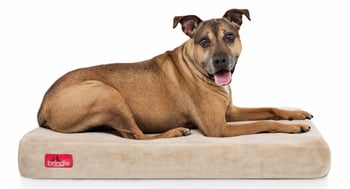 Personally, I suggest just getting the best of both worlds with my favorite dog bed/crate pad … the Brindle! (My Wendy LOVES hers!!)
The Brindle is made of 2 layers of foam (memory foam and support foam … like the top quality memory foam mattresses for people), it's completely waterproof, and it's got a removable and machine-washable cover.
Durable foam layers
Waterproof
Removable, washable cover

The
K-9 Ruff n' Tuff crate pad
isn't as "cushy" as the Brindle bed, but it's still comfy, waterproof, and machine washable … and it's a bit more durable for chewers and diggers!
Durable but not as cushy, but still comfy!
Waterproof and washable
Wendy's featured here with the medium-sized Brindle bed. I originally bought the large, but found it too big for her and our home. If you're using the Brindle in a crate, then you should pick the appropriate size accordingly.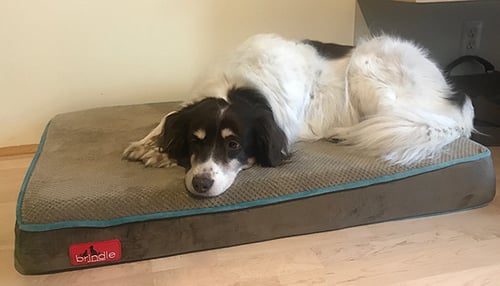 Crate:
When looking for a crate for your dog, go with one that's durable, easy to keep clean, and sturdy. If you've got a young, growing pup, it's also a good idea to get an "expandable crate" that can grow with your pup — this way you're less likely to have to shell out for another crate when they're fully grown!
Exercise pens (Ex-pens) are a slightly different type of confinement and safety tool than crates. Ex-pens tend to be a bit more configurable and provide more room for a dog to move and play around in. They're great for longer-term confinement periods (i.e., if you can't let your pup out of their crate often enough— put the crate, with the door open, inside the ex-pen), keeping your dog safely confined while you tackle your "to-do" list around your home or when you take your pup to play outside and don't have a fenced yard, and for when you're traveling. For more on getting your dog to love their crate, check out our crate training article and recommended products.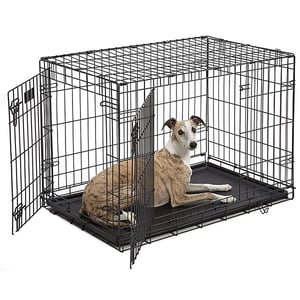 Best Metal Dog Crate: The MidWest Life Stages crates are often a great bet for a variety of reasons. Not only are they durable and well-constructed, but they also come with a divider, making it easier for you to get one crate that will grow with your new dog. The Life Stages crates also come in either single- or double-door designs, fold up easily for transport, and have a sturdy tray on the bottom. Follow the manufacturer's recommendations to select the appropriate size crate for your dog.
Best Plastic "Airplane-Type" Dog Crate: You can't go wrong with the

Ultra Vari Kennels from Petmate. They're sturdy, easy to clean, and have a removable top. And don't be concerned about the "airplane" part of their name, their use isn't just restricted to travel, airplane or otherwise! These can make great crates at home and even when traveling by car/truck. [Note: Speaking of "airplane kennels," I don't typically recommend flying your pets in cargo on commercial airlines — see this article for

cautions about flying dogs in cargo and steps to take to make it as safe as possible, if it's unavoidable.]


Best Ex-pens for Dogs: For many dogs, the lightweight but durable plastic IRIS Ex-pen is a great option. But, if you've got a particularly rambunctious pup or extra large dog, the more sturdy metal BestPet option will likely be the better choice for you. And if you wanted to attach the ex-pen to the MidWest crate, mentioned above, then MidWest's exercise pen would work really well.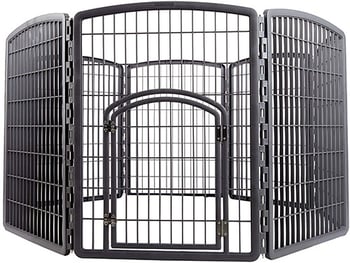 IRIS Ex-pen with Door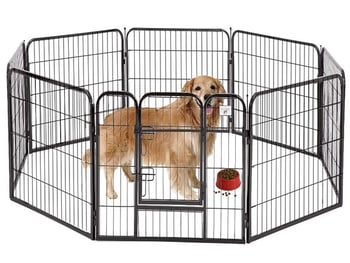 BestPet 8 Panel Folding Metal Portable Exercise Pen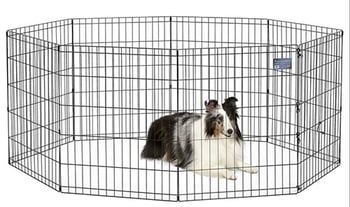 Midwest Foldable Metal Exercise Pen

Best TRAVEL Ex-pen for Dogs:
The Jespet Portable Exercise Pen
is collapsable, lightweight, and made of water resistant materials for easy cleanup and durability in a variety of weather (you're traveling, after all!).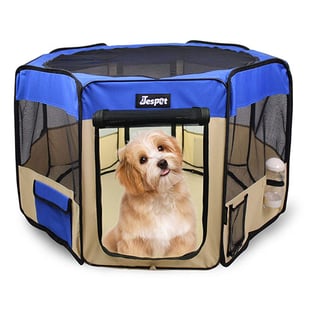 Provide Mental Stimulation and Make Meals More Fun
Mental stimulation is super important for all dogs ("idle paws" and such!), but it can be particularly important and helpful for dogs just getting settled into a new home. This is because when a dog's mind is occupied on something fun and stimulating, like a puzzle feeder (which has the added benefit and draw of food!!), it's less able to focus on any fear, anxiety, or concerns.
Below are some recommended puzzle feeders and slow feeders for dogs. Also check out this article for more information on choosing interactive toys and puzzler feeders for dogs.
Puzzle Feeders:
If you've ever played with Weebles (perhaps I'm dating myself here!), you can picture the

Kong Wobbler. As your dog nuzzles it around, it drops pieces of kibble and then pops back up. Easy to use, sturdy, and dishwasher safe for keeping clean. I love the Wobbler!

It comes in small and large; the small is best for small dogs and most puppies.

(Note: only for use with dry food or treats, not effective with wet food.)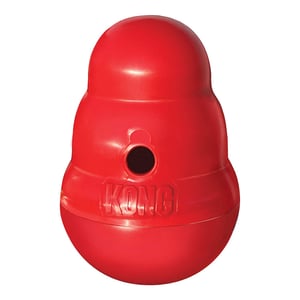 The

Green Feeder

is a great way to slow down a dog's rate of eating (it slows down my own dog from about 10 seconds to about 3–4 minutes to eat). The Green Feeder is sturdy and dishwasher safe. It can be used both for kibble and for wet food. It also comes in a mini size for smaller pups.
To see a slow feeder in action, check out Loki enjoying his.
This

"maze bowl" by Outward Hound

can go a long way to slowing down a dog's rate of eating, too. And it's fun to watch your dog's brain be engaged as they try to figure out how to get their food out.


The Toppl system by West Paw is a great brain-engaging feeding and treating puzzle for dogs. Not only is it made with their proprietary Zogoflex rubber (so it's durable, dishwasher safe, and latex-free), but it's also designed to allow you to combine two Toppls to increase the difficulty for your dog as they get smarter.
See it in action in the video below.
Treats:
Treats make life more fun for your dog, and so they can also help to ease and shorten the adjustment period your pup may experience when they first come home with you. Like food, there are any number of different treat options for you to choose from.
A big part of it, of course, will be what your dog likes. That said, excessive levels of salt, sugar, and fats can be some of the factors that increase the palatability and "addictiveness" of some dog treats — and these are things that you should avoid.
Below are a few general and training treats I recommend and here's our article on how you can make sure you're not over-treating your dog, potentially ruining their appetite and even making them overweight or obese. And don't forget, you can always use a portion of your dog's kibble to treat them with throughout the day, too.
Zukes' tiny dog treats come in chicken flavor, rabbit flavor, or other flavors. Lots of dogs LOVE themand they're often the perfect size and consistency to use for training, too! Treats that are too big, or that require too much chewing, can break the focus required for training as well as create a choking hazard.

Lean treats are super yummy for a lot of dogs. (So much so that they're often used as yummy treat "bribes" and rewards in veterinary hospitals!) These low-calorie treats can also be used for training, as they're easy to break apart for you, and for your dog to quickly chew and swallow.


Real Meat treats come in lots of different flavors, have limited ingredients, and are easy to break up and carry with you for on-the-go training sessions. And rather importantly, lots of dogs go crazy for them!


Supplements
Supplements that use blood proteins that are rich in immunoglobulins may help reduce inflammation, promote healing, reduce stress and provide other benefits for dogs. The WINPRO line of supplements (Immunity, Mobility, Allergy, Focus, Training) have been met with very positive feedback from dog owners. In our own experience, our dogs loved the taste of the WINPRO supplements. You only give your dog one or two (depending on their weight) each day so a bag of 60 will last you 1-2 months. You should not give your dog more than the recommended amount.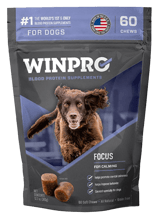 Check this article for how to choose safe chew toys and chew treats for your dog, and this one for what to avoid.

Playtime for Your Dog
You'll probably buy a lot of toys for your pup throughout their lifetime ... and since you don't know their "chewsonality" yet, opt for some super durable toys first, especially if they'll be unattended with them. Just don't go with anything too hard that your dog will be likely to break their teeth on it — see our choosing safe dog chews article.
You can also check out this article, if you want to teach your dog to play tug-of-war, and do it safely.
Safe & Durable Toys:

Tuffy: What's one thing EVERY new dog needs … that's right, a dinosaur stuffy! Especially one that's made by the folks at Tuffy — so you know it's going to be fun and able to stand up to some pretty good teething and chewing!
Tuffy makes some fun and well-constructed stuffy toys for dogs to chew, tug, and fetch. They've even got their own rating system for the different chewsonalities!
Teething: Kong puppy teething stick is a great teething toy and very durable and fun to play with for puppies. Most puppies begin to get their razor-sharp puppy teeth around 4 weeks of age, and they stick around until they're all replaced with their permanent "adult teeth," which is typically completed by around 6–7 months of age.

Well, there you have it. A bunch of things and advice to help you help your new dog sail through their adjustment period! I hope this has been helpful as you (get ready to) embark on this fun and exciting journey with your new pup. Enjoy!
And should you find any other products or tips that help shorten or ease your pup's adjustment period, or if you've got some products and tips you love already, please feel free to share them in the comments section below.