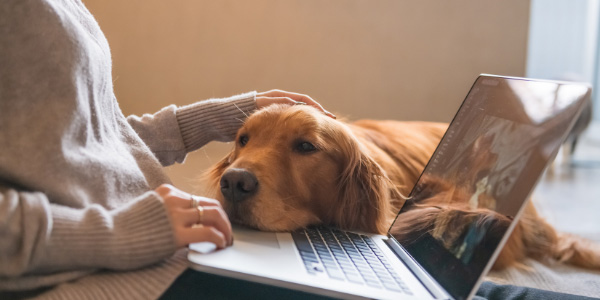 If you have a dog, working from home is the best! You don't have to worry about finding someone to walk your dog, you have excuses to take breaks throughout the day, and (bonus!) you get to work with the best coworker!
But, are you giving your dog enough time alone?
Dog owners who work from home or are retired and home most of the time are faced with dogs who can become used to constant companionship. These dogs can have a tough time being left alone for any time at all, and if the owner's schedule or lifestyle changes and they are no longer present all of the time, these dogs can have a very tough time adjusting.
If your dog never gets used to spending time alone or learning how to entertain themselves, they can start to develop separation anxiety.
Working from Home With a Dog
When you first get a puppy or new dog, it can be tempting to make sure that you're there for them all the time, but doing so can create a dog that follows you around everywhere. When you work from home, there's always a chance that your dog can become more attached to you than normal, potentially causing separation anxiety.
Rather than learning how to entertain themselves, they turn to you to provide all of their entertainment, which builds their dependence on you.
If you work from home, it's very important to leave the home for at least a couple hours per day to make sure your dog is able to be left alone without displaying severe signs of stress. Start off in short increments: 15 minutes to a half-hour at a time, then increase over time. Leave out a few fun toys – that you just bring out when you leave – signifying you leaving is AWESOME!
My real-life scenario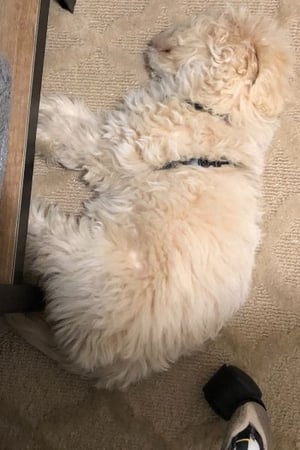 I worked from home for almost a year when we decided to get a puppy. We were wanting to add a dog to our family that would keep me company during the day and get us out of the house more. Working from home was the perfect solution to the frequent potty breaks and playtime that many friends had to take time off work for or hire a dog walker.
Once we brought our puppy Mary Berry home, I was there to make sure she had the right amount of care throughout the day. I was a doting new pet parent, and she was the most adorable little desk sidekick.
Fast forward a couple of weeks, and we learned that Mary Berry had a tough time when we left the house. Even if we just left to take the garbage out, she would sit at the door and cry until we returned. Rather than helping to shape a puppy that liked her independence and time alone, I fostered the behaviors of the Velcro dog.
Now that I no longer work from home, we are constantly working on conditioning Mary Berry to being left alone for periods of time. We have a dog walker who comes at lunchtime to get her out of the house for a potty break, and I am lucky that I get to bring Mary Berry to work a couple of days a week.
Though she's still a puppy, she displays many behaviors associated with separation anxiety. For that, I highly recommend making sure to leave your puppy on a regular basis, so they can get used to being independent and used to doing things on their own.
Tips for working from home with your dog
Here are some tips for working from home that can help your dog get used to spending time alone:
Work from someplace else: If you work from home, you know that sometimes you need to get out of the house. Try taking your work to the nearest coffee shop, library, co-working space, or even a separate area of your home from where your dog is hanging out – and make sure they don't follow you! This conditions them to spending more time alone.
Use a crate or "puppy zone": Crate training can really help your dog get used to spending time alone. Try crating your dog for a couple hours while you work from another room. Read all about crate training and how to set up a longer-term puppy zone.
Encourage independent play: Try to encourage your dog to spend time in a room other than you when you're working from home. An interactive puzzle toy or Kong tethered in place will keep your pup entertained and tire them out at the same time.
Have questions or want to share your story about working from home with your dog? Let us know in the comments below!