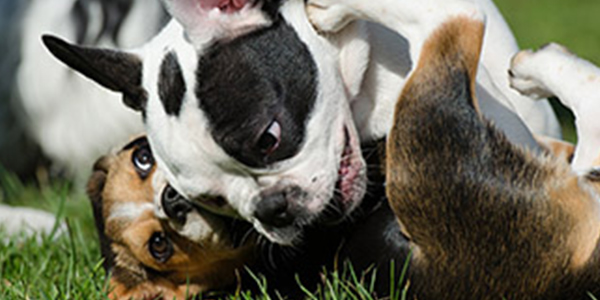 Dog daycares have become quite popular across the United States since they first popped up in the mid-1990s. Dog daycare can give dogs a safe place to exercise during the day while their people are at work.
Daycare can also provide much-needed mental enrichment and companionship that dogs wouldn't be getting by themselves at home.
But how do you know which daycare to choose? There are lots of options and types of daycare available, from the large franchised "brand-name" facilities to the dog daycare your neighbor started in their home.
The dog daycare and boarding industry is under-regulated, so it's important you find a daycare where your dog will be safe, happy, and well cared for. There are a few things to consider when interviewing different dog daycares, including the style of daycare, staff-to-dog ratio, staff experience and training, cleaning procedures, dog handling and training methods ... and more!
Before exploring different daycare options, you'll also want to think about whether your dog is a good candidate for and will actually enjoy going to daycare. Daycare is not a requirement for dogs to live a great life — but it can be a helpful supplement to their weekly exercise and enrichment routine. Some dogs are too stressed by a daycare environment, while others thrive in it. Every dog is unique, and it's important to set them up for less stress and more success.
Read on to learn what to look for and what to ask a prospective doggy daycare and how to tell if your dog will like going to daycare.
The MOST Important Thing to Look For in a Doggy Daycare
While there are a few best practices to look for when choosing a daycare, I believe the most important quality is transparency. This means that daycare staff is willing to answer your questions thoroughly, openly discuss their policies, talk about pack management and training philosophy and methods, and be honest when discussing your dog's behavior in the daycare environment.
A reputable dog daycare will be more than happy to discuss how they do things with you, and will also allow you to "tour" their facility so you can see it for yourself, whether in person or virtually through webcams, videos, or photos. Don't be surprised if a daycare does not allow in-person tours while daycare dogs are present — the constant coming and going of new people can cause unneeded stress within a group of dogs. Instead, they might have you take a tour outside of operating hours, have a live webcam to watch, or have videos and photos of what a typical daycare day looks like for their doggy clients.
Different Types of Dog Daycare
There are a few different types of dog daycare, and you'll want to choose the style that best matches your dog's temperament, physical and mental stimulation needs.
Dog Park Style
This type of dog daycare has large open spaces and is often indoor/outdoor or outdoor only. The space provides energetic dogs the room to run, play fetch with staff, meander around and catch up on pee-mail, or watch all the activity from the sidelines.

Because it usually includes outdoor space, if you live in an area with inclement weather, be prepared for a wet and muddy dog at the end of the day. You'll also want to be aware of the facility's plans for very hot or cold weather.

Daycare staff is spread out throughout the play area to ensure safety and polite behavior between dogs (think "zone defense"). Make sure the ratio of staff to dogs is kept at a safe level in this type of daycare (more on staff to dog ratio further down in the article).

Which dogs do best in this style of daycare? Social dogs who love to run do well in this type of daycare, as they have the space to really stretch their legs. More cautious dogs or those who might be overwhelmed while surrounded by high activity would do better in a different setup. Dogs who like to play "catch me if you can" or who are scared of being touched or led by the collar should avoid this type of setup due to the difficulty of corralling them for pick up or in other situations.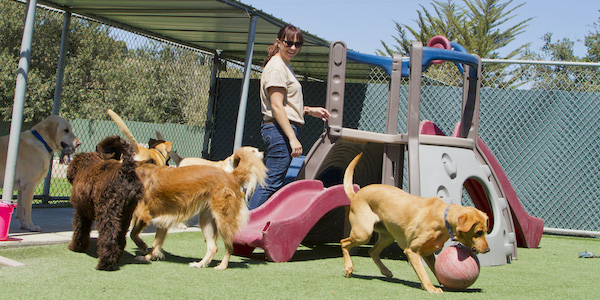 Separated Play Area Style
These types of daycares are similar to dog park style setups, except they have smaller, usually either indoor-only or outdoor-only play areas.

Dogs are separated into playgroups usually based on energy level, play style, or size. Groups in this style of daycare are usually smaller due to space limitations. Typically each group has between 10–20 dogs per area, but this depends on the size of the room and the number of staff.

Which dogs do best in this style of daycare? Dogs who are a bit more cautious and scared of high activity might do well in this setup because they can be separated into an appropriately matched group of dogs.
Home Style
A home-style daycare is in someone's home and provides a familiar environment for dogs that might be overwhelmed in a dog daycare yard or room.

These daycares usually have only a few dogs that attend each day due to space available and allowances by local municipalities regarding kennel/boarding facility licensing requirements for residential homes.

Along with the familiarity comes the everyday dangers of a home, so make sure the home has been properly dog-proofed and is properly cleaned and sanitized to reduce illness transmission (more on cleaning protocols further down in this article).

Which dogs do best in this style of daycare? Dogs who exhibit signs of separation anxiety tend to do best in this style of daycare. Dogs who enjoy the company of only a couple of dogs at a time are also good candidates. High-energy pups might be too rambunctious for a smaller group of playmates, but this depends on the physical exercise routine provided by each individual homestyle daycare.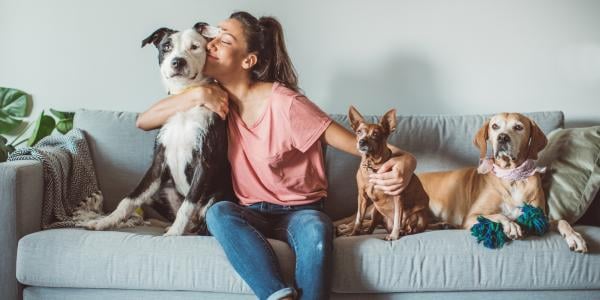 What to Ask a Dog Daycare
Below I've listed some basic aspects of dog daycare you should ask about, and my recommendations as far as what answers you should be looking for.
1. What are your vaccination requirements for dogs that attend?
Dogs are in close contact with other dogs at daycare, and illness can spread quickly if dogs are unprotected. A responsible daycare facility will require all dogs to show proof of current vaccinations for Rabies, DHPP (Distemper, Hepatitis, Parainfluenza, and Parvovirus), and Bordetella ("kennel cough"). Some daycares also require vaccination for Canine Influenza (the doggy flu).
One thing to keep in mind is that even with vaccination some illnesses can still be caught, such as kennel cough (Bordetella). However, if your dog is vaccinated and contracts kennel cough, the severity is often much less than if they'd been unprotected. Speak with your veterinarian about their recommendations for vaccinations beyond those required by the daycare facility. Click here for more information on what vaccines your puppy needs before attending places like doggy daycare, training classes, or the dog park.
2. What are your spay and neuter requirements?
Most dog daycares have a minimum age requirement for spaying or neutering dogs that attend their playgroups, usually between 6 months to 1 year of age. This is due to pack management safety — it has nothing to do about whether or not it's "better" to fix your intact dog (we'll leave that debate for another day). Altered dogs can react differently to intact dogs, and vice versa.
A responsible daycare will want to keep these kinds of flashpoints to a minimum in their pack, which means they must ask non-altered dogs to not attend once they reach sexual maturity (usually between 6 months to 1 year of age). It's all about setting the group up for safety and success.
3. What is your daycare trial process?
A dog daycare should have a protocol for accepting new dogs into their pack. A daycare trial should include asking for health and behavior history so staff is aware of any issues that might affect a dog's behavior in a new environment. Find out what behaviors would preclude a dog from attending daycare, and make sure you are comfortable with the daycare's behavioral requirements for daycare attendance.
If you know that your dog struggles with behavior that might result in them being dismissed from daycare or not passing the trial, be upfront with staff so they can better set your dog up for success and keep themselves and the other dogs safe. Some behaviors that can be tough to manage in a daycare environment include:
Resource guarding (of food, space, or toys)
Shy or timid personality
Herding behavior or predatory chasing
You can ask the daycare facility what behaviors are hardest for them to manage in their setup and environment to make sure you're setting up your dog for success and not causing unneeded stress for your dog, the current daycare dog pack, and daycare staff.
A dog daycare trial should start with your dog meeting the staff and being evaluated on how well they accept being handled by someone other than you, their owner. When being introduced to the dogs, the process should allow ample time for a slow introduction into the pack. This might mean your dog starts in a kennel at the side of the play area, is introduced one-on-one with other dogs before being out with the entire group, or starts in a low-energy playgroup area before moving into the more action-packed rooms.
Ask what the facility looks for as far as indications of whether a dog is enjoying their trial or if they need a break. Depending on the daycare, the length of a daycare trial might range from a few hours to a full day.
4. What is the ratio of daycare staff to dogs?
There should be at least one well-trained staff member for every eight to ten dogs (1:8–10), but the smaller the ratio the better! I like to see a staff-to-dog ratio of 1:5–7 in the high-energy playgroups to help maintain appropriate play between the more rambunctious dogs.
5. How many dogs are in each group?
This depends on the style of daycare. A dog park style might allow thirty to forty dogs in one group; you want to make sure that there is an appropriate ratio of staff to the number of dogs, that the dogs in the group are well-matched temperaments and play styles, and that there is enough space for the dogs to move freely about without feeling crowded.
6. Are dogs separated by size?
This is also determined by what style of daycare your dog attends. A home-style daycare will most likely not separate dogs by size and instead might determine which dogs can attend based on their energy level and play style. A daycare with separate play areas has the best capacity for separating by size if you are worried about your smaller dog playing with larger dogs.
Some daycares specialize in small dogs only or large dogs only — find one that separates dogs based on what you feel most comfortable with for your dog. My small Corgi, Sookie (seen in the photo below), did the best running around with the medium/large group of Labrador Retrievers at her daycare because they matched her playstyle and high energy.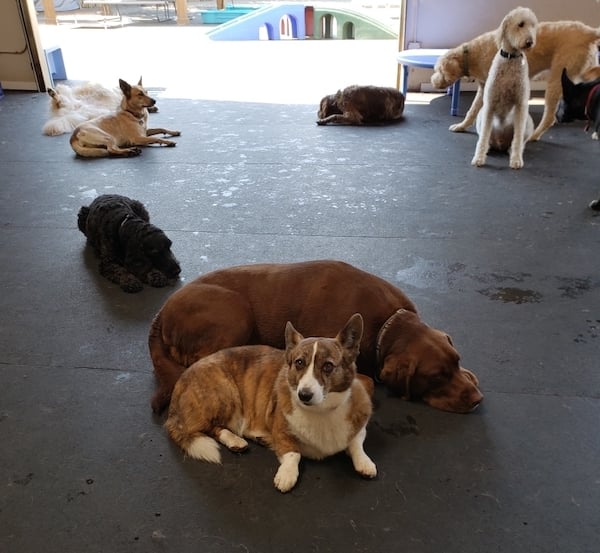 7. What fencing and other safety features does the facility have?
A daycare should have fencing that is a minimum of 6 feet tall to help prevent dogs from jumping over the fence to go on adventures, and dogs should never be left unsupervised. If you have a dog that likes to dig under or climb the fence, let the daycare know and ask what their management plan is for dogs that try to escape enclosures.
Double-door entry is another safety feature to look for in a daycare. Dogs should not have direct access to a door that leads directly outside — there should be a secondary doorway or gates that prevent door dashing or escapes by daycare dogs, much like the airlock gate system seen at many dog parks.
8. What happens if my dog is injured while at daycare?
Injuries happen in a dog daycare environment, from ripped paw pads to sprained ankles, to scratch and bite wounds from other dogs. Dogs play with their mouths and teeth, so ear injuries are common during wrestling play when they get chomped on a bit too hard. You'll want to make sure the daycare has a plan of action that you are comfortable with in case your dog is injured during their stay.
How do they assess injury severity and treatment plans? How soon is the owner notified of any injury? What injuries do they believe require a veterinary visit? Does the daycare have a veterinary office close by that they have an agreement with for needed non-emergency vet care or do they take the dog to the owner's veterinarian? Does the daycare try to contact the dog's particular veterinarian before taking them to an emergency vet clinic? Are they adequately staffed so that if there is an emergency, there is someone to take a dog to the vet and someone to stay with the other dogs in the pack?
A dog daycare will have you fill out forms that authorize them to take your dog to the veterinarian if needed and clarify what medical decisions they are allowed to make in your absence. This is very important for them to have in case of an emergency.
It's a good idea to provide something similar for your pet sitter or dog walker — here's a free download of a Treatment Authorization Form so anyone watching your dog has the information they need.
9. What certification and training does the daycare staff have?
Because the industry is still under-regulated, anyone can decide that they want to open up a dog daycare. However, loving dogs isn't the only qualification someone needs in order to keep dogs physically and behaviorally safe and cared for. As the industry grows, more daycare operators are investing in applying for certification through the Professional Animal Care Certification Council (PACCC), a 501(c)(6) non-profit created by well-known and respected industry experts that holds their members to high standards. Even if a prospective daycare is not professionally certified by an organization like PACCC, you can still use their standards to decide if it's the right place for you and your dog.
Ask the daycare facility what training staff has received in regards to pet first aid and CPR, reading dog body language, how to manage dog play, how to prevent and break up dog fights, and training methods they use with daycare dogs. Daycare staff should be current on a pet first aid certification and provided with continuing education in these topics. Having a certified professional dog trainer on staff is ideal, not only for dog training and behavior management for the daycare dogs but also for staff education and training.
There should be no reliance on aversives (such as shock collars, shaker cans, or water hoses) to punish dog behavior. Look for a daycare that uses positive reinforcement (praise, petting, and play) to reward dogs that behave in daycare and negative punishment (time outs, or no more fetch play) as consequences for unwanted behavior.
An easy way to find out about a daycare's training methods is to ask the question:

"If my dog <insert bad behavior here>, what do you do?"
Their answer should never include physical punishment, aversives, intimidation, or other dominance-based methods. Make sure you are comfortable with their training philosophy and methods.
10. Do dogs follow a particular routine throughout the day?
Keeping a consistent daily routine helps dogs relax, stay calm, and encourages good behavior. Ask the daycare if they have a schedule of activity throughout the day, or if there is a natural routine their dog pack follows.
Some daycares have scheduled "nap time" where all the dogs are kenneled for a period of time. Other daycare styles might rotate dogs between higher energy areas and lower energy areas to encourage relaxation, or staff might only play games with the dogs at certain times of the day. This can help prevent overstimulation, physical injury, and physical exhaustion, especially for dogs that would play all day if allowed.
11. What are the cleaning protocols for the facility?
The daycare should be regularly and properly cleaned using products that are safe for animals and effective in preventing the spread of bacteria and viruses. Dogs do have potty accidents inside — especially in an exciting and stimulating environment like daycare. Ask the facility how often the daycare area is sanitized and what products are being used — a good daycare should feel confident in telling their clients what their protocol is for ensuring the health of the dogs in their care. The daycare space should look and smell clean, without an overwhelming smell of chemicals.
Most dog daycare facilities will deep clean their space weekly using veterinarian-hospital grade disinfectants such as Virkon, Wysiwash, or Neogen, and perform regular spot cleaning in between with all-natural and pet-safe cleaning products. Their cleaning routine and products should kill viruses (Parvo, Distemper, and Influenza), bacteria (Kennel Cough), and protozoa (Giardia).
It might seem like a lot of information to gather, but it's important to make sure your pup is safe and getting the best care while playing at daycare. Just remember, transparency is key and the most important thing is that you are personally comfortable with a dog daycare's policies and protocols. For many pups, daycare turns into a home away from home, and dog owners can rest easy knowing that their pup is safe and has human and canine company throughout the day!
Will Your Dog Do Well in Daycare?
Sociability Towards Other Dogs
Does your dog truly enjoy interacting with unfamiliar dogs or do they simply tolerate being around other dogs? Do they make it clear that they want nothing to do with other canines, or do they prefer the company of only one or two playmates? Many dog owners think that their dog will enjoy being in a daycare with other dogs simply because "they're a dog — it's what dogs do!" But while our intentions are good and we want to make sure our furry friends have a well-rounded and fulfilling life, putting a dog who doesn't truly enjoy group play into that environment can cause fear, anxiety, and stress.
A dog's sociability changes throughout their life, just as it does with humans. When I was younger, I certainly enjoyed going to loud parties and meeting all different kinds of people, but as I've matured my tastes have gotten more particular. Now I prefer a small dinner party with a few hand-picked friends or simply relaxing by myself at a coffee shop in my free time. It can be the same for dogs — minus the coffee, of course!
If you've taken your dog to the dog park, you might have a good idea of how well your dog does around others. Or if you recently adopted a dog into your family, you might have no idea how they do around other dogs and a daycare trial can be a good way to gauge their sociability. However, don't feel bad if daycare staff informs you that your dog didn't enjoy it or your dog exhibited behaviors that preclude them from attending; your dog can live a well-rounded and fulfilling life without attending dog daycare.
Consider where your dog falls on the sociability spectrum described below and learn which levels work best in daycare environments: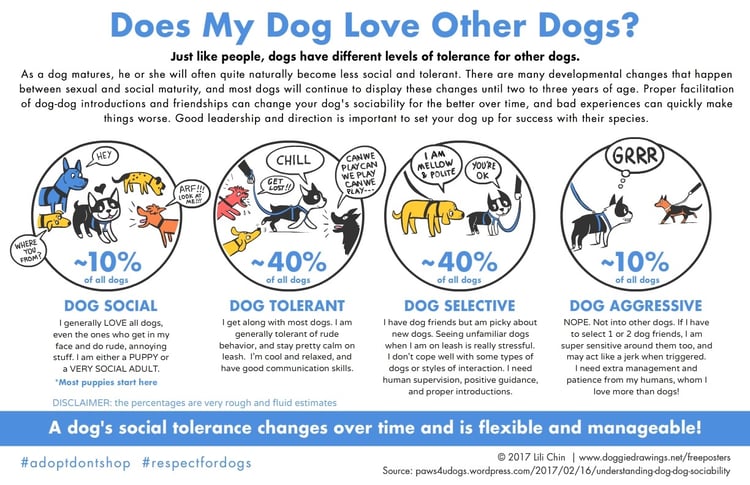 Dog Social
A dog-social dog loves almost all other dogs, even the ones that can be rude and obnoxious in their greetings and play. Most puppies start out at this level of sociability, but it's rarer for adult dogs to be in this category. These dogs tend to do well in daycare and group play environments, but it's important to make sure they aren't overly social and causing stress to other dogs that might not enjoy the same level of play and in-your-face attention
We start to see dogs aging out of this category as they reach sexual maturity (around 6-12 months of age, depending on breed and other factors), or if they have a bad experience that creates a negative association with canine interaction.
If you have a "dog-social" dog, you have quite a few options as far as which daycare style and setup might work best. Try out a few and choose one that encourages polite interaction and maintains positive socialization.
Dog Tolerant
A dog who is dog tolerant can also do well in a daycare environment. They get along with most other dogs and tend to be more subdued in their excitement levels. Many adult dogs who were properly socialized and have had positive canine interactions as young puppies settle into this category.
Dog-tolerant dogs are very good communicators — they respond appropriately to body language cues, prefer avoidance over confrontation, and use appropriate levels of correction for rude behaviors from other dogs. These dogs are a wonderful option for introducing younger puppies or cautious adult dogs to the world of dog play because they are polite and usually willing to interact (or not) based on what the other dog is "saying" with their body language.
If you have a dog-tolerant dog, a variety of daycare setups might work for you. Look for one that supports your dog and works to maintain this good level of socialization.
Dog Selective
Dog-selective dogs are more choosy when it comes to what dogs they do well with. More often than not, they have well-matched dog friends but need help when being introduced to unfamiliar canines. They tend to prefer a certain type of energy or play style over others, and they don't put up well with rude or inappropriate behaviors from other dogs, sometimes overreacting towards and over-correcting another dog.
Some dog-selective dogs can do well in daycare, especially if they are properly managed and matched with appropriate playmates. However, some daycare setups can make a dog selective dog more nervous and stressed around other dogs, which can tilt them into the next category.
If you have a dog-selective dog, a smaller daycare group with a consistent playgroup and constant supervision is best. However, if your dog is happy just relaxing during the day while you're gone, daycare isn't a necessity. Intermittent pre-planned playdates with known playmates can be more than enough to provide your dog with canine interaction.
Dog Aggressive
Dog-aggressive dogs are not inherently "bad" dogs — most aggressive behavior is a result of fear or insecurity. These dogs do not enjoy the company of unknown dogs and usually make it clear with loud barking, lunging, and snapping that they want the other dog to leave them alone and go away. While they might have one or two doggy pals that they do okay around, even then they need help from humans to prevent bad experiences.
It is OKAY if your dog doesn't enjoy the company of other dogs. More often than not, these dogs simply want to relax at home and are perfectly content without forced interaction with other dogs.
Dog-aggressive dogs should not be subjected to a daycare environment, and daycare is not the place to try and modify this kind of behavior (neither is a dog park!). The best thing you can do for your dog if they fall in this category is to not put them in a vulnerable and scary situation to begin with. Daycare staff will thank you!
If you have a dog-aggressive dog, it is best to work with a certified professional dog trainer or board-certified veterinary behaviorist who can help your dog with positive reinforcement and counter-conditioning. Never use aversives (shock collars, prong collars, etc.) as these often make the underlying fear worse — any dog trainer who recommends this type of punishment-based training with aggressive behavior is one to avoid!
A Dog's Drives, Personality, and Breed Dispositions
You might have heard dog experts talk about a dog's "drive" but aren't quite sure what that means. But a dog's drives, personality, and breed disposition can impact how well they do in a dog daycare environment. Certain breeds were developed around particular jobs they performed, which relied on instinctual drives and built upon them for stronger behaviors like herding, tracking, retrieving, and endurance. Some dogs have more shy personalities than others, while others are more nervous or high-strung.
Having a "high drive" for something means that the dog is incredibly motivated to work for that type of reinforcement, and a "low drive" means that they aren't motivated much by what's being offered. For example, dogs that love chasing animals like squirrels, birds, or rabbits have a high prey drive. You usually see this drive in sighthounds or hunting breeds, but any dog can have a high prey drive.
Another example is food drive — a dog with high food drive will work very hard to get food or treats, while a dog with a low food drive doesn't care much for food and won't work as hard or as long for it. Learn more about how your choice of food treats can increase your dog's food drive here.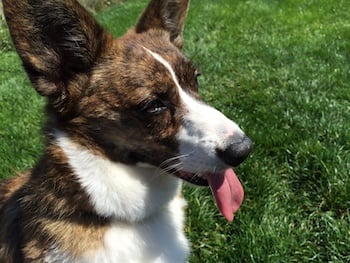 A dog's drives are fluid and can change in intensity depending on the environment. My corgi, Sookie, (seen in the inset photo) has an incredible food drive, but if a squirrel appears, she cares less about food and only wants the chase. Her prey drive is stronger than her food drive the closer we are to the squirrel.
Sookie's drives can make certain daycare environments or playgroups more difficult to manage and impact safety — if a smaller dog starts to run and act insecure, her prey drive will kick in and she'll start to chase the dog inappropriately. She required more supervision in daycare when dogs like that were present but otherwise did well. Plus, I worked hard at training a solid name recognition and reliable recall, making it easy for daycare staff to redirect her attention when needed.
Being aware of your dog's particular drives helps you set them up for success! My corgi does best in daycare groups with dogs that are larger than her, as this helps prevent her prey drive from being triggered and her chasing after and targeting a smaller dog.
Some working dog breeds with high drive don't do well in certain daycare setups because they need a continuous outlet for their physical and mental energy and can start issues with other dogs because they simply don't know when to turn it off. Certain breeds exhibit a bit more nervous energy and attract the wrong kind of attention from other dogs in the daycare pack. Other breeds are predisposed to being very independent, and this can result in being hard to manage by daycare staff because they simply don't listen (or care) when they're being called.
Each dog should be judged on their own individual personality and behaviors when trying out a daycare. But if you try to match the environment to their disposition, they are more likely to enjoy their time and the playgroup will be safer and easier to manage.
If your herding breed just loves to run circles around other dogs at the dog park, herding them and nipping at their heels, avoid sending them to a daycare where this behavior might cause scuffles and fights when the dog getting nipped finally has enough of being herded around and turns on your dog. I suggest interrupting and not allowing this kind of behavior if you do see it at the dog park — try urban herding classes instead.
If you have a breed that loves to follow their nose and stops at nothing to stay on the trail, make sure their daycare has proper containment strategies and ways to keep your dog entertained. These dogs have no problem climbing fences and going on adventures around town.
Dogs that have a more nervous or worried personality might not be causing issues with other dogs in the group, but they might simply not enjoy being in daycare. It is not worth the distress your dog is experiencing to keep them in a daycare environment, no matter how convenient it might be for your lifestyle. Being in that state of mind can cause long-lasting behavioral issues and affect your dog's health in the long term.
If a daycare informs you that they think your dog is not enjoying their time with the group, respect your dog's preferences and avoid putting them in an environment that causes them unneeded fear, stress, or anxiety. And then thank the daycare staff for being honest and transparent about your dog's behavior!
A daycare that would turn away a paying customer based on protecting the dog's physical and emotional well-being has the right motivation for being in the industry.
Dog Training and Behavior Modification in a Daycare Environment
Some behaviors that a dog exhibits in a daycare environment can be worked on with daycare staff or a dedicated dog trainer if the facility has one on their team, but there are some behaviors that cannot be trained or managed at a dog daycare. If your dog's daycare brings up that your dog is exhibiting some worrying behaviors while there, ask them whether it's something that can be approached with at-home training, in-daycare training, or if it's something that is only managed by not exposing your dog to that environment.
While each daycare is different in what they can work on successfully in their setup, here are some behaviors that are very difficult to address in most dog daycare environments:
Pestering or obsessively targeting other dogs
Aggressive herding
Over-exuberant play
Fear
Aggression
Please try to be understanding of daycare facilities when they bring up problem behaviors that your dog might be practicing. A good dog daycare will be transparent from the get-go about how your dog is doing, but these facilities are also trying to balance other business responsibilities.
At a daycare I previously managed, we had to be very clear with owners of dogs that barked excessively (due to anxiety, boredom, or excitement) that their dog might be dismissed if the limited training we could do in the environment didn't improve the behavior — we had to be good neighbors to other residents and businesses nearby, and we did not believe in just throwing a shock collar on the dog to prevent this kind of barking.
Certain behaviors might be more manageable in different daycare setups; if your dog isn't doing well or gets dismissed from one type, ask them if an alternative style might be a better match for your pup. Many daycare clients of mine did much better in a different type of daycare because the unwanted behavior was never triggered in that different context, or they could better manage it.
Dog Daycare Alternatives
Unfortunately, too many dog owners believe they have no other option besides daycare for their dog while they are at work, even after being told that their dog was unhappy in the environment. As long as their dog wasn't causing harm to others or getting hurt themselves, they want to continue to drop them off. This isn't fair to their dog or to the daycare facility that is trying to provide a healthy and safe environment for the dogs in their care. Dog daycare is not a requirement for a dog's well-being, and there are plenty of other ways to provide exercise, companionship, and play.
Dog Walkers and Pet Sitters
Owners that want to give their dog a midday bathroom break and some exercise time have plenty of options when it comes to dog walking options. This is a great option for those owners that might not have the time or energy to give their dog physical exercise during the workweek. Smartphone apps are making it easy to book walks and track your dog during the visit, but there are still lots of more traditional dog walking services available. Check out this article for info and tips on how to find the right dog walker.
If you're worried about your pup being left alone during the day, pet sitters might be a good option if they are able to keep them in their home while you're at work. It can be your dog's very own private daycare set-up!
Pre-Planned Dog Play Dates
If your dog doesn't enjoy unfamiliar dogs in a daycare environment but has a few particular dogs that they get along well with, plan some fun doggy play dates together! This can help maintain your dog's socialization level and prevent bad dog-play experiences, plus it's a great time to socialize with other dog people. Just make sure you've always got an eye on the dogs to properly manage the canine play.
Not Going to Dog Daycare
Sounds simple, right? It is! If your dog's physical exercise and mental stimulation needs are being met at home, there is no need to put them in dog daycare. This is especially important if your dog doesn't don't enjoy daycare, it's causing stress or anxiety, or it encourages unwanted behaviors like herding, inappropriate chasing, or barking.
Don't feel bad if your dog doesn't do well in a dog daycare — as long as they have your companionship and love, along with the proper amount of physical exercise and mental enrichment, their life is pretty sweet!
Let us know if you have a dog that doesn't love or do that great in dog daycare, and share what you've done instead in the comments below!