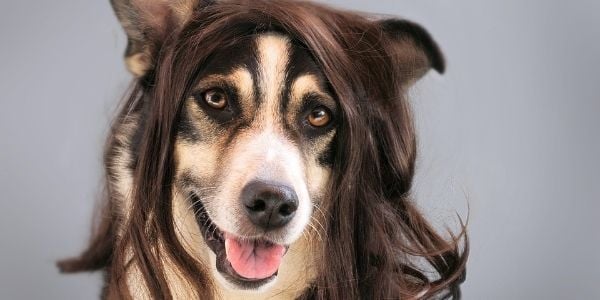 Your dog and their groomer — a relationship of trust
Since the day you got your newest four-legged member of your family, you have (hopefully) been preparing them for the outside world and all the experiences that'll come ahead.

One of the more important aspects of their socialization is relationship building. Relationships with family, friends, their veterinarian, other dogs, maybe even a kitty or two. Another important bonding experience that they'll most likely have is with their groomer. After all, the dog/dog groomer relationship is based on two-way trust. Each has to be — not just comfortable with the other — they need to have confidence in each other. Neither the dog nor the groomer wants to have any fear whatsoever from the other. Remember, there's a lot of personal space being invaded while your pup is getting all cleaned, cut, and coiffed!

Finding the right groomer for both you and your pup might take a little bit of research. But this small amount of time invested in finding the right one for your pup will go a long way toward the proper care, health, and happiness of your dog. And will hopefully give you peace of mind that your pup is in the best of hands.


Important things to keep in mind when searching for the best dog groomer, doggie spa, or salon
Do your homework
It's always a good idea to start by researching groomers in your area. See if any of your dog-owning friends can refer you to a groomer that they trust. Feel free to ask breeders, local rescues, and shelters. Even ask your veterinarian what they think of the groomers in your area—some clinics and animal hospitals actually have on-site grooming facilities. And, if your dog needs a precision cut specific to their breed (Poodles, Schnauzers, Portuguese Water Dogs, Bichon Frises, etc.), you can always contact your local/regional breed club for referrals.
Go meet the groomers in advance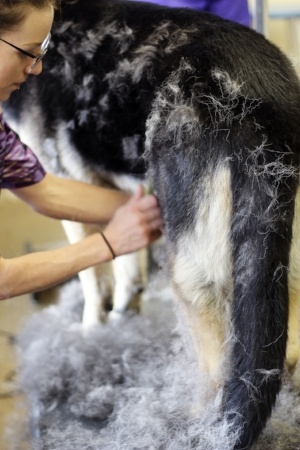 In fact, feel free to visit several grooming salons. Any great grooming salon has an open-door policy and encourages potential clients to visit their shop. Ask for a tour and inquire about which groomer is best with certain ages, breeds, and any other specific needs you might have. For example, labs and short hair dogs need brush-outs, nail trims, and a bath. They are wash-and-wear type grooms! Poodles, Maltese, and other long hair-coated dogs need precision grooms with groomers who are skilled with scissors and have expertise in grooming specific breeds.
Ask the groomers these important questions:
Do they require all animals to have current vaccinations? They should!


Do they sanitize their tables, equipment, crates, etc. between each dog? Again, they should!


Do they use shampoos and conditioners that are gentle and also environmentally appropriate?


Do they limit the amount of time a dog is in a crate?


Do they employ safe, humane, and dog-friendly methods? Safety and kindness are essential for any place you take your dog. It is important that all dogs on a grooming table be safely restrained to keep dogs from jumping or slipping off the table or out of the tubs.


How do they dry their dogs (hand-blown dry, drying cages, etc.)? Find out what precautions they take to make sure that a dog never overheats or suffers heatstroke when being dried.
Make sure you are satisfied with the answers you get, and that you've got a good feeling about the groomer you choose. If not — find a groomer you feel confident leaving your dog with.

Once you have a salon and groomer in mind, let your dog experience it
Once all the recommended vaccinations are complete, introduce your pup to his or her new grooming friends. Be sure to have your puppy on their leash or in a carrier so they remain safe. Ask the groomer to put your pup on the grooming table and offer petting, kind words, and treats. Let the groomer show them different items such as the nail trimmer, clippers, and scissors. Keep it happy and fun. This is not the time for making your dog worried or nervous. They are there to learn that groomers are their new best friends.
Puppies typically get their first groom between four and six months of age
Finally, get on a salon's schedule
Once you found a groomer that's right for both you and your dog, you should schedule a grooming appointment early on. You'll want them to get used to this essential aspect of their life as soon as possible, but not before they've had an appropriate number of vaccination boosters. Most groomers like to see dogs come in for their first puppy groom anywhere between four and six months of age—even earlier if they are going to need precision grooming. Remember to plan ahead. Depending on where you live, the best groomers book out weeks in advance.
Whether you bring your pup in for a monthly full spa experience or just the occasional as-needed clean-up, each of these above steps will go a long way in establishing and building a great working relationship between you, your pup, and their new groomer.
Judi Anderson-Wright, MA, CPDT-KA contributed to the contents of this article.
Judi is the co-owner and director of Canine Education at Great Dog, located in Seattle, WA. Great Dog offers its clients a wide range of services, including boarding, grooming, and obedience classes.www.gogreatdog.com