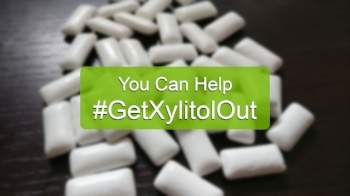 Getting Xylitol Out of Gum Would Help Thousands of Dogs
Xylitol is a "sugar alcohol" sweetener that's becoming an increasingly common sugar substitute all across the country. Though it's found in a great many products (700+ and counting!), sugar-free and "sugarless" gums are, by far, the most common source of xylitol poisoning in dogs. You can help change that.
With just a share and a signature, you can help #GetXylitolOut of gum and protect thousands of dogs each year. We've even found a dog-safer replacement sweetener that the gum campanies can use — it's called erythritol, and it may even be better for your teeth, too!
Now we can do more than just raise awareness about the dangers of xylitol. We can actually get rid of one of the biggest xylitol dangers to dogs! Please sign our Change.org #GetXylitolOut petition and read on to learn more about this problem and to see what else you can do to help.
But Gum Isn't For Dogs
Of course, gum is neither meant for nor marketed to dogs. However, as those of us who have, love, and care for dogs know, that doesn't necessarily stop them from gobbling it up anyway. After all, they don't read labels! And sadly, many people don't think to — or know to — either. As a result of this, and the fact that it's not always their owner's gum that a dog gets into, well over 4,000 dogs are sickened and killed by xylitol each year.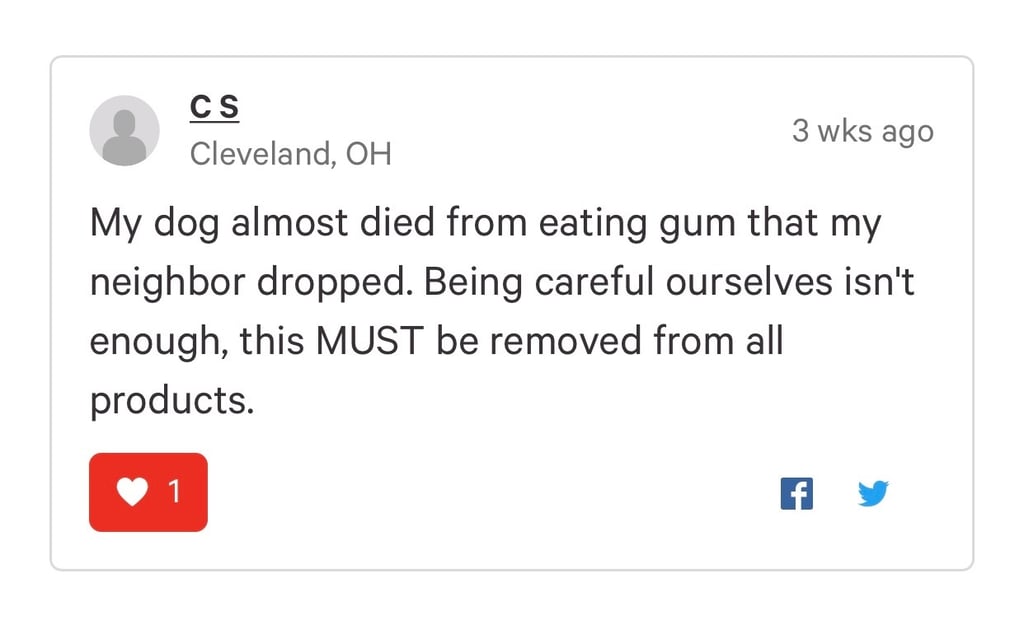 When a dog is unfortunate enough to gobble up even just a few pieces of sugar-free gum containing xylitol, the dog is likely to develop seizure-inducing and life-threatening low blood sugar ("hypoglycemia"). And this effect can be seen in as little as 30 minutes! But it's not just low blood sugar that xylitol causes in dogs, it can also cause potentially-fatal liver damage, too. And it doesn't take many pieces of gum to do it.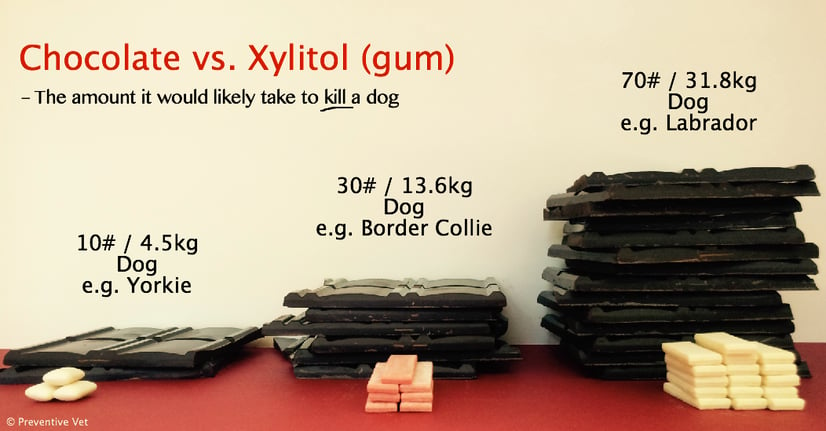 Raising Xylitol Awareness Is Important, But It's Not Enough
Many more dog lovers are now aware of this danger, yet xylitol continues to sicken and kill thousands of dogs each year. Our xylitol in peanut butter article was published in the summer of 2015, and to date has been viewed nearly 1 million times. It even prompted many other people to write about xylitol in peanut butter, and the broader danger of xylitol in general. Yet, even with all of this new awareness about xylitol, thousands of dogs are still being sickened and killed when they are unfortunate enough to eat one of the many products that contain xylitol.
In fact, xylitol poisoning in dogs has become such a big problem that in 2016 the FDA released an updated warning about the dangers of xylitol to dogs. But even that hasn't proven to be enough to put an end to dog illnesses and deaths from xylitol.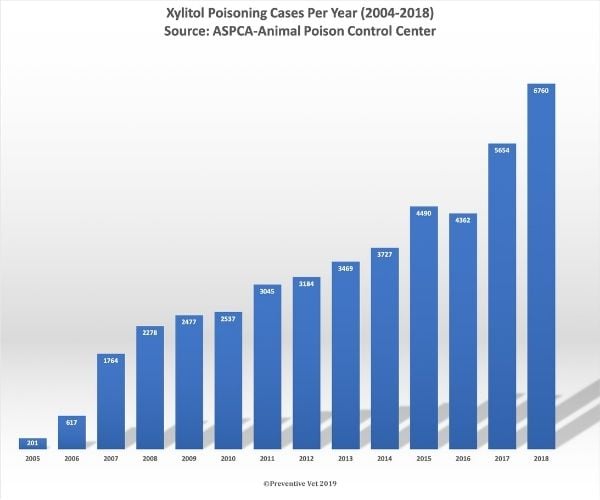 While awareness of the dangers of xylitol to dogs is critically important and has increased, so too have the number of products that now contain xylitol. And, sadly, the number of dogs that are being injured and killed by xylitol each year is still well into the thousands. Clearly, just raising awareness is not enough. Something else needs to change; something more needs to be done. To best protect dogs, we need a "game-changer." And I believe we've found it... it's called erythritol and it's actually a "cousin" to xylitol.
Why Erythritol Is a Game Changer for Dogs… and People
Like xylitol, erythritol is a sweetener in the "sugar alcohol" category. As such, erythritol has several properties in common with xylitol. Amongst other things, it's low in calories, all natural, "no carb," diabetic-friendly, and can be used to replace sugar in gums. But what's most exciting — and even more important for all of us dog lovers — are two key differences between erythritol and xylitol:
Erythritol is safer around dogs: Unlike xylitol, erythritol does not cause a rapid and dangerous drop in blood sugar or acute liver cell death in dogs who are mischievous (and unlucky) enough to gobble it down!
Erythritol is better at preventing cavities: A prospective, double-blinded, randomized study published in 2016 showed that erythritol actually helps protect teeth from cavities better than xylitol!
Sugar-Free Gums Are The Biggest Culprits
Xylitol is in a lot of products: over 700 at our last count! However, xylitol-containing sugar-free gums are far-and-away the most common xylitol-containing "culprits" that send dogs to the ER — or to an early grave. Xylitol is included in sugar-free gums predominately to help to prevent cavities. Some of the most popular xylitol-containing gum brands include Ice Breakers®, Orbit®, Trident®, Extra®, and others.
Since xylitol-containing gums are responsible for the most xylitol-related dog illnesses and deaths, working to get xylitol out of gum is the biggest step we can take to help protect the greatest number of dogs. (For those of you worried about how your teeth might suffer if there is no more xylitol in gum, worry not and read on.)
How to Get Gum Makers to Switch From Xylitol to Erythritol
If you love dogs, or just want them to be safe from preventable harm, this is a huge development and a massive opportunity! If companies like Hershey®, Wrigley®, and Mondelēz® — which, combined, contribute the vast majority of the xylitol-containing sugar-free gums on the market — really want to help people protect their teeth and not endanger their dogs in the process, there's now a proven, safer, and readily available alternative to replace the xylitol in their gums. They just need the will — and a little push from us dog lovers — to make the change.
Of course, getting the manufacturers to make this change won't be easy; after all, changing formulas can be expensive and time consuming. And the xylitol industry is worth quite a bit of money: $683 million in 2015, which is expected to exceed $1.37 billion by 2025, according to a 2016 Xylitol Market Analysis and Forecast. So I don't imagine that the xylitol "lobby" is going to sit back and watch as we all campaign to #GetXylitolOut of gums. But I would say that it's a fight worth fighting when the lives of literally thousands of dogs are at stake every year.
Thankfully, gum manufacturers don't just want to sell more gum. They also want to avoid negative publicity for themselves and their products... and few things make for worse publicity than knowing that your products are injuring and killing thousands of dogs each year, yet continuing to make and market those products (without even so much as a warning on the label!). And this is even more true, now that there's a dog-safer (and tooth-friendlier) alternative. So it stands to reason that these companies will be more inclined to #GetXylitolOut if they see that there's enough support; demand; financial benefit; and, very importantly, enough of us creating a big enough stink to get their attention and hold them accountable. (Check out how you can help #GetXylitolOut of gum.)
So while the battle will likely be hard, it's one we must fight and win. I hope you agree and that you'll join the cause and recruit your dog-loving friends, family, neighbors, and coworkers. With a groundswell — using the power of social media, Change.org, and market pressure — we can all do this! You in?
Here's How You Can Help #GetXylitolOut of Gum
Sign and share this Change.org petition urging gum manufacturers to #GetXylitolOut.
Check labels and stop buying xylitol-containing gum.
Share this article with all of your dog-loving friends, family, and coworkers. Share it with your veterinarian, trainer, dog walker, groomer, breeder, and anyone else who helps you love and care for your dog(s).
Contact your local news stations and newspapers and ask them to cover this important story to help raise awareness about this campaign to get xylitol out of gum and help save thousands of dogs each year.
Share and retweet these posts on Facebook and Twitter.


Erythritol Is Safer Around Dogs (Studies)
The toxicity of xylitol to dogs has been well documented, both in scientific studies and in clinical case reports. In contrast to the danger that xylitol poses to dogs, several toxicologic studies and reviews, as well as a lack of poison control calls and clinical case reports, have shown erythritol to be far safer to dogs:
As of the time of writing, the ASPCA Animal Poison Control Center has received
zero
reports of significant erythritol toxicity in dogs. By comparison, they have received
over

32,000 (!)
reports of xylitol poisoning in dogs since 2004!
Erythritol Is Better at Preventing Cavities (Studies & Reviews)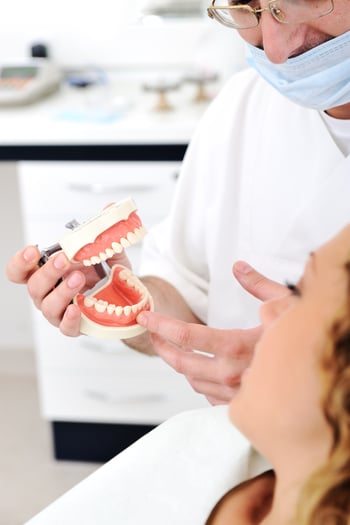 In 2015, Cochrane, a global independent network of researchers, professionals, patients, carers, and people interested in health published their comprehensive review of the scientific studies related to xylitol's dental benefits. This was their conclusion (you can read the full report here):
"We found some low quality evidence to suggest that fluoride toothpaste containing xylitol may be more effective than fluoride-only toothpaste for preventing caries in the permanent teeth of children, and that there are no associated adverse-effects from such toothpastes. The effect estimate should be interpreted with caution due to high risk of bias and the fact that it results from two studies that were carried out by the same authors in the same population. The remaining evidence we found is of low to very low quality and is insufficient to determine whether any other xylitol-containing products can prevent caries in infants, older children, or adults."
A 2016 study showed that erythritol is better at protecting teeth from cavities than xylitol:
"Erythritol Is More Effective Than Xylitol and Sorbitol in Managing Oral Health Endpoints" (Review article 2016)

Note that this review article and the "Effect of Erythritol and Xylitol on Dental Caries Prevention in Children" (Honkala S, et. al. Caries Res 2014;48:482-490) study it cites were written, conducted, and funded by Cargill, the largest global producer of erythritol. However, the study design was prospective, double-blinded, and randomized and the conflicts of interest were disclosed. All important qualities of such research.

This Effectiveness of Xylitol in Reducing Dental Caries in Children literature review from 2017 and published in the journal Pediatric Dentistry also came to the conclusion that the current scientific evidence for a benefit of xylitol on preventing carries ("cavities") in children is not very strong. Here is their conclusion from the paper:
The present systematic review examining the effectiveness of xylitol on caries incidence in children showed a small effect size in randomized controlled trials and a very low quality of evidence that makes preventive action of xylitol uncertain.
Thanks for reading, spreading the word, and lending your invaluable support! Together we can do this; together we can get gum manufacturers to #GetXylitolOut, and improve the safety of our dogs and the health of our teeth in the process.