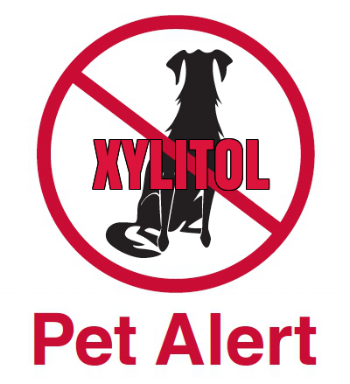 As xylitol is being used in an increasingly wide range and number of products, more and more dogs are getting sick from eating this "all natural" sugar substitute.
Xylitol is poisonous to dogs — well over 6,000 cases each year!
ASPCA-Animal Poison Control received 3,727 xylitol calls in 2014 (2015 numbers not yet reported) and Pet Poison Helpline received 2,900 xylitol calls in 2015 — and these are just the cases that get reported to the animal poison control hotlines! There are many more that never get reported, either because the attending veterinary team gets it well under control without the input from the specialists at poison control, or because the dog never even makes it to the veterinary hospital.
Fortunately, with prompt recognition, quick diagnosis, and appropriate treatment, the prognosis for a dog that eats a product containing xylitol can be good. Of course, there are many other factors that will impact your dog's odds of recovery and survival, including the amount of the product they ate, how much xylitol it contained, how recently they ate it, your quickness in taking the steps listed below, and a host of others.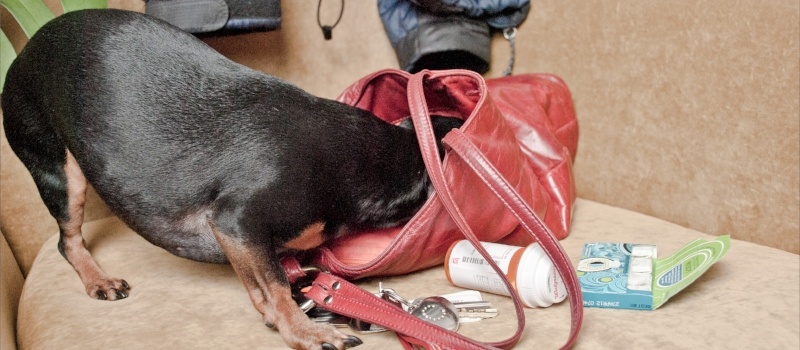 Xylitol is a potent and very fast acting poison in dogs — Time is truly of the essence!
Here are the steps you need to take if you know or suspect that your dog ate something that had xylitol in it…
Evaluate Your Dog and Get Them the Help They Need — Fast!
Ask yourself: Is my dog staggering, walking like they're drunk? Is my dog collapsing, having seizures, or vomiting? Does my dog seem "out of it?" If so, or if there are any other concerning signs, follow these steps:


Corn syrup or maple syrup: If you have one of these types of syrup handy and you can do so without getting bit or without overly delaying Step 2 below, rub some onto your dog's gums. This is a TEMPORARY fix to try and raise their blood sugar and counteract the insulin released as a result of the xylitol. DO NOT pour the syrup into your dog's mouth — you could make matters significantly worse by doing so!


Get to the vet: Even if her concerning signs improve after you've rubbed syrup onto her gums, get her immediately to the vet. Again, the syrup is a temporary fix and her blood sugar is likely to plummet again. Go immediately to your vet, or to your nearest open Animal ER if your vet isn't open or can't get you in. Ideally call them while you're on your way to let them know that you're coming in and what's wrong with your dog, that way they can be ready to initiate immediate treatment and evaluation upon your arrival.


Ask yourself: "Is my dog acting normal? Does my dog seem unaffected by the product it's eaten?" If you know, or suspect, that your dog's eaten something that has xylitol in it, it's still immensely important that you err on the side of caution and take this important step:
Call for advice: Time is always of the essence when it comes to animal poisonings, and that's even more so the case when xylitol is involved! A dangerously low blood sugar can develop in as little as 30 minutes! Call your veterinarian or one of the dedicated animal-specific poison control hotlines immediately for advice on what to do and what to watch for.


When contacting poison control and/or going to the vet, have handy or bring the packaging of the product your dog ate (or whatever's left of it). It's important for the team that's giving you advice and treating your dog to know what's listed on the ingredient label. Sometimes the concentration of xylitol in each serving is disclosed, which is important in evaluating the severity of the poisoning (how much xylitol versus the weight of your dog), although often the concentration of xylitol is not listed; that's why we're asking everybody to sign our petitions to manufacturers and the FDA to improve xylitol labeling standards.
Report Your Case to the Food & Drug Administration
Once you've done the steps above and your dog is getting the care and monitoring they need, it's time to report the incident to the FDA. They WANT to hear from you!



The FDA's Division of Veterinary Product Safety shared the following list with us in response to our communications with them and asked us to share it with our readers and petition signees. They truly wish to — and need to — know about what happened. They shared with us that "Submitting an adverse event report by the appropriate method enhances the ability of FDA to efficiently handle and evaluate reports. We encourage the submission of these reports to aid in monitoring their safety and in keeping the public informed about safety concerns."

The FDA needs to know the details and how wide spread the problem is so that they can know best how to respond. The appropriate method to report your case depends on the type of xylitol-containing product your dog got into. See the two methods below.
How to Report Cases of Xylitol Poisoning to the U.S. FDA
Spread the Word — Awareness Saves Lives!
It's time to raise awareness, to have your voice heard, and to help others avoid a similar situation. Here are some of the ways you can do this:

After publishing our article warning about xylitol in some nut and peanut butters, we worked with Nuts 'N More®
to add a "not for pets" warning to all their xylitol-containing product labels. And they are currently working on
adding the concentration of xylitol per jar/serving to the label - very important information in poisoning cases.
We hope that this article has been helpful for you and we're sorry to hear that your dog has been affected by xylitol. Know that we, and others, are working hard to raise awareness and help prevent xylitoll poisonings. We wish for the best outcome for you and your pooch, and sincerely thank you for sharing your story to help others avoid a similar situation.