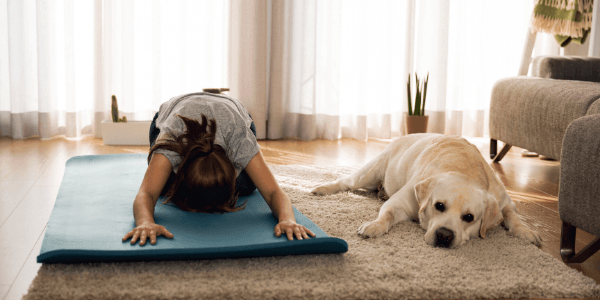 If you've ever seen one of the many videos on Instagram or Facebook where someone is working out with their dog, you've likely thought about doing the same. It can't be that hard, right?
It can be very difficult, as I've found out.
As COVID-19 has closed gyms and recreation centers throughout the world, and even made outdoor workouts a bit more difficult, people have had to transition to at-home workouts. While I typically head to the gym to get a good workout in, I've had to alter my workouts and try to do similar exercises at home. And since I have a dog at home, I had to try to figure out how to workout with my dog in the same room.
Failed At-Home Workouts With my Dog
My first at-home workout went something like this: anytime I would get somewhere close to the ground, my dog Mary Berry would be up in my face, trying to get me to pet her or throw a toy for her to fetch. All movements caused excitement jumping or licks to the face. I was frustrated and cut my workout short.
My husband and I invested in some dumbbells and moved our workout location from the living room to the basement. Turns out the change in scenery didn't change our dog's behavior. She might have even been more intent on "helping us" with our workouts. Here's a clip of her "helping" my husband stay hydrated by dropping her favorite toy – a plush bottle of wine – on his chest while he tries to lift weights.
Side note: You can find the adorable wine bottle toy on Amazon. The plush outside wraps around a plastic bottle, offering the crinkle and squeaking noises my pup goes crazy for. As with any dog toy, keep an eye on your dog when they're playing with it and take it away if parts come loose or your dog starts to "de-stuff" the toy.
Find Success When Working Out at Home With Your Dog
While you can try to leave your dog in another room or keep them busy with a long-lasting chew or interactive puzzle, your dog might not want to miss out on all the fun. Even after a play session of fetch and a long walk, Mary Berry was still very interested in our workouts.
And while Mary Berry's interrupting behavior was definitely annoying, the potential of injury (for her or us) from moving exercise equipment was a bigger concern. So, after a couple more failed attempts of working out in the basement with the same results, I asked Preventive Vet's certified dog trainer and behavior consultant, Cathy Madson, for some advice.
Give Your Dog a "Job"
Cathy emphasized that unless we were giving Mary Berry a job to do while we work out, she would continue to interrupt our workouts. She recommended that Mary Berry have a place to go to that she stays while we complete our workouts, where she's rewarded for hanging out.
We took Cathy's advice and tried out a "go to bed" cue (watch her Facebook Live to learn how to train this cue!). Once she lays on her bed, we reward her with high-value treats for going to her bed when asked (she goes crazy for these homemade high-value treats that I only give to her when we're working out) and we continue to give treats at random when she stays on her bed. If you don't want to toss treats in between reps, you can give your dog a bully stick, stuffed KONG, or Earth Animal No-Hide chew for longer-lasting rewards.
Not sure which chew is best and safest for your dog? Check out these simple tips for finding the right fit for your pup.
Pro Tip: If your dog isn't as motivated by treats, you can use toys or play as a reward for holding a stay in their bed. Whenever you finish a set, release your dog from their stay to play a quick game of tug — it's a great way to keep your heart rate up! Learn how to teach your dog a stay in this article.
Take Breaks to Reward Your Pup
When I have a natural break in a workout, I will call my dog out of her stay cue and praise, pet, and play with her so she stays engaged and wants to follow the "go to bed" and "stay" cues when asked again.
I've discovered that it's more difficult to keep her on the bed when I'm completing exercises that are close to the ground (like pushups, planks, or core work) since we are closer to her eye level. And, like any young dog, she just really wants to play ALL the time.
But, when I give her a long-lasting chew or one of her toys, she tends to stay distracted and less inclined to "help" me complete my exercises.
If your dog doesn't know the "go to" or "stay" commands, it will take more training and repetitions until they are able to stay on their bed the entire time you're working out. Setting up an exercise pen (or their crate) for them to hang out in, while still being close to you in the same room, can also make training while working out easier.
Working Out With Your Dog
What if your dog just doesn't want to sit still while you're working out? If leaving them in another room, or safely confined in an enclosed pen or crate, isn't an option, maybe you'd rather have your dog join in on the fun!
Start Small
Choose an exercise that you'd like to have your dog do with you. Maybe you'd like to teach your pup to stretch into a downward dog when you do. Or mimic your burpee form. Or even weave through your legs as you do lunges across the room.
You can then follow these 4 steps to teach your dog to do anything. With training and lots of practice, you and your dog can get a great workout together just like the videos you've seen online.
Training Progress
After 2 months of working out at home, Mary Berry consistently goes straight to her bed to lay down when we enter the basement. I use the "go to bed" cue and she'll stay on her bed until I call her out of the cue and reward her with praise.
See it all in action:
My workouts look a lot different now than they did at the gym, but they're filled with more tail wags and dog kisses, which motivate me more than I thought they ever could.
What does your dog do while you work out at home? Are they a part of your work out or do they watch from the sidelines? Let us know in the comments below!