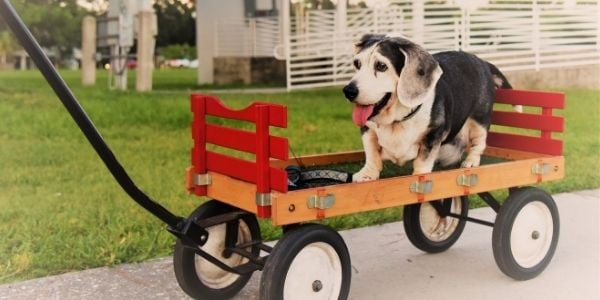 Our dogs are living longer these days, which is unequivocally great! With advancing age, though, it's common to see a host of medical and cognitive problems develop in aging dogs.
One of the big ones and one which can often be the easiest (yes, that's right, I said "easiest") to deal with is when dogs start to have problems getting up and getting around.
Fortunately, helping your aging, arthritic dog with such mobility issues doesn't mean you have to remodel your home or move to a single-story rancher. Helping them and improving their quality of life also needn't be backbreaking (or bank-breaking) for you, and it isn't even all about medications!
There are lots of simple, inexpensive, and effective things you can get and do to improve your aging or arthritic dog's mobility. We'll also explore therapies and treatment options, such as laser therapy, acupuncture, and dog massage, that can help relieve your dog's pain and inflammation.
Tips & Products to Help Your Aging or Arthritic Dog
These tips and products listed below have helped to improve the comfort level, quality of life, and ability to get around for many older and arthritic dogs. Have a look and try them out — you may well be surprised at just how peppy your "old dog" becomes!
You may notice that I don't mention medications in this article. It's not because they aren't important and helpful, because they are often very important and helpful. I've done this because medications aren't the only important and helpful components to helping older dogs with their pain and mobility issues.
You can read more about what supplements and medications can be helpful with arthritis and joint pain here. The simple yet safe and effective tips and products I mention below aren't well-known and are all too often overlooked. For the benefit of all aging and arthritic dogs, that needs to change.
Help Your Dog Get a Grip and Feel Supported
When getting up and walking is already difficult and/or painful for your dog, asking them to do either on a slick floor surface just compounds the difficulty and pain. Worry not, though; you needn't replace all of your home flooring. Fortunately, there are some inexpensive, simple, and highly effective products you can try and steps you can take to quickly make your home floor surfaces less slippery. As well as some great ways to help them get around better when out and about.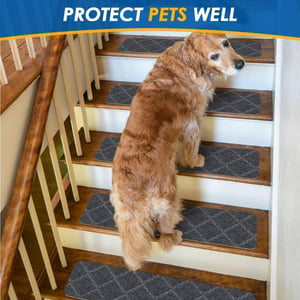 Lay out area rugs or carpet runners, at least in the areas where your dog walks most. And don't forget anti-skid mats

. You could also do

carpet tiles instead of full rugs or runners.

An advantage of carpet tiles is that they can easily be removed to be cleaned or replaced when they get soiled or worn out. If you're not going to do the carpet tiles from wall to wall, you may need some "corner stickies"

to help hold them in place.
Add non-slip stair treads to your hardwood staircases — the inset photo shows a popular option

our team has used with great success. They're a bit spendy, but they work! They're easy to install, with no tape or adhesive needed. They're easy to vacuum, and when you do lift them up, they don't leave a residue or marks behind.
Next time a Preventive Vet team dog has mobility issues and needs stability, we're getting a set of Dr. Buzby's ToeGrips. They're one of the most natural ways to enhance a dog's grip on slippery surfaces. They don't cover the end of the nail but rather create a grip on the underside of the nail tip, where nails were designed to grip. You can put the toegrips on all four paws or just the front or back.



Some of the benefits of Dr. Buzby ToeGrips over other products:

Be aware that there are a lot of knock-off products, but they aren't nearly as effective.

- ToeGrips don't cover the nail tip

- ToeGrips last 1– 3 months and don't require glue to keep them in place

- They are made in the USA, FDA-certified, and non-toxic in case they were licked, chewed, or swallowed. Dr. Buzby assures us that 99% of dogs don't bother chewing them, and if they do, it passes right through them.

This video demonstrates their effectiveness on Kangaroo, a three-legged dog. Check them out on Dr. Buzby's website.
Put a set of Woodrow Wear Power Paws ("grippy socks") or similar socks/booties on your dog. Another popular option are the Pawz Dog Booties. These can be worn indoors and outdoors, are reusable, and inexpensive enough to just toss when they get worn. They're 100% biodegradable too.

Booties and grippy socks are not appropriate for every dog and can be especially troublesome for frail dogs – as they can cause your dog to walk differently, changing their gait.



PRO TIP:

If you're using disposable rubber dog boots indoors only, use a paper hole puncher to punch a hole or two in the bottom to provide airflow for your dog's paw pads. Be aware if you do this, it means the boots aren't waterproof anymore!


If your dog is having difficulty jumping into/out of your vehicle, get them a ramp for your car, SUV, or truck, like this sturdy option from PetSafe ramp. For a more portable, lightweight option, this Travel Lite folding ramp from Pet Gear is ideal.


Around your home, if your dog is having trouble getting on and off your bed or the couch, then a set of "pet steps" or a ramp would be worth considering.

This gradual ramp (photo and video below) is ideal for both medium-sized and small dogs. Sometimes steps are just too steep, and the ramp can help make their climb up and down easier. This ramp is large, but the slope angle is gradual. Note that the carpet can be a little smooth/slippery for some dogs.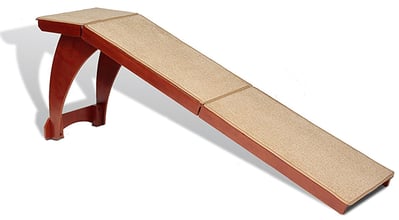 Here's Preventive Vet dog Daisy, when she was 15 years old, using her ramp to go to bed at night.
Give your dog the support and assistance they need without breaking your back. Get a comfortably fitting harness with an easy-to-reach support handle. The Ruffwear Webmaster harness is an affordable favorite for many people, including many owners of "tripod" (three-legged) dogs, but it does not provide as much back-end support as others.

The Help 'Em Up Harness is often sold through a veterinary office but can also be purchased online. A Preventive Vet team member loved her Help 'Em Up harness for her dog Mikey after his back injury and during rehabilitation (photo below). Having two handles, one in the front and one in the back, made lifting and moving him easier for her and more comfortable for him.
The GingerLead support and rehab harness is another fantastic option for dogs with arthritis, hip dysplasia, and other mobility problems, particularly with their back legs. Make sure to choose one that's appropriate for your dog's gender, as there are female and male versions of this harness.
A doggie wheelchair, like the one featured in the video below from K9 Carts, can be great for walks around the block and other outdoor adventures for dogs with advanced backend mobility problems.

These carts can provide much-needed stability, helping to ensure that your dog won't fall over or have to drag and injure their paw(s). It also gives your dog the confidence and freedom to be more self-sufficient, all while improving their comfort level and letting them get some much-needed mental and physical exercise. Let the exploring begin!
Joint Supplements
For more options for supplements and treatments for arthritis, check out our article.
One product we've tried and love is Dr. Buzby's Encore Mobility supplement. It has two ingredients that have been known to help with joint issues: New Zealand deer velvet and green-lipped mussels.
Deer velvet contains a protein called pilose. This protein has been shown, in both laboratory and animal studies, to have anti-inflammatory effects. It is also rich in other components, such as chondroitin sulfate, collagen, fatty acids, and glucosamine sulfate, all of which have been found beneficial in the management of arthritis. These components are also effective in helping to heal joints, muscles, and connective tissue.
Green-lipped mussels contain several components that, when blended with deer velvet, enhance the treatment of arthritis. Those components include omega-3 fatty acids, other bioactive lipids, vitamins, minerals, antioxidants, and glycosaminoglycans. This unique combination in green-lipped mussels makes it an anti-inflammatory agent as well as chondroprotective (delays progression of joint space narrowing and protects chondrocytes).
MABEL THE SENIOR PUG'S EXPERIENCE WITH ENCORE MOBILITY SUPPLEMENT
Mabel shares her life with Preventive Vet team member Mia:
"When we adopted Mabel the pug a little over two years ago, she was already over 10 years old and dealing with rear myelopathy — meaning she doesn't have full use of her back legs. She is prone to dragging the tops of her feet on the short walks we take, and when she stands at her bowls to eat or drink, she sometimes stands on top of her back toes as though she can't feel them, and we have to correct them for her.
To get on our couch or on our bed, we usually had to help her up the pet steps.

She still needs help up those stairs, but since starting the supplement 60 days ago, there are times she surprises us and decides to run up them all on her own. She also spends more time running in our backyard, trying to catch the crows or sprinting to the fence to bark at the neighbor kids.
Unfortunately, the most frequent use of her extra mobility is usually displayed while chasing our cat, Mazel, around the house. While this isn't how we would prefer for her to use her legs, the improvement is undeniable. In fact, we had dinner with a cousin recently, and completely randomly, she remarked about how she couldn't believe the improvement in Mabel's mobility over the course of knowing her.
We were given this supplement to try, but we're now buying it, as we don't want to stop the progress Mabel has made."
Ensure Your Dog's Overall Comfort and Health
The simple nursing and general care tips highlighted below might seem like "common sense," but they are far too often overlooked and can make a big difference in the comfort and quality of life of a dog with mobility issues. The added bonus is that they aren't just effective, but they're often simple to do and quite inexpensive, too.
Maintain Paw Care
Regular nail trims can greatly improve your dog's comfort level and mobility. If you can't easily trim your dog's nails yourself, speak with a good groomer or the folks at your veterinarian's office about having it done. Pay attention to their paw pads, trimming excess fur growing between their pads to increase traction and proper foot placement while in motion.
Maintain a Healthy Weight
Work with your veterinarian to ensure that your dog is at their optimal body condition and weight. Just like in people, excessive weight puts additional and avoidable strain on already painful joints. If you've got a dog with a few extra pounds, we've got some easy tips to follow to help them lose weight.
Provide Comfortable Bedding
Make sure your dog has a well-cushioned and comfortable place to sleep at night and to lay around on during the day. Especially for dogs with arthritis and otherwise sore joints, orthopedic or memory foam dog beds can be a great comfort. You don't want them to be too high for them to climb in and out of.
The Brindle memory foam dog beds are a great option because they're super comfortable and supportive, easy to clean, and waterproof! A Preventive Vet team member bought a size large for their 12-year-old dog and found it to be way too big, so they downsized to the medium bed, and it was perfect. This is Wendy on her medium-sized bed.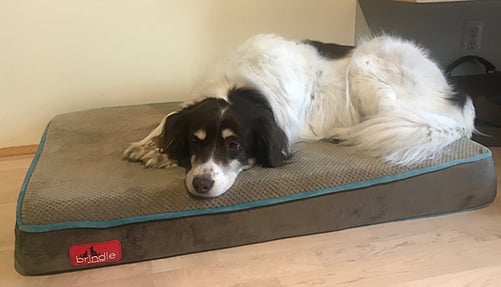 For a low-profile orthopedic dog bed, the FurHaven Plush Sofa makes it easy for dogs to climb in and relax in its ergonomic design. The height is only 2.5 inches tall at the front, and the contoured sides provide a nice resting place for their heads. If you have a large-breed dog, this bed has three sizes beyond large to choose from.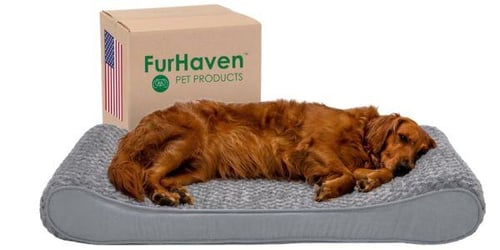 For smaller dogs, the Pet Craft Supply Soho Round dog bed works wonders with its memory foam and self-warming design. Daisy, a Preventive Vet dog, would sink into this bed and visibly relax when settling in hers, as you can see in the photo below. The small size made it easy to carry her, bed and all, to wherever her people were settling, whether at their desk or on the couch.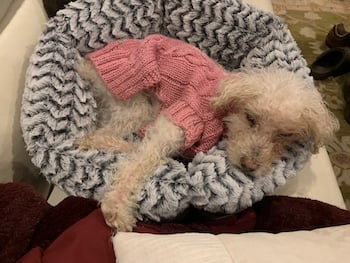 Monitor Room Temperature
Make sure that the temperature of the room or area of your home that your dog spends most of their time in isn't too hot, too cold, or too drafty. Beyond investing in joint-friendly dog beds, consider adding a heated dog mat to their crate or resting place. Do not use a human heating pad because they can get too hot and cause burns to your dog's skin.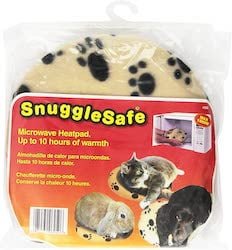 If a heating pad could pose an issue for your dog because you're worried they might find the cord an enticing thing to chew, try this Snuggle Safe Pet Heating Pad. It warms in the microwave and can provide up to 10 hours of warmth. This device is used in many veterinary hospitals. The additional bonus is that they're small, so if used in a crate, your dog can move away from it if they've had enough. Just be sure to use it as directed – only put it in the microwave for the recommended time and shake it when done.
Help Your Older Dog Stay Clean
Dogs with mobility problems are more likely to soil themselves (feces or urine, or both), either from a decreased ability to get up and eliminate in another area or even from a decline in their cognitive/brain function and loss of "house training." For this reason, it's very important to check your mobility-impaired dog regularly for any signs of urinary and/or fecal soiling and to clean them when noticed. (This is even more important with fecal soiling and diarrhea in female dogs, as such soiling often leads to a secondary bacterial urinary tract infection.)
A good "waterless shampoo" can come in very handy to make sanitary cleaning easier. If your dog has long fur, especially on their hind end, have a groomer give them a wide sanitary clip to help prevent fecal soiling and urine from accumulating in their fur. If your pet has feathers on their hind legs it may be beneficial to keep them trimmed close.
Make Food & Water Easy to Reach
For dogs that are experiencing severe mobility impairment, it's important to ensure that they can easily and reliably reach their food and water bowls. Dehydration can be a very real and devastating problem for dogs that can't walk well on their own. Make sure their food and water bowls are near their bed and easy for them to reach.
Also, make sure that they've got good footing and stability where they eat and drink – if the flooring is tile, wood, or another potentially slippery surface, help your dog get a grip (and comfort and confidence) by placing a non-slip surface or padding for them to stand on.
A large mat, like a BBQ grill mat, is a great option because it's non-slip, super durable, large enough for most dogs to stand on, and easy to hose off when it gets messy with slobber and dropped food. If you want something with more color and size options and don't mind losing the ability to hose it off, check out these great skid-resistant indoor rugs.
Note: For dogs with neck and/or back pain (e.g., arthritis, disc problems), elevating their food and water bowls may help their comfort when eating/drinking standing up. We love the bamboo one featured in the photo below, but it's no longer being manufactured.
Stability Hack: If you have a little dog like Daisy who has a hard time staying upright, you can place a pet bed or pillow behind them to prop them up. Using a flat plate instead of a bowl can help with stability, as your pup doesn't have to reach over the edge to eat.
Keep Your Aging Dog's Mind Active
A big part of keeping your mobility-impaired dog happy and healthy is keeping their brain active. While they might not be able to get around as easily, that doesn't mean you can't take them on adventures outside! Investing in a quality dog carrier backpack, such as the K9 Sport Sack, gives you an easy way to carry your dog – whether for the entire walk or when they start to get tired and you aren't quite home yet.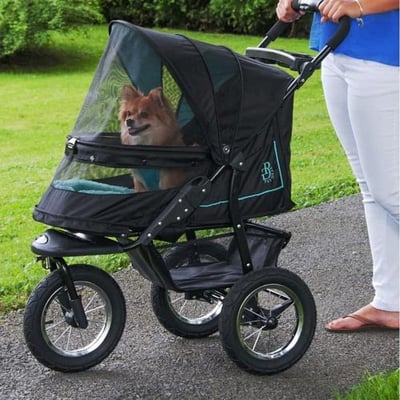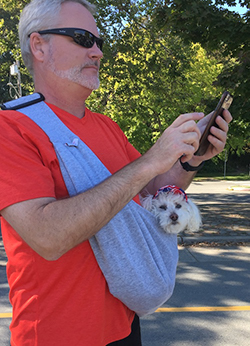 You can also take your dog for a walk in a dog stroller or wagon so they can take in the sights, sounds, and smells without the physical exertion of walking. For larger dogs, this roomy Pet Gear Expedition Stroller makes it easy to load up. The stimulation of seeing and smelling the environment helps keep your dog's brain sharp and provides much-needed canine enrichment.
Senior dogs need exercise too! Having a backpack or pouch for little dogs, like the one in the photo, is beneficial because you can let your dog walk for as long as they can, then you can continue your stroll while they rest.
Daisy (seen in the photo) loved her hammock-like pouch, where she'd often be lulled to sleep. It's great for warm days, as senior dogs get overheated easier than younger dogs.
Other Therapies and Rehabilitation for Dogs with Arthritis & Joint Pain
Acupuncture
Acupuncture is safe and has minimal side effects (slight soreness, for example). It involves the insertion of needles (very fine) into the skin at particular points along the body, which helps relax local muscles, release serotonin and endorphins (natural pain-relieving hormones), improve circulation, and block pain signals in the body. Additionally, it can stimulate blood flow to the joints, nerves, and organs. In turn, your pet has improved joint range of motion, as well as the benefit of maintaining its function longer.
Therefore, acupuncture can help with arthritis directly as well as help with other health issues that may be impeding your pet's mobility. The International Veterinary Acupuncture Society has an online database of veterinary acupuncturists that's searchable by city and state.
Vitamin B-12 Injections
Vitamin B-12, also known as cyanocobalamine, has important health benefits for dogs. It helps with different aspects of the nervous system and brain function. It also plays a role in the formation and growth of blood cells. Vitamin B-12 is often used to aid the gastrointestinal tract, especially if there are digestion issues, as it helps boost energy levels and appetite. Combine all these things, and it makes for a great supplement. It is only done in an injectable form.
Laser Therapy
Laser therapy (also referred to as Photobiomodulation), through several mechanisms, helps to reduce pain, muscle spasms, and inflammation. By reducing inflammation in tendons and ligaments, pets have improvements in their joint range of motion due to being less stiff. It has also been found to reduce cartilage breakdown and inflammation of the synovial fluid (the fluid that helps prevent friction of cartilage between bones of the joint).
Another benefit of laser therapy is that it improves the movement of nutrients through the cell membrane. Thereby improving and returning to normal the function and health of the local cells of the tissues and organs being treated. Studies show that 85% of dogs have found significant improvement following treatment.
PEMF Therapy
Pulsed Electromagnetic Field therapy (PEMF) is a non-invasive (FDA-approved for humans) treatment that has long been used in treating people and is becoming increasingly popular in veterinary medicine. PEMF devices target different tissues in a dog's body (depending on the wavelength used) to decrease inflammation and promote faster healing. This technology has been used to lessen pain and increase mobility for dogs with osteoarthritis and may help lessen the reliance on prescription medications.
There are many different PEMF products available, so it is important to research which provides supportive evidence and data for their effectiveness. Your veterinarian is a great resource to help you find the best PEMF treatment for your dog's condition and can prescribe a tPEMF device such as the Assisi LOOP or the LOOP Lounge PEMF mat.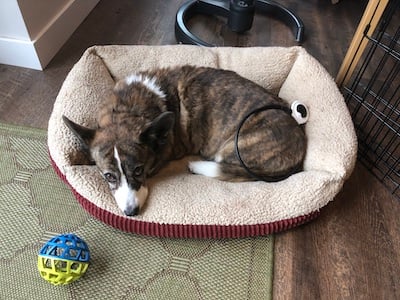 Preventive Vet office dog, Sookie, resting during one of her Assisi LOOP treatments.
Canine Massage
Massage helps by addressing soft tissue imbalances. A small animal massage practitioner can identify patterns of overcompensation as well as referred pain (this means an injury is at one location, but the pain is in another). They are also able to identify trigger points along the body that cause increased pain. The therapist is able to loosen and lengthen muscles that have been fixed in position due to lack of use or improper extension/flexion. The pet is then able to be more flexible and less painful with increased activity.
Physical Therapy
Physical therapy offers a number of techniques (Manual Therapy, Therapeutic Modalities, Therapeutic Exercise) that help decrease pain, improve mobility, proprioception (body awareness), and strength. A certified canine fitness instructor consulting with your rehabilitation veterinarian can help you create a physical therapy plan and fitness routine. There are many tools that you can use during physical therapy, such as cones or balance discs. Check out Daisy working on a balance disc and balance pad during one of her physical therapy appointments:
And here's a photo of Daisy doing her cavaletti exercises, walking over poles on the ground to improve her body awareness.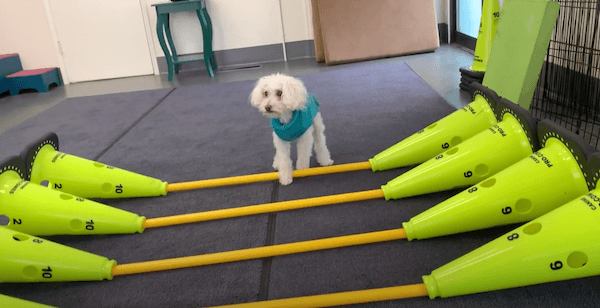 It's essential to work under the supervision of a canine fitness or therapy professional when introducing a pet with mobility issues to new exercises. Incorrect body placement or movements that are too difficult for their condition can cause pain and further injury. Before starting these exercises with your dog, ask your veterinarian for a referral to a qualified professional. Want to find a rehab professional near you? Visit www.rehabvets.org.
Warm Water Hydrotherapy
The warm water used in hydrotherapy helps reduce inflammation and loosen stiff muscles. It allows for non-impact exercise so that the muscles can be stretched and strengthened. Increased activity for your dog in this non-painful manner also aids in weight loss.
It has also been found to improve circulation to damaged tissues. Being in the pool has also been shown to improve the immune system and help naturally detoxify the body. Overall, the whole activity leads to a decrease in pain for your pet.
All the options for support and treatment can be overwhelming. It is important to remember that each dog is an individual with their own unique needs when it comes to being aided with mobility and arthritis. You may have to try several different options or combinations until you find those that help support your pet care goals.
Also, over time, what once worked may no longer work, and you will need to try new options. Never hesitate to discuss your concerns with your veterinarian. They are a valuable resource for helping your dog gain a better quality of life. Finding what works for you and your pet is what matters most so that you both can have an improved quality of life together.