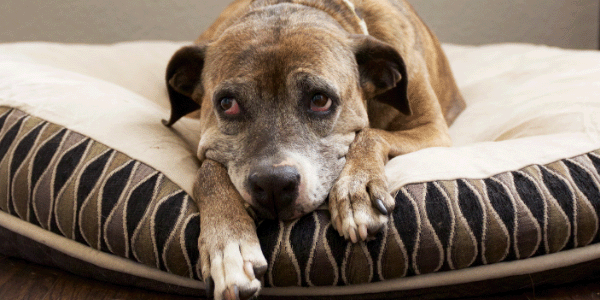 Dogs are a huge part of our lives and we want to do everything to give them the best and healthiest life possible. While we can't prevent all diseases, we can make simple changes to how we care for our pets that can make a big impact on how long and comfortable they live. The earlier you start this process of caring for their arthritis the better. This process involves both you and your veterinarian, as there are many things to consider.
We all have experienced or know someone with arthritis. It can be a painful and often debilitating disease for humans, and it's the same for dogs. However, you have the power to lessen its effects on your dog's life. Our goal for this article is to help you identify the potential causes of your dog's arthritic pain issues and then direct you on a path of how to improve their mobility and comfort with supplements and other treatment options. For tips on how to make simple changes in your home environment and other useful products for an aging dog, check out "How to Help an Older Dog with Arthritis and Mobility Issues."
Understanding the Driving Force Behind Arthritis: Inflammation
Often, when we think of arthritis, we only think of old or senior large breed dogs. In reality, any breed of dog can be affected. Also, while 50% of dogs ages 5 to 10 years old have arthritis, a whopping 25% of dogs greater than a year of age do, too. So breed and age are not a set standard for arthritis.
Arthritis, which literally means "inflammation of the joint(s)," is a slow and progressive disease with many causes that affect the ENTIRE JOINT (joint capsule, muscles, ligaments, tendons, etc.). One of the largest driving factors for the development of arthritis is inflammation. It doesn't matter where in the body it occurs or the cause. And one of the most significant causes of inflammation in a dog is obesity.
One of the most important things you can do is help prevent and control inflammation in your dog's body.
Identifying the Cause of Your Dog's Mobility Issue
Lots of problems could be causing your dog's mobility issues, and it's important to work with your veterinarian to determine which are at play in your dog's specific condition. Arthritis is certainly one of the most common, but it isn't always the culprit. Other causes can also include:
Degeneration of the nerves going to the muscles
Muscle weakness and/or muscle mass loss
Torn cruciate ligament or other trauma
On the other hand, it isn't always an orthopedic or neurologic condition that's hindering your dog's mobility. The cause could actually be pain unrelated to their muscles, joints, or bones, such as:
Inflammation of or a mass associated with one of the organs in their abdomen (e.g., spleen, liver)
Heart or respiratory disease can cause mobility issues
Overgrown nails
The above conditions are just some of the reasons that could be causing your dog's pain and mobility issues. Knowing the cause will help determine the best course of action to make your dog live comfortably.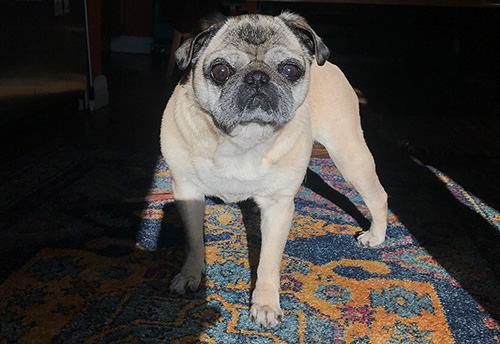 Medications, Supplements, and Other Means of Decreasing Your Dog's Inflammation and Pain
Pain management in dogs with arthritis isn't a "one-size-fits-all" topic. Achieving their best comfort often requires more than one medication and supplement, and it frequently benefits from ancillary treatments or "modalities," such as massage, laser therapy, physical therapy, etc. As is the case with people, the most effective and often safest pain management protocols for dogs are typically "multi-modal" – a few things need to be done together for the best results. Work with your veterinarian to figure out the best pain management approach and combination of treatments for your dog.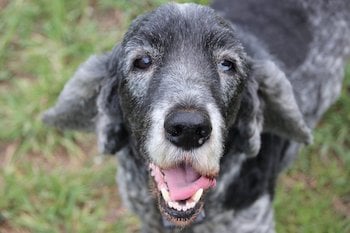 Joint Supplements for Dogs
*NOTE* DO NOT give human joint supplements to your dog, as they may contain ingredients harmful to your pet and may not actually contain the correct amount of each listed ingredient. Only use veterinary-formulated joint supplements for your pet.
Joint supplements are a crucial, drug-free, part to helping your dog with arthritis. They aid in the protection of the cartilage in the joint as well as act as a natural anti-inflammatory agent. Commonly recommended supplements include Synovi G4 chews, Cosequin DS, or Nutramax Dasuquin with MSM.
Synovi G4 chews
Buy on Chewy | Buy on Amazon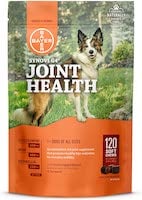 Cosequin DS
Buy on Chewy | Buy on Amazon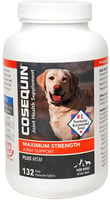 Nutramax Dasuquin with MSM
Buy on Chewy | Buy on Amazon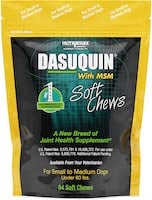 What Ingredients to Look for in Canine Joint Supplements
I usually recommend starting with Glucosamine and MSM, and as your dog ages and possible symptoms arise, then you can find ones with more ingredients, as per the list below:
Glucosamine – helps slow down collagen degradation and inhibit inflammation producing factors.
MSM (methylsulfonylmethane) –crucial for connective tissue and an excellent anti-inflammatory agent. It may also have hepatoprotective properties as well (which protects the liver). Helps with pain due to how it works.
Boswellia serrata – good anti-inflammatory activity.
Superoxide Dismutase – helps to scavenge molecules known to cause damage to tissues.
Yucca schidigera – a potent antioxidant and anti-inflammatory agent.
Chondroitin Sulfate – acts as an anti-inflammatory agent as well as helps reduce the breakdown of collagen.
*NOTE* Consult your veterinarian before starting a joint supplement for their recommendation on the best one for your pet, and to be sure it is safe if your dog has any other health issues.
Omega-3 Supplements for Dogs
The Omega-3 fatty acids found in fish oils can help to decrease inflammation in a dog's arthritic joints when given at a certain dosage. Here are three supplements with Omega-3 that we recommend:
Welactin Omega-3 is a liquid supplement that's great for any size of dog.
Buy on Amazon | Buy on Chewy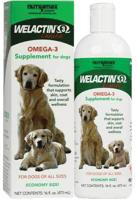 Vetoquinol Omega capsules provide easier dosing for small to medium dogs.
Buy on Amazon | Buy on Chewy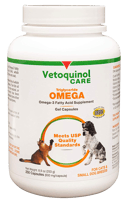 Free Form Omega-3 capsules provide easier dosing for medium to large dogs.
Buy on Amazon | Buy on Chewy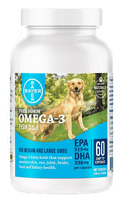 Supplements that use blood proteins that are rich in immunoglobulins may help reduce inflammation, promote healing, and provide other benefits for dogs. The WINPRO line of supplements (Immunity, Mobility, Allergy, Focus, Training) have been met with very positive feedback from dog owners. In our own experience, the office dogs love the taste of the WINPRO supplements. You only give your dog one or two per day (depending on their weight) so a bag of 60 will last you 1–2 months. You should not give your dog more than the recommended amount.
Specialty Dog Diets for Joint Health
There are prescription joint/mobility diets specifically formulated to help arthritic dogs. These include Purina Joint Mobility (JM), Hill's Metabolic + Mobility, and Royal Canin Mobility Support JS. Speak with your veterinarian to see if such a diet might help your dog.
Other Arthritis Therapies for Dogs
Adequan is an injectable therapy to help dogs with certain types of arthritis. It acts by helping to protect the cartilage within joints and helps to reduce inflammation. The cartilage is the thin, smooth layer of cells that covers the bony surfaces within joints. Healthy cartilage is necessary to prevent the painful "bone on bone" rubbing that characterizes degenerative arthritis. Many dogs have benefitted from having Adequan injections as part of their pain management protocol, yet it's not safe or appropriate for all dogs in all situations. Be sure to speak with your veterinarian to see if these injections might help your dog.


Stem cell therapy is a treatment that, while still in its infancy and while still needing further scientific research, does seem to be showing some promise for helping dogs with arthritis (and perhaps a few other conditions). Depending on the extent of your dog's mobility problems (and your finances — stem cell therapy often costs in the $2,000–3,000 range, this could be something worth researching and discussing with your veterinarian. You can see this Washington Post article and this wonderful synopsis of veterinary stem cell therapy on the Data For Good. If you have pet insurance, some policies will cover this and many of the treatments mentioned above, if prescribed by your veterinarian.
Prescription Medications for Dogs with Arthritis or Mobility Issues
Prescription medications often play an important role in pain management for mobility-restricted dogs. The specific medications needed and the degree to which your dog might need and depend upon them is different in each situation, and will likely change over time and as some of the supplements and tips discussed above are added in. What is also very important to note is that pain relieving medications should only be given to your dog under the guidance and recommendation of your veterinarian. Continued use of these medications will require bloodwork every six months to monitor their effect on your dog's body.
There are several different types of NSAID's (non-steroidal anti-inflammatory drug) that may be recommended by your veterinarian — every veterinarian has their own preference. Some commonly prescribed include Rimadyl® (carprofen), DeramaxxTM, Previcox®, Metacam®, and Galliprant®. Some are given once daily while others are given twice daily. In addition to these, there are other pain medications that are commonly used in veterinary medicine, such as Gabapentin or Tramadol.
WARNING: Do not administer your own pain medications, or even "doggie aspirin" to your dog without first speaking with your veterinarian. Many a well-intentioned dog owner (and even human medical professionals) have inadvertently injured their dog or complicated their care by administering over-the-counter or human-prescription medications to their dog. Please do not do this, always speak with your veterinarian first.
Does CBD Help with Dog Arthritis?
Lastly, many people ask whether or not marijuana and cannabidiol (CBD) products can help ease a dog's arthritis pain. And this is getting to be an even more common question as more and more states legalize marijuana, and more and more companies are making and promoting CBD-based chews, powders, and other treatments for all kinds of ailments in pets. The truth is though, we just don't know yet and it's a pretty mucky legal picture, too. Check out our extensive article on the topic which includes links to recent and promising studies on CBD and pets: What to Know If You Want to Give Your Dog CBD.