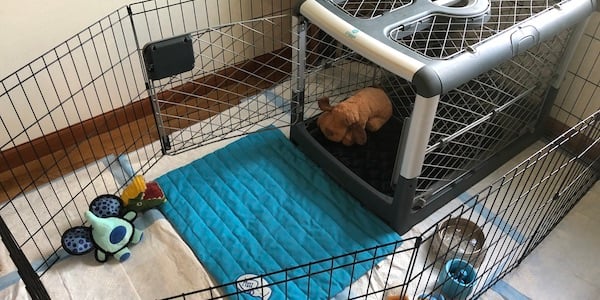 What is and isn't safe to put in your dog's crate is a pretty common question we get asked here at Preventive Vet.
People often want to know if it's ok to leave food or water in the crate, or if they should put a piece of their clothing to comfort their puppy.
What about towels and other bedding? Chews and other toys?
And a very common question: where should you put your dog's crate in your home?
Of course, every dog and crate situation is different. Young puppies are different from adult dogs (in many ways!). Similarly, a puppy just beginning their crate training is a different situation than a dog who is already acclimated to and in love with their crate space.
Below I've included some general insights and recommendations to help you as you plan out the safest and most comfortable "interior design" of your dog's crate.
Where Should You Put Your Dog's Crate?
Where you set up your dog's crate depends on where there is room in your home as well as your (and your dog's preferences). In my experience, young puppies do better when their crate is in closer proximity to their family as they transition from sleeping next to littermates to sleeping on their own in a crate or pen. Dogs are social animals and can become distressed when they feel isolated, which can lead to behavioral issues such as separation anxiety.
If you are crate training your puppy, you can start with their crate in your bedroom if there is space. As they mature, you can certainly change the location of their crate to a more convenient area of your home in small increments.
Having them close by while sleeping in their crate will also help you during the first few weeks of nighttime potty training. There is one caveat here — if your puppy is a very light sleeper and their "bedtime" is before you're settling down for the night, the noises or lights in the bedroom may disturb their sleep and make it hard for them to settle back down if they wake up.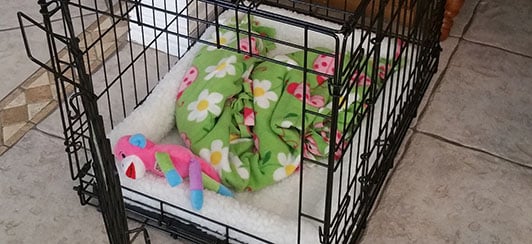 Overall, choose a crate location where your dog is most comfortable and can rest peacefully and where space allows. But you will want to meet the following safety criteria when looking at where to place your dog's crate in your home:
Low-Traffic Area
Some ideas: By the couch in the family room, next to your desk in the office, in the corner of the laundry room (away from any appliances, vents, and cords), in your bedroom


Custom-built: Some dog owners incorporate their dog's crate straight into their home, such as under the stairs or underneath their kitchen island. Check out these cool, custom built-in versions of crate space.

Temperature Controlled
Avoid direct sunlight


Do not place the crate by a fireplace, on top of, or super close to heating or cooling vents (or radiators or baseboard heating units)


Avoid drafty areas, such as by doors that lead outside or by uninsulated windows
Avoid Household Hazards
No outlets and power cords near the crate


Avoid toxic houseplants near your pup's crate (such as Sago Palm, as seen in the photo below)
Recommended Dog Crate Mats and Beds
Generally speaking, it's nice for your dog to have something comfy to lay and sleep on when in their crate. Now, what exactly that something is will depend on your dog … particularly their chewing habits and potty training progress. And some dogs prefer less padding, while others want to create a nest of their bedding to burrow in.
With young puppies, whatever you put in (if anything) should ideally be both chew-proof and waterproof. Easily washable is another nice feature, too.


For adult dogs, the chew-proof aspect typically isn't as important, and ideally, the waterproof one isn't either. But, of course, some "mature" dogs are more adolescent-like than others … that's right, I'm looking at you, Labs!


With senior dogs, you typically don't have to worry about the "chew-proofness" of their crate bedding, but the waterproof feature may become more important as they age, and bedding with orthopedic support can help ease aching joints.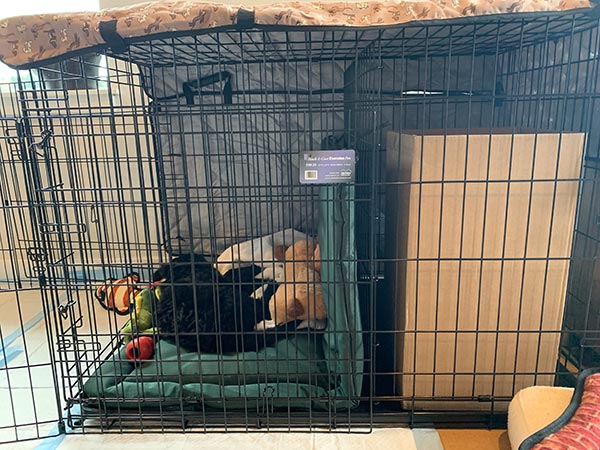 The crate bedding options I recommend below are durable, comfortable, and waterproof, making them a good fit to cozy up the bottom of your dog's crate.
The waterproof and relatively chew-resistant K9 Ballistics TUFF crate pad can be a good option for puppies that aren't too strong or determined chewers, and it's good for most adult dogs. It's odor-resistant, easy to clean, and machine washable.
K9 Ballistics Tuff Crate Pad

The Hugglefleece Dog Mat is another great option and a bit cozier and softer. With either mat, be sure to pick the right size that fits your crate.
Hugglefleece Dog Bed Mat, Plush Soft and Durable, Machine Washable Bed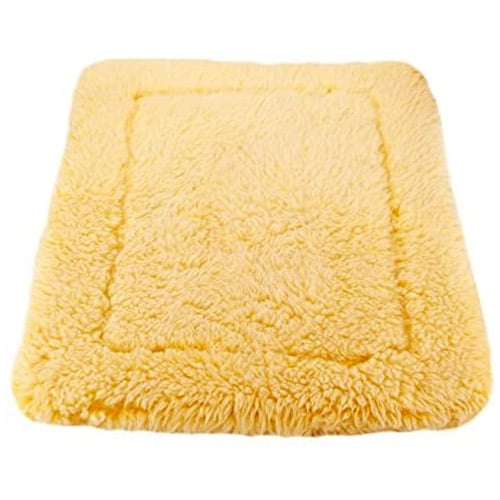 The Brindle memory foam bed is super plush and comfortable and has a removable and washable cover. It's not very chew-proof though, so likely not a great option for a mouthy puppy or even a chew-happy adult dog. It's on the pricier side, but the comfort and support of the bed itself make it worth the money. This is a great option for adult dogs and seniors with arthritic pain.
The K9 Ballistics Dog Cot is one of the best options out there for puppies, adult dogs, and senior dogs, alike (though some smaller senior dogs may have difficulty stepping onto and off of it). It's super durable, waterproof, and the porous nature of the bed allows water or urine to pass through to the crate floor, preventing your piddly puppy or leaky senior dog from laying in their own accidents. You can put a pee pad or two underneath it to capture any leaks.
These were the main bed type used at the dog daycare I worked at due to their ease of cleaning, being "chew-proof," and how many dogs preferred them. Elevated cots are also perfect for helping to stay cool during warm weather, as they provide better airflow under and around the dog. There's something about an elevated bed that dogs seem to love — perhaps they feel like they can relax and "survey their kingdom" from their perch.

Should You Put Clothing with Your Scent in Your Dog's Crate?
The scent of you may be comforting for your pup. However, whether or not you should leave one of your t-shirts (or another item of your clothing) in your dog's crate very much depends on your dog. If they're likely to chew it up or eat it, then that'd be a big "NO" … it's not worth the cost and stress of the surgery they'll then need to retrieve the article of clothing. However, if they're not likely to chew and eat it, then yes, leaving your t-shirt in your pup's crate can be a nice way to leave "a little piece of you" behind when you can't actually be there yourself.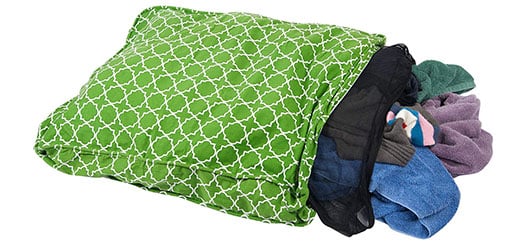 One option, instead of leaving a piece of clothing out in the crate is to use the Molly Mutt stuffable duvet and stuff sack system.
It makes for an easy, washable bedding solution and is a great way to use old sheets and clothing. You can adjust the amount of stuffing depending on how soft or firm your dog prefers their bed. There's a waterproof liner too. And you can boost the "reassuring power" of your clothing by giving it a quick spritz with the Adaptil dog-calming pheromone. Just a spray or two does the trick.

Our team collected old items for an office dog bed. We diverted over 20 pounds of clothing and linens from the landfill.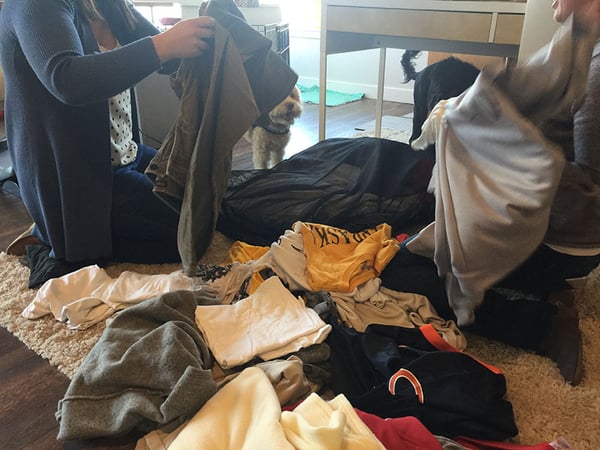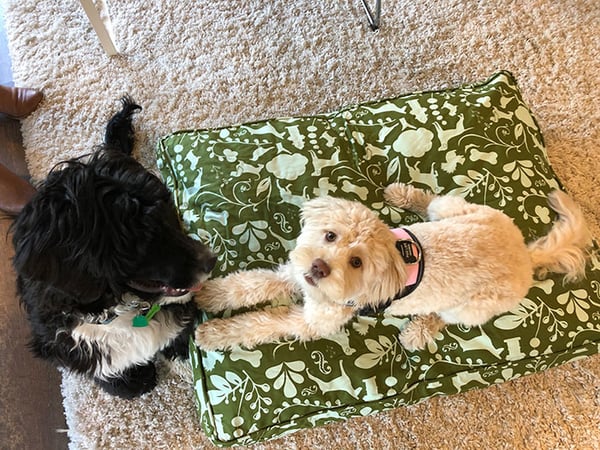 Should You Put Water in Your Dog's Crate?
You may have heard the recommendations to not leave water in your dog's crate. This is mostly due to the likelihood that water bowls will get tipped over and create a soggy mess in the crate. However, with some great clip-on water bowls and bottles for crates that I've highlighted below, I do recommend leaving water in your dog's crate. Why? Water is what's called a "primary resource" — meaning your dog needs it to survive. And dogs can become dehydrated very quickly. I believe that dogs should have access to fresh water at all times AS LONG AS it's not affecting their potty habits.
If a puppy is struggling with potty accidents in their crate, especially at night, speak with your veterinarian about removing their access to water an hour or two before bedtime and throughout the night. They may also want to rule out possible medical reasons for frequent potty accidents, such as urinary tract infections.
There are also some medical conditions where a dog should never be without free access to fresh drinking water due to increased risk of, or complications from, dehydration — like diabetes insipidus ("water diabetes"), diabetes mellitus ("sugar diabetes"), kidney disease, Addison's disease, or if they're on medications that make them more prone to dehydration (e.g., Lasix or other diuretics, steroids).
Here are my two favorite "clip-on" crate water bowls:
Midwest Snap'y Fit Stainless Steel Bowl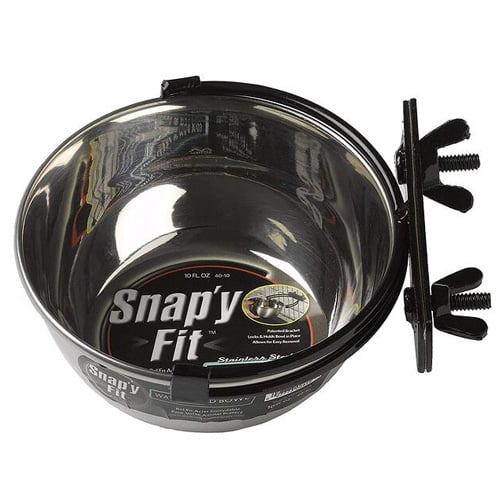 This bowl is super sturdy for some, perhaps even too much so. The bowl is held very snugly in the clip, which is great for preventing it from spilling when a dog paws at or pounces on it but it may also make it a little difficult for you to remove. Once you get the hang of it, though, these really are the best crate-clip bowls.
Choco Nose No-Drip Dog Water Bottle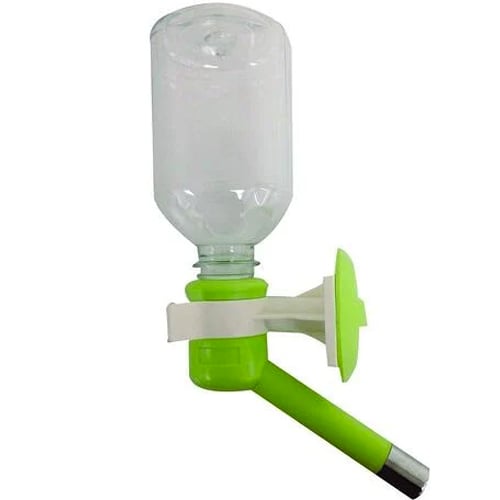 PRO TIP: Most dogs will take to a lickable water bottle quickly once you help them figure it out the first time. If your dog still has some trouble getting the hang of it, try spreading a little bit of peanut butter or coconut oil on the drinking nozzle to get them to start licking it. As they do so, they'll realize that water comes out as they lick. It may take a few tries, but many dogs then pick it up pretty quickly from there. Check out the video below of Preventive Vet pup, Finnegan, enjoying his Choco Nose Water Bottle:
Should You Leave Food in Your Dog's Crate?
If you want to get your dog to really love their crate — and who doesn't — when mealtime comes, feed your dog their meals in their crate (you can leave the door open). Use a puzzle feeder (my recommendations further below), as this will help your dog form wonderful, positive associations with their crate and provide enrichment and mental exercise. Also, whenever you're walking by your dog's crate with your dog following close behind, throw a few treats into their crate for them to go get. This will also help them associate the crate with awesomeness!
I don't suggest leaving out a regular dog bowl of food in your dog's crate since it can easily spill, and the bowl can take up precious space within the crate. You also don't want your dog deciding that their food bowl makes an excellent chew toy.

What Toys and Chews Can You Put in Your Dog's Crate?
Unless you want your dog to be bored out of their mind and potentially destructive as a result, it's a good idea to include some toys in their crate while you're out. Of course, when it comes to "crate toys," not all are created equal, not all are safe, and not every dog is ready for the privilege of having toys left in their crate unsupervised. You know your dog and situation best, but for those dogs that can handle the responsibility, below are the types of toys I recommend.
Interactive Puzzle Feeders
When it comes to crate toys, the puzzle feeders (or puzzle toys, treat dispensers, interactive toys, or whatever you want to call them) are often your best bet! This is for a few reasons:
When chosen correctly, puzzle feeders are often sturdy enough to live up to a little chewing yet pliable enough to not pose a fracture risk for your dog's teeth.


Because they can (and should be) filled with food or treats, these types of toys are excellent for entertaining your dog and their brain while they're spending their time in the crate.


They needn't be stuffed super full or even super challenging, just enough to keep your dog entertained while you're gone.
Below are our favorite puzzle feeder toys to keep dogs entertained while in their crate.
West Paw is a fantastic company with non-toxic, durable toys that dogs love. The Qwizl is ideal for inserting treats, so it takes longer for your dog to finish the treat and engages your dog's brain. Because of the long shape and hollow core, the Qwizl can also hold a bully stick (if your dog plays with them safely), and healthy apple slices or carrots.
The Toppl is another favorite when it comes to food puzzles. Get a couple of different sizes, as they can fit within each other allowing you to adjust the difficulty and fun for your dog when using dry food inside. The design makes the Toppl easier to stuff (for humans) and easier to de-stuff (for dogs), making it a perfect choice for dogs just learning how to use food puzzles or those that get frustrated with the smaller opening on Kongs.
In this video, you can see my puppy Fozzie Bear in his crate with his Toppl meal (and Qwizl):
What can you stuff your dog's Qwizl or Toppl with? It depends on your dog and the specific size of Qwizl or Toppl you get, as well as the size of the treat, but some popular ideas include your dog's kibble, wet food, peanut butter, and even your dog's regular dog treats. To increase the difficulty level and extend the time your dog will play with (and be distracted by) their stuffed toy, you can freeze the toy after stuffing. Did we also mention you can just throw them in the dishwasher?

Kong makes a variety of highly popular rubber chew toys and interactive feeders. They state that their products "undergo rigorous testing... by independent laboratories," which is part of the reason that Kong is one of our top picks for non-toxic dog toys. The Classic Kong can be filled with dry or wet food and there are plenty of other "stuffing" recipe ideas on the Kong website. You can also freeze the toys with food inside to make them last longer and extend your dog's fun.

As with all toys, make sure to monitor your dog as they play with them the first few times to ensure that they play with them safely and also to ensure that the puzzle isn't so challenging that your dog gets frustrated by not being able to figure it out. That's definitely not a fun situation! Click here for more tips about choosing the best interactive toys and puzzle feeders for your dog.

PRO TIP: When practical and possible, provide more than one puzzle feeder toy for your dog in their crate and have a steady supply of puzzle feeders that you can keep filled, frozen, and rotated to keep things fresh for your dog and their brain. See which toys you shouldn't leave in your dog's crate, and why.
Stuffed Plush Dog Toys
Some dogs are "mature" enough to have a stuffie toy or two in their crate with them while you're out, but not all are. If you've got a serious chewer and destroyer, there really aren't any stuffie toys that would be good to keep in their crate while you're gone. If, on the other hand, you've got an inhaler or nibbler, then there just may be a few stuffies that can provide them with the comfort and entertainment you're looking for.
Check out our Preventive Vet favorite dog stuffie toys below, and check out this article to help you determine your dog's "chewsonality" and the types of toys that are generally going to be best for them.
The Snuggle Puppy
A special situation for NON-CHEW HAPPY puppies or adopted adult dogs just settling into their new home, or even for those dogs that just need a little extra comfort while they rest in their crate is the Snuggle Puppy.
This stuffie provides warmth with a removable heat pack and a recorded heartbeat, both of which can help relieve or lessen anxiety and be comforting to a lot of dogs.
Again, don't use with aggressive chewers, as the AAA batteries and the disposable heat source, as well as the stuffing, can cause problems for dogs who chew or swallow them.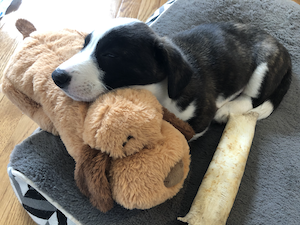 My puppy Fozzie Bear in a blissful slumber with his Snuggle Puppy!
HuggleHounds Corduroy Knottie Toys
HuggleHounds has lots of options, with my favorite being the octopus and fox. These make great soft, fun, and adorable toys for dogs. They're great for fetch and tug, too. However, not the most durable if you have a chew-happy pup.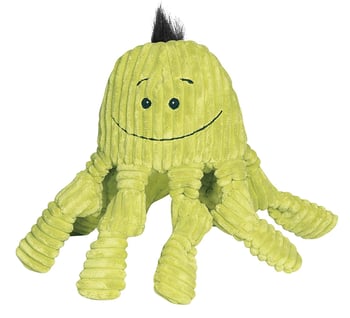 Tuffy Dog Toys
These are designed for interactive play toys for tug and fetch, and not necessarily as chew toys. But these tough (and adorable) toys can work well as crate toys for non-chewy-happy dogs. Here's their adorable, "chew-scale 8" lamb toy (great for dogs counting sheep) and also their "chew-scale 7" dinosaur toy.
Should Your Dog Wear a Collar in Their Crate?
Dogs should ideally "go naked" in their crate. This is because dangling dog tags and even collars can get caught in crate bars, creating a strangulation hazard for dogs. If you feel like you must keep a collar and tags on your dog in their crate, go with a breakaway type safety collar and lay-flat dog ID tags.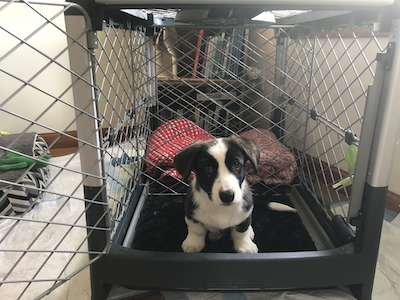 I hope this has helped you set up your dog's crate as safely as possible. For everything else you need to know about crate training for dogs, including how to choose a crate and where to put it, check out Everything You Need to Know About Crate Training Your New Puppy or Adult Dog.
Get help for your puppy's crate training in our Puppy Essentials: Crate Training Workshop
Includes self-paced training sessions, demonstrative videos and photos, and more – all for only $9!