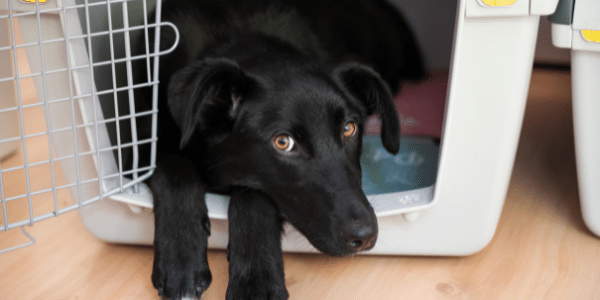 Crate training your dog is one of the best things you can do — not only is it an extremely helpful training tool for potty training, but it can also help provide a safe place for your dog to retreat to when they're anxious.
Crate training gives you a positive management tool when you need to prevent unwanted behaviors (like jumping on guests) and can also be used for safe containment while traveling.
After choosing a crate, you'll want to learn how to get your dog to love their crate.
But first — it's time to choose your dog's crate!
There are lots of different dog crate options out there, and the type you pick depends on what you plan on using it for, where it will be placed in your home, and your dog's size, behavior, and needs. And, believe it or not, sometimes you'll want more than one crate for your dog. Let's look at how to measure a crate so you purchase the right size and the different choices you have for crates.
How to Measure Your Dog for the Correct Crate Size
Length of Dog Crate
When your dog is standing on all fours, measure them from the tip of the nose to the base of the tail.
Do not include their full tail length in this measurement — this will result in a crate that is too large.
Add 2 to 4 inches to this measurement for the best length of a crate for your dog.
Height of Crate
When your dog is in a Sit position, measure from the floor to the top of their head.
Add 2 to 4 inches to this measurement for the minimum height needed for your dog's crate.
Width of Crate
You do not need to measure for the width of the dog crate, as this is based on the length and height measurements of the dog crate.
Weight Limit
Double-check that your dog is within the manufacturer's recommended weight limit for the crate you choose — just in case you're carrying the crate with your dog inside it.
Consider buying a crate based on your dog's full-grown size
If you're purchasing an adult-sized dog crate for your puppy because you know what size they will grow to, estimate their full-grown height and length based on their breed or breed-mix (or speak with your breeder about what size is best for their eventual adult size based on their parents' size). See below on how to make the crate smaller, while they're a puppy, to help avoid potty accidents in their crate.
Crates Can 'Grow' With Your Puppy
If you have a still-growing puppy, there are crates that include a divider panel that you can use to make the crate space "grow" with your pup. This is extra useful because it means you don't need to buy multiple sizes of crates as they get bigger, which will save you money.
You don't want to give your puppy too much space in their crate because it can derail their potty training if they learn it's okay to potty in one corner and sleep in the other. Metal dog crates and newer hybrid models like the Diggs Revol, usually include an extra panel to make the interior of the crate the correct size. If your puppy's crate doesn't have a divider panel, you can create a DIY version, using a large box to block off the back section of the crate. Here's an example of a DIY crate divider: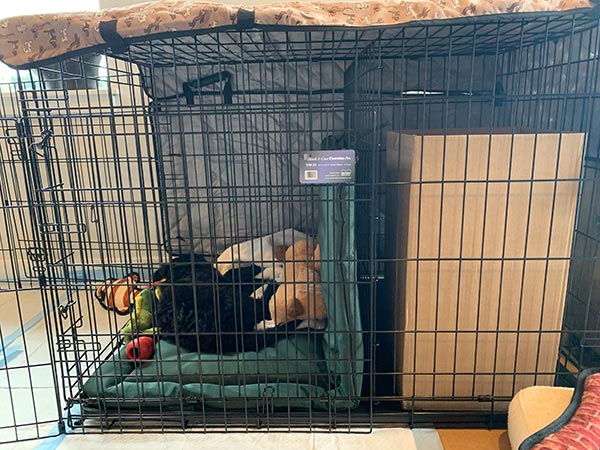 What Kind of Crate Works Best for Your Needs?
Plastic Dog Crates
Pros:

Portable, lightweight, easy to clean, a dog has low visibility (great for shy or reactive dogs), hard to escape, low airflow can help insulate from cold air, the top can be removed to convert into a dog bed.




Cons:

Some aren't that attractive, don't fold flat for storage, have low airflow that can cause a dog to overheat in hot weather. And plastic absorbs smell over time, provides low visibility for a dog (some dogs feel more stressed if unable to see their surroundings).



Plastic crates are a great option if your dog needs a bit more privacy while in their crate. If you plan on traveling with a large dog on a plane, these crates can be a good option (which is why they're commonly called airline kennels).

Our top picks are the Aspen Pet Porter and the Petmate Sky Kennel.



Metal Dog Crates
Pros:

High airflow, open visibility for your dog if they feel more comfortable being able to see surroundings, optional crate covers if your dog needs more privacy to relax, divider panels available to accommodate growing puppies, folds flat for easy storage



Cons:

Heavy, metal can rust over time, can be easier for a determined dog to escape from, open visibility, which can be tough for dogs who need privacy without a crate cover, can damage dog's teeth if they chew on crate
If you're setting up and keeping your dog's crate in one place at home, a metal dog crate is a great option for you. These are the most popular crates as they can be modified in a variety of ways with dividers, crate covers, and DIY furniture built around them to camouflage into surrounding home decor. Check out some DIY ideas later on in this article.
I recommend the affordable and popular MidWest iCrate because of the two-door option, divider panels, and the ability to easily attach to their ex-pen panels. I personally use a "hybrid" metal dog crate, called the Diggs Revol crate.
MY EXPERIENCE WITH THE DIGGS REVOL DOG CRATE
When I brought home my new Welsh Cardigan Corgi puppy, Fozzie Bear, I tried out the new
Diggs Revol Double-Door Collapsible Dog Crate.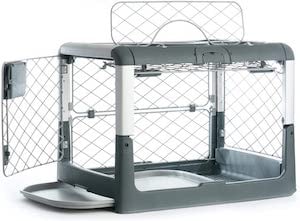 The Revol Dog Crate is what I consider a "hybrid" crate — a great mix of a traditional wire dog crate and heavy-duty crate, but without the set-up hassle of a metal crate and a much nicer look than many heavy-duty crates.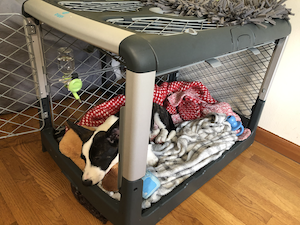 As a dog trainer, I'm a fan of the extra features of the Revol crate because they make crate training easier. Having a ceiling hatch made giving my puppy a stuffed food puzzle a breeze without having to open the front door. I kept both the front door and side "garage" door open for my puppy to go in and out as he wanted throughout the day, and was pleased that he chose to go in for naps in the crate on his own.
The included puppy divider was simple to adjust as my puppy grew. And this crate has wheels! Being able to move the crate around the room without having to disassemble anything is perfect for whenever I want to rearrange the room or travel.
The design is made to be safer and more escape-proof than traditional wire crates. The diamond-shaped mesh means it's less likely a puppy will get their jaw or paws stuck on the metal, and there's no way for them to pop out a panel and wiggle out.
Setting up the Revol crate was much easier than other wire crates I've used in the past, but even with the simple lift-and-lock, I needed a human helper to get it done. I have the medium size and I'm just under five feet tall — I think I just needed longer (and stronger) arms to make sure the sides were aligned right before locking. Set up was still done in less than a minute!
And at first, the front lip of the crate was a bit high for my Corgi puppy to hop over, but as he's grown he's figured it out with his short legs. I made it easier when he was tiny by placing a raised dog bed in front, so it wasn't as much of an obstacle.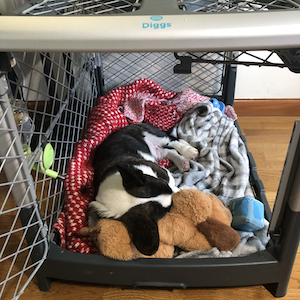 While this crate is expensive (small size $245, medium size $325), if you're planning on using a crate for the life of your dog, the Revol crate would be my top recommendation as a dog trainer. It's durable, sturdy yet portable, has useful extra features, and looks much better than many wire or plastic crates.
Overall Rating: 5 out of 5 stars ⭐⭐⭐⭐⭐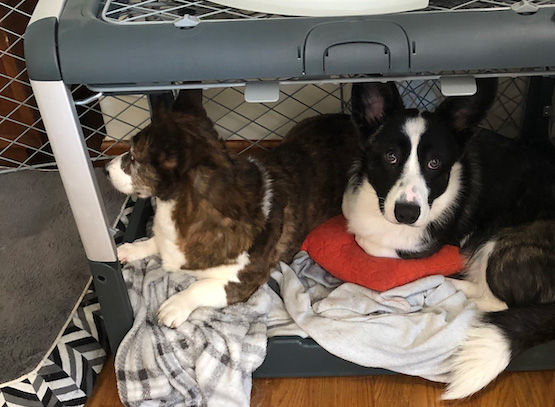 Note: Diggs® provided us with a free sample to test. We were not compensated or influenced in any way to produce this review.
Soft-Sided (Fabric) Dog Crates
Pros:

Lightweight, inexpensive, easy to carry and travel with, fast setup



Cons:

Not very durable, easy to escape from (especially for dogs that like to chew on or paw at their crate), hard to clean
A soft-sided crate is super portable for easy travel and temporary crating. If you bring your dog to work, a portable crate can be a wonderful under-the-desk option to give your dog a safe place to hang out and chill. The option below by MidWest has great airflow with multiple windows and is one of the sturdier soft-sided crate models.
Heavy-Duty Dog Crates
Pros:

Chew-proof, bend-proof, extremely difficult to escape, best for crash protection in car travel



Cons:

Heavy, expensive, harder to move around, not as attractive (for indoor decor)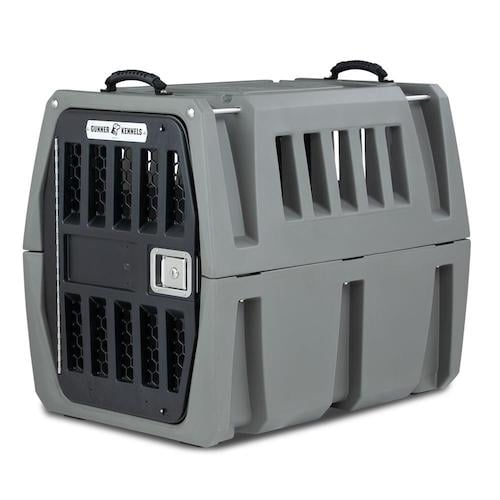 Does your dog pull a Houdini and escape from crates? Or are they big chewers? Heavy-duty dog crates are made specifically for these behaviors, often featuring riveted metal and double locks. Heavy-duty dog crates are the best option for crash protection if you plan on using a dog crate in the bed of a pickup truck or in the back of your van or SUV (Note: these crates tend to be too large and heavy for smaller and mid-size cars; we recommend using a crash-tested dog seat belt harness in those instances).
The Center for Pet Safety crash-tested a variety of crates, and regular metal dog crates did not fare well in the tests.
They named the Gunner Kennels G1 Intermediate Heavy Duty Crate (secured with Gunner Tie-Down Straps) as the 2015 Top Performing Crate for crash safety.
Fashion (Furniture) Dog Crates
Pros:

Matches decor, space saver, doubles as furniture



Cons:

Expensive, can be hard to clean, some dogs like to chew on wood, the door doesn't come standard in some models
If you live in a small space, you can combine your dog's crate with a functional piece of furniture that best matches your home's decor. There are lots of styles to choose from online, with most options doubling as an end table. If you prefer to create a custom furniture style crate, check out some examples for inspiration further below.
Ex-pens — the "not quite crates"
Exercise pens (a.k.a. Ex-pens, for short) are another type of confinement system for puppies and dogs.
Unlike crates and kennels, ex-pens are open on the top and are more flexible in terms of their shape and size, as you can often adjust the shape and size to fit your area and your dog's size and, shall we say ... maturity level. They're perfect for combining with your dog's crate like the Midwest crate to set up your dog's safe space or a puppy zone.
Watch this video to see how ex-pens are attached to a crate to create a puppy playpen.

Here's how Preventive Vet pup Finnegan's puppy playpen and crate area turned out after attaching the ex-pen panels to his crate: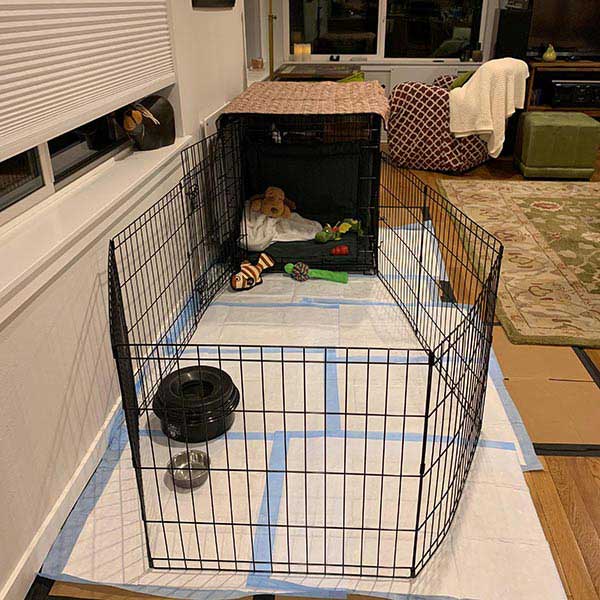 And here's another Preventive Vet dog, using a pen outside. Daisy is senior and enjoys the outdoors, but tends to wander off due to her dementia, so the ex-pen is a perfect way for her to enjoy the fresh air and stay safe. These types of enclosures are great lifelong investments.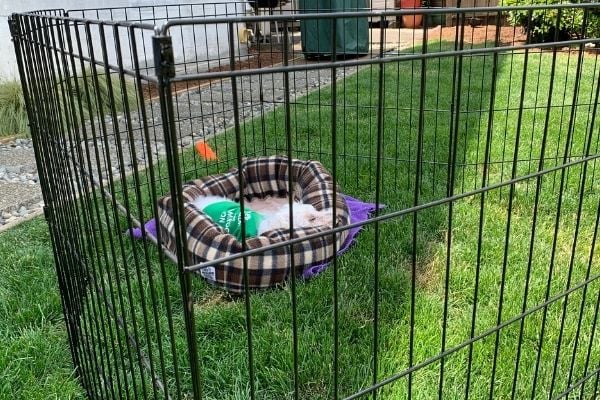 Do You Need a Crate Cover?
If you choose to use a wire crate, like the MidWest crate featured above, you may want to consider adding a cover (make sure to choose the size that fits the crate you have). It's not necessary for making your pup more comfortable, but it could possibly help by creating a more den-like space for them.
This would be a preference only your dog can weigh in on. Does your dog naturally settle underneath tables, desks, or other more enclosed spaces? They might like a cover over their crate. Test it out and take note if your dog seems more relaxed with a cover on or off.
If your dog is helped by having their crate covered, a correctly fitted crate cover is a better option than towels, sheets, etc., as this fits more snuggly, is designed to allow better airflow, looks nicer, and is less likely to get pulled through and eaten. However, if your dog does have a habit of pulling their crate covers through and eating them, I recommend against covering their crate in general.
Creative DIY & Furniture-Style Dog Crates
Check out these cool, custom dog crate ideas! You can work in crate space in a variety of places, it's all just up to your imagination. And if you'd like something custom-made but don't feel like crafting it yourself, explore these customizable options on Etsy. There are some amazing and gorgeous creations, like this one from OriginalDogFurniture: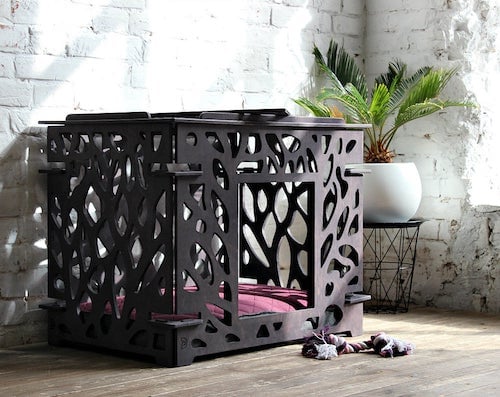 Here are a few more permanent crate examples, including an under-staircase option and an under the kitchen counter built-in dog crate. And there's even one built into the counter in a laundry room — before committing to this in your laundry room, just be sure that your dog isn't stressed by the sound or vibration of the washer or dryer, and don't put it right next to the dryer, as that could get quite warm for your pup!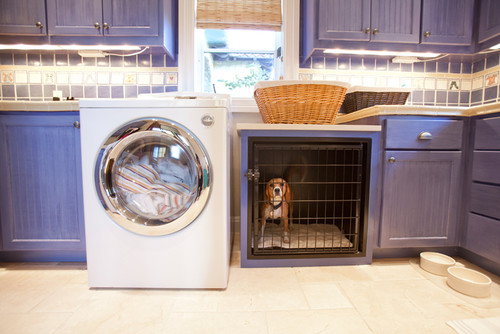 Next Steps: Crate Setup
Now that you have a better idea of what size and type of dog crate to purchase, you're on to the set-up phase! Check out our article on where to put the crate and what to put in it for your dog's comfort (and what to NOT put in it for their safety).


Get help for your puppy's crate training in our Puppy Essentials: Crate Training Workshop
Includes self-paced training lessons, video demonstrations, and more — all for only $9.