Like many others who have emailed us, you may be thinking that you should avoid avocados around your cats and dogs at all costs. There does appear to be conflicting information out there, doesn't there?

Avocados seem to routinely show up on "Top 10 Pet Hazard" lists, yet there's avocado in (at least) one brand of pet food. You'd be right for wondering "what gives?"

Well, in short, avocados aren't the cat and dog killers that some sites or infographics might have you believe.

The veterinary toxicology experts at both the ASPCA and Pet Poison Helpline agree that, while persin (the "avocado toxin") poses a very significant danger to birds, rabbits, guinea pigs, and certain large animals (incl. cows, goats, and horses), it poses only a mild risk of gastrointestinal upset in cats and dogs.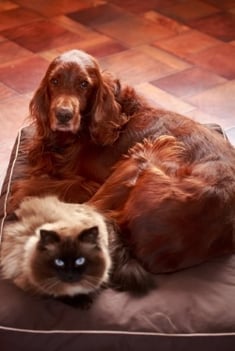 Avocado and Dogs & Cats
The biggest risk that avocados pose to dogs is from the large pit they contain, which can lead to digestive obstruction if eaten. This isn't so much the case with cats, either because cat mouths are typically too small to allow them to swallow a whole avocado pit, or because cats are too smart to attempt this in the first place — we'll let you pick which one you believe. :)

So, there you have it. And now that you can let your guard down a bit around avocados, we want to make sure that you are (and remain) ever vigilant about two very real, very serious hazards …
XYLITOL* (dogs): This increasingly popular "sugar free" sweetener is highly toxic to dogs, even in quite small amounts. See how and why in our xylitol article. And find out what other products it's in. It's in some sugar-free gum, even in some brands of peanut butter, as well as over 700 other products you might have around your home.
LILIES (cats): These fragrant, beautiful, and common bouquet flowers are highly toxic to cats. And it's not just the petals and stems that are toxic, it's also the pollen and the water they're sitting in! Learn more about lily toxicity in cats here.

* Speaking about xylitol: To help raise awareness of this hazard and to improve labeling standards on products which contain xylitol, we have launched two petitions. One educating the manufacturers of these products and asking them to voluntarily improve their label awareness, the other asking the FDA to mandate such life-saving label improvements, should the manufacturers not do so on their own. Won't you please help secure these important changes by reading, signing, and sharing these petitions? Preventive Vet recently got a peanut & nut butter manufacturer to disclose xylitol concentrations and add label warnings to all their xylitol-containing products. With your help signing (and sharing) the petitions, we'll be able to get a lot more companies to provide this life-saving awareness.