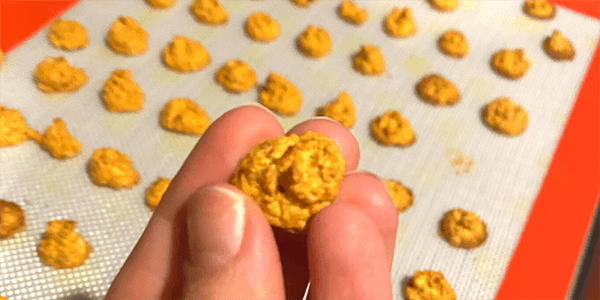 Finding low-calorie dog treats that are nutritious, delicious, and have recognizable ingredients can be tough and expensive.
Making your own dog treats can be an inexpensive, fun way to make sure your dog is getting healthy, nutritious, and delicious treats that are also good for their weight.
I was excited to get to try out this new recipe for dog treats since I've traditionally bought my dog's treats or stuffed a KONG for my dog.
I was able to put my baking skills to use without forcing my husband to eat yet another cookie that I stress baked while social distancing at home. And my dog was excited to finally be the taste tester of a baking session.
Too many treats can result in your dog packing on extra pounds, which can put them at risk for a variety of health issues.
That's why I love this recipe — you don't have to feel guilty for treating your dog to these delicious treats. At about 2.5 calories apiece (depending on the size), you may be able to reward your dog with a few more treats than you normally do, which makes them great for dogs on a diet. Just try to stick with about 10% of their daily calories coming from these (and all) treats.
Check out the nutritional breakdown of this recipe below.
If you're like me, you're probably giving your dog too many treats. Until I started working at Preventive Vet, I didn't know the RIGHT amount of treats I could give my dog. Use our dog treat calculator to find out how many calories your dog should be getting from treats. And learn how to use treats the right way in dog training to get the best results.
Perfect Dog Treat for Doggie Weight Loss
This tasty weight-loss dog treat recipe was developed by Dr. Sarah Wallace.

Sarah is a veterinarian and certified pet nutrition coach, specializing in formulating healthy, wholesome diets and treats for pets.
This recipe for Fluffernutter Kisses uses simple, whole-food ingredients, and allows you to double or triple the recipe if you want to make them in bulk. Just remember that these are best enjoyed within 5 days of making them and need to be refrigerated. If your dog won't go through all of the treats within this time period, you can freeze them in an air-tight container for 3 months or vacuum sealed for 6 months!
Note: You can get the ingredients and kitchen tools anywhere, but I've linked to my favorites you can buy on Amazon and have delivered to your door. You may already have some, even most, of the ingredients listed!
Fluffernutter Kisses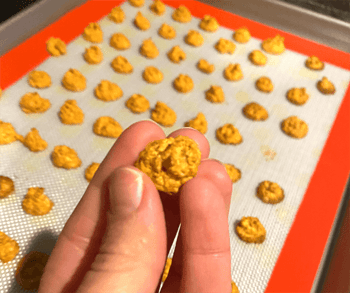 Total Time: 40 minutes
Prep Time: 10 minutes
Cook Time: 30 minutes
Makes: 100–120 small treats
Serves: Dogs
2.5 calories each
Stays Fresh for: 5 days in the fridge; 3 months in the freezer; 6 months in the freezer if vacuum sealed
Kitchen Tools You'll Need
Blender or Food Processor
Hand or Stand Mixer
Baking Sheet
Parchment Paper or Silicone Baking Mat
Plastic Freezer Bag or Pastry Piping Bag

Mixing Bowl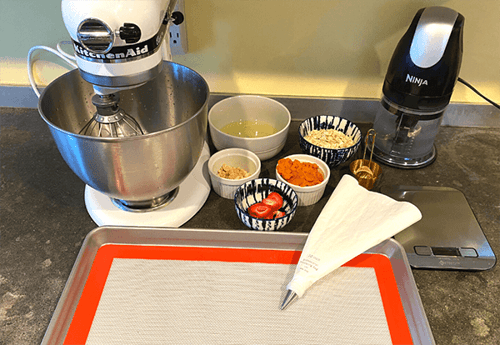 Fluffernutter Kisses Dog Treat Ingredient

Shopping List
Dog Treat Recipe
3 tsp (4 grams*) powdered freeze-dried strawberries**
3 tsp (5 grams*) powdered peanut butter
¾ cup (75 grams*) oat flour or rolled oats
3 large eggs, separated (or 95–100 grams* egg whites)
½ cup (135 grams*) pureed pumpkin (not pie mix)
*use imperial measurements if you don't have a food scale
**berries can be powdered using a food processor/blender, mortar and pestle, or rolling a rolling pin over the bag a few times
Preparation
Preheat oven to 350 degrees F


Line a baking sheet with parchment paper or silicone baking mat.


If using whole rolled oats, pulverize in blender or food processor with blade attachment for 60–90 seconds until oats have consistency of textured flour. You may skip this step if you are using oat flour.


Add freeze-dried strawberries and powdered peanut butter to oat mixture in blender or food processor and blend until thoroughly combined/evenly distributed.


Separate eggs, and place egg whites in a mixing bowl (if using a hand mixer) or the bowl of a stand mixer. Whip egg whites on high using whisk attachment for 3–5 minutes (depending on the machine) until the mixture is fluffy and has tripled in volume/reached the soft peak stage.


Add pureed pumpkin to the meringue in 3 parts, scraping down sides of bowl after each addition until just incorporated and entire mixture is a lovely orange color. Do not over mix.


Fold in dry ingredients and mix gently until evenly distributed. Transfer meringue mixture to piping bag (or plastic freezer bag with 1 corner cut off).


Holding the piping bag ½ inch over the parchment paper

/silicone baking mat

, squeeze out dime-sized (think, half a grape) dollops of meringue mixture, spaced ½ inch apart. Total yield will vary, but typically this recipe yields roughly 100–120 meringues.


Place baking sheet in preheated oven and bake for 30 minutes. (Approx. 15 minutes in a convection oven.)


When fully baked, meringues should be dry/hard to the touch. After removing the baking sheet from the oven, allow the meringues to cool on the baking sheet for 10 minutes.


Once fully cooled, it's time to let your pup give them a taste! Transfer the remaining treats to an airtight container. Treats should be refrigerated, and can be stored for up to 5 days.
Depending on your oven, you may need to tweak the timing on these, but in my convection oven, I discovered that 15 minutes was plenty to fully cook these through. If you're using a regular oven, use the suggested 30-minute cook time.
Since I used a small amount of a few of the ingredients, I'll be able to make Fluffernutter Kisses a few more times before I need to replenish my supplies. This recipe was easy to make. I will make them again because my dog loved them, and I love knowing what's inside my dog's treats.
Nutritional Breakdown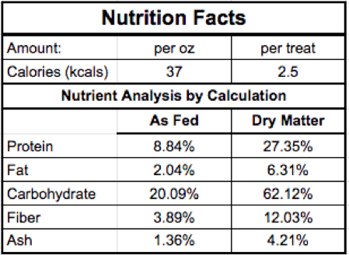 What is Ash in dog food? Ash refers to the mineral content of the food. Since all dogs and cats need minerals (like calcium, magnesium, zinc, etc.) to keep their bodies healthy, ash is a good thing.
Note: These nutrition facts may vary slightly based on the brands/ types of ingredients used.
Why did we choose these ingredients?
Oats – Low glycemic index food that does not cause a large spike in blood sugar.
Egg whites – Higher protein source with low fat and carbohydrate levels.
Freeze-dried strawberries – A doggie flavor favorite without the extra moisture.
Powdered peanut butter – A doggie flavor favorite without the extra moisture.
Pumpkin – Fiber source that helps pets to feel full while helping to regulate their calorie absorption into the body.