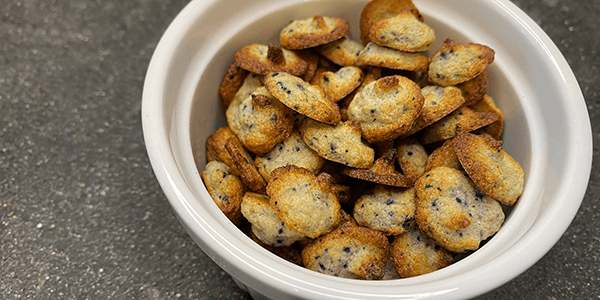 Has your dog been (kindly) demanding more treats like mine has? One look at those sweet puppy dog eyes, and I can't help but want to reward her for just being cute.
Our trips to the pet store are few and far between lately, so Mary Berry is sad she's not getting as many specialty treats.
My solution: homemade dog treats!
Making dog treats at home has made both of us happy!
I get to try my hand at new and exciting recipes, and Mary Berry (see her cute face below) gets rewarded with the treats I make.
It's also helping me save money on dog treats. Once you have the ingredients for these treats, you can make them over and over again. And you can even make a double to triple batch and freeze them for up to 6 months!
Since these treats are all-natural and contain no preservatives, they're best enjoyed within 5 days of making them and need to be refrigerated. If your dog won't go through all of the treats within this time period, you can freeze them in an air-tight container for 3 months or vacuum sealed for 6 months.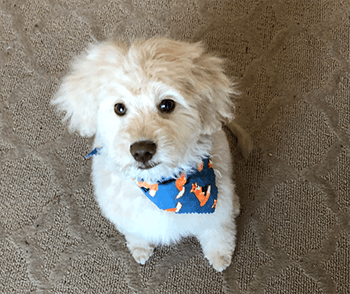 This recipe for Blueberry Meringue Kisses uses simple, whole-food ingredients that you can find at your local grocery store or online. A few of the ingredients (such as brown rice flour and freeze-dried blueberries) may only be available in the natural foods department or specialty grocery stores.
Note: You can get the ingredients and kitchen tools anywhere, but I've linked to my favorites you can buy on Amazon and have delivered to your door.

You may already have some, even most, of the ingredients listed!
Tasty Dog Treats for Anytime! This tasty dog treat recipe was developed by Dr. Sarah Wallace. Sarah is a veterinarian and certified pet nutrition coach specializing in formulating healthy, wholesome diets and treats for pets.


Blueberry Meringue Kisses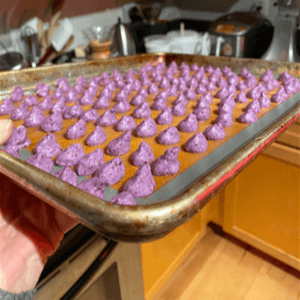 Total Time: 40 minutes
Prep Time: 10 minutes
Cook Time: 30 minutes
Makes: 100–120 small treats
Serves: Dogs
Calories: ~ 2.5 calories each
Stays Fresh for: 5 days in the fridge; 3 months in the freezer; 6 months in the freezer if vacuum sealed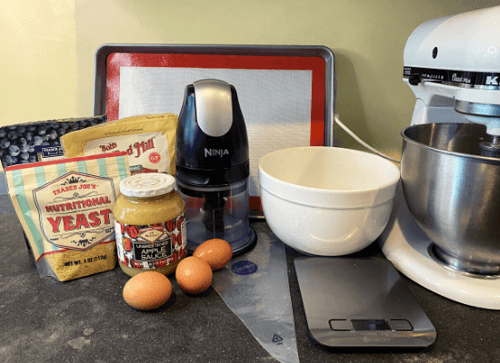 Kitchen Tools You'll Need
Blender or Food Processor
Hand or Stand Mixer
Baking Sheet
Parchment Paper or Silicone Baking Mat
Plastic Freezer Bag or Pastry Piping Bag

Mixing Bowl
Ingredient

Shopping List
Recipe
3 egg whites (95g)
½ cup (130g) applesauce
3 tsp (4.5g) freeze-dried blueberries**
3 tsp (6g) nutritional yeast
½ cup (75g) brown rice flour
*use imperial measurements if you don't have a food scale
**berries can be powdered using a food processor/blender, mortar and pestle, or rolling a rolling pin over the bag a few times
Preparation
Preheat your oven to 350 degrees F


Line a baking sheet with parchment paper or Silpat (silicone baking mat).


Separate eggs, and place egg whites in a mixing bowl (if using a hand mixer) or the bowl of a stand mixer. Whip egg whites on high using the whisk attachment for 3-5 minutes (depending on the machine). The mixture should be fluffy and have tripled in volume/reached the soft peak stage.


While the eggs are whipping, in a separate mixing bowl, add freeze-dried blueberry powder and nutritional yeast to the brown rice flour and whisk until thoroughly combined and evenly distributed.


Add applesauce to the meringue in 3 parts, scraping down the sides of the bowl after each addition until just incorporated. Do not overmix!


Fold in dry ingredients and mix gently until evenly distributed and a lovely purple color. Transfer the meringue mixture to a piping bag (or plastic freezer bag with 1 corner cut off).
Note: if your freeze-dried blueberries aren't pulverized into a very fine powder, the meringue batter will not turn purple.


Holding the piping bag ½ inch over the parchment paper/Silpat, squeeze out dime-sized (think, half a grape) dollops of meringue mixture, spaced ½ inch apart. Total yield will vary, but typically this recipe yields roughly 100-120 meringues.


Place baking sheet in preheated oven and bake for 30 minutes.


When fully baked, meringues should be dry/hard to the touch. After removing the baking sheet from the oven, allow the meringues to cool on the baking sheet for 10 minutes.


Once fully cooled, it's time to let your pup give these a taste! Transfer the remaining treats to an airtight container. Treats should be refrigerated and can be stored for up to 5 days.
PRO TIP: Depending on your oven, you may need to tweak the timing on these, but in my convection oven, I discovered that 15 minutes was plenty to fully cook these through. If you're using a regular oven, use the suggested 30 minute cook time.
As you can see below, the treats I made did not turn out exactly as Dr. Sarah Wallace's did. They ended up coming out of the oven looking like blueberry muffin tops! But, Mary Berry liked them all the same!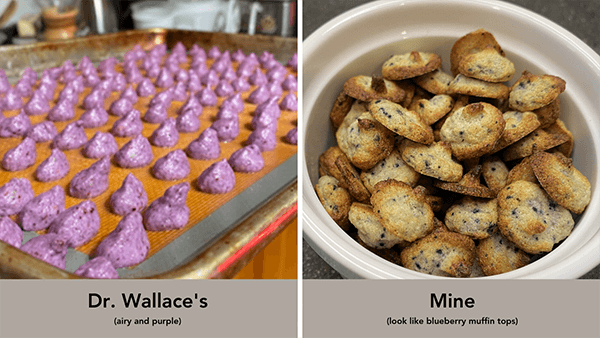 To improve the recipe next time I make them, I plan to:
Use a rolling pin to smash the freeze-dried blueberries rather than a food processor. This will help get the blueberries into a finer powder and help develop the meringue batter into that lovely purple color.


Whip the egg whites closer to 5 minutes, rather than 3 to incorporate more air (and structure) into the mixture. This will help the meringues keep their fluffy texture when the dry ingredients are added, giving them an air-filled "kiss" shape, rather than a flat drop.
Check out our other homemade dog treat recipes your dog will love: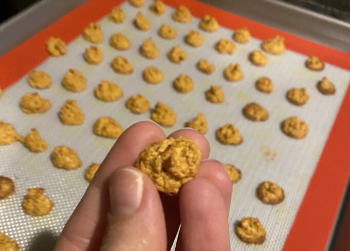 Fluffernutter Kisses Weight Loss Treats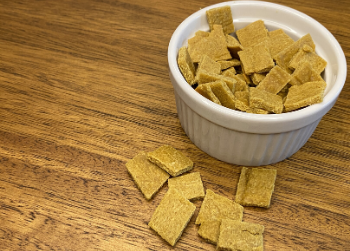 Homemade High-Value Dog Treats
Nutritional Breakdown
It's fun to treat your pup, but too many treats can result in them packing on extra pounds, which can put them at risk for a variety of health issues. These treats do have more calories than our tasty homemade weight loss treats, which are better for dogs trying to shed a few pounds, so beware how many of these treats you feed to your pup each day. Less than 10% of your dog's daily calories should come from these (and all) treats.
Check out this calculator to see how many calories worth of treats you can give to your pup each day.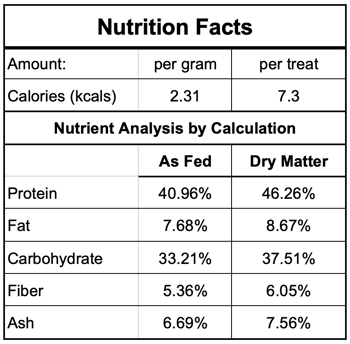 What is Ash in dog food? Ash refers to the mineral content of the food. Since all dogs and cats need minerals (like calcium, magnesium, zinc, etc.) to keep their bodies healthy, ash is a good thing.
Note: These nutrition facts may vary slightly based on the brands/ types of ingredients used.