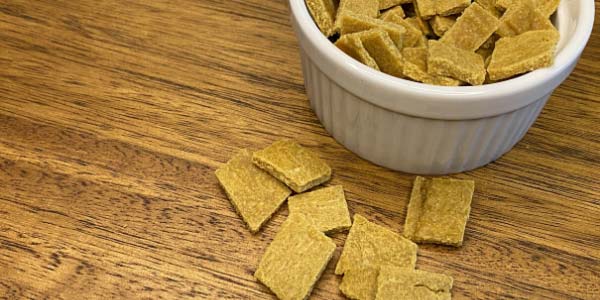 I've been spending more time at home lately, so I've been using that time to teach my dog, Mary Berry, some new tricks. When trying to teach new behaviors, the treats I've been training with haven't been as effective.
I asked Cathy Madson, Preventive Vet's certified dog trainer, why this was happening.
Treats to Use During Dog Training
"The treats you use during training can make a difference in how successful each session will be. When training new behaviors, a good high-value treat, something they usually don't get outside of a training session, will help you train new behaviors faster," says Madson. "If they aren't very hungry, or if they're tired, introducing a higher value of training treat can help increase motivation so you can get a few extra training repetitions in."
High-value treats tend to be really smelly and can be moist or freeze-dried. Since these typically have fewer ingredients or use specialty ingredients, high-value treats can be more expensive than low and medium-value treats.
That's where this recipe comes in! Making dog treats at home can be more affordable than buying them at the store. And, because you made them, you know exactly what's inside of the treats you're giving your dog.
Higher-value treats also tend to have a higher caloric value, so they do need to be used as part of a nutritionally balanced feeding and treating plan. Too many treats can result in your dog packing on extra pounds, which can put them at risk for a variety of health issues. At less than 2 calories apiece (depending on the size), you may be able to reward your dog with a few more of these treats than you normally do — so they are great for dogs needing to watch their weight. Just try to stick with about 10% of their daily calories coming from these (and all) treats.
Check out the nutritional breakdown of this recipe below. We also created an easy-to-use treat calculator, which will tell you how many calories your dog should be getting from treats. And learn how to use treats the right way in dog training.
Make Your Own High-Value Dog Treats at Home
If you're like me and looking for more things to do inside during quarantine, making these high-value dog treats are a great activity to help pass the time. It's also an easy-to-follow recipe if you've never made treats for your dog. It's also a great way to use that random jar of Tahini you have in your pantry.
I found a lot of the ingredients at my local Trader Joe's, but you can get them at your local supermarket or delivered to your door by Amazon. You'll probably have enough of the ingredients left over for a couple more batches of treats!
Looking for more of a baking challenge? Get the recipe for Fluffernutter Kisses here.
Yummy Homemade High-Value Dog Treats
This tasty high-value dog treat recipe was developed by Dr. Sarah Wallace.

Sarah is a veterinarian and certified pet nutrition coach, specializing in formulating healthy, wholesome diets and treats for pets.
This recipe for High-Value Dog Treats uses simple, whole-food ingredients, and allows you to double or triple the recipe if you want to make them in bulk. Just remember that these are best enjoyed within 5 days of making them and need to be refrigerated. If your dog won't go through all of the treats within this time period, you can freeze them in an air-tight container for 3 months or vacuum sealed for 6 months!
Homemade High-Value Dog Treats Recipe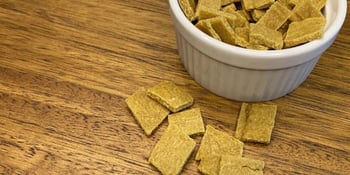 Total Time: 30 minutes
Prep Time: 10 minutes
Cook Time: 20 minutes
Makes: ~100 dog treats
Serves: Dogs
2.5 calories each

Stays Fresh for: 5 days in the fridge; 3 months in the freezer; 6 months in the freezer if vacuum sealed
Kitchen Tools You'll Need
Mixing Bowl
Wooden Spoon or Rubber Spatula
Baking Sheet
Parchment Paper
Rolling Pin
Pizza cutter or sharp knife
Measuring spoons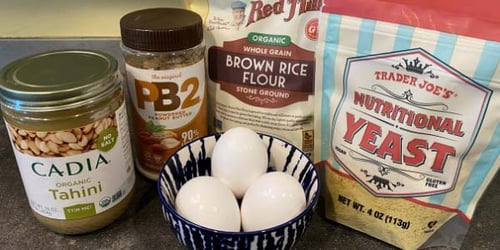 High-Value Dog Treat Ingredient

Shopping List
Homemade
High-Value Dog Treat

Recipe

3 egg whites
34g tahini paste
3 tsp peanut butter powder
40g nutritional yeast
80g brown rice flour
Preparation
Preheat oven to 350 degrees Fahrenheit.

Separate egg whites from egg yolks. Save egg yolks for another recipe or discard.

Add tahini, nutritional yeast, and peanut butter powder to egg whites. Stir to combine.

Add brown rice flour to the egg mixture and stir until flour is fully incorporated and a stiff dough is formed.

Turn dough out onto a piece of parchment paper. Place a second piece of parchment paper over the dough and flatten the dough into a patty shape.

Continue to roll the dough until it reaches ¼" to ⅛" thickness (When I rolled out the dough, it wasn't a perfect circle. Not even close! It'll probably turn out as more of a flattened blob, but that's ok! You'll still be able to cut these treats into small 1 cm pieces!)

Remove the top sheet of parchment paper and transfer dough (on the bottom parchment sheet) to a baking sheet.

Bake at 350 degrees for 20 minutes.

Once baked, the treats should be firm and dry to the touch. Remove from the oven and slice into 1-centimeter (think less than half an inch) squares using a pizza cutter or sharp knife while still hot.

Once fully cooled, it's time to give your pup a taste!

Transfer remaining treats into an airtight container. Treats should be refrigerated and can be stored in the fridge for up to 5 days. Tip: If your dog won't go through these treats within 5 days, you can safely store them in the freezer for up to 3 months. Just make sure they're stored in an airtight container.
Depending on your oven, you may need to tweak the timing on these, but in my convection oven, I discovered that 15 minutes was plenty to fully cook these through. If you're using a regular oven, use the suggested 20-minute cook time.
Since I used a small amount of a few of the ingredients, I'll be able to make these dog treats a few more times before I need to replenish my supplies.
My pup Mary Berry really loved these treats. They are VERY high value for her. She's more engaged during training sessions when they come out of the treat bag. I've also been using them in this DIY dog food puzzle to keep her busy when I'm on Zoom conference calls at home.
Let me know what your dog thinks of these treats in the comments below!
Nutritional Breakdown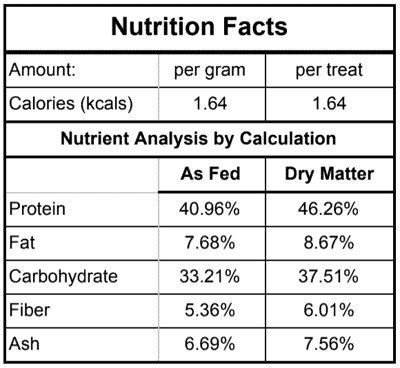 The nutritional facts are calculated per 1 centimeter square piece or 1 gram of treat. If you cut the treats larger than 1-centimeter square, you can weigh a treat to calculate the actual calorie content of each treat.
For example, my ½ inch square treats weigh 1.3 grams per piece. I simply multiply the caloric content of a 1-gram piece (1.64 calories) by 1.3 grams and get 2.13 calories per piece. I can now enter this information in our treat calculator to determine how many of these treats my dog is recommended to have each day.
What is Ash in dog food? Ash refers to the mineral content of the food. Since all dogs and cats need minerals (like calcium, magnesium, zinc, etc.) to keep their bodies healthy, ash is a good thing.
Note: These nutrition facts may vary slightly based on the brands/ types of ingredients used.