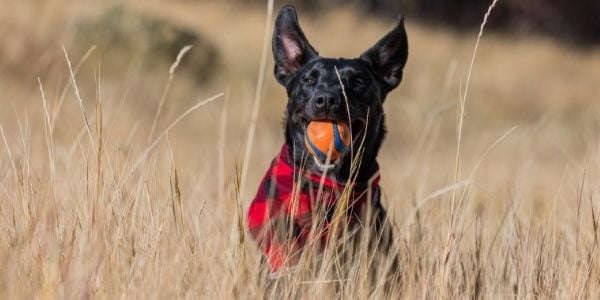 Does your dog love to play fetch? Fetch is a great way to exercise your dog, strengthens the bond between you and your dog, and has the added benefit of helping train your dog's Come-When-Called and Drop It cues.
You can play fetch any time, indoors or outdoors, whenever your dog needs to burn some extra energy.
You might have a breed that's predisposed to love playing fetch (a Labrador or Golden Retriever), or maybe you've trained your dog to play fetch — some dogs prefer a regular ole' ball, while others prefer stick-like toys. Other dogs prefer to catch frisbees or chase floating toys so they can play in the water on a hot summer day.
Do you have a small breed dog? Tiny pups can enjoy fetching too, as long as their fetch toys are the correct size and weight. I've included some great fetch toy options for small breeds below.
It's fun to try out different fetch toys and switch them out every so often for your dog's mental enrichment. Let's take a look at some different high-quality toys to try out next time you play fetch with your pup!
Best Fetch Toys For Your Dog
1. The Best Fetch Stick Toy
This fetch toy is the perfect alternative to playing fetch with a regular stick. Mother Nature isn't good at making dog toys! Wood sticks can be dangerous for dogs to catch and chew.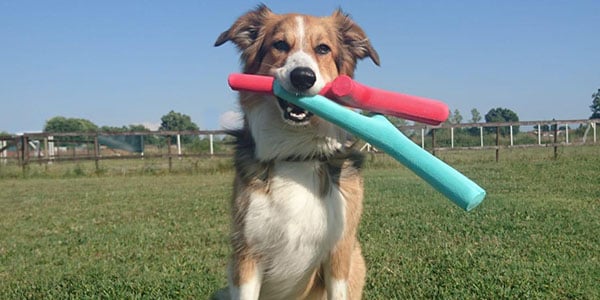 This soft, non-toxic rubber stick is easy on your dog's teeth, whether you're playing fetch or tug. It's easy to throw and fun to catch; it bounces in lots of different ways so it keeps your dog guessing!
It floats for when you want to play fetch in the water and is washable (even in the dishwasher) for easy cleaning.
We searched far and wide to find a fetch stick that lived up to our quality and safety standards. We finally found it in Italy seven years ago and now this awesome dog toy is being enjoyed by America's Got Talent 2023 superstar dog, Hurricane. She and her handler are the only dog act to ever make it to the AGT finals, and we wish them the best of luck in taking home the big prize! Hurricane is already a winner in our hearts.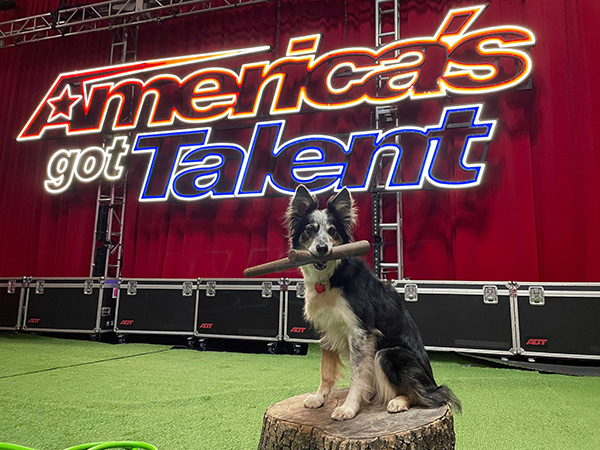 This is not meant to be a chew toy, just a great, safe fetch stick — and they come in sizes for tiny dog mouths, too. Fetch one in our store!
2. West Paw Zogoflex Tizzi Interactive Toy
The Tizzi toy by West Paw is quite a versatile toy! It features a hidden treat compartment for when your dog needs a brain puzzle, an aerodynamic design when the legs are twisted together to get major air during fetch and is a great tug toy when the legs are untwisted. It's not meant to stand up to vigorous chewing, so keep this toy in the special basket to bring out for playing fetch or other supervised play.
Bonus: All of West Paw's Zogoflex toys are manufactured in the USA, certified safe, FDA-compliant, and can be recycled through their recycling program.
Fun and sustainable!
3. West Paw Jive Zogoflex Ball
The Jive ball is a heavy-duty fetch toy that will stand up to all the bouncing and catching your dog can muster! It's dishwasher safe and meets the high West Paw manufacturing standards. I love how its shape makes it bounce less predictably than a regular ball, and the heavier weight stands up to tough chewers. The Jive Ball comes in three sizes; make sure the ball is large enough to not become a choking hazard for your pup.
4. Chuckit! Breathe Right Fetch Ball
This medium-sized ball by Chuckit is a safe alternative to regular balls that can be a choking hazard during games of fetch. The Breathe Right ball is designed to facilitate airflow and keep your dog's breathing more regular while running and fetching. It fits in Chuckit's Ball Launchers but doesn't get quite as much distance as other balls because of its hollow and lighter design.
If you have a ball-crazy dog (or one that likes to carry multiple balls in their mouth at once), the Breathe Right ball is a good choice to help keep their airway clear. However, this ball isn't made to stand up to dogs that like to chew on their toys, and can still become a choking hazard if your dog bites down on it and it expands in the back of their throat. As with all balls, these should only be used if it's the correct size for your dog and played with under close supervision.
5. Chuckit! Pro Launcher
The Pro Ball Launcher from Chuckit is the classic fetch tool, allowing you to throw long distances and pick up that slimy, dog-drool-covered ball without needing to bend over or even use your hands. There are multiple size options based on the size of the ball your dog is fetching. Being able to throw faster and further makes it easy to exercise your dog in less time!
6. West Paw Seaflex Sailz Flying Disc
Made in the USA and part of West Paw's new eco-friendly Seaflex recycling program (which reduces ocean-bound plastic by blending it with their Zogoflex material), this frisbee is durable and easy to keep clean — just throw it in the washer! Dogs enjoy getting a nice grip on the ring, it won't cause tooth damage when catching, and the design makes this a great long-distance fetch toy. If you plan on playing fetch in the water, it also floats and is rated for moderate chewers.
7. JW Whirlwheel Flying Disk
The Whirlwheel is a great option for dogs who love to fetch frisbees or disks. While hard plastic frisbees can be tough on your dog's teeth, the Whirlwheel is made from easy-to-clean soft rubber that's fun for your dog to catch and can double as a tug toy; there's even a fun squeak toy at the center! This is a great option for medium to large dogs, but not the best fetch toy in water, as it tends to sink when water gets into the squeaker.
8. Planet Dog Orbee-Tuff Ball with Rope
This earth-friendly company has improved on their popular toy balls by adding a convenient rope for better flinging and for playing tug with your dog. The rope also means you can avoid extra drool on your hands when picking up the toy. Made in the USA and infused with natural mint oil, just in case your dog needs a little breath freshening. It's a wonderful option for water fetch, as the ball floats and is easy to see!
9. Chuckit! Ring Chaser Dog Toy
This update on Chuckit's classic ball launcher makes it easy to throw the included rubber Ultra Ring further and saves you from slobbery pick-ups. The ring toy bounces, jumps, and rolls, making it a fun toy for your dog to chase and grab. This is a great option for dogs that don't like to catch flying objects out of the air, but love to chase things on the ground. The ring also floats for water fetch fun!
10. Outward Hound Firehose Toss & Fetch Toy
The Firehose Toss & Fetch toy is made from super durable and non-toxic fire hose material and can stand up to rigorous games of fetch and tug. Using a floating bumper-style toy like this one is great for training water retrievals.
Best Fetch Toys for Small Dogs
If you have a pint-sized pup, fetch can be a fun way to burn their energy!
Keep the size and weight of the fetch toy smaller and lighter to keep the game fun and safe. You don't want to throw the toy as far or as high as you would with a large, long-legged dog, either. There are quite a few options for small dog fetch toys:
1. Stuffed Toys
Stuffed dog toys can make fantastic fetch toys for small dogs since they are lightweight and easy for little dogs to grab and carry back to you. I love the tiny size of these Kong Squeaker dog toys — they're perfect for dogs under 15 lbs.
Another crowd favorite for small dog fetch stuffies are the Outward Hound Kyjen Puzzle Animals, which are available with their Hide-A-Squirrel interactive toy or can be purchased separately.
2. Balls
Tiny balls are great for fetch with your tiny dog; just make sure they are a safe size to prevent choking. The ball should be larger than your dog's throat and large enough not to get stuck behind their back teeth. The Air Kong Squeaker Extra Small Tennis Balls are a personal favorite of mine; they're only 1.5 inches — perfect for dogs less than 5 lbs. — and dogs love that they squeak!
3. Fetch Stick
Does your small dog like to find twigs and sticks to fetch? Wood sticks can be quite a hazard for dogs, and allowing your dog to chew on or fetch sticks puts them at risk of splinters, punctures, and impalement.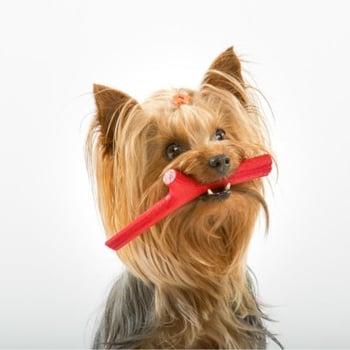 Luckily, there's this great fetch toy that satisfies your dog's desire to retrieve sticks. It's available in a "baby" and a small size, and it's not too long or heavy, which makes it easy for small breeds to grab and retrieve.
Here's Preventive Vet pup, Clover, enjoying a game of fetch with the large coral fetch stick:
4. Discs and Frisbees
Small dogs can be very talented disc dogs and frisbee-catchers! You can throw the disc for your dog to jump and catch or roll it along the ground for your dog to chase. Look for a frisbee or disc that has a smaller circumference and lighter weight, and is made from a softer material that won't damage your dog's teeth when they catch it. The West Paw Zogoflex Zisc comes in a "mini" 6.5-inch size, is made from soft material but flies like a hard frisbee, and is a great disc to get started with.
Need some frisbee inspiration? Watch this video of Lili the Papillon showing off her small-dog disc moves:
What Makes a Quality Fetch Dog Toy
When choosing a toy for your dog to fetch, make sure it's safe, durable, and fun for your dog!
The best fetch toys are made from easily washable and non-toxic materials. There is no oversight in the dog toy manufacturing industry, and even buying a toy made in the United States doesn't guarantee a non-toxic toy.
You want to avoid toxins like BPA, Lead, Arsenic, Bromine, and more — check out this article for information on how to find a non-toxic dog toy.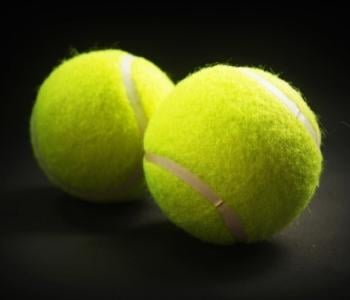 Fetch toys should be soft on your dog's teeth – hard toys can cause severe dental damage if your dog bites down too hard and cracks a tooth, which might require expensive tooth extractions.
Tooth damage is one reason why regular tennis balls are not always a good fetch or chew toy option. The nylon fuzz on the outside of the ball is abrasive to your dog's teeth and wears down their tooth enamel over time.
Use tennis balls sparingly, or redirect your dog to an actual safe chew toy if they want to gnaw on them.
Your dog's fetch toy should be easy for you to throw and easy for your dog to catch. There's nothing more frustrating than when you're trying to heave a toy as far as possible to get your dog to run, and it only lands five feet away. Good aerodynamics are essential for your fetch toys.
This brings us back to tennis balls — while they might be easy to throw, they can be a dangerous choking hazard when your dog goes to catch them, especially in mid-air. There have been too many reports of dogs choking to death when a ball gets stuck in their throat and blocks their airway. It can happen to anyone at any time; it just takes once, like for this police dog. If you use a ball as a fetch toy, make sure it's bigger than your dog's throat so it can't be swallowed or get lodged behind their back teeth and block their airway.