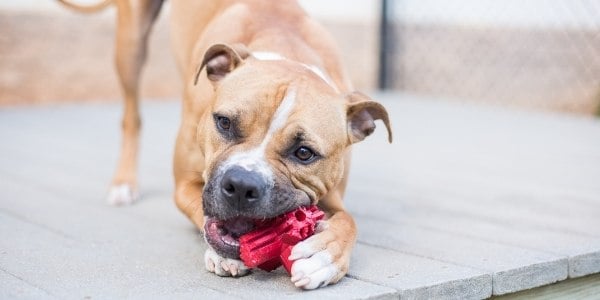 Dogs love to chew. Chewing and gnawing is a natural behavior that has a calming effect on our pups.
But if we don't give them appropriate and enticing things to chew on, they'll usually find one of our favorite shoes or decide that the kitchen table makes a great chew toy.
When picking out a new chew for your dog to gnaw on, it's important to pick chews that keep your dog's interest, are long-lasting, and are safe for your dog to chew on.
With the huge variety of chew toys available, it can be tough to decide what chew to try with your dog. And even tougher to tell if it's a safe choice. That's why we've rounded up our top picks for safe dog chews and toys, so you have somewhere to start.
The chews and toys listed below are vet-approved and favorites of mine as a dog trainer.
Before we dive in, remember that all chews and toys have risks – which is why all dog chews include safety warnings. Before you give your dog a new chew toy, make sure you know their "chewsonality" to start with the right type of toy. This way they'll be less likely to rip off pieces or swallow chunks of the toy.
You might also notice that our top picks below don't include many popular options, such as antlers or bones. You can read more about why we don't recommend certain types of chews and a veterinarian's experience with these chews in Potential Dangers of Popular Dog Chews.
As with all chews and toys, supervise your dog to ensure they chew safely. Remove chews if they become small enough to swallow or your dog starts ripping them into pieces.
We're always evaluating and testing out dog chews and toys at Preventive Vet, so if you have a favorite chew or toy you think should be included below, let us know in the comments and we'll check it out!
Best Chew Toys for Dogs
West Paw Qwizl — Top Pick for Strong Chewers
The Qwizl is a tough chew toy that doubles as a treat holder, providing mental stimulation and slowing down eating. Their proprietary Zogoflex® material is completely recyclable and free from latex, BPA, and phthalate. It has a soft texture, which is safer for teeth, gums, and jaw muscles. Its design provides an easy grip for dogs, allowing them to hold and move it with their paws as they chew. Here's a video of Preventive Vet pup, Sookie, enjoying a bully stick in her Qwizl:
KONG Classic — The Classic Stuffable Toy
This is one of the most well-known and popular dog chew toys – it's a classic! The strong and soft rubber of the Kong Classic tends to last quite a while if properly used (don't leave it out in the sun and clean it regularly by popping it in the dishwasher).
You can stuff a Kong with your dog's meal, small treats, or smearing a bit of xylitol-free peanut butter inside, providing mental enrichment and prolonged play. However, some dogs find the small opening of the Kong and the shape frustrating, as it can be hard to fully "de-stuff" it. If your dog gives up on their Kong, consider using a Toppl instead for a food-stuffed toy. While the Toppl is an easier food puzzle, it is easier to chew into pieces compared to the Kong for a determined chewer (which is why I recommend the Toppl primarily for food stuffing and not for chewing).
Kongs come in a variety of sizes as well as rubber types, including the classic for medium chew styles, the puppy Kong, senior Kong, and Kong Extreme for the more destructive chewers. Be sure to choose a Kong toy that matches your dog's chewing strength and make sure it's large enough to not choke on or swallow.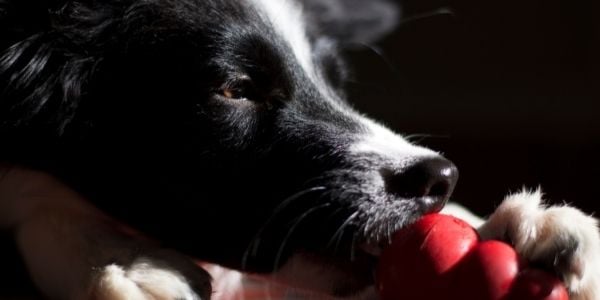 Goughnuts Chew Stick — Perfect for Strong Chewers and Dogs Who Love Sticks
Goughnuts are made from a soft rubber which is easier on your dog's teeth, gums, and jaw muscles. These toys are on the heavier side, making them durable, but not quite the best fetch toy unless you're looking for an arm workout. If your dog tends to chew on wooden sticks (which is quite risky!), this is a great safer alternative.
Hyper Pet Dura-Squeaks Peanut — Great for Senior Dogs and Light Chewers
I love this toy for light or medium chewers. It's lightweight, floats, and is great for games of fetch. The EVA foam is soft on your dog's teeth, which makes it a good choice for senior dogs with more sensitive teeth and gums. If your dog likes to shred and destroy toys, stick with a tougher material, as this one will shred and rip if your dog is too intent on "killing" it.
Outward Hound FireBiterz — Ideal for Dogs Who Love to Destroy Soft Toys
If your dog loves stuffies but destroys their toys quickly, look for tough materials like this option from Outward Hound. Made from firehose material, it can withstand quite a bit of chewing and is harder to rip. There is no stuffing, meaning less cleanup and less worry about your dog inhaling the toy innards and getting an intestinal blockage.
These toys can stand up to my younger dog's intense chewing style when it comes to stuffies, and it's hard for him to find any weak spots in the stitching. He loves to carry it around and shake it.
Tuffy Dog Toys — Tough and Perfect for Tug Games
The Tuffy toys for dogs can stand up to quite a lot of play and chewing with multiple layers of fabric and reinforced stitching. With a variety of styles, you can find the perfect tug toy to play with your pup and build your bond. You can also toss these in the washing machine for easy cleaning!
Check out Preventive Vet pup, Marshall the Frenchie, enjoying his Tuffy Mega Bone in this video:
GoDog with ChewGuard Technology — Great Stuffed Toy for Light to Medium Chewers
I'm a huge fan of GoDog toys. My older dog, Sookie, was never able to destroy these due to the ChewGuard technology. BUT — my younger dog, Fozzie Bear, is a much more intense chewer than Sookie is, and will work and work until he finds the seam so he can destroy a stuffed toy. It still takes him a couple of weeks to rip one of these toys, but I find they're better for the light to moderate chewers and nibblers.
Best Edible Chews for Dogs
Barkworthies Odor-Free Bully Sticks
Bully sticks are a favorite recommendation of dog trainers, and I'm a big fan. They are fantastic for redirecting a nipping puppy and can be a high-value chew for crate training. Always opt for the odor-free versions of bully sticks, such as Barkworthies. Bully sticks can be quite odiferous!
These Barkworthies bully sticks have no additives or preservatives, and as your dog chews, they get softer. Keep in mind that since bully sticks tend to be very high value for dogs, they tend to really go to town on these (and may resource guard). Always supervise your dog when they're chewing on a bully stick to make sure they don't try to swallow it whole. I recommend also always using a bully stick holder (my favorite below) to prevent your dog from choking on a bully stick or swallowing too big of a piece and getting a gastrointestinal obstruction.
Bully Grip Bully Stick Holder
A bully stick holder keeps your dog from being able to swallow the stick as it gets whittled down during chewing. There are a couple of different options available for bully stick holders, but so far, the Bully Grip is the only one that I've found that's easy to use, works with different sizes and brands of bully sticks (as long as you purchase the correct size for the bully sticks being used), and tightly holds the stick in place.
Always use a bully stick holder when giving your dog a bully stick to chew on. Many dogs try to swallow bully sticks whole or when they're still too large and choke or suffer from gastrointestinal obstructions. You can reduce this risk significantly by supervising your dog with bully sticks and edible chews and using a safety holder.
Whimzees Dog Dental Chews — Daily Teeth Cleaning Option
Let's be honest, brushing your dog's teeth regularly is tough! Dental chews can help keep their teeth healthy, which in turn helps to keep their body healthy. Whimzee chews are made with non-GMO ingredients and no artificial colors, flavors, preservatives, gluten, or meat. They're perfect for dogs with food allergies or sensitivities. They have a variety of sizes and shapes so you can pick the best for your dog. Whimzees are approved by the Veterinary Oral Health Council (VOHC), which tests and verifies the claims of dental products for cats and dogs.
Virbac C.E.T. Rawhide Chews — Veterinarian Favorite
These chews are a veterinarian favorite for rawhide with the benefit of helping clean your dog's teeth. The formula makes them easier to digest and, just like the Whimzees above, accepted as a product by the Veterinary Oral Health Council (VOHC). Virbac rawhides are one of our go-to's for rawhide chews, as not all rawhides are created equal.
Wild Eats Water Buffalo Cheek Chips — Great for Small Dogs
One of our team veterinarians recently tested these chews out with her small dog as a potential rawhide alternative. Her dog loved them! She noticed there was no mess and that he didn't tear off any small pieces during his chewing. Plus, no upset tummy after trying out a new chew!
These cheek chips are a good size for small dogs but can be a choking hazard for large dogs who might want to swallow them whole. If you want a rawhide alternative for your small dog, these are a great choice. If you have a medium or large dog, the Earth Animal No-Hides below come in larger sizes.
Earth Animal No-Hide Chews — Our Favorite Rawhide Alternative
These chews have been a staple in my home for years. Perfect for those that can't have any rawhide chews, as well as those with more sensitive gastrointestinal tracts. With a variety of flavors and sizes, you have options if your dog has allergies.
Depending on how intent your dog is with this chew, it can last for days. My dogs tend to give them a good lick-over before settling in to chew and unroll them for more flavor.