Giving a cat a bath ...
Though you likely wouldn't put the words "cat" and "bath" together in the same sentence (unless it also included the word "never!"), bathing a cat can be done — some actually like it, and sometimes it's a necessity.

Why might you have to bathe your cat?

Since most cats, in most situations, are quite fastidious in their grooming practices there aren't many reasons why you'd need to bathe your cat. However, there are a few scenarios where you might find yourself needing to do so.
Ringworm

—

This is actually a fungus

, rather than a worm. Depending on the severity of your cat's case, and some other factors, your vet may prescribe medicated baths.
Cats may need a bath if:


They have ringworm
They have a flea infestation
They have something stuck on their coat
They are obese or arthritic
And some just love it. So pamper away!


Flea infestations — Baths aren't typically necessary for cats with fleas, as most of the newer flea treatments will kill fleas very quickly. That said, in very bad infestations and in cats with flea allergies, baths may be beneficial and even necessary.


Need to get something off their coat — examples include pyrethrin/permethrin flea killing products (which can cause devastating tremors), motor oil or gasoline, antifreeze, potpourri, tree sap, and others.


Obese cats or arthritic cats — These cats may be unable to groom themselves properly and fully, and so may need occasional baths to keep their coat and skin healthy. Arthritic cats may even appreciate the bath, as the warm water and the massage of lathering the shampoo can actually feel quite good.
Grooming your cat in between baths is a great time to check for fleas, remove excess fur, and build a stronger bond through brushing.
To bathe your cat it's important to get all supplies ready first and have a plan
You'll need some tasty treats that your helper can use to reward (and bribe) your cat with.


Grab a pitcher or detachable showerhead, pet-specific shampoo, and plenty of towels.


Using your sink, a laundry basket, or Rubbermaid® tub in your bathtub, lay down a towel, non-slip bath mat, or even a cut-up yoga mat so your cat won't freak out as a result of a slippery surface.


Partially fill (just a few inches) with warm water (not too hot).


Gently place and hold your cat there while your helper uses the pitcher to get your cat's coat wet.


Lather with pet-specific shampoo (your vet may prescribe a specific one, especially if the bath is necessary for medical reasons — like ringworm)


Thoroughly rinse the shampoo off using the pitcher or showerhead (use a low flow rate so as not to scare your cat).


Thoroughly dry your cat using a series of towels. Don't use a blow-dryer unless your cat is already accustomed to it... or unless you don't value the skin on your arms and face.
The Best Brush for Cats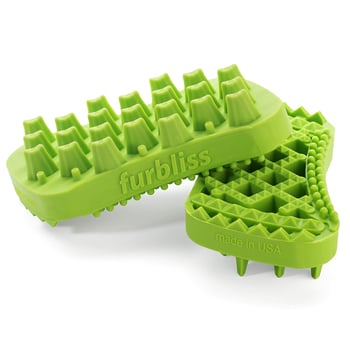 Brushing before bathing is helpful to prevent mats and tangles in your cat's fur. We've found that the Furbliss silicone brushes are among the best options for just about any cat. They come in a variety of sizes and styles, so there's one for every cat, regardless of the size and amount (and length) of fur they have. Each brush has two sides for different purposes: a brush side for combing and grooming, plus a finer side that's great for de-shedding.
Since they're made of silicone, they're soft, easy to use, and cats actually enjoy the massaging feeling of being brushed. Plus, they can be washed under running water or sterilized in the dishwasher. This also means you can use them in the bath to shampoo your cat and de-tangle their fur as they're being bathed.
For more brush choices, check out the Tips for Brushing Your Cat article.
Treats to Give Your Cat Before and After Baths
Greenies are great low-calorie treats (at just 1.25 calories per treat) that also help clean your cat's teeth — plus, cats love them. The Life Essentials freeze-dried chicken treats are also a big hit with many cats, are also low in calories, and are high in protein. We have more low-cal treat choices in our Choosing the Best Cat Treats article.
Our Favorite Supplies for Giving a Cat a Bath
The Best Tubs for Cats
Cats will generally feel more exposed and worried in a large bathtub. An easy solution is to use a sink, which will make your cat feel more secure and will be easier on your back since you don't have to lean over a tub.
If a sink isn't practical, or you just don't want to bathe your cat where you wash your dishes, a toddler bathtub will work just as well. (It probably goes without saying, but avoid the inflatable tubs since, you know, cats have sharp claws and those claws can easily, and permanently, deflate an inflatable bath.) Wherever you bathe your cat, be sure to give them plenty of traction by placing a towel on the bottom of the sink, baby tub, or regular tub.
The Best Shampoo for Cats
Don't use human shampoo on your cat, as it could dry out or otherwise harm their skin. Instead, try one of the shampoos listed in our pet shampoo and conditioner article.
Or, if a regular bath is too hard on your cat — mentally or physically — you can use a waterless shampoo.
Pheromones to Calm Your Cat During Baths
A pheromone diffuser can go a long way toward calming a cat that's ready to freak out about a bath. Try plugging in this diffuser in the room where you're giving your cat their bath. The pheromone, which mimics the scent that helps calm kittens, may help take the edge off for an anxious cat.
I think this video is quite good in explaining all the steps of how to bathe a cat and you can't go wrong with two adorable cat models. Of course, if all this sounds too much, you can also just take your cat to your vet or a professional groomer :-)
Please share a little information about your cat's food and litter boxes

The information you share will help many other cats.
It's anonymous and will take 1–2 minutes.
Thank you!