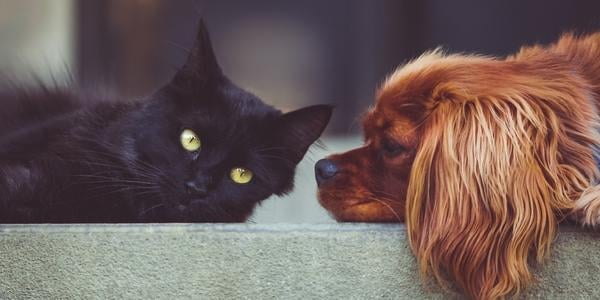 Investing in a pet camera is helpful for a variety of reasons. It's reassuring to be able to check in on your dog or cat while you're away, whether you're curious as to what they get up to when left alone, or want to make sure they're comfortable and safe.
And if your neighbors have been complaining about your dog barking when you're gone, setting up a camera helps narrow down why your dog is barking. Is it boredom? Alert barking? Or is it canine separation anxiety?
The Best Pet Cameras for Basic Monitoring
Petcube Cameras
I personally use two Petcube cameras to check in on my dogs when I'm away from home. I like these because both the cameras themselves and the monthly cloud storage subscription are affordable. I needed just a simple way to check in on my dogs every so often.
I like that I can still see my dogs clearly in low-light conditions. Installation and setup were easy. I placed one underneath a cabinet using the magnetic disc to provide a better point of view, and the other on the fireplace mantle for full room coverage. They connect to the app via WiFi, so the only limiting factor for me is making sure they are close to a power outlet, as the power cord is only a few feet long.
Petcube cameras do not have a continuous recording option. They will record short 30-second clips based on movement or sound. For this reason, they aren't a good option if you're working on treating your dog's separation anxiety. To see my top recommendations for pet cameras to use while working on separation anxiety, check out the section further below.
Recorded video clips are only accessible for four hours in the app, unless you pay the $6/month subscription to have long-term storage. There is an option to receive notifications of sounds or movements if you subscribe to the Petcube Care Plan. However, when I was paying for the subscription, I never received notifications for movement or sound — this could have been because my dogs were silent and still (very doubtful) or the notification settings were not correct. If you don't need long-term access to these short recordings and are using the cameras for simple check-ins, then don't pay for the monthly subscription.
Furbo Pet Camera
The Furbo pet camera is probably the most well-recognized pet camera brand, with its treat-tossing capability and optional Furbo Dog Nanny subscription. Even without the Nanny subscription, you'll receive barking alerts to let you know if your dog is making noise.
Their newest version offers 360-degree rotation and HD video. However, it does not offer continuous recording, instead, it records 15-second event-triggered video clips.
If you're looking for a comparable but more affordable option to the Furbo, the Petcube Bites 2 Lite is a good option.
Ring Indoor Cam
If you already use a Ring doorbell camera, I suggest investing in the Ring Indoor Cam as well to keep everything within the same app.
These cameras are affordable, small (making them easy to place anywhere in the room), provide HD video and two-way talk, and integrate seamlessly with Alexa. Just like the doorbell cameras, you can set up notifications to let you know when movement is detected.
Their subscription plan for storing short recorded video clips is also affordable at $3.99/month (or $10/month for the household if you have multiple Ring cameras). These cameras do not provide continuous recording functions.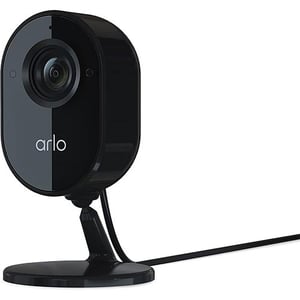 Arlo Essentials Indoor Camera
If you're looking for an affordable pet camera that also provides home security features, then the Arlo Essentials Indoor Camera is a good choice. These cameras can connect with many smart home systems, including Amazon Alexa, Google Home, Apple Homekit, and Samsung SmartThings. There is also a built-in security alarm that you can set to trigger automatically or manually through the Arlo smartphone app.
Just like the two camera options above, the Arlo camera does not have continuous recording options but will record short clips triggered by motions or sounds. This Arlo camera has a 130-degree view and does not pan. If you have a larger area that needs video coverage, then you'll need to invest in multiple cameras.
The Best Pet Cameras for Dogs with Separation Anxiety
If your dog is struggling with separation anxiety, you'll need to be able to watch live and record continuous videos to better manage and treat this condition. The cameras listed above have live video watching features but do not record continuous video, making them less than ideal for separation anxiety treatment plans. Instead, check out the two pet camera options below that I recommend to my training clients.
When you start working with a certified dog trainer, you'll learn what body language to watch for that indicates your dog is starting to get anxious and know when it's time to return home before they panic. You'll also be working through what's called systematic desensitization, and your trainer will request lots of video recordings of your practice. Learn more about how to share your videos with your trainer here.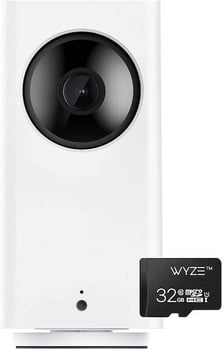 Wyze Cameras
The Wyze Cam Pan cameras are affordable and a popular option – and the panning and tilting options often mean that you don't need to invest in more than one camera to be able to see the whole room. But the whirring sound of the pan and tilt movements can distract your dog. It's also compatible with Alexa and Google Home.
To get a continuous recording, purchase the Wyze Cam Pan with the SD card. This way you can do live check-ins via your smartphone app, but also have access to 24/7 recordings by accessing the file on the SD card using your computer.
If you prefer smaller or non-rotating cameras, check out the Wyze Cam 3 pet cameras. These require an SD card (sold separately) in order to get the continuous recording.
Blink Mini Cameras
If you love connecting your home electronics through Alexa, these cameras can be a good option. If you plan on using Blink Mini cameras during your dog's separation anxiety treatment, then you will need the subscription plan in order to record your live practice sessions and save your videos. The subscription plans offer live view recording instead of just motion-sensor recording, which is why I've included it in my recommendations.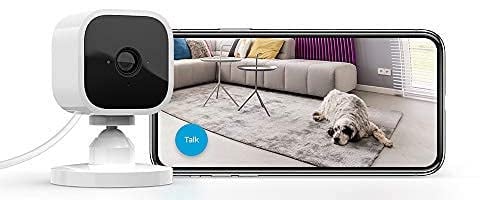 The Blink cameras have two cloud recording and storage subscription options (one camera vs. all cameras). There is an option to record directly to a USB flash drive, but you have to purchase both the sync module and flash drive separately — and this storage option does not allow for live recording.
Google Nest Cam
The Nest Cam from Google offers a continuous recording option with a subscription. These cameras will sync seamlessly with other Google Home products. One of the best features of a Nest Cam is the 1080p night vision, allowing for nighttime or low-light recordings.
What Pet Camera Features Do You Need?
Clip Recording & Storage
If you want a pet camera just to check in on your pup every so often, then the recording feature isn't a "must-have."
Recording capabilities are imperative for pet owners working on behavioral issues like separation anxiety. But if you're just looking to share a few cute short clips with friends or family, you don't need to worry about making sure your pet camera has continuous recording options, and you may not even want to pay the subscription fees for the storage of these clips.
If you are working on treating your dog's separation anxiety, you will need to invest in a camera that has continuous or live recording and storage capabilities. Most pet cameras have an automatic record setting that will start recording based on sound or movement, but this isn't typically helpful in a separation anxiety case. You need to be watching the stream live or have a continuous recording so that you and your trainer can watch for subtle signs of increasing anxiety that happen prior to pacing or barking.
Video recordings can take up a LOT of storage space. You have a couple of options: cloud storage, a USB flash drive, or an SD card. Cloud storage requires that you pay a recurring subscription fee for the service. Using an SD card instead means that you'll need to transfer the recorded files to your computer in order to view and share them with your veterinarian or trainer. You'll need an SD card reader for your computer so you can transfer the files, and then you'll need to either upload them to your own YouTube channel or into another cloud service to then share with your support team.
A Microphone for Listening to Audio
Choose a pet camera that has a built-in microphone so you can hear what's going on. This can be helpful in figuring out whether your dog is barking because they hear something outside (alert barking) or whether they are barking because they are anxious or bored. It helps us put together all the pieces of the puzzle.
Do You Need to Talk to Your Pet Through the Camera?
When it comes to treating a dog's separation anxiety, I tell my clients to not speak to their dog through the camera. Why? For an anxious dog, hearing their owner's voice often increases their stress — they can hear you, but they can't find you. That often results in more anxiety and frantic searching for you.
If a pet does not have separation anxiety but is barking, scratching, or chewing, many pet owners are able to interrupt that behavior by talking to their dog or cat through the camera's microphone. If you do this, watch to see what your pet does after they hear your voice. Do they settle down again? Or do they appear confused and start looking for you? Their reaction can help you decide whether you should use the microphone in the future.
Wide Angle or Multiple POVs
You'll want a camera that has a full view of your dog's area. You can do this by choosing a camera with wide coverage or that rotates. Personally, I prefer to have at least two cameras set up so I have full coverage of the room, especially if there are couches or walls that block certain angles from one camera. Plus, a rotating camera often makes noise as it moves, which dogs usually notice, affecting their body language.
Do You Need a Pet Camera with a Treat Tosser?
It may be tempting to pay more for a pet camera that includes the ability to toss treats using the connected smartphone app. This certainly can be fun, but it isn't a necessity.
Treat-tossing cameras tend to be the most expensive options and there is the possibility of too-large treats or kibble jamming up the mechanisms. Plus, some dogs and cats may get a little too interested in getting to their treats, knocking over the camera, or even chewing on it to bust it open to get the treats inside. If you do get a treat-tossing pet camera, make sure to place it out of your pet's reach.
For certain training, being able to remotely reward with a food treat can be helpful, such as when your dog hears something outside but doesn't bark. Or if you're introducing a dog with no history of separation anxiety to alone time. But just like speaking to your dog through a camera's microphone, tossing a treat can increase your dog's energy level, interrupting their rest time. I much prefer leaving a stuffed interactive dog puzzle to a treat-tossing camera.