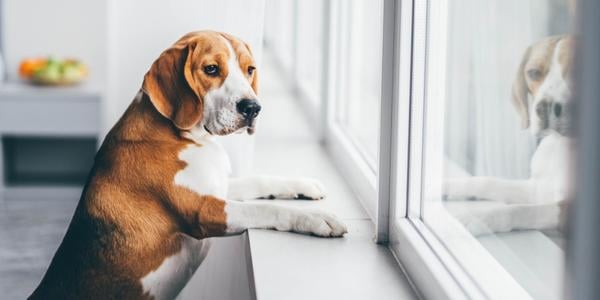 Pet cameras play an integral role in diagnosing, managing, and treating a dog's separation anxiety. When working through a separation anxiety treatment plan, you need to make sure that your dog is never left alone for longer than they can handle.
Having a camera helps you identify how long your dog can handle being alone in the first place, as well as gives you an easy way to know when it's time to return back home.
Most canine separation anxiety specialists will be working with you virtually. With more and more online options for coaching, getting dog training help is no longer limited to who provides local services, opening up your choices in finding the best professional for you and your dog's needs. But to get the most out of your online training sessions, you'll need to be ready to record your practice.
High-quality video recordings of systematic desensitization practice (the treatment for separation anxiety) are important for your trainer or behavior consultant to review, as this helps determine when your dog is ready to move on to the next step or if there are any "tweaks" needed in the plan.
There are only a few pet cameras that allow for continuous recording. Most only record short clips when they detect motion or sounds, but at least allow for live viewing from your smartphone, so all is not lost if you already have pet cameras that don't have this feature.
For when you need a longer recording for yourself or to share with your dog trainer, I've included tips about how to use your computer, tablet, or old smartphone to record your training sessions. Or if you want to invest in new pet cameras that do have the continuous recording feature, check out the best cameras for dogs with separation anxiety here.
How to Use Your Phone, Tablet, or Computer to Record Your Animals While You're Gone
Because most pet cameras don't have the continuous recording option and I don't want my clients unnecessarily spending lots of money, it's often easiest to simply set up a computer, tablet, or old smartphone to record. The only downside is that sometimes you can't quite get the camera angle needed or a wide-enough view of your dog's area.
On a Smartphone or Tablet
Make sure the device is fully charged or plugged in, as video recording burns through battery power quickly.
Open the device's camera app and select video, then hit record.
Make sure the device is set up and secure with a wide view of where your dog will be (and ideally the door you leave through) — a tripod can be very handy when using a smartphone to record. Placing it on the floor often results in your dog checking it out and knocking it over, rendering any video unusable.
On your PC
I am a Mac user so I'll leave it to this PC pro to teach you how to create a video using your PC's webcam.
On your Mac
1) Open QuickTime Player (icon is a little black and blue "Q")
2) Go to the file menu and select New Movie Recording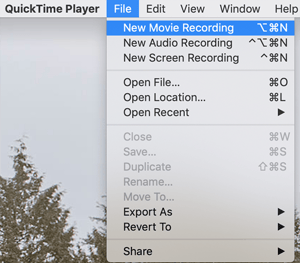 3) The player window will open and you might surprise yourself like when you accidentally open your camera in selfie mode. You will see the red record button and where it shows the audio levels. Place your computer up where it can get a good view of the action and hit the record button.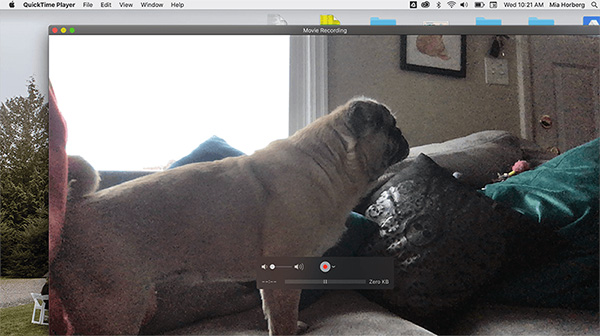 The only problem I've had doing it this way is that the files end up being very large, and if your computer doesn't have a lot of free space, there's a good chance you won't be able to actually save the recording.
Via Skype, FaceTime, or Zoom
Another option is using a virtual meeting option like Skype, FaceTime, or Zoom. Both Skype and Zoom offer easy-to-use recording options for each call. Make sure to hit record on your computer and not your phone so that the large file is saved on the right device. If you want to record a FaceTime video call, you'll need to set up a screen recording that includes audio.
Set up your computer or tablet in your home with the best view of your dog's area. Log into the video chat from your computer and then dial in from your phone so you can watch live. Hit record on your computer if you are recording the session. Make sure to mute your end of the conversation so your dog can't hear you.
How to Share Video Recordings with Your Dog Trainer
Whenever I work with clients whose dogs are struggling with separation anxiety, I ask them for A LOT of video clips. And if you've ever tried to email a large file, you know that it's usually impossible. Here are the main ways that I ask clients to share video clips of their dog's alone time and training practice:
Text, iMessage, or WhatsApp: If the video clip is short (typically less than 2–3 minutes), it can be texted or sent via messaging apps. However, I've noticed that video clips sent between an Android and an iPhone often have degraded quality. Whenever I'm working with a client who resides in a different country, I rely on WhatsApp for direct messaging.


Google Drive: If you have a Gmail/google account, you automatically have access to your own cloud storage with Google Drive. With a free account, you have 15 GB of storage. If you need more, you can upgrade to a paid cloud storage plan.
Once you've uploaded the video file to your drive, then you have the option to share the drive link directly with your trainer. Alternatively, your trainer may set up a google drive folder within their account and share the link with you so you can upload your files there.


YouTube: You can upload videos to YouTube as Unlisted or Private to prevent them from being viewed or found publicly through search. You may already have a YouTube channel for yourself, but it's easy to create one (and will automatically be linked to your Google account). When you upload a video, be sure to choose Unlisted or Private before publishing. Then you can share the video link with your trainer.


Sharing Pet Camera Cloud Storage Links: If you have a subscription to cloud storage for your pet camera recordings, you may have the option to share the direct URL to the video with your dog trainer. This way there is no uploading or downloading required. Check your pet camera app or account to see if this is an option for you.
Tips for Recording Your Dog's Separation Anxiety Treatment
Get the best angle. Make sure you can see the entire area your dog has access to when left alone. If they stay in a crate or pen when alone, then this is much easier than if they have the full range of the whole home. But if they do have a full room or multiple rooms, you'll want to have multiple cameras so you can see them no matter where they are. Consider using gates to block off the upstairs or other rooms that don't have video coverage.
Avoid placing the recording device or camera on the floor. It's too easy for your dog or other pets to knock it over if they investigate, or, in other cases, another pet can block the view (as you can see in this photo from one of my training client's virtual sessions):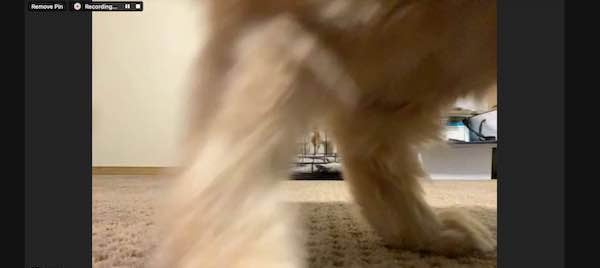 We want to see the exit point. For dogs that do not use a crate or pen when alone, we trainers will want to be able to see the exit door (where you leave through). Often, this is where dogs will exhibit many separation anxiety symptoms, such as watchful waiting, howling, or destructive chewing or scratching. Make sure the camera has a clear view of the doorway.
Don't forget the lights! Good lighting means it's easier to notice smaller body language signals. Ensure there is good lighting for your videos by turning on lamps and overhead lights. Be aware that open windows directly facing the camera will make it hard to see anything in the foreground because of the glare.