Choosing cleaning products when you have pets
It has been said that cleaning a house with pets is like brushing your teeth while eating Oreos — both are fruitless endeavors. That said, it's still important to do (the first one, that is)—at least every now and again, especially because you do have pets.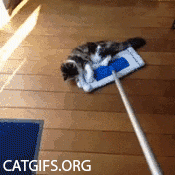 Pets live close to the floor and carpeting; they lick windows, flooring, frankly most any surface (repeatedly!), so making sure our cleaning products are free from harmful toxins is important.
Also because pets are smaller, often breathe deeper and more rapidly than people, they intake more airborne toxins than we do, and unfortunatley they can't open a door or a window themselves to "air out" a nasty and irritating cleaning chemical smell.
Ingredients that are harmful to pets in cleaning products
Ammonia and chlorine are two very common cleaning ingredients. Ammonia is often found
in products that are used to clean windows, counter tops, and surfaces with grease. While chlorine is a primary ingredient in many bleach and bleach-containing cleaning and sanitizing products. While these are very common cleaning products, they're also both very potent irritants of the respiratory tract in cats and dogs (as well as in people).

If you use such cleaning products around your home, do so only in accordance with the manufacturers instructions and be especially cautious to use them in well-ventilated areas and do not use them in the presence of your pets.

WARNING: Whatever you do, never, never, never combine an ammonia-containing product with a chlorine-containing one! It will release highly dangerous gases called chloramines, which are extremely potent respiratory irritants and can cause significant problems for both pets and people.
Choose household cleaning products that are safer for your pets
Fortunately these days there are lots of household cleaners that have fewer chemicals, though are still effective at cleaning and safer for your pets. Here are a few brands to consider:
Happy cleaning! Or should I say "good luck" cleaning? Either way, now I'm going to go eat some Oreos :-)
*Learn about Amazon links and Preventive Vet recommended products