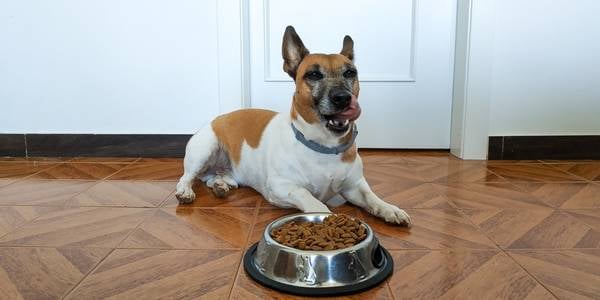 Grain-free diets for dogs have become all the buzz in recent years with lots of dog food companies, bloggers, and pet lovers extolling them as the cure for all that ails dogs.
Now, I'm not going to get into all of my thoughts on this trend.
(The board-certified veterinary nutritionists at Tufts University School of Veterinary Medicine have already done that in these articles on their petfoodology blog.)
What I will say though is that it tends to be (emotional) marketing that's driving the grain-free pet food craze, rather than science and an actual medical need for excluding grains from the diets of dogs — even those with food allergies. But again, that discussion is outside the scope of this particular article.
The purpose of this article is to ensure that, if you have chosen to feed your dog a grain-free diet, and especially if it's a food that contains peas, chickpeas, lentils, or potatoes in place of the grains, you are aware of the newly recognized possible link between the feeding of a grain-free diet and the development of Dilated Cardiomyopathy (DCM), a very serious form of heart disease in dogs.
DCM is characterized by a distention and thinning out of the muscular walls of the heart, causing it to be a less effective pump to move blood throughout the body. As you might imagine, that's not a good thing! Dogs with DCM are at great risk of progressing to heart failure. You can learn more about the condition in this article from the good folks in the cardiology department at the Washington State University College of Veterinary Medicine.
If you feed your dog a grain-free diet, I would highly suggest that you read both this recent FDA press release and this recent New York Times article on the possible link.
Here are some other things I suggest you consider doing if you feed your dog a grain-free diet:
If you've switched to a grain-free diet within the past 6 months

and your dog hasn't had a visit and physical exam with your vet since starting the grain-free diet, it's a good idea to have your dog checked out by your vet so that they can, amongst other things, listen to your dog's heart and see if any new murmurs have developed.
A heart murmur is often heard in dogs with DCM. (Note that a heart murmur in a dog can be caused by a variety of factors and conditions, not just DCM.)
If your dog hasn't had a checkup with your vet within the past 12 months, regardless of how long they've been eating a grain-free diet, it's a good idea to get one on the schedule so that your vet can do a thorough physical examination of your dog, including listening to their heart for murmurs or other abnormalities.


Consider having your dog's blood taurine levels checked at your vet's office. Taurine is an amino acid that is particularly important for proper health and function of your dog's heart (as well as their eyes and brain) and in several, though not all of the currently reported cases, blood taurine levels have been found to be low.

*Note: This is not an inexpensive test, usually costing around $500. So this may not be practical for you to do proactively, as a screening test. However, if your pet is on a grain-free diet — especially one that contains peas, lentils, chickpeas, or potatoes (dietary ingredients that the cases currently under investigation all had in common) — and you can afford the testing, it could save you some heartbreak (and additional money) down the line.

And, if you or your vet report to the FDA these results of the blood taurine level testing, along with additional information about your dog and the food you've been feeding them, you could also be contributing to the important body of data that could help the FDA in their investigation to get to the bottom of this issue.


Consider changing foods. Until such time that a potential link between feeding grain-free and DCM is disproven, consider switching your dog to a more traditional, grain-containing diet. In fact, many of the cases in the current report improved their heart health and function with treatment, including a transition to a grain-containing diet. [Don't forget, diet transitions should ideally be done gradually.]


Learn how to check your dog's heart rate (pulse) and breathing rate (effort). A rapid heart rate and breathing rate, even at rest, are common signs that dogs in heart failure will exhibit. See the video embedded below, or ask your veterinarian or one of their nurses to show you. Getting comfortable with these procedures now will help you learn what's normal for your dog, so that you'll be better able to know if it becomes abnormal later. You can also learn more about signs of heart failure in dogs in this

article

from the cardiology department at Tufts University School of Veterinary Medicine.


Finally, read this excellent review of the potential connection between grain-free diets and heart disease in dogs written by the Clinical Nutrition Department from the Tufts University School of Veterinary Medicine for more information. They also give more information and insight on grain-free diets for pets in general.