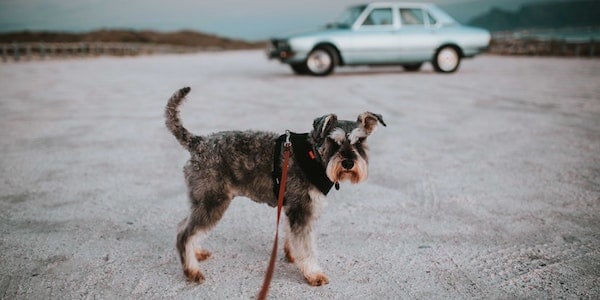 When choosing what walking gear to outfit your new pup with, the variety of options seems endless!
Leashes are an important training tool and something that you'll use almost every day — which means it's important for you to find one that matches your needs and preferences.
You'll see dog owners walking their pups on lots of different widths and lengths, styles, materials, and even different clasp and handle types. Which is best for you and your dog?
Different activities are easier with different kinds of leashes. You might find that having multiple kinds of leashes is best, depending on the things you plan on doing with your dog — whether it's hiking, going to a dog training class, or walking through a crowded city center.
No matter what kind of leash you choose, it should be well-made with a secure clasp and comfortable for you to use.
These things listed below are some of what you'll want to keep in mind when choosing a leash – and I'll go into more detail below about which leashes I personally recommend.
If you're concerned about the leash getting dirty or stinky, choose one that's odor-resistant and easily washable, such as biothane.
If your pup gets ahold of the leash and it's not durable, you may be buying several until they grow out of the habit and are trained not to chew on their leash.
Do you want an all-in-one daytime and nighttime leash? If so, opt for a reflective one.
Leash size and material should be chosen based on the size and weight of your dog. A chihuahua will be overwhelmed by the weight of a thick leash with a heavy clasp, and a Saint Bernard can easily snap a thin leash strap or lightweight clasp.
Read on to learn about the different leash options out there so you can better decide which to invest in for you and your dog, along with my recommendations within particular leash types.
What Type of Dog Leash Should You Use?
Standard Leash
This leash is the most common type you'll see and easiest to find in pet stores. Standard leash lengths vary between 4 to 6 feet, with widths between 3/8ths to 1 inch wide. Long leads or leashes are standard leashes with a much longer length, anywhere from 10 feet up to 100 feet long, but are not the same as retractable leashes.
Nylon Leashes
Nylon leashes are affordable and easy to clean. It can be comfortable in your hand if the sizing is correct and the edges of the nylon aren't sharp. The thinner the width of a nylon leash, the more likely you will get leash burn on your hands if your dog pulls unexpectedly! Nylon isn't quite as flexible or as soft as other leash materials, especially if you need a larger, thicker leash size for a big dog. Some dogs also chew through nylon leashes quickly; if you have a leash chewer, avoid regular nylon leashes. Nylon leashes are a good option for short walks or for quick trips to the vet clinic, pet store, or dog daycare, and often have lots of safety options — like this nylon leash by Nite Ize that glows and flashes when taking your dog outside when it's dark.
Leather Leashes
Quality leather leashes are long-lasting and very comfortable to hold. Leather can be tough to clean if it gets dirty, so this type of leash is best for regular leash walks around town. Choose a leather leash that has a little bit of flexibility and is soft on your hands.
Rope Leashes
Leashes made from mountain climbing rope have become more popular due to the comfort and durability of the material used. There's a little bit of give in a rope leash, which can help protect your arm and shoulder from injury if your dog pulls on leash.
I personally use this rope leash by Ruffwear — it's lasted me 9 years and shows no signs of wear and tear, has reflective rope woven in for nighttime walks, a locking carabiner-style clasp, and has a comfortable handle that has room for attaching a poop bag holder and other accessories.
Ruffwear Knot-A-Leash Reflective Climbing Rope Leash (available from the manufacturer also)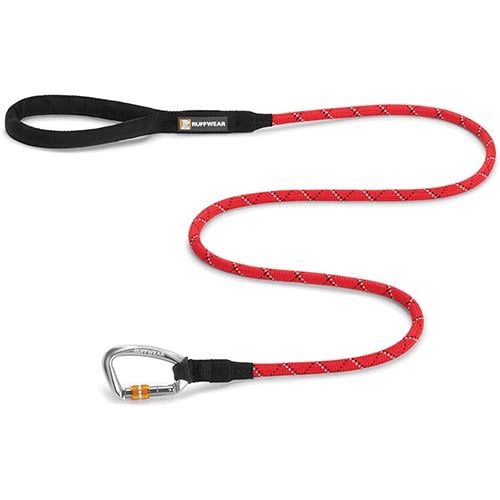 Hemp Leashes
If your dog has sensitive skin or allergies, a hemp leash is a wonderful option due to its hypo-allergenic properties. Hemp is very earth-friendly; the plant itself is grown without the use of pesticides or fungicides because of its hardiness. It's also anti-microbial and naturally odor-resistant! This hemp leash by West Paw is lightweight, super soft on your hands (it gets even softer with use!), and is strong and durable enough to last for years.
Chain Leash
Chain leashes are recommended primarily for dogs that like to chew on their leash. While nylon, leather, or rope leashes might be too enticing for your puppy and can't withstand much chewing, chain leashes replace the leash length with steel chain links. This discourages chewing since it doesn't taste or feel that great when chewed. Dogs are unable to chew through the metal and ruin the leash.
However, chain leashes can be cumbersome for everyday use, since they are heavy for both the human and the dog, and uncomfortable to grip mid-leash if needed. Walking your dog on a chain leash can also make them look more intimidating than they are to some people since chains are associated with "being tough."
If your dog tries to chew on their leash, the first thing you should do is work on training alternative behaviors while on leash (such as eye contact) and consider using a back-attachment harness to prevent the leash from dangling near their mouth and entice them to chew. You can try a chain leash like this one with a comfortable padded handle, paired with teaching your dog that a leash is not a chew toy.
Most dogs avoid trying to chew on the chain leash because it doesn't feel good; however, some dogs still will chew heavily on a chain leash due to habit or stress. If your dog doesn't seem to mind chewing on a chain leash, you'll need to switch to different material of leash to prevent any tooth damage and work with a certified positive reinforcement trainer to change this behavior.
Watch this video to see how to train your dog to not chew their leash:
Biothane Leashes
This is one of my favorite leash materials. It's lightweight and super easy to wipe clean, making it my go-to choice for long leads when I practice my dog's come-when-called or go on sniffari. It's tough enough to handle larger breeds but still light enough for handlers that don't want a bulky or heavy handle.
Specialized Dog Leash Types
Retractable Leash — Use a Long Lead Instead!
Retractable leashes (also referred to as Flexi leashes) might seem like a great idea — you want your dog to have the freedom to explore while still being attached to you — but oftentimes, these retractable leashes cause more problems than that freedom is worth! Not only do retractable leashes teach a dog that pulling on leash is acceptable, but retractable leashes can cause injury to both humans and dogs. Check out this article for more info on the safety risks of using a retractable leash.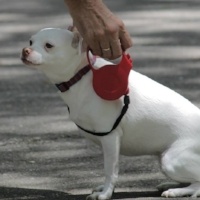 These leashes have bulky and often uncomfortable to hold handles, and they are difficult to use as a tether if you need to attach your dog to a post or tree. The cords in these types of leashes are not very durable and can break with enough sudden pressure or be easily chewed through. It's also easy for these cords to get wrapped around legs and trip people and dogs.
The retractable style also doesn't allow for much control over your dog; they have lots of freedom with the extended length, but you can't easily reel them in. With all that distance between you and them, they can easily walk into the street ahead of you or around the corner right into a potentially dangerous situation. Oftentimes, dogs on a retractable leash practice very rude greetings of other dogs and people, rushing up to them with their owner far behind and unable to prevent jumping on people or intervene if the dogs don't get along.
Some dog owners purchase a retractable leash because they think it will help with their dog's leash pulling, but these leashes actually teach your dog that pulling works. The dog gets more leash length if they pull against tension from the retractable, which reinforces that pulling works to get them where they want to go — forward! It's almost impossible to teach a dog polite leash walking when using a retractable leash since the leash itself is teaching the dog the exact opposite of keeping a loose leash.
I don't recommend the use of retractable leashes, but that doesn't mean you can't use one responsibly if you choose. Retractable leashes should only be used if your dog is well-trained to not pull on leash and if you are in the appropriate environment, such as the beach or a large open field where the cord can't be caught on anything and rip. I much prefer a long-lead style leash to a retractable leash when I want my dog to have more freedom but still be attached to me, like this biothane long leash from Viper or this bright (and easy-to-see) long lead from Nimble.
Learn more about how to use a long leash safely and effectively, along with more of my favorite long leashes in our article Long Leashes for Dogs.
Adjustable Leash

Adjustable leashes are a great option for when you need to shorten the leash temporarily, need to tether your dog to your body or to a tree or post, or even walk two dogs at once using one leash.
It is a great leash for attaching to both your dog's collar and their front-attachment harness. Instead of a regular handle, this type of leash has clasps on both ends and rings at different intervals of the leash length. Based on where you attach one clasp to determines the size of the handle and the length of the leash. See the image below for examples of different ways to use it.
I use this type of leash quite a bit when working on training a dog to walk on a loose leash and for a tighter heel position on leash. I can loop it around my waist or over one shoulder, or shorten the amount of available leash to the dog by simply moving the clasp down one loop. This adjustable 8-foot leather leash by Guiding Star is comfortable to hold, durable, and offers a short, medium, and long leash length option.
Split Leash (For Multiple Dogs)
If you need a leash for walking two dogs and want to walk them together without having to juggle leash handles, the split leash option is for you! A split leash has one handle, and the leash splits into two separate leads with their own clasp for each dog. Choose a split leash that has a tangle-free leash coupler like this one from Mighty Paw to prevent your two pups from getting tangled together. The leash can be detached from the split lead and used as a regular leash when just walking one of your dogs. If you already have a leash you love but need to add a leash splitter for your second dog, this Snagle Paw coupler is tangle-free with reflective stitching and shock-absorbing bungees.
Before using a split leash, make sure both your dogs are trained to walk without pulling — if they aren't, they will encourage the other to pull with this leash setup. Check out this article for tips on how to teach your dog to walk on a loose leash.
Short (Traffic Handle) Leash
The traffic leash style is a shorter version of a standard leash, usually with a length of 1 to 2 feet. These leashes keep your dog nice and close, which is useful for crossing intersections more safely, visits to the veterinary clinic, or when practicing the Heel cue. You can use a separate traffic leash for these instances, or purchase a standard leash with the traffic handle built-in like this one from Primal Pet Gear.
Slip Lead (Martingale Leash)
A slip lead style leash is a leash and collar in one; instead of a clasp at one end, there is a metal ring through which the handle is looped to create a slip knot around the dog's neck. I don't recommend using a slip lead for regular walks with your dog. This type of leash is commonly used in shelters or veterinary clinics for short-term control of a dog, not to correct leash pulling or other behavior issues.
Slip leads are also ideal to gain control over a loose dog, especially one with no collar on. I keep a few extra of these lightweight slip leads in my car in case I need to help rescue a loose dog. They can also be used to make an emergency muzzle or emergency harness.
I recommend slip leads only for temporary use or for dogs that do not pull on leash. Using this type of leash long-term, or for a dog that pulls, is equal to using a choke collar and can cause neck and throat issues, not to mention unintended behavioral consequences of using an aversive tool.
Umbilical Cord or Hands-Free Leash
If your dog is your jogging partner (or you want them to be), an umbilical cord-style leash is your best option for a hands-free experience. An umbilical cord style leash has a waist belt to which the bungee leash attaches and two handles, one close to your waist and the other closer to the dog for more control. Having a bungee built into the leash length helps with pulling and shock absorption when starting and stopping your jog.
Umbilical cord leashes are convenient for hiking with your dog, or if you need your hands free for other reasons (like pushing a stroller, or holding an umbrella). They're also indispensable for potty training your puppy when you need to keep a close eye on their movements indoors to prevent potty accidents, but still need your hands to get everyday work or chores done.
Different Kinds of Leash Clips
Trigger Snap Clip
This clip style stands up to a lot of pressure with a spring-loaded lever that you push inwards to open the clasp and connect to a collar or harness ring. These clips are usually bigger than the bolt snap style and can withstand more pressure; it's a great clasp if you have a large, strong dog.
Bolt Snap Clip
This type of leash clasp is the most common and relies on a spring inside a shaft to slide the bolt open and connect to the collar or harness ring before releasing the spring to close the bolt back down. This style of leash clip tends to be the easiest to connect and disconnect from the dog's collar quickly and easily.
They are reliable for the most part, but over time the spring weakens, which can cause the bolt to not stay closed correctly, and strong dogs that pull on leash can also bend or break these kinds of clips. This clip works just fine if you have a smaller dog or one that doesn't pull on leash. If your leash has this type of clip, just make sure to check that it's still strong every couple of weeks.
The Nifti SafeLatch is a much safer version of the standard bolt clip. It's the only patented leash with a bolt clasp that goes all the way into a fitted hole (as demonstrated in the video below). The Preventive Vet team tried it out and it's very easy to open and attach or detach from a collar. There's a high-powered magnet built into the hook that pulls your dog's collar ring closer to the clasp for quick attachments. You can see this in action if you look at the video on the Amazon product page. This leash is suitable for medium or large dogs.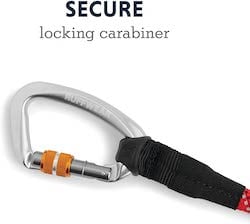 Carabiner Locking Clasp
A carabiner with a lock is my FAVORITE type of leash clasp, ever since a previous dog of mine figured out how to unclip their trigger snap clip using a strategically placed chair and just the right amount of pressure. Many dog leashes have locking carabiners built-in, like the Knot-A-Leash by Ruffwear. The carabiner is a bit bulkier than other leash clips, but it's the most secure option.
Keeping a carabiner on your dog's leash, whether or not you use it as the clasp, is a great idea and can be used in a variety of ways! It can make it easier to tether your dog when needed, create a fail-safe if your dog likes to slip their collar or harness, and provides a great place to attach keys, poop bag holder, or your dog's portable water bowl. I use the extra carabiner on my dog's leash the most to tether them to me or a fence or post while we sit in the park together. Check out this video by Simpawtico that covers 25 different dog life hacks for carabiners.
When picking out your dog's gear, choose a leash that keeps your dog secure and is comfortable for you to use. Having a leash that is easy to use makes your adventures with your dog much more enjoyable!