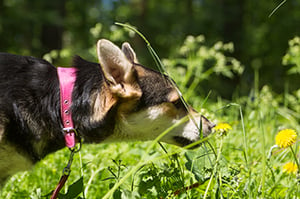 If your dog is bored and you're looking for new and fun ways to burn off some of their excess energy, go on a sniffari! Your dog will enjoy the freedom of getting to explore at their own pace and sniff all the wonderful smells they encounter. These walks also give us humans a chance to decompress and take in nature.
Using their sense of smell is incredibly enriching for our dogs. They're using a lot of brain power to sniff through all the information they find, which makes this activity a great option for mental exercise.
What You Need For Your Sniffari Dog Walk
A Long Leash
You want to give your dog some room to move, so a leash at least 10 feet long is best. There are lots of options for long leashes out there. Find one that is comfortable for you to hold and at a length you can manage. I like working with this 30-foot lead by SportDOG that's easy to see and floats in water.
Dog Treats
Bring along some yummy snacks for your dog while out on sniffari. This way you can reward them for choosing to check in with you, you can practice teaching them Come-When-Called, or reinforce any good behavior that you want to see more of! A sniffari is a great opportunity for training around distractions.
Dog Treat Pouch
Keeping your dog treats in an easy-access pouch or bag means your pockets won't smell like turkey. I use the PetSafe Treat Pouch because it snaps closed to prevent treats from falling out if I'm running around with my dog.
Safety First on Sniffari!
Keep your dog on leash. Unless you're in a designated off-leash area, keeping your dog on leash prevents them from running up to other dogs or people that might be uncomfortable with that type of interaction. It also gives you a way to make sure they don't wander into dangerous areas, like roads or thick brush.
Avoid retractable leashes. I don't recommend ever using a retractable leash for walking your dog for a variety of reasons. Not only can they be dangerous, but it will actually hinder your dog's loose leash walking training. Read more about why retractable leashes aren't the best in our article "Retractable Leashes: Useful or Harmful?".
Give people and their dogs space. Don't allow your dog to rush up to others while on their long leash. Stay aware of who and what's around you and call your dog back to a closer distance when others are nearby. This way you'll prevent any rude or overwhelming greetings, and ensure that everyone can enjoy the outdoors.
A sniffari walk is just one way to keep your dog from getting bored — check out more in our Top 10 Boredom Busters for Your Dog. Tell us where you and your dog like to go on sniffari in the comments below!
Related Articles
Choosing the Best Leash for Your Dog
Loose Leash Walking
6 Tips for Taking Your Dog Off-Leash
What To Do When Approached by an Off-Leash Dog
Choosing the Best Interactive Toys and Food Puzzles for Your Dog
3 Simple Steps to Choose the Best Chews for Your Dog
Short and Sweet Training Sessions with Your Dog
Take Advantage of Daily Dog Training Opportunities
What You Should Know Before Taking Your Puppy to the Dog Park