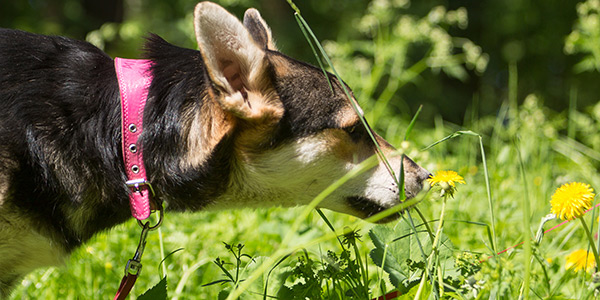 If your dog is bored and you're looking for new and fun ways to burn off some of their excess energy, go on a sniffari! Your dog will enjoy the freedom of getting to explore at their own pace and sniff all the wonderful smells they encounter. These walks also give us humans a chance to decompress and take in nature.
Using their sense of smell is incredibly enriching for our dogs. They're using a lot of brainpower to sniff through all the information they find, which makes this activity a great option for mental exercise.
Watch Sookie the Cardigan Corgi show you how it's done in this video:
What You Need For Your Sniffari Dog Walk
A Long Leash
You want to give your dog some room to move, so a leash at least 10 feet long is best. There are lots of options for long leashes out there. Find one that is comfortable for you to hold and at a length you can manage. I like working with this 30-foot lead by SportDOG that's easy to see and even floats in water.
Dog Treats
Bring along some yummy snacks for your dog while out on sniffari. This way you can reward them for choosing to check in with you, you can practice teaching them Come-When-Called, or reinforce any good behavior that you want to see more of! A sniffari is a great opportunity for training around distractions.
My current favorite treats for my dogs' sniffaris are a mixture ranging from low-value to high-value. I reserve the high-value treats for amazing recall responses or in highly distracting moments when I ask for something. Otherwise, I use low to medium-value treats. You can learn more about different "grades" of treats and how to use them effectively in "What Kind of Treats Should You Use in Dog Training."
Dog Treat Pouch
Keeping your dog treats in an easy-access pouch or bag means your pockets won't smell like turkey. I absolutely love to stock my Voilà silicone treat pouch with fresh tasty treats for sniffari walks. It has become my favorite treat pouch for high-value treats because it's easy to clean and easy to use. No more sticking plastic bags full of chicken in my other treat pouches or pockets. It's a popular pouch with dog trainers everywhere and sells out quickly.
As a special offer for our readers, use coupon code PV10 to receive 10% off a Voilà treat pouch.
I also recommend the PetSafe Treat Pouch because it snaps closed to prevent treats from falling out if I'm running around with my dog. It works well for freeze-dried, semi-moist, or dry treats, but I would not recommend storing fresh "human-grade" treats like turkey hotdogs, chicken breast, or cheese in there because it's hard to clean.
Safety First on Sniffari!
Keep your dog on a leash. Unless you're in a designated off-leash area, keeping your dog on a leash prevents them from running up to other dogs or people that might be uncomfortable with that type of interaction. It also gives you a way to make sure they don't wander into dangerous areas, like roads or thick brush.


Avoid retractable leashes. I don't recommend ever using a retractable leash for walking your dog for a variety of reasons. Not only can they be dangerous, but they will actually hinder your dog's loose leash walking training. Read more about why retractable leashes aren't the best in our article "Retractable Leashes: Useful or Harmful?".


Give people and their dogs space. Don't allow your dog to rush up to others while on their long leash. Stay aware of who and what's around you and call your dog back to a closer distance when others are nearby. This way you'll prevent any rude or overwhelming greetings, and ensure that everyone can enjoy the outdoors.


Stay aware of environmental risks in your area. If you live in an area where foxtails are prevalent and in season, be cautious about where you take your dog on sniffari. Foxtails can do a lot of damage to a dog! In my area, foxtails are everywhere — when they're in season, I only take my dog on sniffari in large, open park spaces and avoid long grassy areas.


Steer clear of wildlife. You don't want your dog getting bit by a snake, licking a Bufo Toad, or making friends with a porcupine. Having your dog on a long lead gives you better management to avoid wildlife encounters. Work on snake avoidance training and practice an emergency recall for these situations as well.


Make sure your pet is protected against fleas, ticks, and other parasites! Your dog should be on year-round parasite preventatives, including heartworm prevention. You don't want any unwelcome "guests" hitching a ride in or on your dog.


Do a post-sniffari body check of your dog. After your sniffari, check your dog all over their body (including in their ears and their paws) for foreign debris, ticks, and foxtails. Small rocks might be in between their paw pads, or other foliage might be stuck in their fur. If you do find a tick, read our article "How to Remove Ticks: What to Do and What NOT to do."
A sniffari walk is just one way to keep your dog from getting bored — check out more in our Top 10 Boredom Busters for Your Dog.
Tell us where you and your dog like to go on sniffari in the comments below!