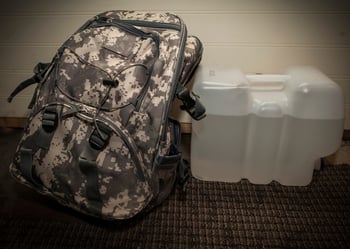 If and when disaster strikes, the last thing you want is to scramble for supplies.
Whether you have to hunker down or evacuate to safety, there won't be much time to worry about finding food, water, and other necessities — and that's if the store shelves haven't been picked clean already.
So it's vital that you not only have an emergency plan but also an emergency kit — for you and your dog or cat. Hopefully, you will never have to use this kit for the pets in your family. But you will feel a lot better knowing that you have what you need, even if you never need it.
Below is a list of essentials everyone should have ready for a pet emergency kit. (Full Transparency: Product links are Amazon Affiliate links. Learn more here.)
Water
Food is important, but water is vital. A natural disaster such as a hurricane, flood, or earthquake can easily knock out public utility lines, leaving you without water for days or even weeks. Water not only takes up a fair amount of space, but it's heavy as well, especially when you're talking about enough clean water to last several weeks. It's always good to have a backup supply of water in jugs or bottles. It's even better to also have a filter or water-treatment solution so you can provide clean drinking water for your dog or cat. Filtration systems are preferable, but they can take longer to clean the water, in which case purification tablets are handy in a pinch. So it's best to have both. Here are some of our favorite options.
Filtration Systems:
Water Purification Tablets

Food
How Much: 1–2 weeks worth of food.
How to Store Food: Canned food, if unopened, will stay fresh for 2–5 years. Dry food can last for about a year in the bag, but will only keep for a few weeks after the bag is opened. Keep your food stored in a cool, dry place where the temperature won't rise above 100°F (38°C) or fall below 50°F (10°C). If you want to set aside dry food, keep a vacuum-sealed bag on-hand and rotate out the food every 1–2 months to keep it fresh for when you need it.
Vacuum Sealers to Preserve Food Longer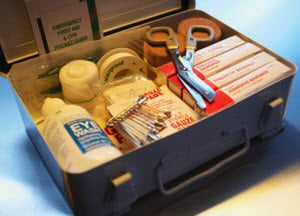 First-Aid Kit
For more information about building a pet first-aid kit, check out our complete guide, shopping list, and direct links to some of our recommended brands and products.
Putting together a smaller, "travel" first-aid kit: So you can have a first-aid kit at the ready during an emergency, we have indicated items that can be included in a smaller, secondary emergency kit for your car. Just look for the 🚗 icon.
Storage Tub/Bag
What Type? Either a waterproof backpack; a duffel bag; or a large, sealable plastic tub.
Which is Best? If you need to hunker down in your home, a plastic tub might be easiest to store. However, for an evacuation, a backpack or duffel will make for easier transport. In either case, choose a waterproof option to protect your emergency pet supplies from floodwaters, rain, etc. For a backpack, make sure it's not only waterpoof, but has compartments to easily section off different items and (preferably) has webbing on the outside or some other way to hang extra items — like water bottles, "dry bags," a flashlight, and even a poo bag holder.
Smaller Dry Bags:

Carabiners and D-Rings for Hanging
TIP: Take a photo of your emergency kit and where it's stored in case you need to instruct a family member or neighbor on what to look for and where to find it in the event of an evacuation.
Restraint
Include extra leashes and harnesses. If you don't have one already, a crate or carrier is a great way to transport pets without having to worry that they might get loose or run away. To learn how to properly crate train your dog or cat so they're not afraid of it, read "Everything You Need to Know About Crate Training Your Puppy or Adult Dog" and "Tips to make a carrier a cat-friendly place."

Extra leash (a slip leash is great and easy to pack)
6-leash pack
6' length

6-leash pack
4' length
Label the Crate or Carrier: Get a sticker or label for your crate/carrier and include your pet's name, your name, and how to find you. Also include any important medical information for your dog or cat. And if you haven't yet, make sure your dog's or cat's ID tags are up to date.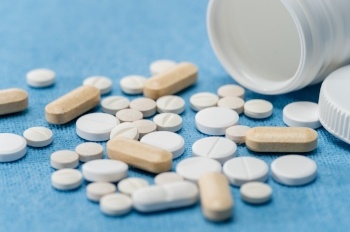 Medications
Store an extra 2–3 weeks worth of any medications your pet needs for a chronic condition. Ask your vet about picking up an emergency supply and be sure to switch out the emergency medications before they expire.
Keep medications in sealable plastic bags, or a waterproof case.
Potty Supplies
In an emergency, your dog or cat will still need to "go" even if you can't take them outside or give them access to their regular litter boxes.
For Dogs: Stock up on poop bags — there are even scented options to mask the smell. You should also pick up some absorbent potty pads so your dog has a place to urinate if you can't go outside. (In addition to the following items, set aside a box of large, heavy-duty garbage bags to collect your dog's or cat's waste so you don't end up with an open pile of used poop bags and potty pads.)
Poop Bags
Potty Pads
For Cats: Set aside extra litter boxes and enough litter for your cat or cats to have clean boxes for 2–3 weeks.
Litter Boxes
FULL TRANSPARENCY (Amazon Affiliate Links)
If you click one of the Amazon links provided in this article and you choose to purchase something, Amazon will give us a "treat" (small affiliate fee) for being good. Not enough treats to make us fat (which is a good thing… we wouldn't want to develop a bad case of pancreatitis or become obese), but enough to keep us happy while we review more great products and write even more articles about important stuff that you're gonna need to know.

So thank you for the treat. You can't see it... but our tails are wagging!
Additionally, we are NOT compensated by any company for recommending their product. We make our own assessment and provide recommendations we feel will be most helpful for you.