Searching for that perfect present to pamper your pet this holiday season? Need a gift for the dog lover in your life? We've rounded up our favorite gifts for both pooches and the people who adore them. From tech-savvy pups to the dogs who just want to relax, you'll find something for all types of dogs and their people!
Best Dog Bed & Blanket Gifts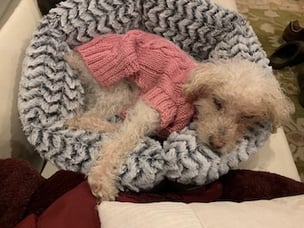 Best Beds for Small Dogs
One of the best beds for small dogs, this Soho Round bed was proven a favorite for our office senior dog, Daisy the Toy Poodle. When she curled up and sank into the memory foam, you could see her body relax. This is a perfect cozy little bed for small dogs and puppies.
If your pup loves to nest in their bed, the Calming Cuddler from PetFusion provides a perfect place for them. The loose blanket on top allows them to burrow in surrounded by the bolstered sides. A memory foam base provides orthopedic support.

Looking for a soft, cuddly place for your dog to curl up? A popular classic is the donut bed, which is a favorite of both my younger dog and my senior pup.
Best Beds for Large Dogs
It can be tough to find comfortable beds for large and giant dog breeds, but Furhaven offers Jumbo, Jumbo Plus, and Giant sizes. This micro velvet mattress is sophisticated, stylish, and offers a variety of fillings to choose from, with orthopedic, memory foam, and gel filling options — it's perfect for older dogs that need extra support for their joints (and comfortable for people to snuggle up on too!).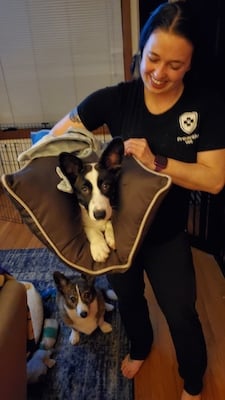 If your dog loves to romp around outside before naptime or they accompany you on camping trips, the indoor/outdoor versatility of the Super Snoozer bed is a perfect match. I love this bed for my two Corgis, who deign to share it with each other after zoomies in the yard. We call it their "raft." It's lightweight and water-resistant, but fluffy and comfortable. And I can just toss it in the washing machine when it gets dirty or muddy.
Best Cozy Dog Blanket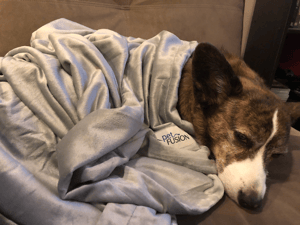 I must admit, this PetFusion blanket is so cozy that I tend to steal it from my dogs to use myself. This microplush blanket looks and feels luxurious and is oh-so-soft, making it perfect to wrap around you and your dog for cuddles on the couch. Lightweight and machine-washable, this blanket can pull double-duty as part of your dog's bedding or as a crate cover or furniture cover. If you have a dog that likes to burrow and nest in blankets, this one is for you!
Best Blanket for "Hot" Dogs
I was a bit skeptical of a cooling blanket for my dogs but found that they preferred curling up on this during a summer heatwave. If you live in a hot climate but want to provide some comfortable padding for your dog, this blanket is the ticket! I tried it myself and was pleasantly surprised at how it wicked away excess body heat.
---
For the Dog Who Wants to Know Themselves
Embark Dog DNA Test | Breed Identification Kit
Ever wondered where your dog got their floppy ears? Or their love of digging? Knowing your dog's genetic makeup is not only fun but also important in understanding their behavior and any genetic predispositions for health issues.
For years I called my previous dog a Husky-Corgi mix, but after sending in a cheek swab, I found out he was actually a Chow-Shepherd-Lhasa-Golden-Supermutt. It definitely explained some of his more cheeky quirks.
Best Gift for a New (or Seasoned) Dog Owner
101 Essential Tips — Dog Health & Safety
101 Essential Tips — Dog Behavior & Training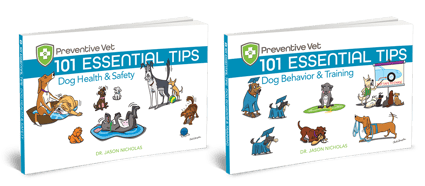 A perfect gift for brand new dog owners and long-time dog people alike, these books provide life-saving and sanity-saving tips that make dog ownership easier. Written by a veterinarian and edited by a certified canine behavior consultant, get the most up-to-date health and training tips. Fun and entertaining to read, you'll learn something new on every page!
— Paperback: $11.95 — Digital Web-Book: $4.99
Best Enrichment Gifts: Toys & Puzzles for Dogs
Snuffle Mats
A snuffle mat is a great way to burn excess energy and slow down speedy eaters. My dogs take about ten to fifteen minutes to eat her breakfast kibble when it's spread throughout this blanket puzzle and then they're ready for a nice long nap afterward. If you have a dog who needs some brain games, this is a great option!
Stuffie Dog Toys
Stuffed dog toys from goDog are an absolute necessity for dogs that love their stuffies — they're made with chew guard technology that holds up to intense chewers! I love this brand since my Corgi likes to find the seams of stuffed toys and surgically open them up to pull out the squeaker, but she's had a few different toys from goDog that have stayed intact for years now. Cute and tough, what more could you ask from a stuffie? If your pup is all about trying to eat the toy stuffing, opt for stuffing-free toys instead!
Interactive Dog Toys & Puzzles
Stuff your dog's stocking with a stuffable food puzzle and then stuff the toy with their Christmas dinner! Interactive food puzzles and stuffable toys are used extensively by dog trainers everywhere to slow down eating, help with crate training, separation anxiety, and simply work out a dog's brain. I've included my favorites below:
Boredom Buster Gifts for Dogs
Flirt Pole Dog Exercise Toy with Fleece Lures
What's a flirt pole, you ask? Well, it's basically a cat toy for dogs! Perfect for dogs that seem to have no "off switch", a flirt pole toy is a great way to burn energy quickly and easily. It's especially useful for training things like impulse control and 'leave it' for dogs that love to chase squirrels.
This licking mat from Hyper Pets is an easy way to entertain a bored dog. Simply spread a thin layer of peanut butter (xylitol-free of course!), greek yogurt, mashed banana, or your dog's wet food and freeze for a tasty treat and boredom buster in one. This also makes a great option for anxious dogs hanging out in their safe space during stressful events such as fireworks or holiday parties. Licking is a naturally calming behavior and helps relieve stress and anxiety.
For Fetch Sake

The PV pups here in the office will riot if we don't take them out for twice-daily fetch recess, and the Best Fetch Stick is their favorite thing to retrieve. This stick is a safer alternative to regular wood sticks that can injure dogs during play, plus it's easy to see and easy to clean. Available in a variety of colors and three sizes — there's even a "baby" size for those toy breeds that want to get in on the fetching fun!
— from $19.99 on PreventiveVet.com
For the Techie Pooch
Furbo Treat-Tossing Dog Camera
The Furbo camera combines the peace of mind from being able to keep an eye on your pup day or night (it's got night vision!), with the ability to toss treats using the Furbo app on your smartphone. It even has a bark alert, letting you know when your dog might be making a ruckus so you can calm them down via the built-in microphone. This is a must-have for pet parents whose pooches have separation anxiety or for those that simply want to be able to check in on their pup any time.
For the Dogs of the Night
NiteHowl LED Safety Dog Necklace
Stay safe during these dark winter evenings and early mornings by lighting up your dog on their walk. Available in a variety of colors (there's even a rainbow option!), this light up LED collar is one size fits all — just trim to the size you need. Go light up the night and make it easier for drivers and other pedestrians to see you and your dog.
Holiday Swag for Dapper Dogs
Christmas Festival Dog Collar Collection by Blueberry Pet
If you've got pictures with Santa coming up for your pup, it's essential to get their holiday outfit just right. Blueberry Pet has lots of festive options for holiday collars, and even includes removable "flair" like bowties, holly leaves, and a gingerbread man that you can slip on your pup's collar for their holiday party debut.
Who Doesn't Love Christmas Socks?
Cartoon Dog Cotton Crew Socks for Women 5-Pack
Getting a pair of socks for Christmas is just tradition ... no? Just my family? Well, these socks are so adorable that everyone will want to make socks for Christmas the next big thing. These Cartoon Dog Women's Socks are cozy, cute, fun, and perfect for padding around the house in pajamas or out and about.
Personalized Pet Face Photo Socks by MyPupSocks
Who doesn't want socks that show off your pup's gorgeous face? A great option for a new pair of dress socks that the dog-loving man in your life will love to show off at the office.
For The Friend That's Allergic to Dogs
"The Year of the Dogs" Photography Hardcover Vincent J. Musi
This gorgeous collection of dog photography makes a striking coffee table addition. Portraits taken by National Geographic photographer Vincent Musi, the accompanying stories of rescues, purebreds, puppies, and senior dogs inspire laughter and love of the canines with whom we share our lives.
For the Love of Dog Derrière
Dog Butt Magnets by Kikkerland
Can you tell the dog breed by their derrière? These dog butt magnets make me laugh every time I open my fridge, and the set comes with the ever-important fire hydrant as well. This makes a funny and quirky gift for the dog lover in your life.
Matching Loungewear for the Whole Family
These matching pajamas include a pair for your dog (or cat!) and are a must for an adorable and cozy holiday morning together. Whether you go with the more classic year-round patterns or are looking for that holiday-themed set, PajamaGram has got you covered.
For Iconic Pups
Custom Pet Portrait from Crown & Paw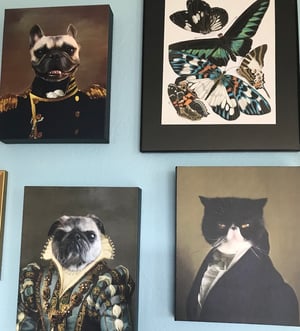 Want to immortalize your dog on an art masterpiece? Look no further than Crown & Paw. Simply choose from a variety of costumes and themes to find the best match for your dog's personality and upload a photo. You'll be sent a proof of your dog's portrait that you can then have printed on canvas, blankets, phone cases, and more!
For the Dog Who Never Stops Shedding
If you've got someone on your list that's tired of sweeping or vacuuming up unwanted dog hair (hint: every dog owner ever), show them how much you care by gifting a robotic vacuum that does the work for them! This vacuum works on carpet and hard floors and runs for up to 90 minutes before docking itself to charge.
Need gift ideas for the cat lover in your life?
Check out our recommendations in our Best Holiday Gifts of 2021 for Cats and Their People.