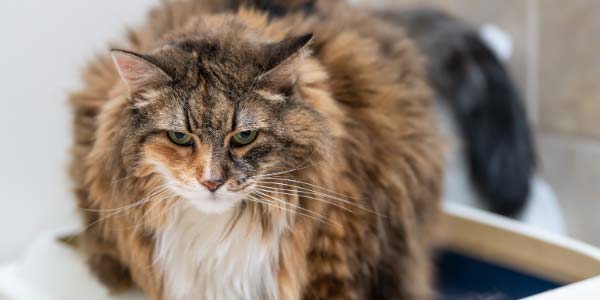 A litter box is probably the first thing you consider buying when welcoming a new cat into your home — and for good reason!
Despite the litter box being at the top of the shopping list in terms of your cat's needs, very few people, including myself, ever put much thought into what type of litter box to buy.
However, for me that recently changed, leading me to the find the best litter boxes for any cat or situation.
Read on to find out what makes these litter boxes "heads and tails" above the rest, the best way to limit cat litter from being tracked all over the house, and the best way to dispose of your cat's deposits!
Choosing the Right Litter Box
I have had cats my entire life, and have probably tried every litter box at some point!
There are small litter boxes, large litter boxes, litter boxes with a roof and door, litter boxes that are actual boxes with a hole on the top, litter boxes shaped like domes, litter boxes inside of furniture, litter boxes inside planters, self-cleaning litter boxes, and even litter boxes that hook up to human litter boxes (toilet).
With all of those choices, how is someone supposed to make the right choice? It can be a daunting task, but we have you covered.
My life improved significantly when I finally found the best litter boxes, after a lifetime of disappointment. Now, everyone's home layout and needs are different, but these boxes that I've used for years are perfect in so many ways. Through trial and error, I also discovered the best litter box mat to catch excess litter from being tracked throughout your home. And are you tired of filling up a small bag with poop and running out to your garbage every day? I found a solution for that as well.
What to Look for When Choosing a Litter Box
Before I get to why my litter boxes are the best, I should probably explain why my sudden obsession with litter trays! My initial plan was to adopt one kitten, but it was just too tough to not adopt his brother and sister too. And by tough, I mean my wife came home with three kittens. At the time, I figured there couldn't be much difference between three kittens and one kitten — other than more food, bigger bags of litter, and a lot more cuteness.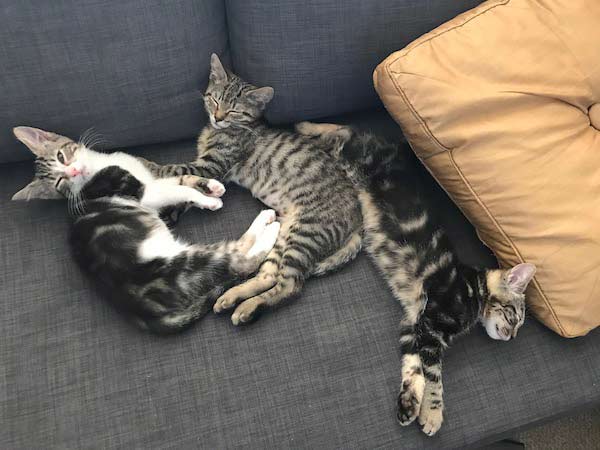 Think about your own bathroom. Chances are you would love to expand your loo, giving you much more room to roam and relax. It's really no different for your cat. They don't want to be cramped either, and chances are they will take their business elsewhere if they don't like what you've provided. These four factors should come into play when you are decided on litter boxes:
Size (length and width)
The height of the sides
Covered or uncovered
Shape (what works best for your space)
This is a good time to emphasize that you need multiple litter boxes, even if you have only one cat. They love (really need) choices for where to go. And if you have more than one cat, think of it this way: humans don't like sharing a bathroom, so imagine multiple cats having to share one litter box! If your cat isn't liking their litter box, there could be many reasons for it.
If you want to learn more about why cats might have an aversion to their litter box, read "Inappropriate Elimination and How to Prevent It" by Dr. Chris Pachel, a board-certified veterinary behaviorist.
What Kind of Litter Box is Best For Kittens, Seniors, and Cats with Mobility Issues
As I alluded to earlier, most of us may not give a lot of thought to the first litter box we buy for a kitten. However, through the years I realized that I was thinking too short-term and not making sound purchases.
You shouldn't have to get rid of litter boxes because your cat grows up. While this litter box is perfect for kittens, you don't need to replace it. It can last their whole lifetime. The most important thing you want for a kitten is low sides, so they can easily get in and out. This low-entry feature doubles as an advantage as your cat ages — if they ever have mobility issues or an injury that makes climbing into the box painful.

KittyGoHere Litter Box
Buy on Chewy | Buy on Amazon
What I love about the KittyGoHere Litter box is that it's big enough for multiple kittens with only a 3" step-up to get inside! And with 20"x24" dimensions, it's big enough to accommodate multiple cats.
However, when our kittens started to grow, I knew that I would have to start providing more than one litter box, and it needed to have even more room. Not only because they were getting bigger, but because there were three of them.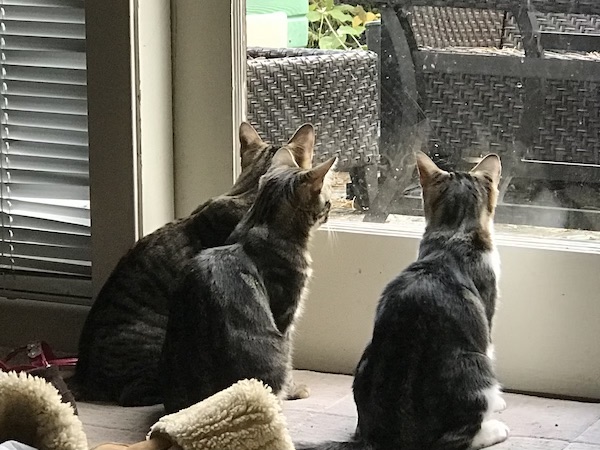 What Kind of Litter Box is Best for Cats
The litter boxes I have for my cats now are the best thing I have ever purchased for them. These boxes, and the accessories I mention below, also make my life much easier. When I found the Petmate Giant Litter Pan, my litter box life changed. And I'm not alone, considering out of thousands of reviews, 90% have given this litter pan a 5-star rating!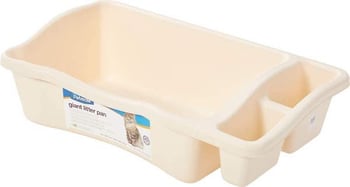 Petmate Giant Litter Pan for Cats
Buy on Chewy | Buy on Amazon
It's like having two litter boxes in one! The Petmate Giant Litter Pan lives up to its billing. It provides your cat with plenty of room to maneuver (nearly 35" length, 20" width, and 10" high). With convenient side compartments, you can store a poop scoop and bags. Even more amazing is this litter pan can take up to 30 lbs. of litter! I wouldn't suggest using that much litter because it's more difficult to get to their deposits, and you have a better chance of being left with excess litter outside the pan. And no one likes cleaning up that mess.
The average cat is approximately 28–35" in length, including its tail. It's this measurement that you want to use when determining if the litter box is big enough. Ideally, the box should be as long as your cat.
This pan prevents spraying
If you have male cats, as I do, you may be very familiar with their spraying. Now some spraying could be for behavioral or medical reasons, but in my case, it was just an "aiming" issue. They like to go high! This meant they'd hit the wall or spray on the floor. This was no fun to clean up.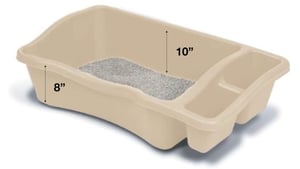 Because the sides of the Petmate Giant Litter Pan are 10" high, this was an absolute life-saver. I had noticed that our male cat Rajah was peeing rather high on the sides of the litter box. This was unusual for him, and we wondered if there was an underlying health issue. Fortunately, after taking him to our veterinarian, he was given a clean bill-of-health. But if it weren't for the 10" high sides, it could have been a smelly mess!
Cats like (and need) a large litter box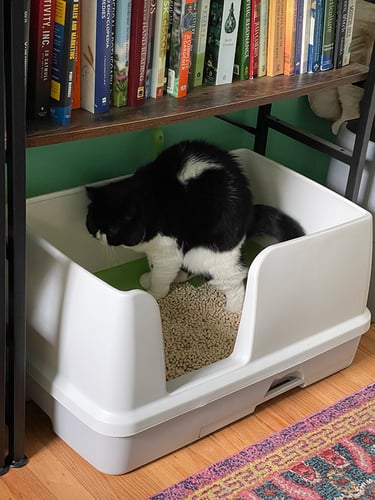 Preventive Vet kitty, Mazel, loves using the XL Tidy Cat Breeze litter box system and his mom loves that it's easy to clean and controls odor really well. It's not the least expensive option, but it truly does keep bad smells at bay and there's no messy litter getting everywhere.
At most, a few pellets make their way out of the box, but they're easy enough to toss in the garbage, or if they're clean, right back into the box.
When space for your cat's litter box is an issue
Space to put litter boxes can be a concern for many, especially when you're trying to accommodate more than one litter box into your home, which your cat will really appreciate!
Because we have a multi-level home, we have litter boxes on both floors. Trying to find a good place for a litter box inside our house has been a lifelong struggle. It's right up there with hiding electrical cords from being seen. I wanted to place another litter box in our laundry room, as well as a downstairs bathroom, but space was a problem. We needed something as large as the Petmate, but I didn't have the room for that rectangular shape. And then I found this gem! Nature's Miracle High-Sided Corner Litter Box.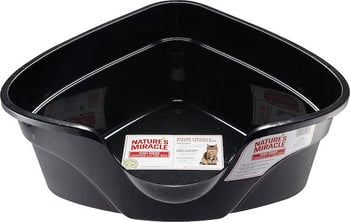 Nature's Miracle High-Sided Corner Litter Box
Buy on Chewy | Buy on Amazon
This litter box truly is a miracle for those with limited space. Despite being tucked into a corner, this 10" high litter box also gives your cat another 26"x23" of litter box luxury. Plenty of room to move around, and the high sides help avoid unwanted accidents, like spraying or rogue litter.
Click here to read more about the best places to put your litter box.
What Box is Best for Keeping Litter Inside
Some of you may have cats that like privacy or have a habit of kicking litter all over the place. You may prefer something completely covered. Now, I'll warn you that covered boxes can cause issues for cats with asthma or arthritis, especially if the door is small or the entry is too high. However, if you have many litter boxes to choose from, your cat may do well with it and you may appreciate it too. Just keep an eye on your cat — if they're not using it, then you know how they feel about it. And you can be fairly confident that they will find an alternative place to do their business.
I love the Catit Jumbo Hooded Cat Litter Pan because it's still really roomy, keeps the litter inside, and has a great swinging door that the cat can walk through easily.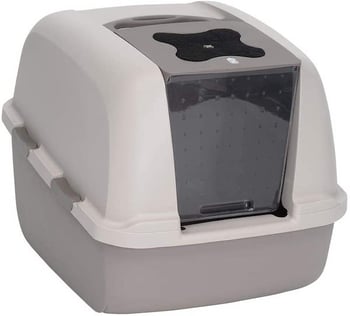 Catit Jumbo Hooded Cat Litter Pan
Buy on Chewy | Buy on Amazon
There are a number of other options, including the Booda Domes or ones that are accessible from the top. However, I've tried both and found that Booda Domes are cramped and you'll spend more time cleaning up the mess all over the inside of the container, rather than just scooping up the poop. And the top accessible versions seem to be equally messy with our cats jumping out and the litter following them.
How to Keep Litter From Tracking
If you use clumping clay litter, you know what a mess it makes around the litter box. Our cats prefer this type of litter over sand or natural products. So, litter particles are a very big deal to me. I like to walk around the house barefoot and notice the slightest variance on our floors. Whether it's a Fruit Loop on the kitchen floor or a small crumb fallen from a cookie, I feel it and cringe. You can imagine how I feel when walking around barefoot, only to lift my foot to find it peppered with litter particles!
Check out this article for more recommendations on different types of litter, even ones that are best for cats and humans with asthma.
Like litter boxes, I have auditioned a number of litter mats and rugs over the years. And honestly, I feel like I spent an equal amount of time cleaning the surrounding area as much as I did the litter box. It's inevitable. Your cat traps litter particles on their paws, and when they exit, it's like picking up several hitchhikers along the way. I don't mind cleaning that up, but I needed something that did a better job of trapping the excess litter.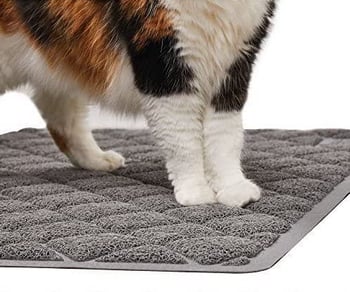 Gorilla Grip Original Cat Litter Mat
Buy on Amazon
Gorilla Grip has figured it out! They have developed a mat that not only traps excess litter from your cat's paws but practically hides it within the woven fabric until you're ready to dump. Really easy to clean. And it's soft on your kitty's paws. You can choose from nearly a dozen different colors and several different shapes and sizes, including a half-circle and a corner shape.
The Best Way to Dispose of Your Cat's Waste
First things first – if you are not cleaning your litter boxes every day, you should be! Cats are particular – they too like a clean space to do their business. It's also important to clean their litter daily so that you can monitor any changes in their bathroom habits. Changes in their waste or how frequently they go could be a sign of a health issue.
Disposing of cat's waste is commonly done with biodegradable bags and thrown in the trash. I'm not looking to change this process, rather to improve it! I prefer not to go out to the garbage every day. Sure, it's not a huge inconvenience, but I just feel like it is energy that could be spent elsewhere. I had seen the Litter Genie at some pet stores and thought it was an interesting version of the popular Diaper Genie for babies. And that's when it hit me. Our son had recently been potty-trained, and we no longer had a use for the Diaper Genie. Or so I thought!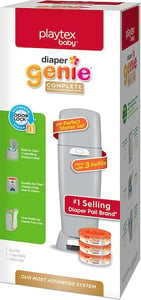 Playtex Diaper Genie
Buy on Amazon
The Diaper Genie is nearly three times bigger than the Litter Genie, so you have to empty it out far less frequently. When you're ordering refill bags, you will find they are cheaper for the Diaper Genie than the Litter Genie. I know this from experience. I had purchased two Litter Genies before having my epiphany about the Diaper Genie. Trust me, using the Diaper Genie to dispose of our cats' waste was one of my better ideas! I know — I'm kind of a genius.
You don't necessarily have to buy a new Diaper Genie, considering there a number of sites where you can find used baby products. However, if you want the convenience of just ordering a spanking brand new one, it's a good investment.
Hopefully, this guide to a better litter box experience has been helpful. I know that I will never stray from any of these products, as long as they are being made. And in the case that I need to look for an alternative in the future — don't worry, I will make sure you know what I've found!