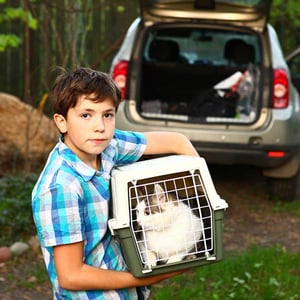 Traveling with your cat can be an adventure. While a lot of cats don't enjoy car rides, you can make the trip more comfortable and safe for them by restraining them properly. This will protect them from flying around the car, keep them from getting under your feet, and save you from becoming your cat's jungle gym.
When your pet is restrained, their risk of injury decreases dramatically — if you need to stop suddenly, your cat won't go flying. Many pets are injured each year when their owner stops suddenly and they are projected forward, hitting the back of a seat, or worse, the windshield.
Also, if you're involved in a crash, the restraint helps keep them from getting injured and even from running away from the scene, since they'll be scared.
There are lots of great products out there on the market today that can help you properly and safely restrain your cat during travel, and ones that have been certified-crash tested by the Center for Pet Safety (CPS). If you already have a carrier or crate for your cat, you can secure it in your vehicle with a seatbelt or straps designed to secure carriers.
There are many types of restraints for your vehicle, so you can choose the right one for you and pet. Because cats typically don't like wearing a harness, a carrier or crate is the best option in a vehicle. If you're also traveling with a dog in your vehicle, read about the options for keeping your dog secure on the road.
If your cat hasn't used a carrier, or needs help to become comfortable in it, read about how to help ease carrier stress.
Carriers
Carriers are an excellent and safe way to transport cats during travel, as long as the carrier is belted in, strapped down, or otherwise secured in the backseat or cargo area. They exist in both hard- and soft-sided options, and many have a built-in way to secure the carrier in your vehicle.
Sleepypod's Air carrier is compact and has straps on either side that attach to a seatbelt. With plenty of ventilation and compact size that doubles as a way to travel with your cat in the cabin of an airplane, the Sleepypod Air is a good option for the world-traveler.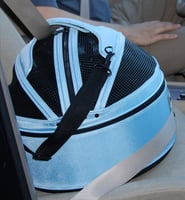 The Sleepypod Mobile Pet Bed is a bed, carrier, and car seat — all in one! The Mobile Pet Bed is a stylish bed that you can use on a daily basis, and when you zip the top on, it becomes a carrier that you can secure with a seatbelt to become a comfortable car seat for your kitty.
And, because it's a bed, your kitty relaxes in it at home, so having the top on may not be so traumatic for them when you need to use it in the car. It goes a long way to reducing their fear and stress of travel and going to the vet.
This hard sided carrier by Amazon Basics has two doors, including one on the top which allows for easy loading and unloading of your cat. Make sure to secure the crate to your vehicle with straps like these.
Crates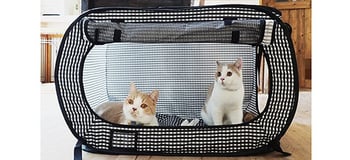 The Necoichi Portable Cat Crate is lightweight, making it a comfortable space for your cats at home or on the go. It's an excellent way to transport cats in the car, with an easy-open design that pops right open and features built-in seat belt straps.
The two mesh panel sides allow for breathability and visibility, and can also be rolled down when it's quiet time. There's also room for a litter box, which makes this a good choice for longer road trips.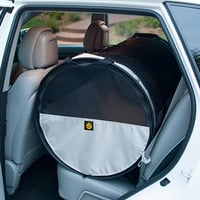 This Pet Tube Crate expands to the width of the backseat of your vehicle and offers room for a small litter box. The claw-proof fabric secures to standard car seats and comes in two sizes.
If your cat dislikes the car or traveling, learn ways you can make travel easier on them.