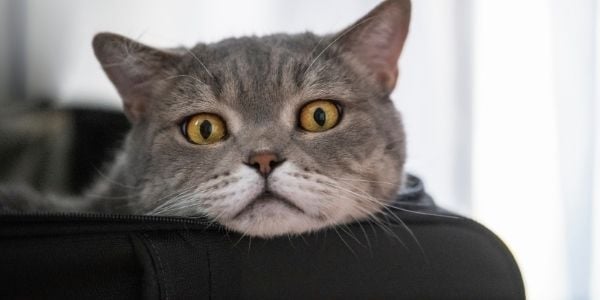 For most of us, the thought of taking a drive with the cat in the car is probably not that appealing.
But believe it or not, if a cat is properly acclimated and conditioned to riding in a car, they will actually learn to really love it. And you will too!
During the summer months and around the holidays, many of us plan or go on family vacations, and more commonly, families are including their furry feline. The summer is also a busy time for people buying and selling homes, which sometimes means a long-distance move.
Hopefully, your cat is young or has not had a traumatic experience in the car, making your upcoming road trip more viable. Don't despair if this is not the case; even "more mature cats" can be taught new car riding tricks.
Getting your cat ready for a road trip
Step 1: Get your kitty to love their carrier.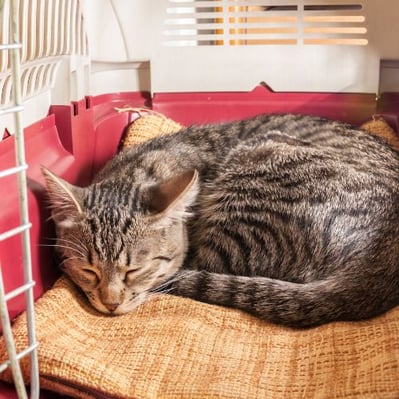 If they're going to ride in the car, like you, they'll need to be safely "buckled up" to protect not just them, but everyone in the car and on the road.
After all, unrestrained cats can be a distraction, interfering with your ability to steer or brake, and even become a dangerous projectile in the event of a crash or sudden stop. Like in this case of a cat loose in the car, distracting the driver and causing three accidents!

In order to make restraint stress-less for your kitty and yourself, spend some time training your cat to love their carrier before the big travel day arrives.
Don't have a carrier for your cat yet? See further below for our recommendations, including carriers that are crash test certified.
Step 2: Get your cat to love the car.
Now that your kitty loves their carrier, it's time to get them loving the car, too! Here are some steps to help you do that. Pro Tip: This car acclimation step is best done with two people … one to drive the car, the other to pet, praise, and treat kitty! That said, it can be done with one person, too, but very carefully.
Take kitty out to the car, in their carrier.
With the car parked and the doors and windows closed, sit in the back seat with your cat in their carrier. Partially open one of the carrier doors to get your hand in to play with your cat, pet them, praise them, and give them treats. (Caution: For your own safety and that of your cat, avoid doing this type of in-car training when the weather is too hot or too cold.)
Once kitty seems settled in and happy in their carrier in the car, place an interactive, treat/kibble-dispensing toy in their carrier with them (the Egg-Cersizer and the SlimCat are great choices ).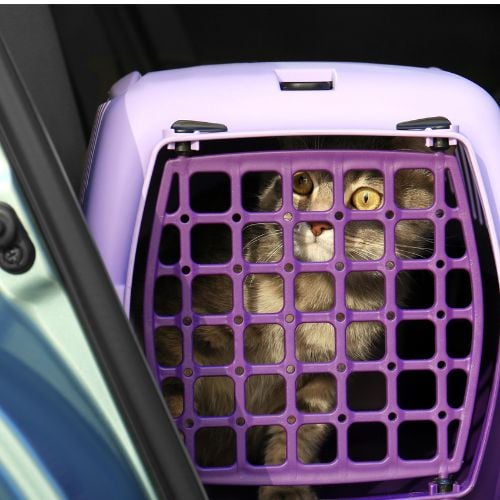 This will help to keep them engaged, playing, and happy when you eventually progress to the "real thing" … driving. I recommend putting in a combination of both their regular kibble and a few yummy cat treats – but don't fill the dispenser up too much, just about 10–15 pieces total, as you don't want to make it too easy and you don't want kitty stuffing themselves.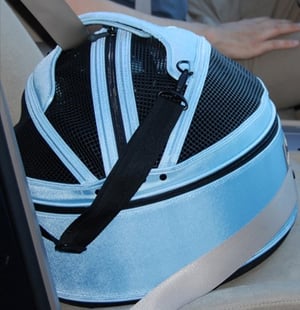 Now, buckle in kitty's carrier to the seat (back seat is best, so your cat is less likely to be a distraction to you and so you don't have to worry about the passenger seat airbag injuring them in an accident or sudden stop). Now start up the car. See how kitty does with the sound and vibration of the engine running.

Also see how they react when you turn on the air-conditioner or heater, and don't forget the radio, too! And, by all means, feel free to comfort, soothe, and treat kitty if they get stressed by any of these sounds.

Contrary to what you may think, and what many people may claim, you're not going to reinforce or worsen their anxieties by comforting them. (This is obviously a step that's really only possible if you've got a second person driving the car while you're in the back seat next to your kitty.)



Caution: If your car is parked in your garage while you're doing this acclimation for your cat, either ensure that your garage door is open or move your car out of the garage and onto the street or driveway. Carbon monoxide is very dangerous for both of you!
Once your cat is comfortable with the sound and vibration of the engine, it's time to take some short trips. You don't want to overdo it here — just go down the street initially, then progress to a block or two, and then gradually extend the distance of the drives. Also, if you frequently drive with your windows open, try some of these "test" drives with the windows down for a bit to see if the sound of the air passing by and the changing air pressures are OK for kitty.

Never push these drives further than your cat is comfortable with. Also, be sure to drive calmly and go easy on the gas pedal and brakes.

Note: This step will be best with more than one person in the car so that someone can continue to monitor, soothe, and play with kitty while the other person does the driving and focuses on the road.


Continue to do these steps each day or every few days, and kitty will soon be more than happy to join for car rides!

Note: Since each cat and each situation are different, it could take anywhere from a few days of this type of training to several months for an individual cat to love car travel.
Don't have a carrier for your kitty yet?
Still using the cardboard carrier your cat came home from the shelter in? Here are some of my favorite cat carriers for car travel.
Carriers for around town and shorter trips
These can also be used for longer trips with a leash-trained cat, as you won't need the extra space of the ones linked further below to put a litter box in the carrier with them. It's best to choose a carrier that has an opening at the top, as this often makes it easier and less stressful for everybody when getting them in and out when traveling or visiting the vet. The options linked below all have easy "top access."
Sleepypod carriers: The Mobile Pet Bed (this mobile pet bed may not work for flying on all airlines) and the Air In-Cabin Carrier are truly exceptional and beautifully crafted carriers, and Sleepypod takes pet travel safety very seriously. They do their own crash testing (at the standard set for child safety restraints) on their products and also received excellent marks in the Center for Pet Safety's crash testing studies. They're a bit pricier, but if you can swing it, they're well worth the money!
Sherpa carrier: Another good choice with a long track record of being an excellent and versatile cat carrier, both in the car and when flying.
Amazon Basics two-door, top-load pet kennel: This is a hard-sided carrier that has easy open/close latches (rather than nuts and bolts) to secure top to bottom, as well as a top access door.
Take note that if you want to use your carrier for flying, make sure the size of your hard carrier fits in your airline's under-seat regulations, as the hard carriers aren't as "flexible" as the soft-sided ones when going under the seat.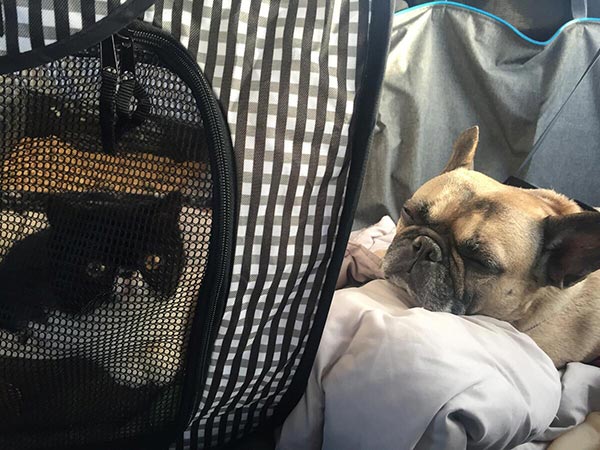 Preventive Vet team members, Mazel and Marshall on a cross-country road trip.
Mazel adapted to his carrier and integrated litter box right away. The carrier is featured below.
Cat carriers for longer road trips
Some cat carriers have more room to spread out, and some even include a litter box.

Necoichi portable cat cage and litter box: This carrier, really "cage," has straps for securing it in the car, and it can fit a litter box, which is sold separately. The cage, used on a long road trip by a Preventive Vet team member, is featured in the photo above.




Siivton 4-sided carrier: This carrier has expandable sides making this soft-sided carrier a little more spacious for your kitty than a traditional carrier. It doesn't really have enough room for you to include a litter box for your kitty within the carrier so something to consider.




It is an "extra space" option though for car travel that also has an "airline approved" claim, unlike the portable cage (above).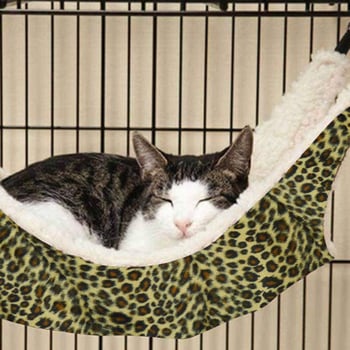 And, if you've got a lot more room in your car or SUV and really want to do right by your kitty, you can turn a large dog crate (like either of these: wire dog crate or plastic dog crate) into a kitty condo by including a nice soft mat, hammocks and/or shelves to make it multi-level (which cats LOVE!), several of their toys, a nice box or tube for hiding (which cats also LOVE!), and their litter box. Just be sure to securely strap their kitty condo into the car for everyone's safety.
Don't feel like doing it DIY, or don't have the time? Get an awesome pre-fab kitty condo instead! We know of a veterinarian who used one on a cross-country move and their cats loved it.

Note: While these kitty condo options will likely help make travel less stressful and more comfortable for your kitty, they do introduce some new safety risks for them (falling from higher shelves or having shelves fall on them in the event of an accident or sudden stop) and perhaps even for you, depending on how/if you secure it within your vehicle.

Please take these cautions into consideration should you select one of these kitty condo options. In order to make restraint stress-less for your kitty and yourself, spend some time training your cat to love their carrier before the big travel day arrives.
Car ride logistics with cats — where to go 'potty'
Jumping right down to "business," … depending on the duration of your travel adventures with kitty and where you're winding up, you're going to have to deal with potty planning and bathroom breaks. This is the case both when you're on the road and when you get to your hotel or wherever your destination is. You can help your cat take care of business on the road in a few different ways.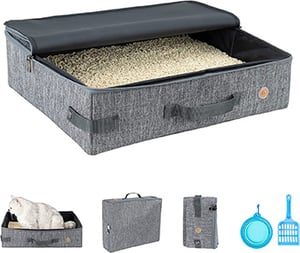 First, get them a good travel litter box, a litter they like, and (perhaps) even a litter attractant, and then get them used to using this set-up before you ever even need to use the car.
A good travel litter box will be large enough for your cat to fit in and comfortably do their business in, yet small enough to fit in their carrier (see recommended larger car cat carriers above).
If your trip isn't too far and their carrier isn't large enough to fit a litter box, your travel litter box for use in the hotel can be a bit larger. The travel litter box should also be waterproof, easy to clean, and collapsible (for easier storage), yet sturdy enough so as to not collapse on kitty when they're doing their thing in it. There are also disposable litter box options available!
Recommended litter boxes for travel with cats
There are collapsible options (Necoichi and PetIsFam) or disposable ones (Nature's Miracle or Kitty Sifter). Given that you and your cat's litter box will be in fairly close quarters, it's a good idea to go with a litter that's got good odor control and low dust potential.
While it might be tempting to get a fragranced litter, recognize that the fragrance could actually irritate your cat's nose and lungs, stressing them out and making it less likely that they'll actually use their litter box! Below are some recommended cat litters, as well as a recommended cat litter attractant, which sometimes is needed to help a cat remember to use their box, especially in a time of change, like travel.
Recommended litters for travel with cats
All of these litters are considered low-dust, are easily scoopable, and all have excellent absorbency and odor control. The first two (Boxiecat and Dr. Elsey's) are clay-based, the third (World's Best) is corn-based, in case your cat (or you) don't like clay litter. I'm also including the recommended cat litter attractant in the list, as well as a scoop and items for used litter containment, as those will be important, too. The antimicrobial scoop and caddy is helpful when traveling, so the scoop isn't laying on your car interior itself!
And depending on the size of your car, how much space you've got available, how long your trip is, and how averse you are to having any smell or chance of spillage, you may want to consider the excellent Litter Genie used cat litter storage system. Note: This Litter Genie also comes with the bags, as well as a litter scoop and holder! If you want something smaller than the Litter Genie, you can do the simple, sealable bucket (don't forget the lid!) and some tall kitchen garbage bags.
Is your cat used to doing their business outside, or you really don't want the smell of cat litter and the stuff that winds up in it in your car, or there's just no room for a litter box in your cat's carrier? Then, depending on the length of your car trip, you'll have to make proper bathroom stops for your cat. This is most safely done, though, if you take the time to leash-train your cat well in advance of your travel day! Don't worry it can be done! Here's our article on how to leash-train a cat. And another important precaution for cats that you'll be leash walking and just traveling with in general … have them microchipped at your vet, and ensure that your contact information associated with the microchip is up-to-date!
Recommended leashes and harnesses for leash-walking cats:
Speaking about "doing business," … what about if YOU have to go? What should you do with your cat?
If the temperatures aren't too hot or too cold to have to worry about leaving your cat in the car, just leave them in their carrier and go about your business. Just try not to take too long. It's usually safe between about 40–65 degrees F (4–18 degrees C), though every cat and every situation will be different, so use this as a rough guide.
Talk to your vet about more specific safe temperature ranges for your cat based on your cat's age, breed (smushed face?), and any chronic medical conditions they may have or medications they may be on. If the temperatures are outside of that range, though, you're going to have to take some precautions when making your own pit stops (and this includes for meals). In many cases, it'll be possible for you to bring your cat into the bathroom with you in their carrier! This is the easiest solution if it's possible and practical.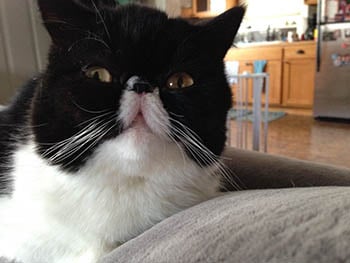 If it's over the high end of the temperature range and you can't bring kitty in with you, take some steps to ensure their comfort and safety when in the car:
Do your bathroom break at a place where you don't have to go into a big shop or mall to find and use the bathroom. Gas stations and rest stops along the side of the road are usually good options. Coffee shops often are, too!


If you have an extra set of car keys with you, leave the car on and the air conditioner running and lock the doors behind you. You'll be happier to get back into a cool car, too!

Caution: This can help a lot, but be aware that car engines and air conditioner compressors can and do fail, leading to excessively hot temperatures building up in the car quickly.


If leaving the car and A/C running isn't possible or practical, pre-cool the car the best you can by running the air conditioner on high for several minutes before you get out.


Park in the most well-shaded spot you can find.


Park with your front windshield facing the sun and put up a reflective windshield sun shade like this one.


Cracking the windows doesn't make a huge difference, but it also doesn't hurt (so long as your cat is securely in their carrier and there's no danger of someone reaching in your car and stealing your stuff).


Make sure kitty has plenty of water.


Move their carrier from on the back seat to the floor in front of the back seat. Since hot air rises, it should be cooler on the floor.


Be as quick with your stop as possible. If it's a food break you're taking, come back and check on your cat frequently (like every 10 minutes or so, just to be safe).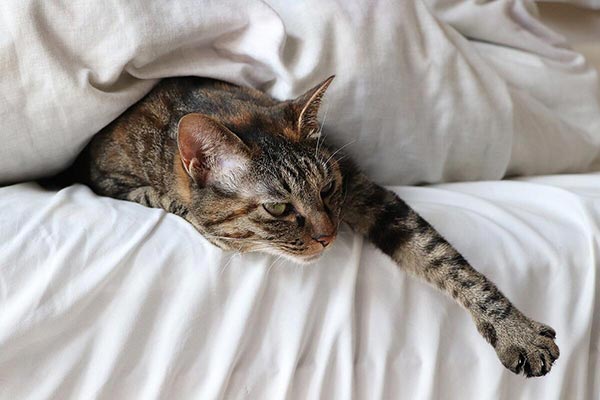 If it's under the low end of the temperature range and you can't bring kitty in with you, take some steps to ensure their comfort and safety when in the car:
Do your bathroom break at a place where you don't have to go into a big shop or mall to find and use the bathroom. Gas stations and rest stops along the side of the road are usually good options. Coffee shops often are, too!


If you have an extra set of car keys with you, leave the car on and the heater running and lock the doors behind you. You'll be happier to get back into a warm car, too!

Caution: This can help a lot, but be aware that car engines and heater compressors can and do fail, leading to cold temperatures building up in the car quickly.


If leaving the car and heater running isn't possible or practical, pre-warm the car by turning up the heater to high (if it isn't already) for several minutes before you get out.


Add a nice cozy blanket or fleece to your cat's carrier for them to snuggle up and be warm with. Pro Tip: If it's a fleece or blanket that has your scent on it, all the better. Your cat will love "having you near" while you're gone.


Move their carrier to a sunny spot within the car, if there is one.


Be as quick with your stop as possible. If it's a food break you're taking, come back and check on your cat frequently (like every 10 minutes or so, just to be safe).
Where to stay when traveling with your cat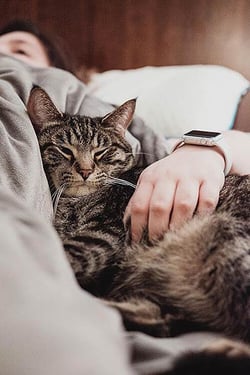 Road trips and long-distance moves with cats will often require hotel stays for sleeping and resting up (oh, and showering!). But not all hotels or motels are pet-friendly, and even those that are may only have a few pet-friendly rooms. So, here are some tips for finding pet-friendly places to stay when you're on the road with kitty.
If you know your route and plans, try to book pet-friendly accommodations early before they book up. This is especially important in the busy summer travel season and around the holidays.


Some of the bigger hotel and motel chains are generally very pet-friendly. For instance, check out Red Roof Inns, Kimpton hotels, La Quinta, Best Western, and others. The folks at GoPetFriendly.com have a searchable state-by-state database to help you find pet-friendly accommodations.


Some Airbnb properties are also pet-friendly!


Pro Tip: "Pet-friendly" means that your pets aren't likely to have been the only pets staying in your room recently! And since not everyone uses flea and other parasite protection on their cats and dogs as regularly as they should… well, you (hopefully) get the picture. For your cat's sake — and yours — make sure your cat is protected from fleas and other parasite infestation before heading out on the road! Learn more about safe and effective parasite prevention for your cat, and talk to your veterinarian.
Dealing with travel anxiety and carsickness with your cat
Ah, the best-laid plans... It's possible that even if you take all of the precautions and steps outlined above to condition your cat to car travel they may still be stressed or even experience carsickness in spite of your best efforts. Here are some tips and products to help minimize those possibilities and to help deal with these problems should they arise.
Composure calming treats for cats: These are great and can be used both before and during travel.


Thundershirt for cats: Some anxious cats respond really well to the compressive and comforting nature of these anti-anxiety jackets. You'll want to test it out on your cat well in advance of your departure date and even do some of your "test drives" with them wearing their new jacket.


Feliway pheromone spray: A couple of sprays of this calming pheromone on the towel or mat in your cat's carrier could be just what they need to feel less stressed and more comfortable with travel. Note that with pheromones, a little goes a long way. Don't overdo it — more is not better.


Catnip spray to spritz their toys and catnip to sprinkle in their carrier, both can provide some great and distracting entertainment for your cat and a nice little "high" that could help reduce their anxiety.


The likelihood of a cat getting carsick and vomiting can be reduced by not feeding them for a few hours prior to the car ride. Now, this won't be super practical for a multi-day car trip — after all, kitty has got to eat at some point! But, if it's just a one-day trip, this might help.


Talk to your vet about the medication specifically designed to help prevent carsickness and vomiting in pets.


Similarly, there are also medications your vet may be able to prescribe to help decrease your cat's anxiety associated with car rides. But be sure to speak with your vet well in advance of your expected departure date, as your kitty may need a current exam, and doing trial or test doses is often necessary to determine what the best and most effective dose or combination will be for your cat.


Some cats also benefit from and respond to calming music to help reduce their anxieties. And, who knows, it may just help make the drive more pleasant for you, too.
Emergencies on the road
Emergencies do happen, and so the occasion may arise where you'll need to find a vet when you're on the road. You can always Google "emergency veterinarian in __zipcode/town__" or use a vet emergency locator.
First Aid on the Road
You'll also want to consider putting together a pet first-aid kit for your car. Here's a shopping list of first-aid essentials. Look for the icon of a little car 🚗 as it's these products that are the most essential in a smaller, travel-sized first-aid kit.
Special travel considerations for cats with chronic health issues and on medications
Before striking out on the road for a long trip or moving with a cat that's got a chronic medical condition or is on long-term medications — like a cat with diabetes or chronic kidney disease — there are a few steps and precautions you should take.
Make sure your cat has had a recent (ideally within the past month or so) exam with your vet. You'll have more peace-of-mind knowing that their condition is as well managed as possible and that they're as healthy as can be before hitting the road with them. Your vet will also have recommendations for making their trip as comfortable and safe as possible.


Bring a copy of your cat's medical records with you! This should include recent exam notes, laboratory test results, and medication/supplement names and dosages. Your vet can often print these out (with enough notice), and they may even subscribe to an app or other service that allows you to keep updated copies of such records with you always on your phone. This will make visiting another vet on the road if you have to, much easier.


Especially with cats with known chronic health concerns, it's a good idea to know about a few vet hospitals along your route and in the area of your destination before you head out. See the vet locator tools and links listed in the section above to start searching.


If your cat is on a special prescription diet, like for their kidneys, make sure to stock up on it from your vet before hitting the road. It's not always easy to get prescription diet refills when you're away from home and your vet's office! You should take enough with you to last for the duration of your trip PLUS an additional (at least) 2 weeks.


Similarly, be sure to stock up on your pet's medications and supplements, as well as any supplies you need for them. This would include needles and a sharps container for safely disposing of and storing used needles for diabetic cats, pills for blood pressure, overactive thyroid, and any other chronic medications. Again, you should take with you enough to last for the duration of your trip PLUS an additional (at least) 2 weeks.
If your cat is diabetic and on insulin, don't forget a cooler and ice packs to help keep it cool while in the car. You can also look into a cooler that plugs into your car's cigarette lighter, like these: Cooluli Mini, Wagan 14L, or the Wagan 24L (which could even store some of your food and drinks for the road!



Pro Tip: Depending on the type of insulin your cat is on, you may be able to get an insulin "pen" that may be more stable outside of the fridge and may be easier to administer to your cat on the road. Talk to your vet to see if an insulin pen is an option for your cat — it isn't for all cats, but if it is for yours, it could be a great travel (and even long-term) solution for you.
We encourage you to leave a comment below if you've got any tricks, tips, or products you've used that made car travel with your cats easier. Best of luck on your travels or your move. Have fun and be safe! And be sure to come back and leave a comment to let us and our community know how your trip went.