Whose poop is this anyway...
One of the more frustrating things that cats can do in a home is defecating outside of their litterbox—not just directly next to it, but sometimes in a completely separate room. And especially if it's diarrhea they're having!

This frustration for pet owners is understandable, but it's important to recognize that such activity can have several potential underlying reasons—which rarely, if ever, include "spiting you."
Cats can "do their business" outside the litter box for various reasons, like these:
Arthritis can make it difficult or even painful for them to get into their box,
Failing eyesight,
Poor litter box set up and maintenance,
Decreased ability to recognize that they need to have a bowel movement, and a host of other reasons.


While this can be frustrating, here's a tip to help you minimize the frustration of trying to figure out which cat is doing it in a multi-cat household…
Feeding your cats crayon shavings
Using a vegetable peeler, make small shavings of different colored crayons—a different color for each cat. Mix a small amount (like 1/8 tsp) of these shavings into a small amount of wet food for each of your cats. Separate them while they each eat their little "snack," watch them to ensure that they're not eating each others. When they have their next bowel movement, the color of the crayon shavings present in the stool will help you figure out which of your cats is "doing their business" where they shouldn't be. Now you know which cat needs to be seen by your vet for a work-up to determine the cause.
INSET PHOTO: This photo is of dog poo—as the same trick applies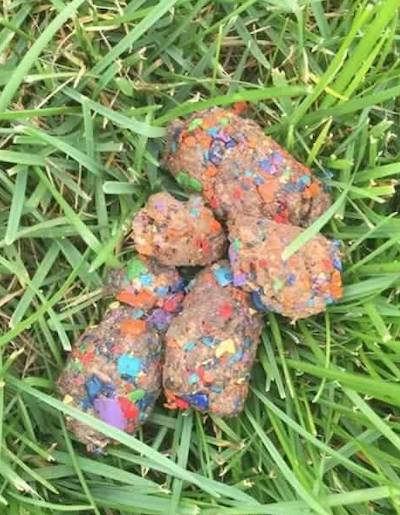 to dogs. In this example though, the crayons weren't fed to the dog intentionally. It was the, rather colorful, "end result" of a family dog that got into a box of crayons! Looks like "funfetti," no?
Crayons are a safe, easy, and not too messy way to do this... but they're not the only way. If you prefer, you can also use a small amount (about 5-10 drops) of concentrated gel paste food colorings (sometimes called "icing colors") or even regular, everyday glitter (1/8 tsp). The Saint Louis Zoo uses glitter! Of course, keep in mind that if you use the concentrated gel food coloring, it may well stain your carpets!
Regardless of whether you use crayon shavings, gel food colorings, or glitter, you may have to do this for a few meals or a couple of days—depending on how frequently your cats "go" and how closely you're monitoring their stools. But these are all safe, sure-fire ways to help you figure out the "who," so that you can then focus on the "why."
Dr. Sophia Yin, the wonderful veterinarian and animal behaviorist who the world very sadly lost in 2014, had previously written an excellent article about medical reasons why cats might defecate outside of the litterbox. In it, she also links to another article she wrote on the behavioral changes that can lead to a cat pooping out of their box, as well as some simple environmental changes you can make to help stop the behavior. Dr. Yin was a wonderful and giving person, a true champion and advocate of the beautiful relationship between pets and the people who love and care for them. These articles are just two small examples of her contribution to the world. If you've not already done so, I'd highly suggest you spend some time exploring her website.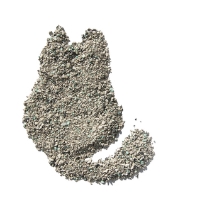 GOT A MINUTE?
Please share a bit of information about your cat's food and litter box.
The information you share will help many other cats.
It's anonymous and will take 1- 2 minutes.
Thank you!