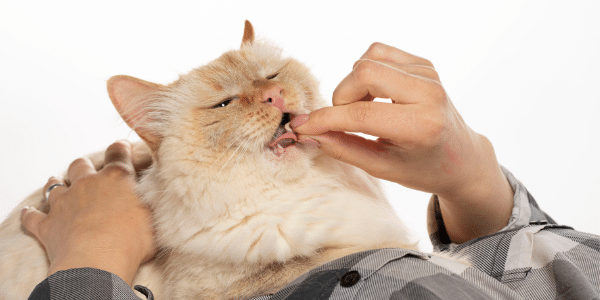 There are lots of joke posts about techniques and the difficulties of giving cats pills — this is a funny list. Maybe you've experienced some of these firsthand?
One part of the process that is no joking matter, though, and is often overlooked, is that you never want to have your cat do a "dry swallow."
Avoid the Dry Swallow After Giving Your Cat a Pill
This is when you stuff the pill in the back of your cat's mouth, close it, rub under their chin (or blow on their nose), and then call it done when the cat doesn't spit the pill back out.

You should 100% always follow your cat's pills up with some food, a few treats, or a syringe full of water (ask your vet for a syringe when getting your meds).
The reason for this goes beyond just ensuring that your cat has actually swallowed their medication — and that it's not just going to be deposited somewhere behind a couch! The "chaser" is also important because it helps to ensure that the pill doesn't get stuck in your cat's esophagus ("throat"), where it could cause choking, a stricture (narrowing), or other significant problems.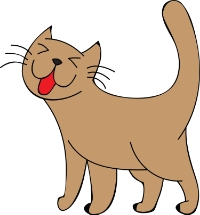 Tips to Help You Medicate Your Cat
Hide the pill in a Pill Pocket or another pill masking product.


Hide the pill in a piece of cheese, bread, or a "meatball" of canned cat food.


Coat the pill in Laxatone — this can both help the pill slide down your cat's throat better and can also make the pill more palatable — making the experience a bit easier.


Talk to your veterinarian to see if there is a liquid formulation of the medication or if one could be made at a licensed compounding pharmacy.


Use a pill gun to get the pill to the back of your pet's mouth and spare your fingers. (Don't forget the water, treat, and water chaser!)
Speaking of sparing your fingers
Another part of pilling cats that is no joking matter is the severity of the infection you can get should your cat ever bite or scratch you in the process. Such injuries should always be washed immediately and thoroughly with soap and water, taken seriously, and monitored closely. If it is a deep puncture, you should visit your physician or the local urgent care facility immediately.
If you decide to wash and monitor, at the first sign of swelling or spreading redness or pain, you should immediately visit your physician or the local emergency room. Read about why cat bites are so dangerous. I myself had to go to the ER for IV antibiotics following a cat bite several years back. Trust me, take all cat bites and scratches very seriously.