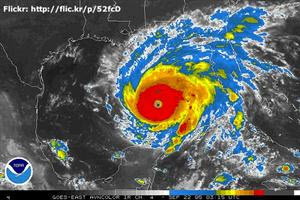 Only about one-fifth of the 15,000+ animals stranded by Hurricane Katrina were ever reunited with their owners. Although there were many hopeful stories of people finding their pets after the storm, there were many more that ended in tragedy.
In a natural disaster or other emergency situation, not having a plan can put your cat or dog at serious risk.
Yet less than half (40%) of Americans have created an emergency plan for their household, according to the Federal Emergency Management Agency (FEMA). That leaves tens of millions of people who don't even know what the humans in their home will do when disaster strikes — let alone how to keep their cats and dogs safe in an emergency. Thankfully, many pets look like they will have a better outcome in the aftermath of Hurricanes Harvey and Irma (and potentially more hurricanes bound for the U.S. as of this writing). This is due, in part, to the lessons learned after the devestating Hurricane Katrina. But even with the countless government officials, volunteers, and regular citizens rescuing thousands of pets, emergency planning is still far from perfect when it comes to our cats and dogs.
Emergency preparedness doesn't have to be difficult. By taking a few, simple steps, you can make sure that when it really hits the fan, you and your furry family members are ready.
In an emergency, the last thing you want is to scramble and figure out what to do with your pets. Problems can and will arise — and fast. So the best time to make sure you have answers to your questions is now — questions such as:
Can I take my pets to a shelter in the event of a disaster?
How do I find my cat or dog if they get lost or run away?
Do I have enough food and supplies for my pets?


The following tips will help you get started with your pet emergency plan so you can keep your pets as safe as possible in a disaster.
Critical Points in Creating Your Plan
Planning before an emergency helps you and your pets.
There are resources to help you.
A disaster plan doesn't need to be complex.
1. Locate a Pet-Friendly Shelter
Unfortunately, many emergency shelters will not accept animals. You might remember heartbreaking images after Hurricane Katrina of dogs left to fend for themselves, and many that did not survive. Make sure that doesn't happen to your pets.
Do a little research and identify several places where you can take your pet if you are ever displaced from your home. Go Pet Friendly, for example, allows you to search for pet-friendly hotels and motels in your area. Identifying a few options will help ensure that you have a safe place for you and your pets.
You can also check with your local county emergency preparedness center or organization to see if they have pet-friendly shelters. These organizations are easy to find online by searching for the group or agency in your county, or contacting the county directly. (For example, try searching the terms "office of emergency management" plus your county.)
2. Microchip and ID Tag Your Pets
In the event of a major disaster, it is possible your cat or dog will run away amid the chaos. A large storm, for example, could easily destroy or create a hole in your fence, break a window, or make some other opening, making for an easy escape.
In the aftermath of such a disaster, there will likely be many other people vying for help from authorities, and a vague description of your dog or cat is far from ideal. Take steps early (as in right now) to make sure it's as easy as possible to reunite with your pets. In essence, you'll be preparing information on how to find you when someone finds your lost cat or dog.
Microchipping your pets is a quick, simple, and inexpensive way to make it easy for someone to track you down. All cats and dogs should be microchipped. And once chipped, be sure to register the chip and keep your contact information up to date. You can combine a microchip with an ID tag and collar. Preferably, choose a tag that lays flat against the collar to prevent it from getting caught, thereby reducing the chance of strangulation. You might also purchase a break-away collar for your cat (a microchip will be an invaluable backup in case your pet's collar falls off). And, again, make sure the tag contains your most current contact information.
3. Stock Up on Emergency Pet Supplies
If you have an emergency or disaster plan for your family, part of that plan likely includes spare food and water. But have you considered your cat or dog?
Ideally, set aside 1–2 weeks worth of canned food for each of your pets. Canned food will keep longer than other forms; however, not all cats and dogs are used to the canned stuff. If your pets aren't on a canned food diet already, ask your vet about highly digestible canned foods, which can help prevent dehydration or an upset stomach when you need to make an abrupt switch in an emergency situation. Even better, start transitioning your pet (especially cats) to a canned, wet food diet right now. It is easier to digest and can even prevent such health problems as a urethral obstruction.
If you want to stick with your pet's regular, dry food, you can always vacuum seal an emergency stash. Just be sure to rotate out the food every few months so your emergency supply is always fresh if and when you need it.
Additional Resources
Of course, there are many things to be mindful of when creating a disaster preparedness plan for your pets. To find even more information, tips, and guides on how to keep your pets safe in an emergency, download "Emergency & Disaster Preparedness for Your Pets." You can find more help at ready.gov, and by checking out our article how to easily put together a pet first aid kit.