Ever run out of pet food and not know what to do?
We can all agree that life is crazy and full of distractions.
We make lists and have reminders everywhere about EVERYTHING in hopes we won't forget to be somewhere or get something. If you are like me, these don't always help. I so often forget things on my list, and sadly sometimes that is my dog's food.
Unfortunately, dogs and cats aren't like us and can't just change up what they eat from meal to meal. Sudden changes in a pet's diet can cause them to develop some not-so-pleasant digestive issues that often require a visit to the veterinarian.
Ask any vet, and they'll tell you that abrupt food changes are a common cause of digestive upset in both cats and dogs.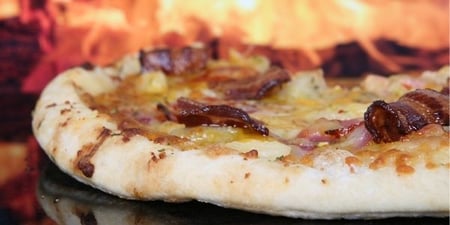 To help paint the picture of what the sudden change in diet feels like to your pet, I will "cook up" this scenario.
Picture eating only bland and easy-to-digest foods. Then one day, you decide to eat a huge spicy meal or a giant pizza with all the toppings. Your tummy aches, you feel nauseated, you have heartburn, etc. Are you now able to relate to how bad your pet may feel when you suddenly switch their food?
I know, I know, our pets eat all sorts of things off the ground. BUT that is only small amounts and not several main meals. And in reality, many do suffer digestive issues when they have been naughty sneaking extras here and there. They just aren't always as obvious or messy.
Typically, when dogs or cats have a sudden change in their diet, they will experience one or more of the following symptoms:
Vomiting
Diarrhea
Abdominal pain
Constipation
Dehydration
Reluctance to eat – even if you switch back to their normal diet
What to Feed Your Dog or Cat When You Run Out of Pet Food
No matter how much energy we put into trying not to run out of our dog's or cat's food, we just do. And many times, we don't realize it until the pet supply store or your veterinarian's office is closed. But even if you make it to either location, sometimes they are out of your brand of food. Don't panic! While you may feel you have no choices, you do.
Choosing the Ingredients for "Fast Food" Pet Food
Avoid too much fat as this can trigger digestive issues.
Use low-sodium meats, vegetables, and broths
Always keep in mind your pet's food allergies or medical conditions (liver or kidney disease or pancreatitis) to be sure the food you offer will not affect either situation.
The recipes below are just "fast food" recipes. They are not balanced for long-term feeding.
Bland Diet Recipe Ideas for Dogs
These recipes are enough for one meal for a 20-pound dog. Adjust to suit your dog's size.
Recipe #1
¼ pound of boiled, boneless, skinless chicken
1 cup cooked brown or white rice
1 cup of finely chopped peas and carrots (you can also try green beans)
Combine ingredients and serve.
Variation: Cooked sweet or white potatoes can be added to meat instead of rice.
Recipe #2
3 oz of cooked, lean, unseasoned meat (chicken, turkey, lamb, beef, or scrambled or hard-boiled eggs)
1 1/3 cups of either rice, sweet or white potato, peas, corn, or plain cooked oatmeal (not instant oatmeal)
1–3 tablespoons of finely chopped carrots, green beans, or squash
Combine ingredients and serve.
Variations:
Instead of rice or potato, you can cook plain oatmeal or farina. They can be cooked in low-sodium, low-fat chicken broth to enhance the flavor.
Blueberries, strawberries, pear, or apples (no seeds or cores) can be added to meat, oatmeal, potatoes, or rice instead of carrots, green beans, or squash
Bland Diet Recipe Ideas for Cats
You will make this in a food processor or blender. Don't over blend and make it watery. Check temperature before serving.
1 cup of boiled, boneless, skinless chicken cooked (no seasoning added)
¼ cup steamed and mashed broccoli
¼ cup of steamed and mashed carrots
Chicken broth – start with a few tablespoons – add more if too thick
Variations:
You can use lean ground beef instead of chicken.
You can use rice and peas instead of broccoli and carrots.
Pet Feeding Principles
Anytime you offer your pet 'new' food, it is always a good habit to monitor them closely after feeding. While these foods are safe for sudden changes, every pet is unique and can react in their own way. Monitor your pet for vomiting, diarrhea, constipation, or low energy.


Even when feeding a diet like those described above, it's always a good idea to gradually reintroduce their regular diet (in these instances, over the course of a day or two) to decrease the chances of digestive upset. Mix an increasing amount of their regular diet in with decreasing amounts of the bland diet until they're back on their regular diet exclusively.


For finicky pets – with the added benefit of supporting the gastrointestinal tract – Purina Fortiflora® can be added to the foods, to make it more enticing.


Foods you MUST AVOID – read all labels before giving anything to your pet:
Grapes, raisins, and currants
Bacon, sausage, hot dogs, etc.
Onions
Garlic
Milk – most pets are lactose intolerant, and many dairy products are high in fat
Anything spicy or in a spicy sauce
Many deli meats are high in sodium – this is especially an issue for pets with heart or kidney issues
Is Your Dog or Cat a Picky Eater?
If you have one of those pets that just doesn't switch well to other foods and they refuse them, or they develop diarrhea (no matter how careful you are), you may consider keeping some of the following items at home.
Please note: Anytime a pet doesn't seem to improve within 24 to 48 hours, you should take them to your veterinarian for evaluation.
Canned or dry veterinary diets can be purchased through your veterinarian. The benefit of a veterinary prescription diet is it is specifically formulated to be balanced and complete without any cooking or measuring. It is safe for when a sudden switch in diet is needed without potential gastrointestinal issues.

Royal Canin® Veterinary Diet Gastrointestinal Low Fat
Purina® EN
Hill's® I/D
Stock up on dog food that helps with sensitive stomachs. It includes electrolytes and is freeze-dried for longer shelf life.
There are times when your pet doesn't want to try "fast food," they are stressed from traveling or they don't eat enough to maintain their weight. When your pet doesn't eat enough they can have low energy, get "hangry," or lose weight. This supplement provides the essential calories your pet needs plus vitamins, minerals, and fatty acids to help maintain weight.
Add Fortiflora to your pet's food. Many pets love this food topper! And it's good for increasing intestinal microflora and improving their immune system. This is especially helpful after a bout of diarrhea. Remember, a healthy gastrointestinal system plays a huge role in maintaining their overall health.
Virbac's Rebound™ is given when pets need to have their appetite stimulated, especially after they have been sick. It acts as a boost to help them get back on track – it supports gastrointestinal health and it contains prebiotics, omegas, and antioxidants.
Tips for NOT Running Out of Pet Food:
Ask your veterinarian for a few cans of the "bland" (highly digestible, low fat, nutritionally-balanced) diet they stock and recommend. Keep these on hand for any "out-of-food emergencies."


When getting a new bag of food, portion off a week's worth into a Ziploc® bag. Store that Ziploc in the same place you normally keep your pet's food. When you have to open the Ziploc bag, that's your reminder that it's time to get or order more food.


Store a week (or two) worth of your pet's food in a gallon size Ziploc bag (press all the air out) and store it in the freezer. Then you know you always have an emergency backup that is fresh.


If you made an emergency batch of bland food, freeze a couple of feedings worth so that you are covered in a pinch.


Check with your veterinarian, or wherever you get your pet's food from, to see if they have a food auto-delivery option. Sign up to get regularly scheduled deliveries. You often get extra perks or discounts if you subscribe.


Feed your pets food that is readily available from a good pet supply store or your vet, rather than one that's so exclusive that it can only be bought at one store in your town. This is especially important if you travel with your pets frequently, as that's a common time to run out of (or even forget) your pet's food.