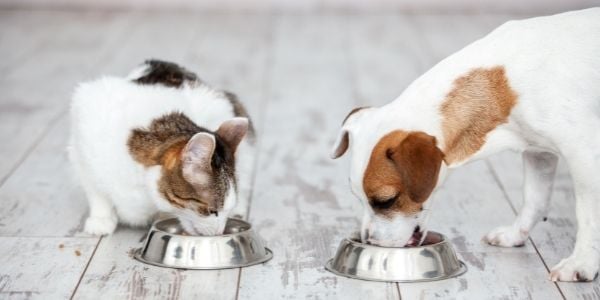 Times are troubling. Not only do we worry about the supply chain for our own food, but we must worry about what our pets will eat if the brand of food they're eating is no longer available.
Beyond supply chain issues, there are several reasons you may want to change your pet's food, whether it is changing nutritional needs as they age or because of a medical condition, dietary recommendations from your veterinarian, product discontinuations, pricing changes, etc. You'll likely switch your pet's food at least once in their lifetime.
Unfortunately, our pets don't do well when there are sudden changes in their diets. If food is switched too quickly it can cause gastrointestinal issues such as vomiting and/or diarrhea. If either of these issues are not corrected quickly, your pet could become dehydrated.
How to Transition Your Pet to a New Food
Mix in the new food with the old food gradually, over the course of 1–2 weeks. This is necessary, whether you are changing from puppy/kitten food to adult food or switching brands of foods any time during their lifetime – even if it's the same brand but it's a different formula or protein source.
If you've completely run out of your pet's regular food, see the transition chart towards the end of the article to incorporate a bland diet into the transition; otherwise, follow these instructions using the new and old food.
Transition Your Pet's Food Over 1 to 2 Weeks
Days 1 and 2 (or 1–4): Mix 25% new food with 75% old food

Days 3, 4, and 5 (or 5–10): Mix 50% new food with 50% old food

Days 6 and 7 (or 11–14): Mix 75% new food with 25% old food
After that, your pet should be ready to go with their new diet.

Taking one to two weeks to transition will help both your pet's taste buds and their tummy (intestinal enzymes and beneficial bacteria) adapt and become used to the new diet. The other benefit of doing it slowly is that as the portion of the new diet is increased, you will be able to determine if your pet has any issues with it if they begin to show signs of not doing well. Some symptoms that your pet isn't adapting to the new diet are vomiting, diarrhea, or skin issues.
This change can often be safely completed in as little as seven days, but if your pet has a particularly picky appetite or a sensitive stomach, extending the change over 2 weeks will usually ensure a smoother transition.
Changes in diet can alter the intestinal microflora and potentially be stressful for some pets. Probiotics can help your pet better digest their food, keep their microflora healthy, and support their immune system. A stronger immune system helps them better handle stress, and if they develop diarrhea, probiotics aid with diarrhea as well. At the end of the article, I list a few probiotics that have been scientifically proven to help your pet's digestive and immune systems.
Changing Pet Food to a Prescription Diet
If you are switching your pet's diet because of a newly discovered (or suspected) food allergy, or because of a newly diagnosed medical condition (e.g., diabetes, kidney disease, urinary crystals, etc.), please check with your veterinarian about the timing of this change.
Changing Pet Food Due to a Recall
If the reason you are switching food is in response to a potentially dangerous pet food recall – you should discontinue use of the diet immediately and start your pet on a bland diet or a diet your veterinary recommends is safe for sudden transitions.
Then, after about 7 to 10 days, transition to the new diet that you want your pet to eat going forward.
We provide a lot of help with this, so check out our article where we provide bland diet home recipes and off-the-shelf products you can feed your pet to help with their transition.
Changing Pet Food Due to a Shortage
If you are completely out of your dog's regular food, use a bland diet to get them transitioned to a new brand of food. Use this transition schedule.
Slow Transition When You're Changing Food Brands Cold Turkey
Days 1 and 2 (or 1–4): Mix 25% new food with 75% bland diet

Days 3, 4, and 5 (or 5–10): Mix 50% new food with 50% bland diet

Days 6 and 7 (or 11–14): Mix 75% new food with 25% bland diet
See our article for bland diet recipes you can make at home or ones you can buy and store in your cupboard for future use.
If you want to continue feeding the original brand of dog food once any supply chain or inventory issues are over, you must always follow the slow transition rule. Just because your pet used to eat a particular diet, that doesn't mean you can suddenly switch back to it after being on another diet.
If you truly feel you will likely always want to keep them on the same food, it is a good idea to try and keep an emergency supply of 2 to 4 weeks of the diet in the freezer. For example, if you forgot to buy food and you run out, and the dog food is out of stock – you can use the emergency supply.
Tips to Help Get Through a Pet Food Shortage
Buy Extra Pet Food
Buying extra of your pet's food and storing is a good idea. This is especially important for pets on prescription diets. Most diets come in a canned and dry form. Stock up on both. The shelf life for most types of canned food is 2 to 3 years. Dry food usually has a shelf life of 12 to 18 months and can also be frozen for up to 6 months.
Buy Human Food Supplies for Your Pet
If for some reason you are unable to get your pet's regular diet, there are options you can keep on hand to prevent gastrointestinal issues. Buy big bags of rice and boxes of instant potatoes. Both are gentle on the stomach and work well for food transitions.
On average, kept at proper temperatures, dry rice has a shelf life of 2 years. If you store rice in cooler storage areas in a sealed oxygen-free container it can be stored for up to 30 years. Did you know an unopened #10 can of instant potato flakes can store for 10 to 15 years? And once opened, it still has a shelf life of 6 to 12 months.
Other items you can keep in your freezer for emergency purposes include:
Plain Greek yogurt – can freeze up to 6 months. Longer is possible but may affect texture slightly.


Sweet potatoes can be cooked and either mashed or cubed. They can be frozen for 6 months.


Frozen peas, carrots, green beans. They generally can be frozen for 8 to 12 months. Since these are typically "new ingredients" for some pets and can be a little harder to digest, gradually introduce them over 7 to 10 days.


Plain eggs are a good source of protein and gentle on the stomach. They can be frozen uncooked for up to a year.


Buy frozen chicken breasts, ground turkey, or very lean ground beef.


Canned vegetables are fine too. But you must be sure they are low sodium and do not contain onions, garlic, or xylitol. Just as you would slowly introduce frozen vegetables if they are new to your pet, slowly introduce canned veggies in the same way.
Nothing will be wasted if you purchase excess since you can eat it too!
Remember, cats are obligate carnivores, meaning they must eat meat, so be sure you have a source of meat to feed them.
I would also recommend keeping probiotics on hand and starting if there are any food changes. A healthy gut is important for your pet's immune system and these supplements can be used at the time of transition to a new diet or daily. Purina's FortiFlora supplement is among those pet probiotic products that have been scientifically proven to work.
AnimalBiome has supplements on their website as well, but additionally, they have gut health tests you can do at home to detect if your dog or cat has any bacterial imbalances. For more probiotic supplements, check out our recommendations.