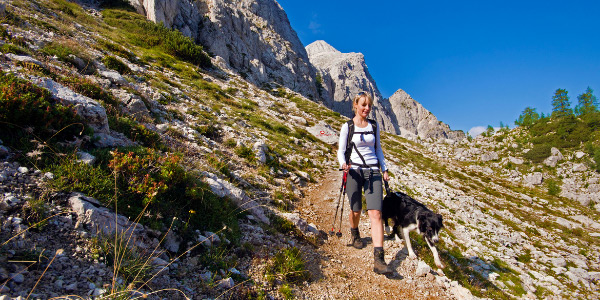 Taking your dog hiking is a fun way to exercise and explore new places together. Hopefully, you've prepared and packed hiking essentials, but have you thought about what training skills your dog should have before hitting the trail? The dog training cues below are what I, as a dog trainer, consider important to keep you, your dog, and others safe on the trail.
If you've just started training these cues but your dog is old enough (and fit enough) to start hiking, go for it! Just ensure their safety by keeping them on a leash and close to you. Take advantage of training opportunities on the trail by bringing along your dog's favorite training treats.
Once both of you and your dog feel comfortable with the basics, you can increase the difficulty and allow them more freedom while hiking by using a long lead. Be sure to check out these on-trail safety tips from a veterinarian to make sure you're fully prepared for hiking the trails with your dog.
The Top 6 Dog Training Behaviors for Hiking
There are a few basic training behaviors that your dog should have a foundation for before taking them hiking with you.
Click on the behavior to see how-to instructions:
These cues will help keep your dog safe as you encounter other hikers, dogs, trail horses, and any other wildlife (e.g., snakes, coyotes, porcupines, skunk) that you might see on your adventure.
Trail Etiquette When Hiking with Your Dog
Be a considerate dog owner by practicing polite trail etiquette.
Yield to other hikers and trail users:

Step off the trail with your dog, and ask your dog to sit and stay while other hikers pass. If you encounter horses on the trail, add some extra distance that you go off the trail and talk to the rider to let them know you are there with a dog. As the horse passes, make sure to reward your dog for watching calmly. If your dog is getting excited or extra curious about the horse, add more distance and scatter treats for them to create a positive association with the sight and scent of a horse.
Leave no trace:

It's very important that you pick up and pack out your dog's poop while hiking. Leaving their poo along the trail isn't only a potential mess for other hikers, but it also can do damage to the environment by introducing pathogens and parasites that aren't endemic to the area.

Be prepared with poop bags and always pick up your dog's poop and pack it out to dispose of properly.
No more than two dogs per person:

If you plan on hiking with more than one dog at a time, make sure your dogs are well behaved on leash together and easy to control. Be aware that hiking with multiple dogs can make emergencies difficult. If you have one person per dog, you don't have to worry about controlling one dog while helping the other.

Hiking with more than two dogs at a time is discouraged, as three or more dogs together as a pack can be very overwhelming to other hikers and dogs, not to mention harder to control.
Always Leashed is Best
Keeping your dog on a leash — even if they're off-leash trained — is important for a few reasons:
A dog running off-trail can damage fauna and cause distress to wild animals.
Your dog could be injured out of your sight or get lost.
Other hikers might be scared of dogs, and an off-leash dog approaching can make them uncomfortable (or they may have a dog that doesn't do well with off-leash dogs).
If the trail you're on allows horseback riding or mountain biking, you don't want your dog to spook a horse, and you don't want a mountain biker to crash while maneuvering around your dog.
A leash prevents your dog from falling off a ledge, into a ravine, or other hazardous terrains. Dogs can't judge whether jumping over a rock leads to the ground or over a cliff. Every year there are heartbreaking stories of dogs falling off cliffs or

getting stranded on ledges

and needing to be rescued.
My Favorite Dog Leashes for Hiking
A hands-free leash is a great leash to use while hiking that keeps your hands available for balance (or catching yourself if you trip, if you're anything like me). If your dog's training is ready for more of a challenge, invest in a biothane long leash to give your dog some more freedom while still keeping them attached to you. If you do decide to use a long leash, just be aware that they can catch on roots along the ground, get wrapped around trees, or trip other hikers up on the trail.
We've got more tips for you on how to choose a long leash and how to use it safely in Long Leashes for Dogs.
Retractable leashes are not the best leash for hiking — or at all, really. Read this article to learn about why retractable leashes aren't recommended for most dogs.
Some hiking trails and camping grounds do have leash length requirements. It may be easiest to stick with a regular six-foot leash. This Knot-a-Leash from Ruffwear is my favorite to use for hiking trips because of the comfortable handle, tough climbing rope material, and a locking carabiner.
Now you're ready to have fun and stay safe on the trails with your dog — let us know in the comments below about your hiking tips, trail etiquette suggestions, and experiences with your pooch!