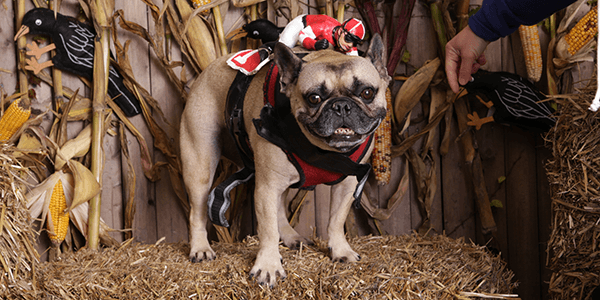 Fall is such a fun time of year and Halloween is the perfect time to get your dog in the spirit with you! With so many costume ideas on the internet for you and your dog, you're bound to find one that fits your dog's personality or accompanies your costume.
If you're thinking about dressing your dog up in a costume, first think of how they react to wearing things — if they hate things being placed over their head, or react negatively to velcro, stay away from those types of costumes.
And, if your dog simply hates wearing anything, you'll need to work on positive reinforcement training and desensitization to get them used to wearing a costume, which may mean not dressing them up this year.
How to choose your dog's costume
When looking at the variety of different costumes available for your dog, you'll want to ensure that the costume suits their personality, fits properly, and is safe.
What's your dog's personality type?
Try to find a costume that suits your dog's personality. Are they playful? The star of the show? Shy? They'll truly get into character when you match their personality with their costume.
Fit
It's important that the costume fits your dog properly. Too big, and it can be a hazard for them to walk; too small, and not only can it be uncomfortable for your pup, but it can make it difficult for them to breathe. If you're purchasing a costume for your dog, follow the sizing guide to make sure you've got a secure fit. If your dog is in the middle of two sizes, it's usually best to order up in size.
Safety
You'll want to make sure that whichever costume you choose is a safe choice for your dog. Watch for objects that they'll easily be able to chew off, like strings, bells, or other small items. Learn more about costume safety.
DIY your dog's Halloween costume
Calling all DIY'ers! Halloween is the perfect time to flex your crafting skills. These DIY costumes for dogs range from the simple to the complex — depending on your ability, access to materials, and time. Here are some of our favorites:
Dog Martini
If your dog is scheduled to be in a cone (due to a planned surgery) or you still have a cone laying around (that your dog doesn't hate), this costume is just perfect! We like this costume because of its simplicity and lack of dangly parts your dog can chew. Make sure to watch your pup when they're walking around in this costume. If the stick and "olives" get in their way, give them a break from the cone and reward with treats.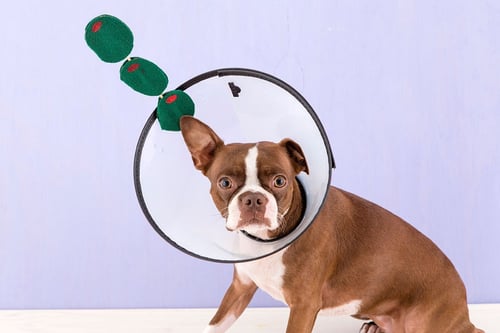 Photo Credit: Brit+Co
Get step-by-step instructions on how to make your dog into a martini glass here. If your dog isn't super excited about their cone, read all about how you can desensitize them to it.
Family costume: S'mores
Are you looking for a family costume? Look no further! All you need is a pillow and some velcro to dress your pup up like a marshmallow this Halloween! We like this costume because there are no pieces that your dog can chew on, and it doesn't need to go over their head to put it on.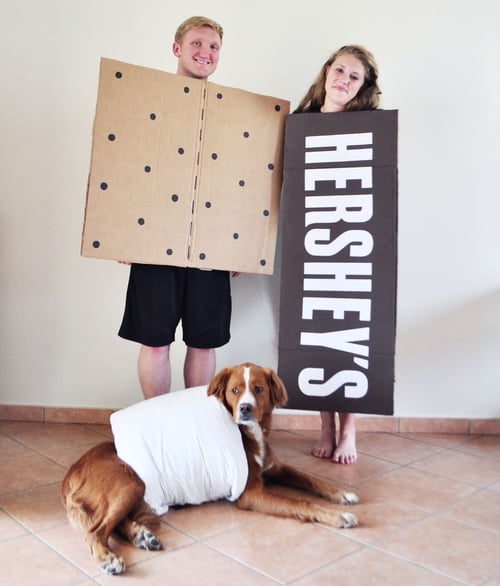 Photo Credit: The Little Sloth
And for the rest of the family, some cardboard and markers are all you'll need to complete the chocolate bar and graham cracker combo! Get step-by-step directions here.
Beanie Baby
This simple costume is perfect for fluffy puppies not ready to fully dress up, or dogs that don't like wearing anything on their bodies. You can follow these step-by-step instructions with felt (foam sheets work great, too!), or print the TY logo on paper and write a story about your pup on the opposite side. Then, simply tie it on to their collar. Just make sure to trim the string short so your dog can't eat it.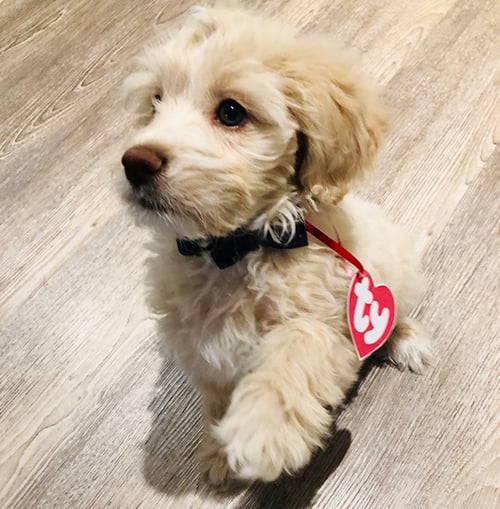 Photo Credit: Marissa Brewer
Rocket Dog
Have some empty 2-liter bottles laying around? Recycle them into a jetpack for your energetic dog. Their zoomies will get an extra boost from the jetpack they're carrying around. We like this costume because it attaches to your dog's harness, meaning they can't nibble on any of the tissue paper or the bottles.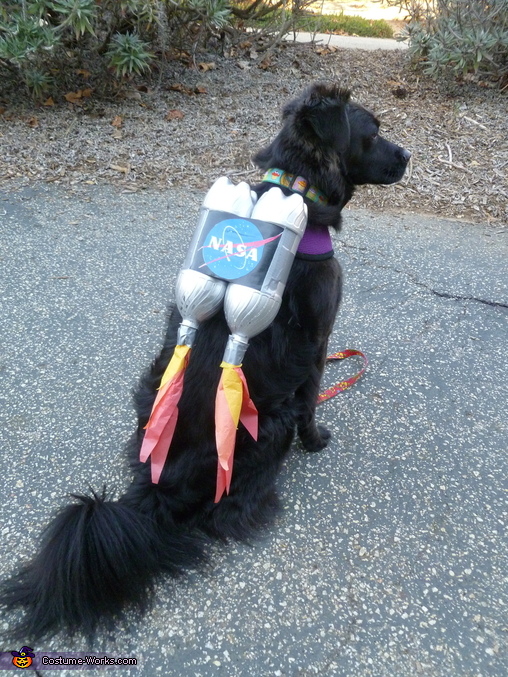 Photo credit: CostumeWorks.com
Lego
Have a shipping box and a couple Solo cups hanging around? You've got (almost) everything you need to transform your pet into a Lego! Cut a few holes and paint the cardboard, and you've got the perfect costume. We like this DIY dog costume because it is easy to take on and off, and requires no velcro or ties to keep it secure.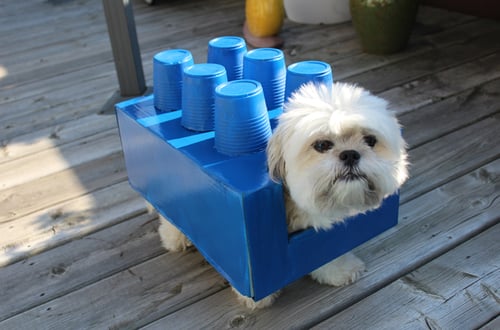 Photo Credit: Amy Tokic
Get the step-by-step directions on how to make this costume.
Fun and Safe Dog Costumes You Can Buy
Short on time or creativity? We've got you covered with 5 of our favorite safe Halloween costumes for dogs you can purchase on Amazon:
What's funnier than a dog with a bull riding costume? A dog running around in a bull riding costume! We love this costume because it safely secures to your pup with velcro. There are no dangling or small pieces for them to be tempted to eat. PV office dog Sookie had a great time filming a music video in this costume.
Buy the bull riding cowboy dog costume here.
This cute sushi dog costume will be sure to draw the "oohs" and "awes" from all. We like this costume because it attaches securely around your dog's middle with velcro, and has no small pieces for your dog to chew off.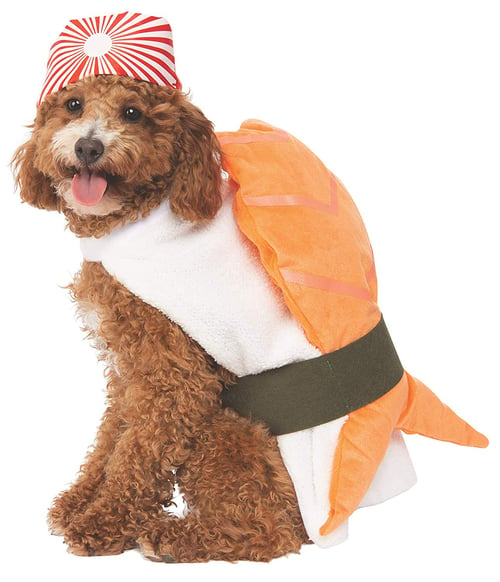 Buy the dog sushi Halloween costume here.
This adorable costume is perfect for your black or black and white dog! The easily adjustable neck and chest straps make this a safe costume for your dog.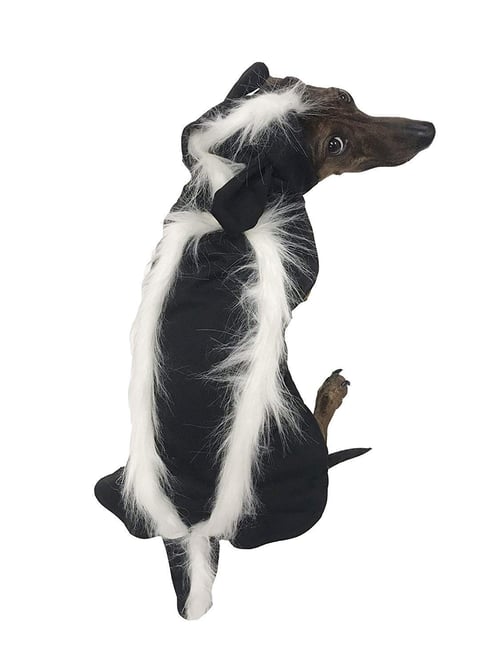 Buy the dog skunk Halloween costume here.
This costume is bound to gather some laughs when the small pirate arms complete with plush hooks move along with your pup as they strut by. We like this costume because it simply attaches to the front of your dog's body, rather than hugging their middle. Watch that your dog doesn't chew on the plush arms.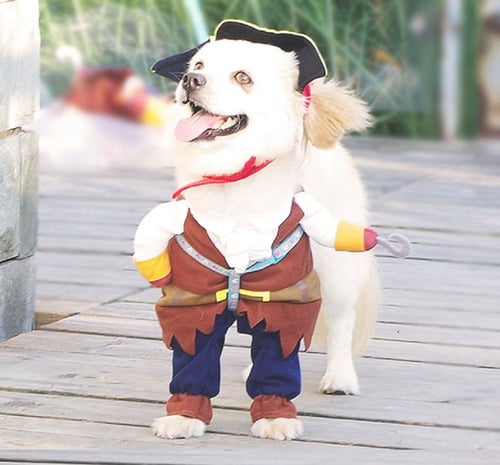 Buy the pirate dog Halloween costume here.
For those pups that don't like to wear anything on their bodies, or are afraid of velcro, this mermaid print collar is a fun way to get your pup in the spirit of dressing up without having to wear anything on their body. We like this collar because there aren't any bells, tulle, or ribbons that your dog can chew at while wearing it.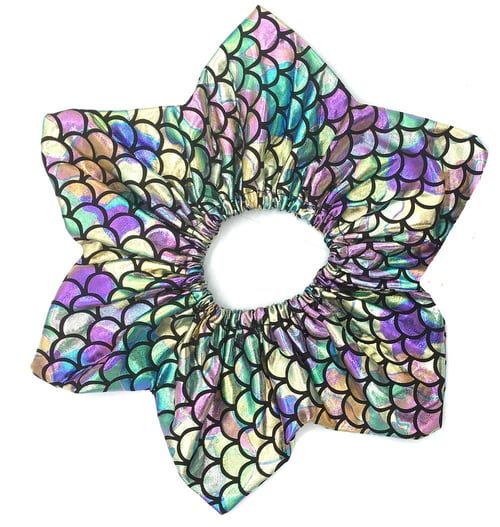 Are you dressing your pet up for Halloween? Share their costume with us on our Facebook page!