Fido & Fluffy Need A Bath – Pick The Right Shampoo
When it comes to bathing your pets, it can be tempting to reach for whatever shampoo you might already have in your shower, or grab the dishwashing soap from your kitchen.
While this may be ok every now and again, the regular use of human shampoos (even the "tear free" ones for babies) and dishwashing soaps can actually lead to worse skin problems for your pets.
The problem with human shampoos for your pets
Human and animal's skin aren't the same. Shampoos for people are formulated to, amongst other things, have a pH level (acid:base balance) that is less likely to cause irritation of our skin.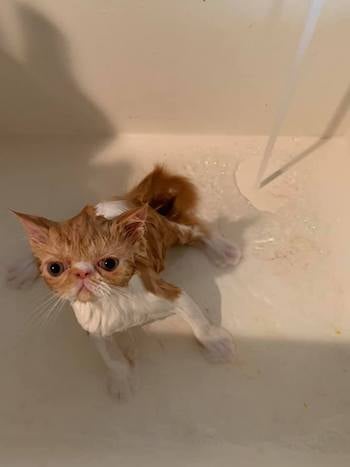 It just so happens that the natural pH of your cat's or dog's skin isn't necessarily the same as yours — in fact, it often isn't.
When you use one of your shampoos on your cat or dog, you run the risk that the shampoo you're using could actually cause inflammation and irritation of your pet's skin. This irritation and inflammation will make your pet more itchy, and will increase your pet's risk for a bacterial and/or yeast skin infection.
The problem with dishwashing soaps
Ironically, it's the very thing that makes Dawn and other dishwashing soaps so effective at treating wildlife affected by oil spills and at destinking your pets when they've been "skunked" — their excellent grease and oil removing ability — that makes these soaps inappropriate for regular bathing of your pets.
When used for routine bathing of your pets, dishwashing soaps will quickly strip your pet's skin of the natural oils that help to nourish and protect it. This leaves the skin less well-hydrated and decreases its ability to keep bacterial, yeast, and allergic irritants at bay.
What shampoo should use for your pet?
Stick with a pet formulated shampoo
For regular bathing, it's often best to go with a soap-free shampoo to avoid stripping important oils from your pet's coat and drying out their skin.
Every breed and animal's skin pH can be different, and any animal can be allergic to any of the ingredients in their shampoo (though it's less likely with a true "hypoallergenic" shampoo). There are a lot of options on the market, so some trial-and-error might be necessary. However, if you go with one of the soap-free, hypoallergenic options we've identified below, you're less likely to have problems.
When in doubt, call or visit your vet. They can help you decide which shampoo will be best for the job at hand and which is least likely to irritate and dry out your pet's skin. If required for your pet's condition or type of skin, they may recommend a coat conditioner and/or medicated (prescription) shampoo, too.

Pet Shampoos
Here are a couple of shampoo recommendations. These are all SOAP-FREE, hypoallergenic, and are therefore mild and great for regular cleaning and bathing.



Waterless Shampoos
If your pet doesn't like taking a bath (maybe water just isn't their thing), or if they're too big or too immobile to get into the tub, or for any other reason why a "full-on" bath might not be possible or practical, you might want to try a waterless shampoo. No need for water or rinsing when using these pet shampoos and foams.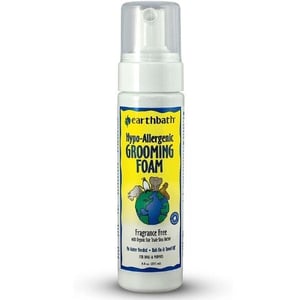 Grooming Wipes
For quick clean-ups and when you and your pup are on the road, these wipes can come in quite handy. And these two options are hypoallergenic and fragrance-free, too.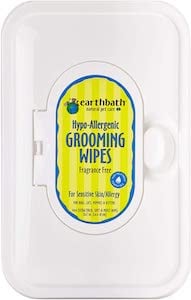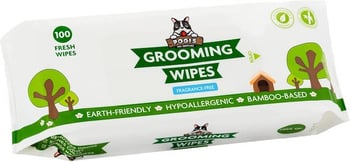 Listen to episode 1 of the Paws & Play podcast: How to help cats and dogs with allergies
This episode includes information about bathing your pets, and how to make them more comfortable as they are dealing with skin issues.

Paws & Play
Resting Itch Face: Helping Dogs and Cats with Allergies